Nutella Banana Swirl Muffins: These classically delicious banana muffins are swirled with chocolate Nutella to create the ultimate sweet breakfast treat!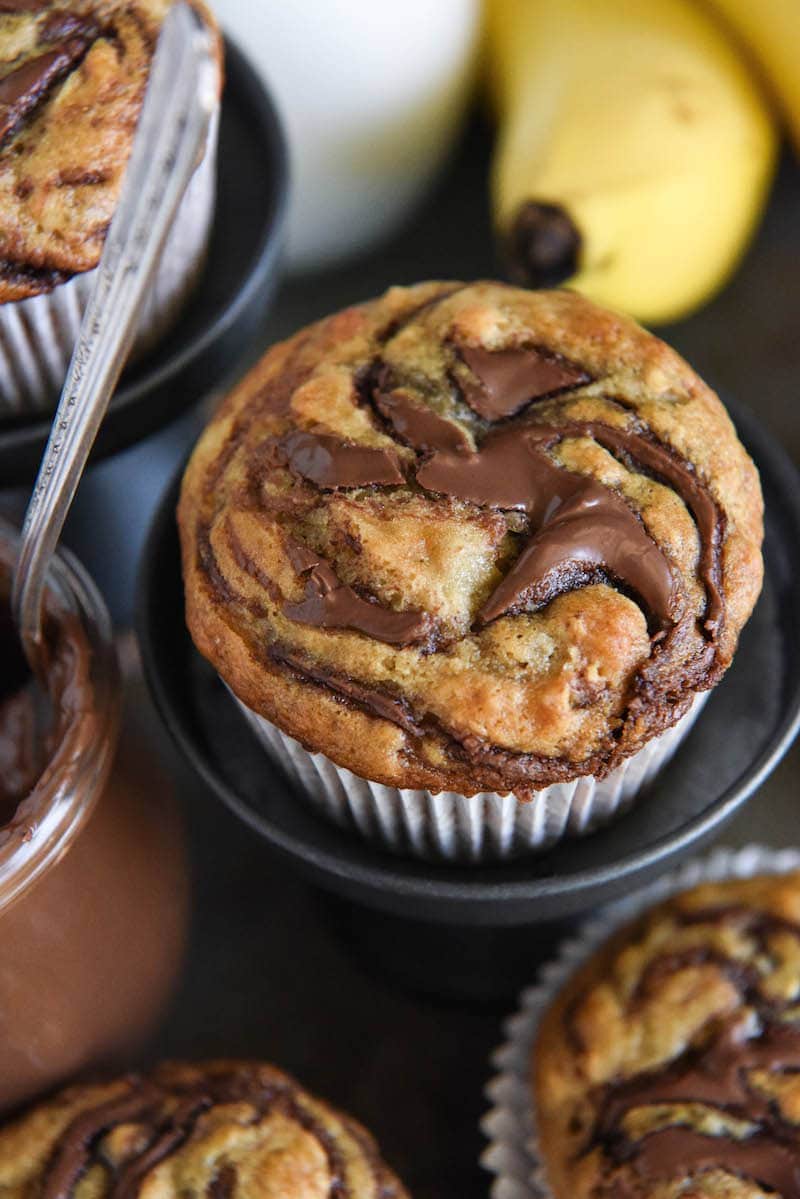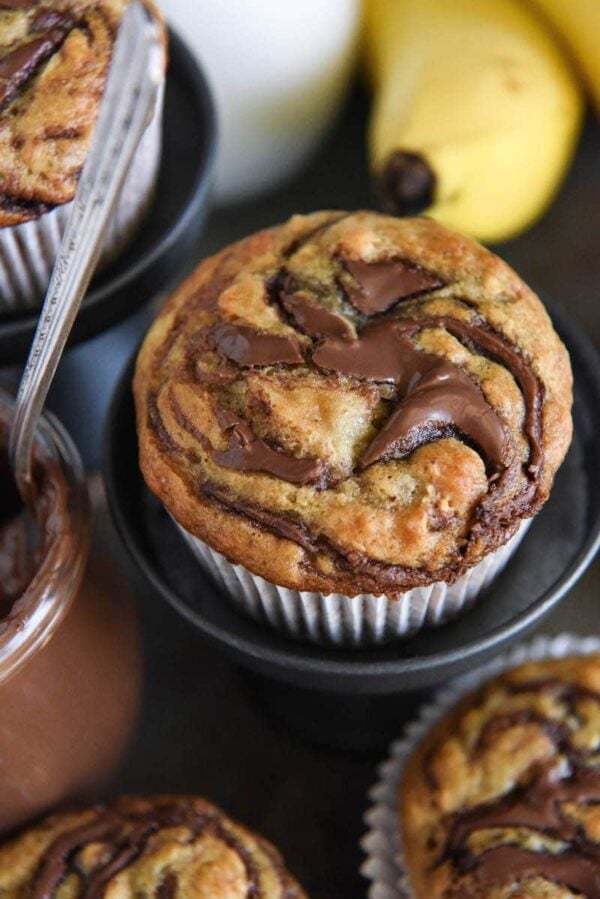 Jorge likes bananas as much as I like sugary kid cereal, glittery eyeshadow, Friends reruns and shoe sales — all combined.
No seriously, that is how much he loves bananas.
So making these Nutella Banana Swirl Muffins was a no brainer. Bananas for him — Nutella for me.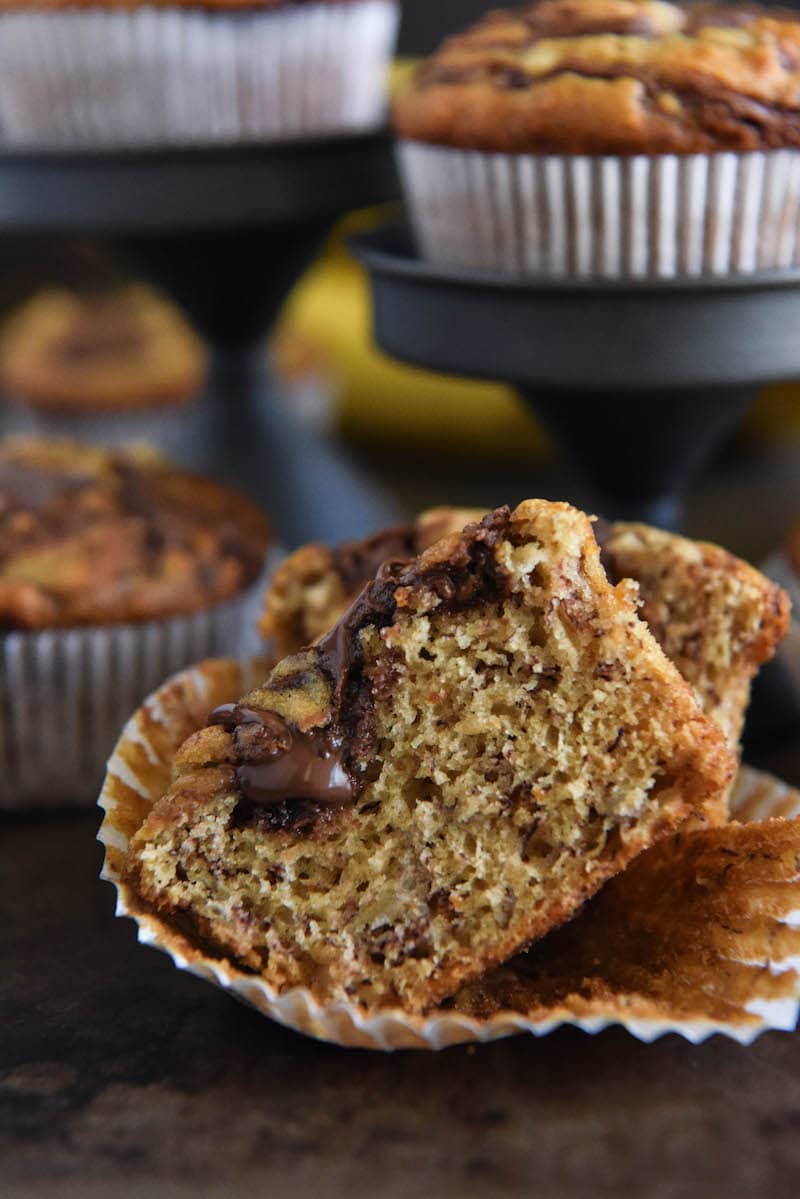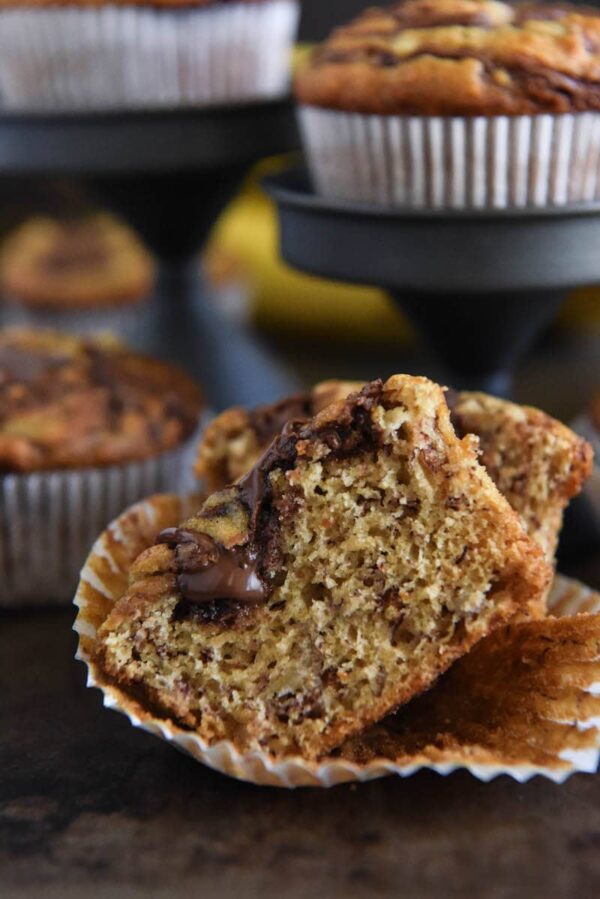 When we first met, Jorge was having a party at his apartment and he ate a banana while drinking a beer.
I have no idea if he remembers this, but it firmly stuck in my mind as one of the weirdest combinations I had ever seen.
However a few weeks later, he topped the Banana & Beer special when he had his spaghetti with a side of banana.
And yes, a side of banana is the correct term. He actually put the banana on the side of his plate — almost right on top of his spaghetti.
He then proceeded to eat bites of the banana in-between bites of spaghetti. It was horrifying.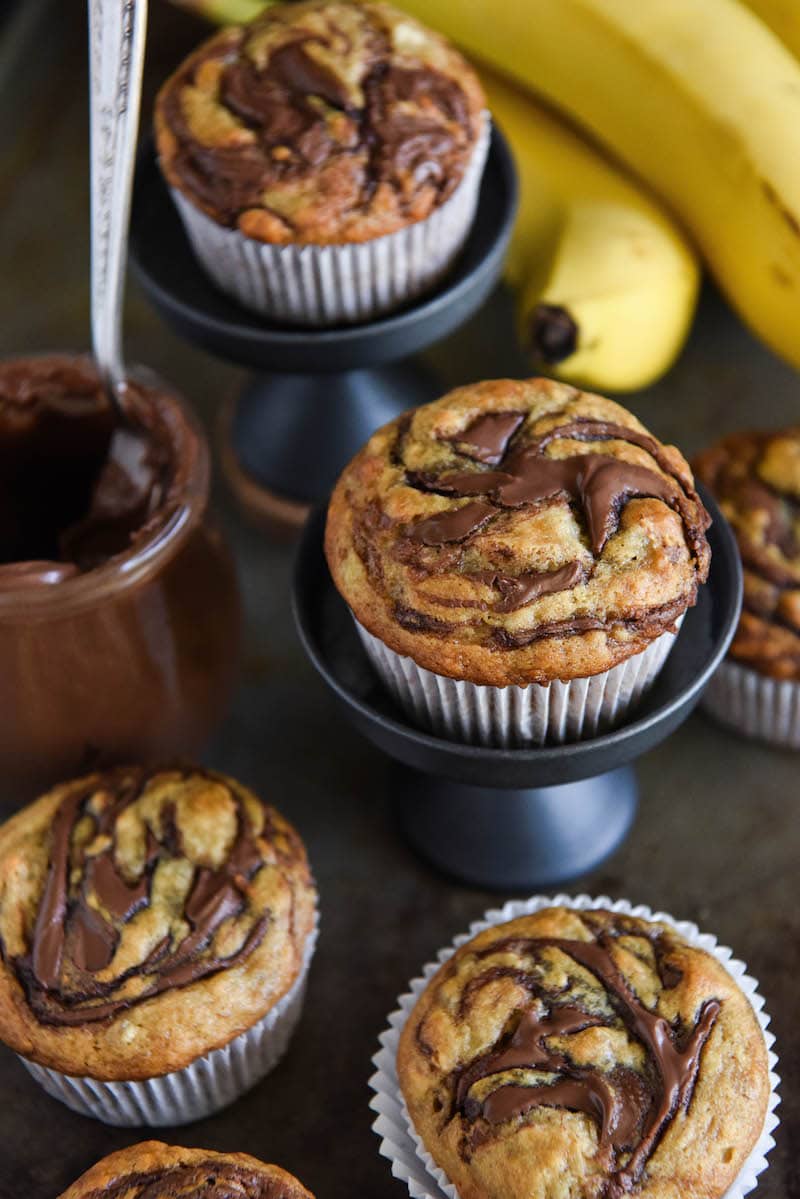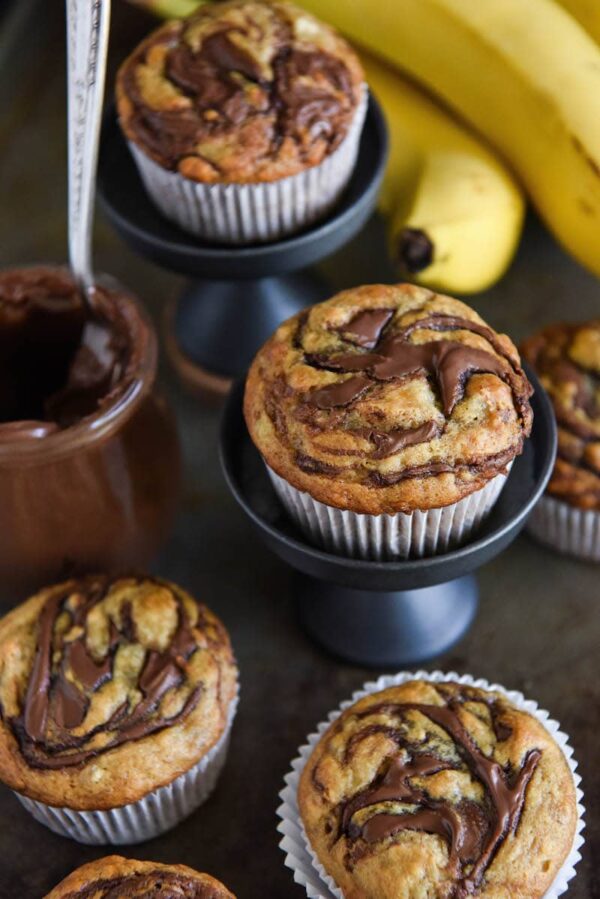 So it should come as no surprise, that bananas are a constant thing in our house.
Usually they are always eaten before they become overripe, but since Jorge travels a lot for work, sometimes the bananas go bad.
Or is it really that they go better? Since you can make yummy things with them.
Like these Coconut Banana Crunch Muffins and Banana Chocolate Chip Pancakes?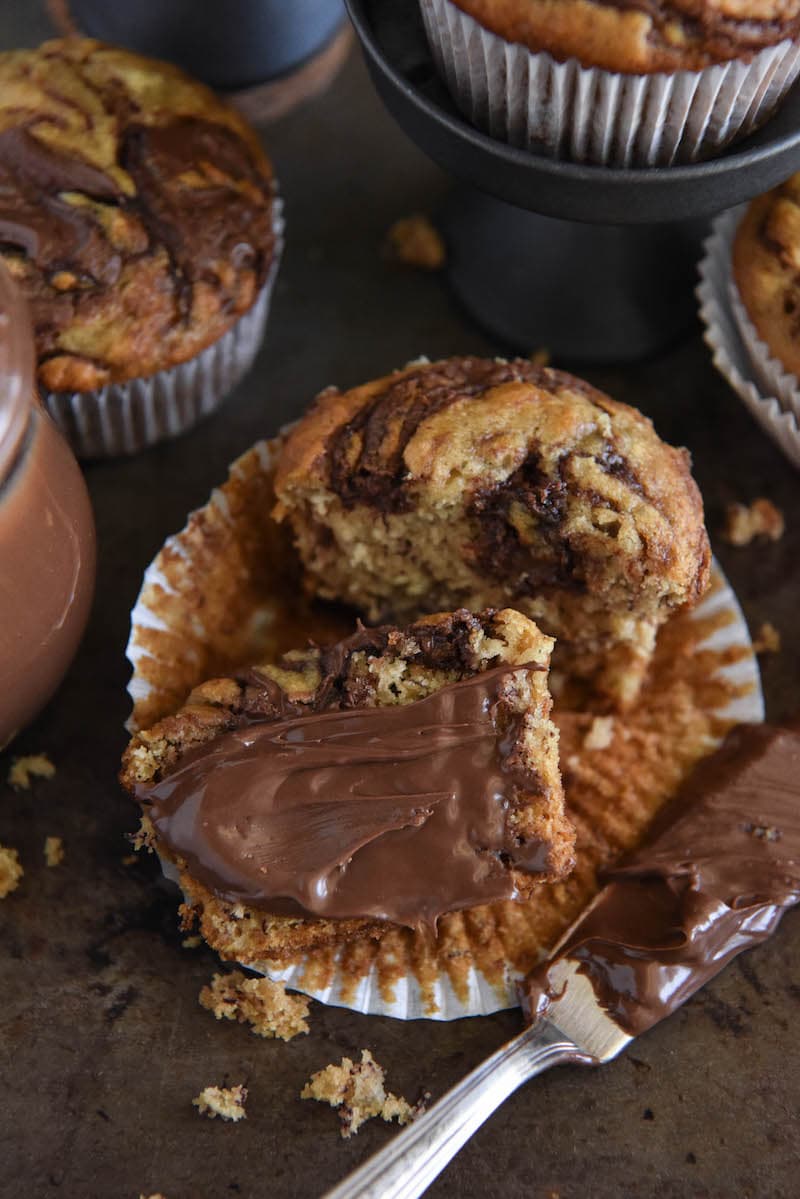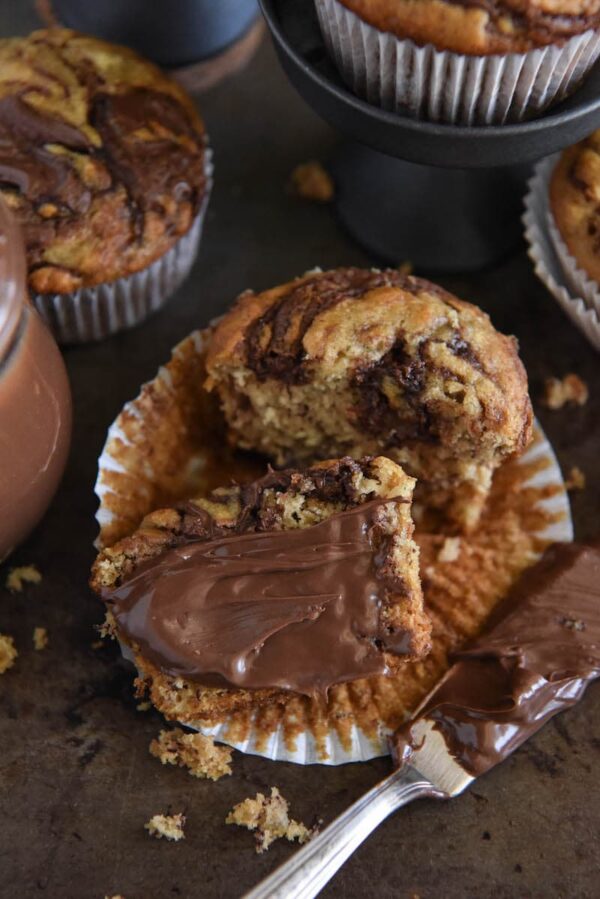 Jorge got home on Friday from a work trip and I had a bunch of bananas that were way more brown than yellow.
And that could only mean one thing, Banana Dream Cake or Nutella Banana Swirl Muffins.
Since Jorge and I didn't need a whole big layer cake just for ourselves, the muffins won this round.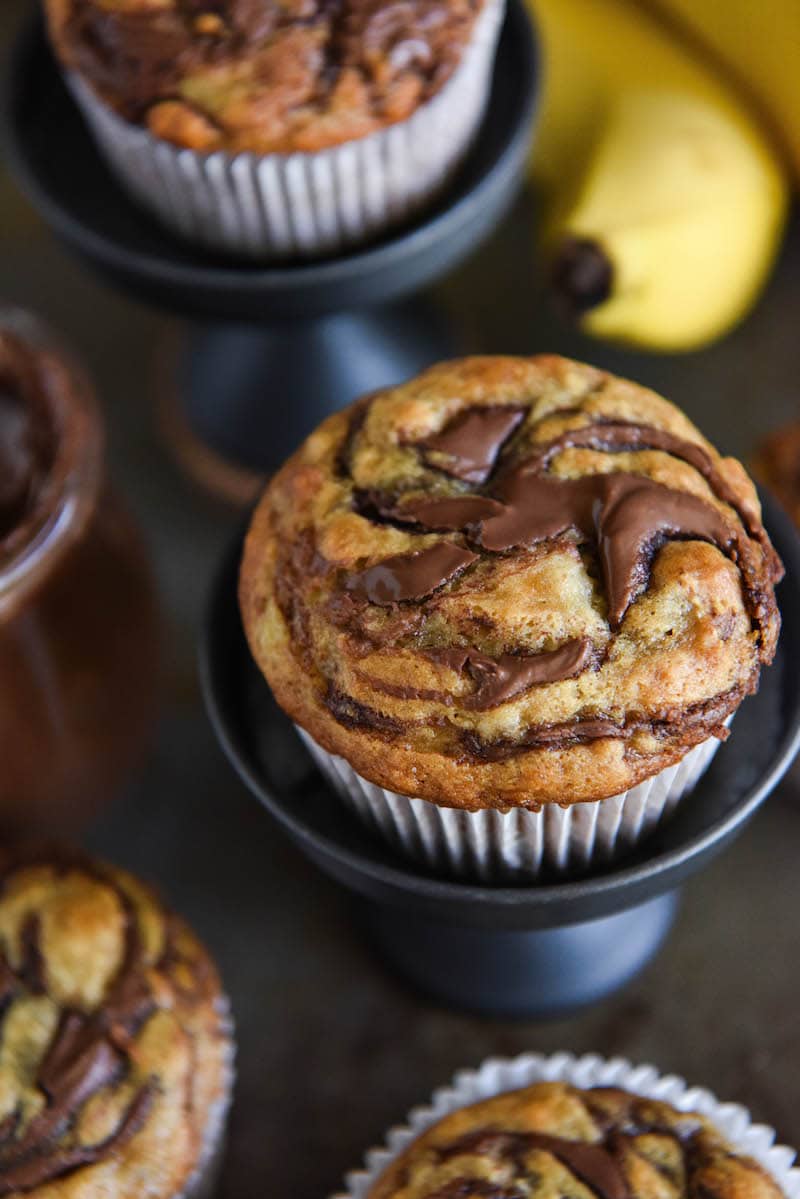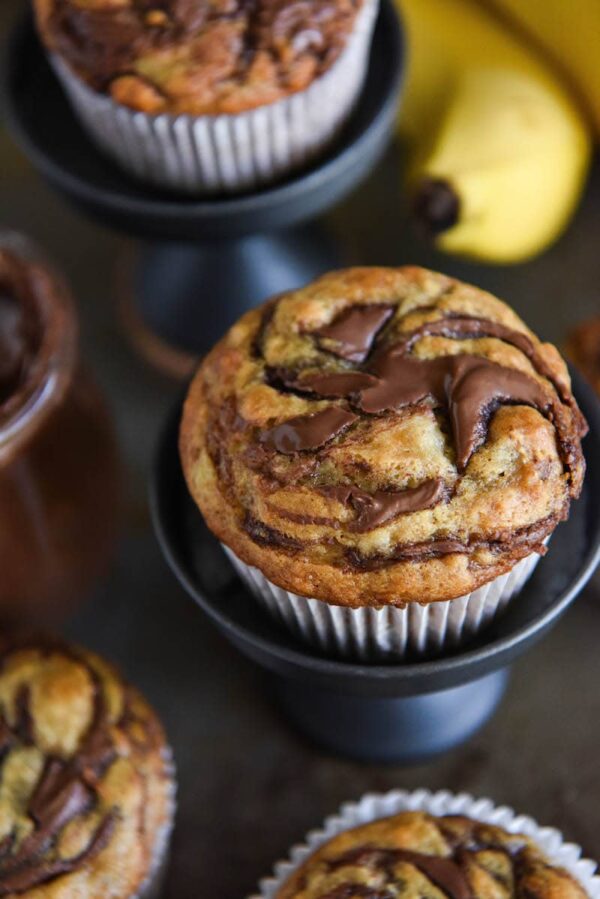 These Nutella Banana Swirl Muffins are one of my absolute favorite ways to use up overripe bananas.
Obviously they are tasty (hello, banana + Nutella = match made in heaven), but they also can be whipped up in under 30 minutes from start to finish.
Total win-win in my book.
Update: I have been making these banana muffins for over 5 years now and they are still my families favorite muffins.
In the past 5 years, we had our twins, Ellie and Lyla. If it's possible, they are even bigger fans of these muffins than we are!
But how could we not all love them? They have nutella on top. Let's just call them what they are..breakfast cupcakes!
This post was updated on April 19th 2018 to include new photos and a video. I hope your family are still enjoying these muffins as much as we are!
Yield: 18 muffins
Nutella Banana Swirl Muffins Recipe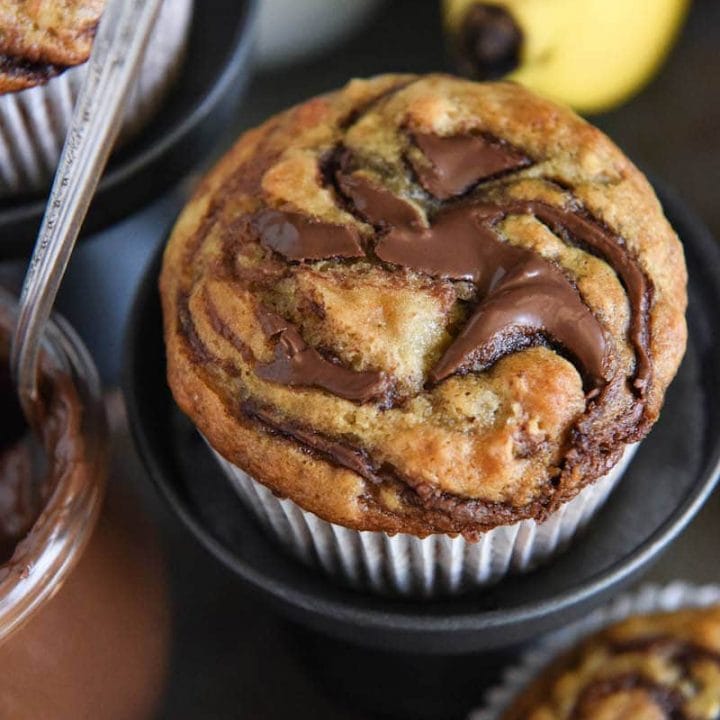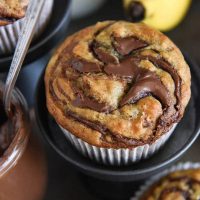 Nutella Banana Swirl Muffins: These classic banana muffins are swirled with chocolate Nutella to create the ultimate sweet breakfast treat!
Ingredients
2 cups all-purpose flour
1 teaspoon baking soda
1 teaspoon baking powder
1/2 teaspoon salt
4 medium over-ripe bananas, mashed
1/2 cup granulated sugar
1/2 cup packed brown sugar
1 large egg
1/4 cup vegetable oil
2 teaspoons vanilla extract
1/2 cup chopped pecans
1 cup nutella
Instructions
Preheat oven to 350°F. Line muffin pan with liners.
In a medium bowl, whisk flour, baking soda, baking powder and salt until well combined. Set aside.
In large bowl, whisk together banana, sugar, brown sugar. Beat in egg, vegetable oil and vanilla extract. Slowly whisk in the flour mixture, until there are no lumps. Fold in pecans.
Fill muffin tins 3/4 full. Top each muffin with about 1 teaspoon of Nutella and use a toothpick to swirl it into the batter.
Bake muffins for 15-17 minutes, or until a toothpick inserted in the center comes out clean.
Serve warm or store in an airtight container until ready to serve.
Nutrition Information:
Yield:
18
Serving Size:
1
Amount Per Serving:
Calories:

236
Total Fat:

9g
Saturated Fat:

4g
Trans Fat:

0g
Unsaturated Fat:

5g
Cholesterol:

10mg
Sodium:

167mg
Carbohydrates:

36g
Fiber:

2g
Sugar:

21g
Protein:

3g
Categories
This post may contain affiliate links. Read my disclosure policy.