Bright and colorful Funfetti Sprinkles Sugar Cookies are so chewy and soft, the definition of comfort food! One cheerful sprinkle cookie just isn't enough!
The first time I made these cookies, I was in recovery from surgery. As a baker out of commission for a few days, I was delirious with sugar cravings (or it may also have had to do with the pain medication. Or cabin fever. But I digress!).
In any case, I came across a version of these adorable funfetti sugar cookies, and I just knew I needed to make my own! They were the best comfort food at the time, perfectly soft and full of delicious sugar cookie flavor. I still make these often, there's just something about the bright colorful sprinkles that instantly puts me in a good mood.
These chewy, cheerful snickerdoodle cookies are great for any occasion, and kids love them. Making a batch doesn't require any fussing or planning, and it's a great activity to do for a weekend pick-me-up!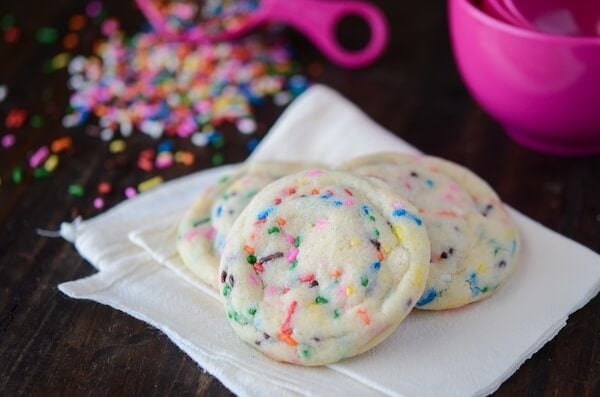 What You'll Need
Flour: All-purpose flour is my go-to for all forms of baking, as the results are the most consistent.
Cream of Tartar: Any snickerdoodle sticklers will tell you that a sugar cookie absolutely needs cream of tartar! And it is what gives these cookies their distinct chewy texture and hint of tangy flavor.
Leavening: This recipe uses a combination of baking powder as well as baking soda for lift.
Butter: Unsalted butter, brought to room temperature. This way it's easier to cream with the sugar.
Sugar: Like all-purpose flour, regular granulated sugar always yields the best results when it comes to baking cookies, IMO.
Vanilla Extract: For the most natural flavor, make sure to use pure vanilla extract and not the synthetic kind.
Sprinkles: Rainbow sprinkles or any color of your choosing. If you aren't a sprinkle fangirl like me, you can of course leave them out altogether, and your cookies will be just as tasty. I may or may not be silently judging, though.
Egg
Salt
What Kind of Sprinkles Are Best?
For best results, you'll want to use jimmies or rainbow candy quins, as these won't bleed into the batter as much as nonpareils. They also hold up better when baked, so try to get your hands on the right sprinkles to avoid homemade funfetti dough that's overly streaky!
These rainbow sugar cookies are great to make with kids. It's just so easy! And unlike many cookie recipes, this one doesn't call for chilling the dough, so it's quick, too. Here's how to make your homemade funfetti cookies:
Mix the Dough: Combine the flour and dry ingredients in a separate bowl, and beat together the butter, sugar, egg and vanilla in a stand mixer. Gradually add in the flour mixture until the batter forms, then stir in the sprinkles.
Roll the Dough: Roll the sugar cookie dough into equal sized balls and place these onto a lined baking sheet. Don't forget to leave a little space for the cookies to expand!
Bake: Bake the cookies in a 350°F oven until they're set in the middle. Note that these sugar cookies won't appear browned or "cooked" when they come out of the oven – this is fine, they'll finish cooking while they rest! If they're brown, they're likely overcooked.
Leave the cookies to cool on the baking sheet, and then transfer to a wire rack.
Can I Make the Dough Ahead of Time?
Yes! And I can't think of a better way to brighten a day than with a freshly baked sprinkle cookie, at any time. You can make the cookie dough up to 2 days ahead, roll out the dough balls, and chill them in the fridge until you're ready to bake them.
If you want to make the dough or the cookies well in advance, there's also the option to freeze them. I've included tips for how to store and freeze sugar cookies later on in this post!
Tips for Success
Do I Need To Chill the Dough?: The beauty of this recipe is that it doesn't require that you chill the dough before baking it. I've never needed to, but I have heard that if you're making cookies in a hot climate, or in humid weather, that they tend to spread more easily. In this case, feel free to pop the dough balls into the fridge after you've rolled them. It won't hurt, and it may help with spreading.
Add the Sprinkles at the End: Avoid adding your sprinkles into the cookie dough too early, as the colors are more likely to leak. Make sure to only add the sprinkles right at the end, until they're mixed evenly throughout and the dough is just combined.
Bring the Ingredients to Room Temperature: I noted this about the butter, but you can also let the eggs reach room temperature to ensure that everything mixes and bakes evenly.
Don't Overbake the Cookies: Also mentioned above, but worth repeating! The centers of the cookies will be soft when you take them out of the oven, but they'll set up as the cookies cool down. If the centers are already firm when they leave the oven, this will result in over-baked cookies that will be crunchy instead.
Storage Instructions
Keep your sprinkle cookies stored at room temperature, airtight and away from sunlight for up to 5 days.
Both the cookie dough and the baked cookies can be stored frozen for baking and thawing at a later time.
Freeze the cookie dough: I like to roll the dough balls out onto a baking sheet and then place the whole tray into the freezer to pre-freeze. Once the dough is solid, transfer the balls to a freezer bag to keep frozen for up to 3 months. Bake the cookie dough right from frozen (adding an extra minute of baking time) whenever a cookie craving strikes!
Freeze baked confetti cookies: You can also follow the same directions as above to freeze the cookies after baking. Simply pre-freeze and place them into a freezer bag. Instead of baking them afterwards, leave the cookies to thaw outside of the bag at room temperature before serving.
More Colorful Dessert Ideas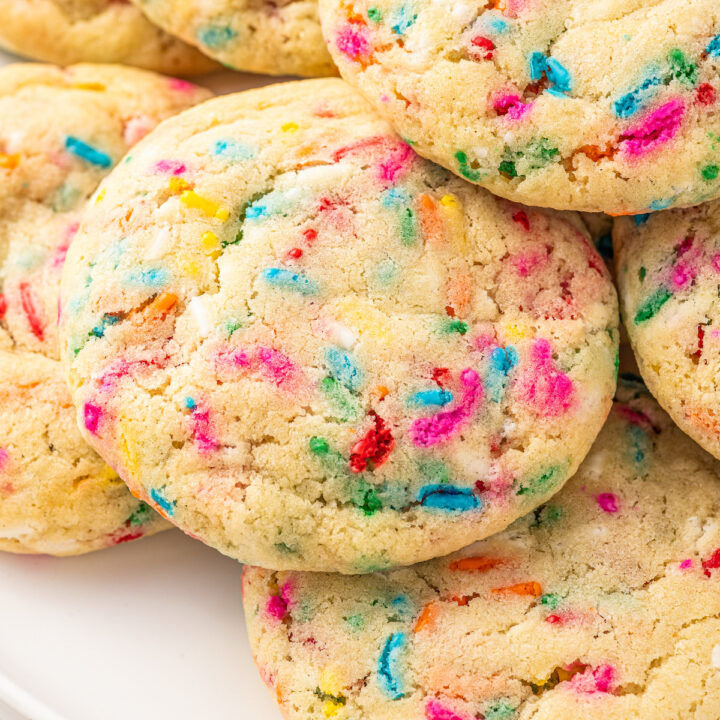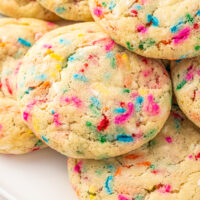 These Funfetti Sprinkles Sugar Cookies are so chewy and soft, the definition of comfort food! One cheerful sprinkle cookie just isn't enough!
Additional Time
5 minutes
Ingredients
1 and 1/2 cups all-purpose flour
1 teaspoon cream of tartar
1 teaspoon baking powder
1/2 teaspoon baking soda
1/4 teaspoon salt
1/2 cup (1 stick) unsalted butter, room temperature
3/4 cup granulated sugar
1 large egg
2 teaspoons vanilla extract
3/4 cup sprinkles
Instructions
Preheat oven to 350°F. Line two baking sheets with parchment paper or silpats. Set aside.
In a medium bowl, whisk together flour, cream of tartar, baking powder, baking soda and salt. Set aside.
In a stand mixer, beat butter and sugar until light and fluffy. Add egg and vanilla extract, mixing until combined. Add flour mixture 1/2 cup at a time, mixing until completely combined. Stir in sprinkles until evenly distributed (you can do this by hand or with the stand mixer).
Roll one heaping tablespoon of dough into balls and place on prepared baking sheet – leaving about an inch for spreading.
Bake for 8-10 minutes, until the centers are set. The cookies will not look browned or cooked, but they are (they will finish cooking while cooling on cookie sheet).
Remove from oven and let cookies rest on baking sheet for 5 minutes. Then transfer to a wire rack to cool completely. Store in an airtight container for up to 5 days.
Notes
adapted from Sally's Baking Addiction
Nutrition Information:
Yield:
20
Serving Size:
1
Amount Per Serving:
Calories:

83
Total Fat:

2g
Saturated Fat:

0g
Trans Fat:

0g
Unsaturated Fat:

2g
Cholesterol:

10mg
Sodium:

89mg
Carbohydrates:

15g
Fiber:

0g
Sugar:

11g
Protein:

1g
Categories
This post may contain affiliate links. Read my disclosure policy.