Soft Sprinkle Sugar Cookies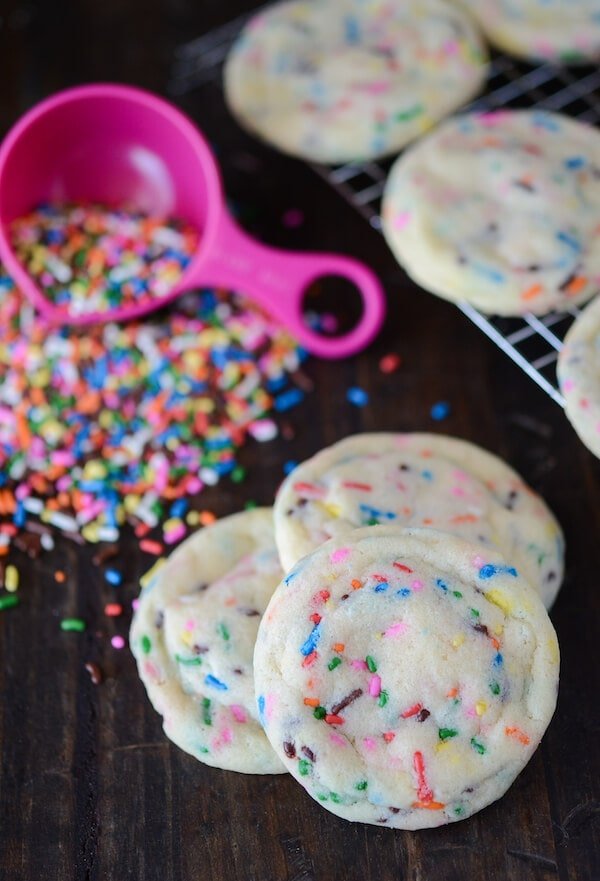 Well, it looks like I survived the surgery. It has been 5 days and I am still slightly swollen. I haven't gotten back to eating normally yet and am still seeking out soft foods (hello, white chicken chili!). I also have two giant bruises on either side of my face, but that's actually been pretty fun. Anytime we are in public, I just point at Jorge behind his back and make a sad face. (Kidding, just kidding.)
On Saturday, I was starting to go crazy. I wanted something to eat that wasn't in the form of soup or mush, but still soft enough that it wouldn't hurt too badly to try to chew. I had already spent hours of drugged up couch time perusing pinterest and saw these amazing looking cookies on Sally's Baking Addiction. So with Jorge's help, off to the stand mixer I went.
Oh and by the way, I wouldn't recommend pinterest-ing while on pain pills. You will be CONVINCED you can make all of the DIY stuff just as good as anyone else. You will pin DIY beds, farmhouse tables and even repainting your washer and dryer in mint green. It's not true — you aren't that talented. And you don't even own a saw.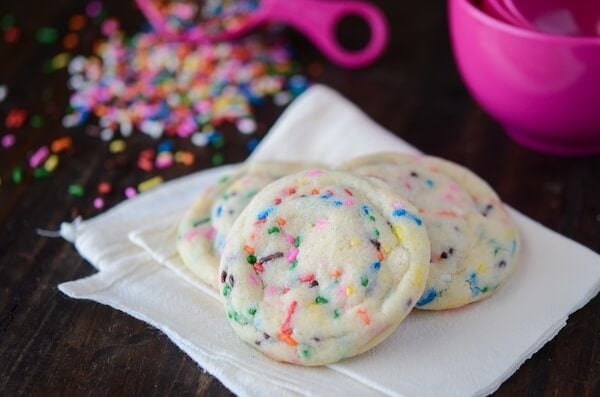 The original recipe calls for room temperature eggs, putting the dough in the fridge before baking and a few other odds and ends. I am not that fussy with cookies (unless they are macarons) and I'm happy to report they didn't need any special treatment!
They turned out perfectly soft and full of delicious sugar cookie flavor. If you aren't a sprinkle fangirl like me, feel free to leave them out. I will of course judge you, but your cookies will be just as tasty. 🙂
By the way, this will be the 57th cookie recipe that I have blogged. Whoa.
Soft Sprinkle Sugar Cookies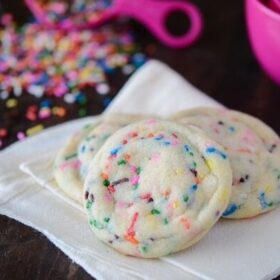 Ingredients:
1 and 1/2 cups all-purpose flour
1 teaspoon cream of tartar
1 teaspoon baking powder
1/2 teaspoon baking soda
1/4 teaspoon salt
1/2 cup (1 stick) unsalted butter, room temperature
3/4 cup granulated sugar
1 large egg
2 teaspoons vanilla extract
3/4 cup sprinkles
Directions:
Preheat oven to 350°F. Line two baking sheets with parchment paper or silpats. Set aside.
In a medium bowl, whisk together flour, cream of tartar, baking powder, baking soda and salt. Set aside.
In a stand mixer, beat butter and sugar until light and fluffy. Add egg and vanilla extract, mixing until combined. Add flour mixture 1/2 cup at a time, mixing until completely combined. Stir in sprinkles until evenly distributed (you can do this by hand or with the stand mixer).
Roll one heaping tablespoon of dough into balls and place on prepared baking sheet – leaving about an inch for spreading.
Bake for 8-10 minutes, until the centers are set. The cookies will not look browned or cooked, but they are (they will finish cooking while cooling on cookie sheet).
Remove from oven and let cookies rest on baking sheet for 5 minutes. Then transfer to a wire rack to cool completely. Store in an airtight container for up to 5 days.
This post may contain affiliate links. Read my disclosure policy.