Tender, buttery, and topped with a delightfully tart blackberry reduction, these hoecakes with blackberry sauce make the perfect lightly sweet breakfast. The tanginess of real fruit is balanced by the subtle hints of vanilla in the batter, serving up perfection in every bite.
Looking for traditional flour pancake recipes? Try these wonderfully Fluffy Pancakes or these Easy Pumpkin Pancakes.
Southern Hoecakes with Blackberry Rum Sauce
This recipe brings together the perfect combination of ingredients for the lightest, sweetest hoecakes you've ever tasted. Made with corn meal, their texture and taste are very similar to cornbread. While traditional hoecakes often leave out the sugar, I've found it to be the secret ingredient that transforms a good hoecake into a great one.
The blackberry rum sauce on these flapjacks is what really makes them shine. Not only does it pack in the vitamins and minerals, but it also adds a tangy sweetness to balance out the lighter, more savory batter.
Why do they call it a hoecake?
The story of how the hoecake got its name comes from a little bit of history. The first thing to know is that hoe was an old English word for griddle, most likely because of its general resemblance to a gardening hoe. Since these corn pancakes were originally made on griddles over a fire, the name stuck.
What is the difference between hoecakes and pancakes?
Although originally pancakes were made in a pan and hoe cakes on a griddle, these days they're both made over the stove. The big difference that still exists between hoecakes and pancakes is the type of flour used in them. Hoecakes are made from a cornmeal base, while traditional pancakes use regular wheat flour.
Recipe Ingredients
First, we'll go over what you need for the hoecakes themselves, then move on to the ingredients for the blackberry reduction. You can find exact amounts by scrolling down to the printable recipe card.
For the Hoecakes
Yellow Cornmeal
All-Purpose Flour: For the best results, you want a combination of both wheat flour and cornmeal.
Baking Powder
Salt
Eggs
Granulated Sugar
Butter: Melted and cooled.
Vanilla Extract
Buttermilk
For the Sauce
Blackberries: Fresh or frozen work.
Granulated Sugar
Water
Vanilla Extract
Dark Rum: All the alcohol cooks off, leaving only a warm rum flavor.
How to Make Hoecakes
These quick and easy hoecakes require only a handful of steps. And the blackberry rum sauce is even simpler!
Prep Your Materials: Preheat your oven to 200°F. You'll use it to keep your hoecakes warm between batches.
Mix the Dry Ingredients: Whisk together the cornmeal, flour, baking powder and salt in a medium bowl and set it aside.
Mix the Wet Ingredients: Whisk together eggs and sugar in a large bowl. Quickly add the butter, vanilla extract and buttermilk into the mixture and whisk until it reaches an even consistency.
Combine the Wet and Dry Ingredients: Add the dry ingredients to the wet ingredients and stir them together until they're just mixed.
Cook: Heat a non-stick skillet to medium heat and pour 1/4 cup of batter onto the skillet. Once you start to see little bubbles form, flip it over and continue to cook it until the hoecake browns to your liking on both sides. Place the hoecake on an oven-safe dish and pop it in the oven to keep it warm, then repeat this step with the remaining batter.
How to Make the Blackberry Rum Sauce
For the sauce, all you have to do is stir, simmer and serve. It doesn't get much easier than that!
Mix: Combine the blackberries, water, sugar and vanilla extract in a medium saucepan. Place it over medium-high heat and pour in the rum, stirring again.
Cook: Bring the mixture to a simmer and cook it for 8-10 minutes, stirring occasionally, until the liquid reduces and it reaches a syrupy consistency. Remove your sauce from the heat immediately and serve it warm on top of your hoecakes.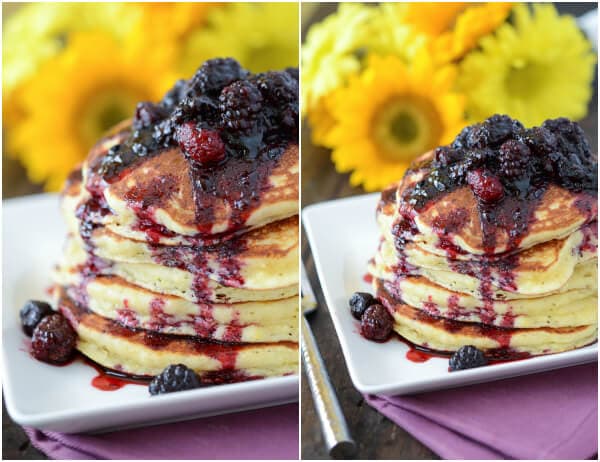 Tips for the Best Hoe Cakes
These hoecakes will be finished in just 7 simple steps, rum sauce and all. Here are some tips to make sure everything comes out just right.
Blackberry is Best: While you can use different fruit, blackberries are the best choice for this recipe. If you're really not a blackberry fan, try to switch it out for another tart fruit, like raspberries or cherries.
Make Your Own Buttermilk: You really don't want to skip the buttermilk in this recipe. If you don't have any, it's actually fairly easy to make at home! Just add a tablespoon of either pure lemon juice or vinegar to a cup of whole milk for every cup of buttermilk you need. Stir it and let it sit for 3-5 minutes and it should be good to go.
Kid-Friendly: Because the alcohol all cooks out of the sauce, you can make this breakfast for the whole family!
Serving Suggestions
I love to top these hoecakes with butter and syrup before adding the blackberry reduction. Since berries and cream is a classic pair, try dolloping some whipped cream on the very top of your stack. As for sides, they taste great with all the classic elements of a breakfast spread, from sausage to fried tomatoes.
How to Store and Reheat Extras
As long as you wrap them well, these hoecakes will last for up to 4 days in the fridge. And just like pancakes, hoecakes are super easy to freeze. Just wrap them individually and pop them in the freezer for up to 3 months, then reheat them from frozen in the microwave. If you like it when the edges get just a little crunchy, try sticking them in the oven for a few minutes after microwaving so they can crisp up.
Yield: 8 large hoecakes
Sweet Hoecakes with Blackberry Rum Sauce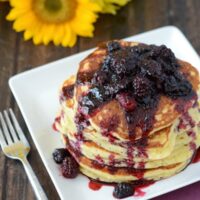 Sweet Hoe Cakes with Blackberry Rum Sauce are the best Sunday breakfast in existence. Don't believe me? Just wait until you taste these homemade hoecakes with tangy blackberry sauce!
Ingredients
For the Sweet Hoecakes:
3/4 cup yellow cornmeal
3/4 cup all-purpose flour
2 teaspoons baking powder
1/4 teaspoon salt
1 large eggs
1/3 cup granulated sugar
1/4 cup butter, melted and cooled
2 teaspoons vanilla extract
1 1/4 cups buttermilk
For the Blackberry Rum Sauce:
2 cups blackberries (fresh or frozen)
1/4 cup granulated sugar
1/2 cup water
1 tablespoon vanilla extract
1 tablespoon dark rum
Instructions
Sweet Hoecakes:
Preheat oven to 200 degrees.
In a medium bowl whisk together cornmeal, flour, baking powder and salt. Set aside.
In a large bowl whisk together eggs and sugar. Quickly whisk in butter, vanilla extract and buttermilk.
Add the dry ingredients to the wet ingredients and and stir until just mixed.
Heat a non-stick skillet to medium heat. Using a 1/4 cup scoop, pour batter on to skillet.
Once you start to see little bubbles form, flip and continue to cook until hoecake is browned on each side.
Place hoecake on an oven safe dish and place in oven to keep warm. Continue until you have used all hoecake batter.
Blackberry Rum Sauce:
Combine all ingredients in a medium saucepan over medium-high heat.
Bring to a simmer and cook for 8-10 minutes, stirring occasionally, until the liquid reduces and a sauce is left. Remove from heat immediately and serve on top of hoecakes!
Nutrition Information:
Yield:
8
Serving Size:
1
Amount Per Serving:
Calories:

255
Total Fat:

7g
Saturated Fat:

4g
Trans Fat:

0g
Unsaturated Fat:

3g
Cholesterol:

40mg
Sodium:

321mg
Carbohydrates:

38g
Fiber:

3g
Sugar:

19g
Protein:

5g
Categories
This post may contain affiliate links. Read my disclosure policy.