Sweet Hoe Cakes with Blackberry Rum Sauce are the best Sunday breakfast in existence. Don't believe me? Just wait until you taste these homemade hoecakes with tangy blackberry sauce!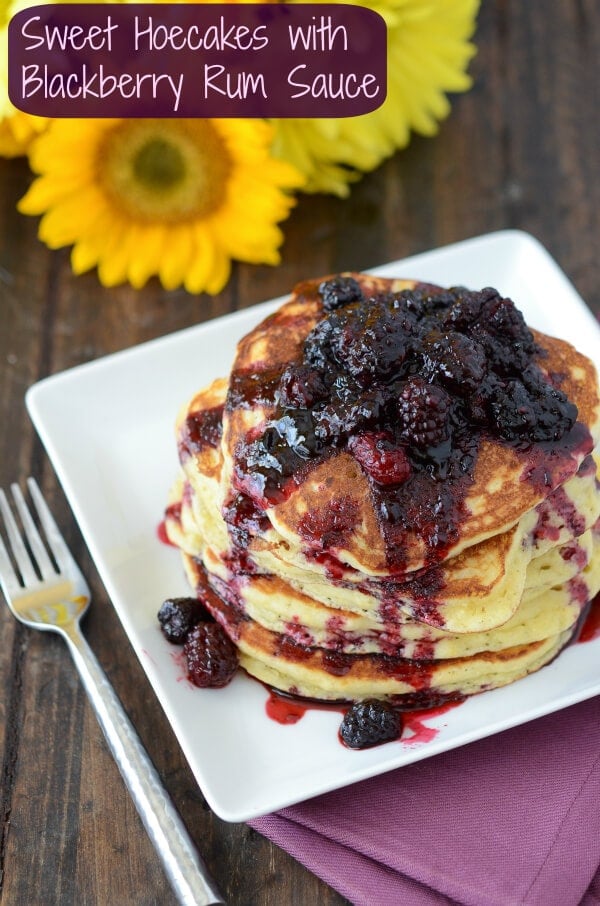 It has taken me a long time to perfect my hoecakes. I made many recipes from the likes of Paula Deen to Alton Brown…but none of them were perfect. I tried more cornmeal, less cornmeal, and even all cornmeal. I couldn't figure out what was missing…what flavor wasn't there…and then one day I added sugar. WHOA. Sugar was definitely the missing ingredient!
When I served these babies up to Jorge, he proclaimed them to be the best pancakes I had ever made. And while they are hoecakes, they do fall into the pancake category and I have made a lot of pancakes over the years! You might think it was the sauce that won him over, but I promise it was the actual hoecakes. However, the Blackberry Rum Sauce really was the um, icing on the hoecake. 😉
These were so dang good that Jorge and I started eating them right out of the pan with no syrup, sauce, or butter. They are now on the very top of the list for Sunday breakfasts. They even surpass bacon on Jorge's breakfast wish list — and that is seriously saying something! …of course, he would like both bacon and hoecakes, but I gotta keep his heart pumping for a few more years.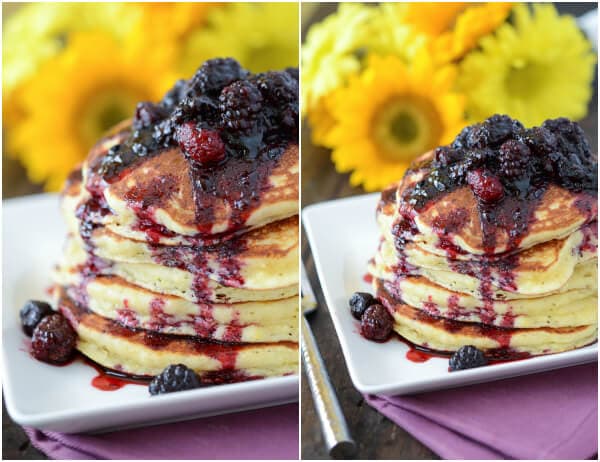 As you can read from my love letter above, these sweet hoecakes are fabulous with just a little maple syrup. However, they really are taken to the next level with the Blackberry Rum Sauce! The flavors of blackberry and sweet corn play off each other so well, it truly is the perfect pairing. And if you are worried about alcohol in the morning (I'm not, Mimosas are my jam…but some of you might be worried about liqour before 10am) the actual alcohol will cook off, leaving the warm rum flavor!
And before you guys ask, I really do suggest you use the ingredients listed below. A few of them aren't something you always have on hand, but it does really make a difference in this recipe and it is worth it! But just in case you don't believe me…
Yes, you can use a different fruit — however, blackberry is the best for this recipe. And since you can use frozen or fresh, there is no excuse not to try the blackberry! And yes, you can use clear rum instead of dark rum (or leave the rum out all together), however the dark rum adds a better flavor.
But no, I'm sorry you can not substitute the buttermilk in this recipe! No quick tricks or swaps with milk…it really needs true buttermilk. I know it's a pain, but it's so worth it…and if you need to use up leftover buttermilk I have a few ideas of how: Cinnamon Sweet Potato Biscuits — Southern Buttermilk Biscuits — Sweet Potato Buttermilk Pie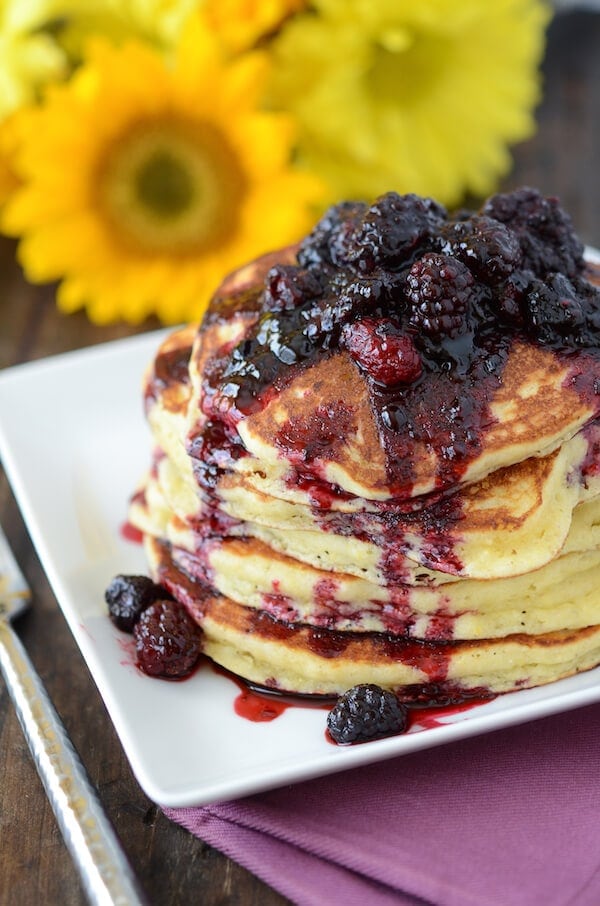 Now get to cooking, you are going to love these!
Yield: 8 large hoecakes
Sweet Hoecakes with Blackberry Rum Sauce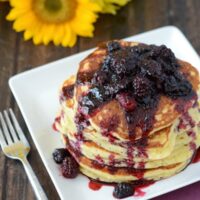 Sweet Hoe Cakes with Blackberry Rum Sauce are the best Sunday breakfast in existence. Don't believe me? Just wait until you taste these homemade hoecakes with tangy blackberry sauce!
Ingredients
For the Sweet Hoecakes:
3/4 cup yellow cornmeal
3/4 cup all-purpose flour
2 teaspoons baking powder
1/4 teaspoon salt
1 large eggs
1/3 cup granulated sugar
1/4 cup butter, melted and cooled
2 teaspoons vanilla extract
1 1/4 cups buttermilk
For the Blackberry Rum Sauce:
2 cups blackberries (fresh or frozen)
1/4 cup granulated sugar
1/2 cup water
1 tablespoon vanilla extract
1 tablespoon dark rum
Instructions
Sweet Hoecakes:
Preheat oven to 200 degrees.
In a medium bowl whisk together cornmeal, flour, baking powder and salt. Set aside.
In a large bowl whisk together eggs and sugar. Quickly whisk in butter, vanilla extract and buttermilk.
Add the dry ingredients to the wet ingredients and and stir until just mixed.
Heat a non-stick skillet to medium heat. Using a 1/4 cup scoop, pour batter on to skillet.
Once you start to see little bubbles form, flip and continue to cook until hoecake is browned on each side.
Place hoecake on an oven safe dish and place in oven to keep warm. Continue until you have used all hoecake batter.
Blackberry Rum Sauce:
Combine all ingredients in a medium saucepan over medium-high heat.
Bring to a simmer and cook for 8-10 minutes, stirring occasionally, until the liquid reduces and a sauce is left. Remove from heat immediately and serve on top of hoecakes!
Nutrition Information:
Yield:
8
Serving Size:
1
Amount Per Serving:
Calories:

255
Total Fat:

7g
Saturated Fat:

4g
Trans Fat:

0g
Unsaturated Fat:

3g
Cholesterol:

40mg
Sodium:

321mg
Carbohydrates:

38g
Fiber:

3g
Sugar:

19g
Protein:

5g
Categories
This post may contain affiliate links. Read my disclosure policy.