This Sloppy Joe recipe is classic comfort food that is ready in under 20 minutes! Your family will ask you to make these homemade Sloppy Joes again and again!
If you are looking for more comfort food recipes like this, check out these other favorites: Homemade Chicken and Dumplings, Instant Pot Chicken Fettuccine Alfredo and Dill Pickle Chicken.
EASY HOMEMADE SLOPPY JOES
Sloppy Joes are something we all have a special place in our heart for. They are one of the all time classic American comfort foods that take most of us back to childhood with each bite. Your whole family is going to love this delicious and quick dinner recipe!
This easy homemade version is made in one pot, which makes clean up a breeze. It is also a great recipe to make it ahead and reheat when you are ready to serve.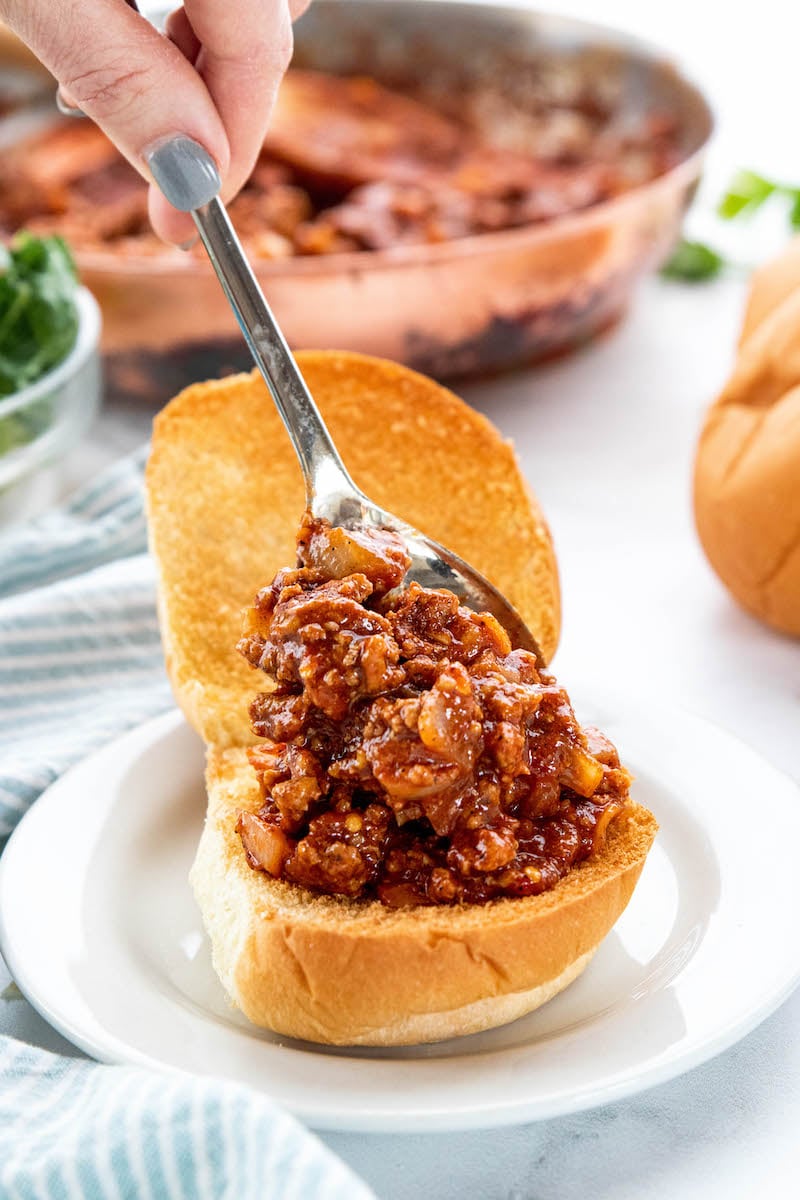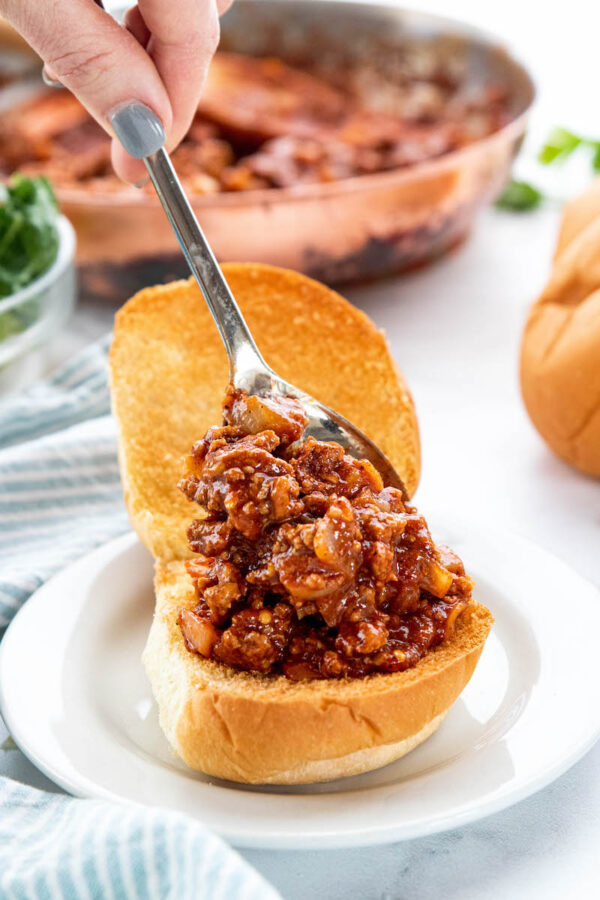 WHAT ARE SLOPPY JOES AND WHY ARE THEY CALLED SLOPPY JOES?
Sloppy Joes are ground meat mixed with a tomato based sauce, then served on a hamburger bun. They are intentionally messy, and that's half the fun of it! We start to eat it with the bun it's on, but always end up finishing it with a fork.
There are a couple different stories about the origins of sloppy joes. Some claim they came from a small cafe in Sioux City, Iowa during the 1930's. The head chef (whose name was Joe) added a tomato-based sauce to some loose meat and turned it into a sandwich one day. And voila, the sloppy joe was born.
There's also speculation that this dish came from the depression era because of its simple and cheap ingredients.
Either way, they must have been very popular because the concept is still around today and I'm glad it is, because I love them!
WHAT IS THE DIFFERENCE BETWEEN A MANWICH AND A SLOPPY JOE?
Manwich is a canned, pre-made sauce many people add to cooked meat to make sloppy joe type sandwiches. It is basically spiced up tomato sauce. Sloppy joes are a little different. Sloppy joe sauce is sweet and tangy, giving it a unique, customized, delicious flavor.

HOW TO MAKE SLOPPY JOES
You'll start your sloppy joes by combining the ketchup, dijon mustard, worcestershire sauce, tomato paste, red wine vinegar and tomato sauce. The Worcestershire sauce really gives these sloppy joes a savory flavor. Set aside.
Next, you'll saute the garlic until it's fragrant and add the onion and cook until it's translucent, or about five minutes.
To the onion and garlic mixture, add the ground turkey, breaking it up while it cooks.
Add in the chili powder, crushes red pepper, salt and pepper and stir to combine, for two minutes. Next, you will add in the ketchup mixture and stir to coat the meat. Simmer for five minutes.
While the sauce is simmering, throw your hamburger buns into the oven, cut side up, with the broiler on. This will toast the buns and give your sloppy joe sandwich a nice crunch.

TIPS FOR THE BEST SLOPPY JOES
Watch the sloppy joe sauce: You'll want to watch your sauce to make sure it doesn't reduce too much, but that it stays at a nice consistency. If it's too runny, your sandwich will be too messy. If it's too dry, it won't have the right texture.
Toast your hamburger buns: I know you're thinking that you don't have to toast the buns. Don't skip this step! It makes all the difference, I promise!
WHAT TO SERVE WITH SLOPPY JOES
When I think of what to serve with sloppy joes, I think of fun, classic sides like finger foods or something you'd see at your neighborhood Fourth of July barbecue. Some of my favorites are these Baked Sweet Potato Fries, the Best Baked Beans, or something as simple as potato chips!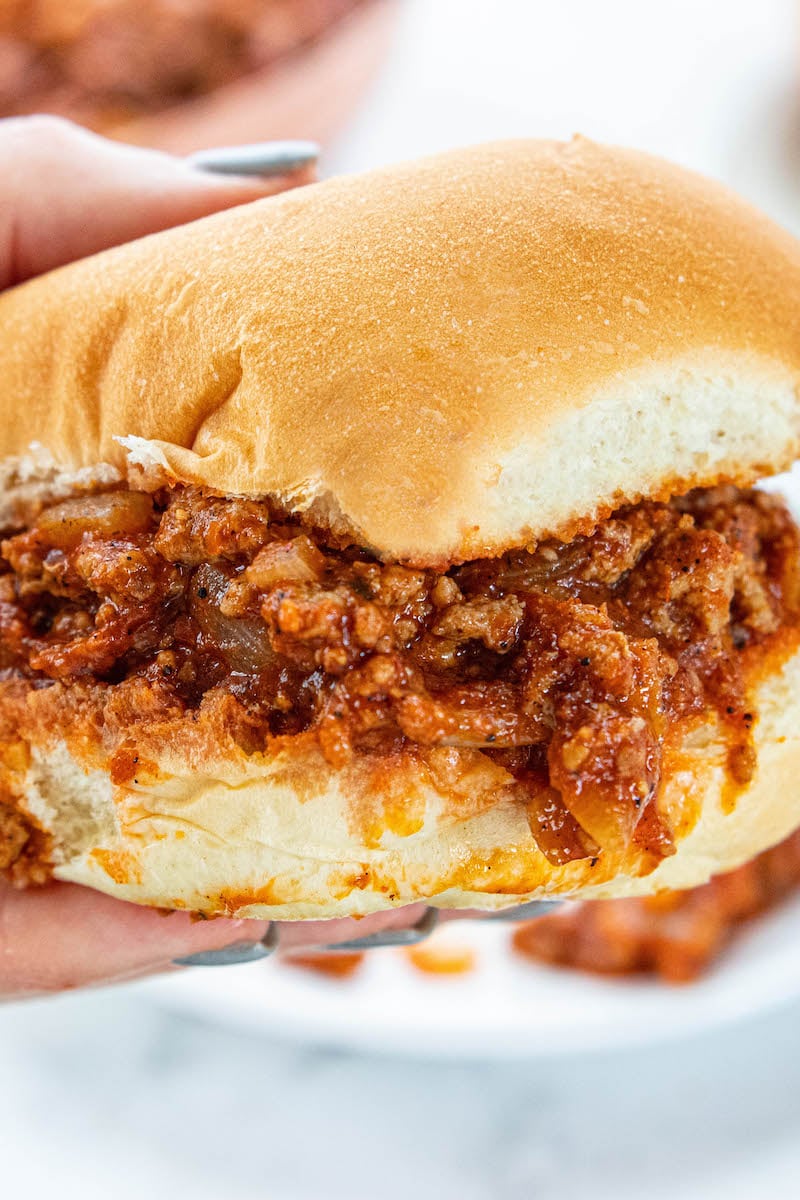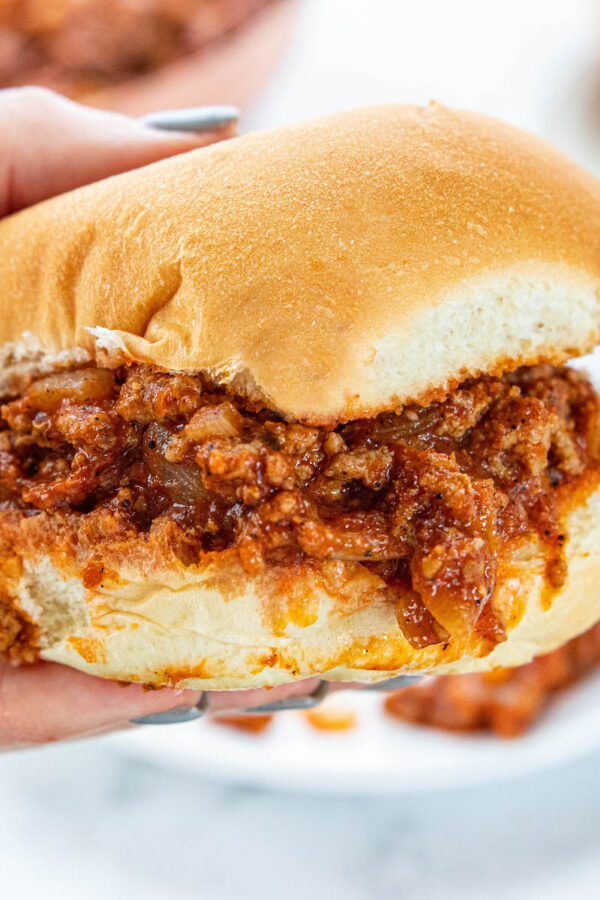 HOW TO STORE LEFTOVER SLOPPY JOES
Sloppy joes leftovers will last in an airtight container in your refrigerator for up to five days.
You can also freeze sloppy joes for up to three months. Just cook your sloppy joe filling as you normally would, let it cool, package it up in a freezer friendly container and throw it in the freezer. (If using a Ziploc bag don't forget to lay it flat so it saves space!)
When you are ready to use it, thaw the cooked sloppy joes in your refrigerator and then heat it up for a quick meal!
HOW TO REHEAT SLOPPY JOES
This recipe reheats wonderfully! Sloppy joes can be easily reheated on the stove in a large saucepan. Add in a little water and mix well, until it is heated through. Serve as usual.
You can also reheat your sloppy joes in the microwave using a microwave safe container. Heat on medium heat for two minutes and stir. Repeat if necessary, depending on how much you are heating up. Just make sure you cover the sloppy joes with a paper towel to avoid a mess in your microwave!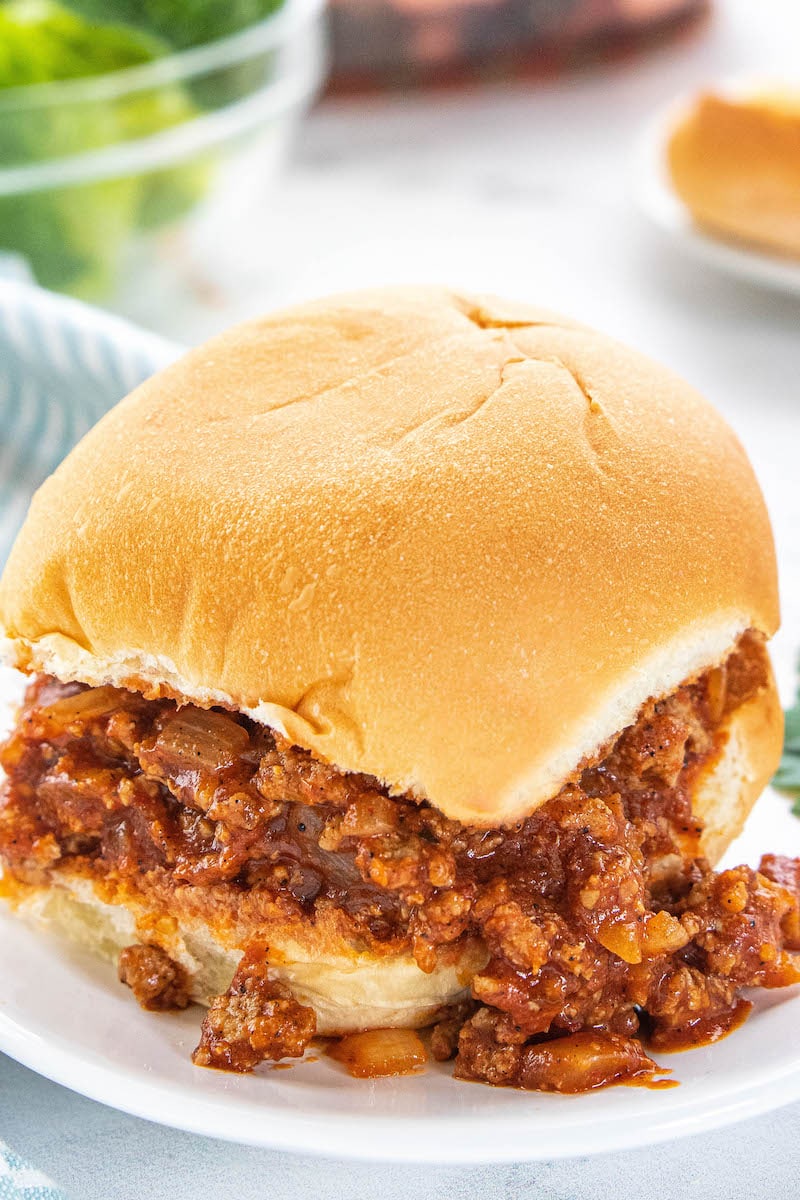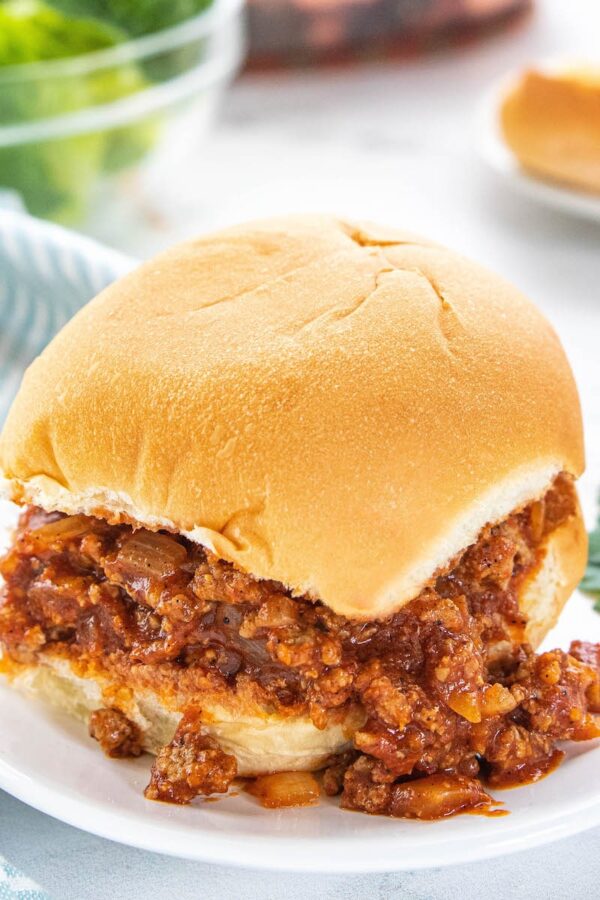 I know your family is going to love this Sloppy Joe recipe as much as we do. Serve them up and watch them disappear. And then the next time, do like me and make and a double batch and freeze the extra for an effortless homemade dinner later in the month.
Please leave a review or comment below letting me know how this recipe turns out for you!
Sloppy Joes
This Sloppy Joe recipe is classic comfort food that is ready in under 20 minutes! Your family will ask you to make these homemade Sloppy Joes again and again!
Ingredients
¼

cup

ketchup

1

tablespoon

dijon mustard

1

tablespoon

worcestershire sauce

2

tablespoons

tomato paste

1

teaspoon

red wine vinegar

8

oz

can tomato sauce

1

tablespoon

olive oil

3

cloves

garlic

,

minced

1

large yellow onion

,

chopped

16

oz

lean ground turkey

,

ground beef or chicken can also be used

1

tablespoon

chili powder

1

teaspoon

crushed red pepper

1

teaspoon

salt

1

teaspoon

fresh ground pepper

6

hamburger style buns
Instructions
In a small bowl, whisk together ketchup, dijon mustard, worcestershire sauce, tomato paste, red wine vinegar and tomato sauce. Set aside.

Heat olive oil in a large heavy bottomed skillet over medium-high heat. Add the garlic and saute until fragrant, about 30 seconds. Add onion and cook, stirring as needed, for 5 minutes or until translucent.

Add ground meat of choice and cook until browned through, breaking it up with a spatula/spoon as it cooks.

Add chili powder, crushed red pepper, salt and pepper. Cook 2 minutes more and then add the ketchup mixture, stirring to evenly coat the meat. Simmer for 5 minutes more, or until thickened.

While sauce thickens, lightly toast your buns under the oven broiler, cut side up, for 2 minutes.

Divide sloppy joe mixture evenly among toasted buns and serve immediately!
Notes
Recipe Note: This reheats wonderfully! Pop it into a airtight container and save the leftovers for lunch tomorrow! Or freeze them!
Nutrition
Serving:
1
sloppy joe
,
Calories:
297
kcal
,
Carbohydrates:
31
g
,
Protein:
30
g
,
Fat:
7
g
,
Saturated Fat:
1
g
,
Polyunsaturated Fat:
5
g
,
Cholesterol:
54
mg
,
Sodium:
942
mg
,
Fiber:
2
g
,
Sugar:
8
g
Categories:
This post may contain affiliate links. Read my disclosure policy.