March 5, 2014
The Best Classic Snickerdoodle Cookies
I absolutely hate when I find inspiration to bake cookies and then I find out the recipe I was looking at is finicky. To me, finicky cookies = room temp eggs, sifting ingredients, or chilling the dough for long hours. I am way to impatient for all that mess.
I understand that sometimes dough really does have to chill for a while…but if that's the case, it's usually just not the cookie for me! I just don't have that kind of patience when it comes to cookies. I can take all the time in world to make layered cakes, but don't expect me to spend a lot of time waiting on a cookie. 😉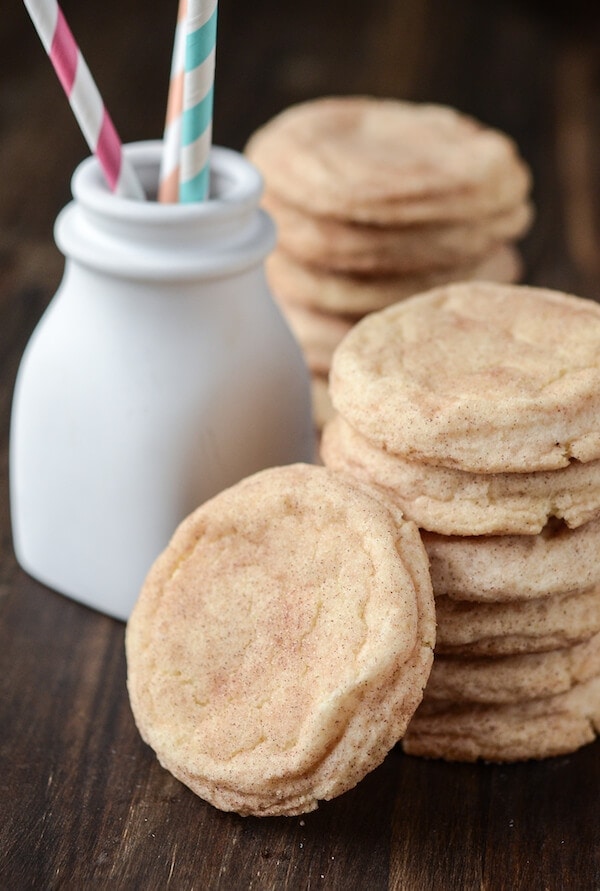 One night this weekend, I got it in my head to make classic snickerdoodles. Then when I started googling around, all I was finding were recipes that required lots of waiting. I don't even wait for my butter to get to room temp! I just pop it in the microwave at half the power for a few seconds. Seriously, did I mention how impatient I am?
I started trying out snickerdoodle recipes and before you knew it, I spent the whole weekend developing the best classic snickerdoodle recipe that has no silly requirements. These are the perfect mix of chewy and tangy that you want from a snickerdoodle…and they are done in less than 30 minutes. Perfection.
P.S. This is my third "The Best" cookie recipes. Make sure and check out The Best Classic Chocolate Chip Cookies and The Best White Chocolate Macadamia Nut Cookies. I seriously have dreams about those White Chocolate Macadamia Nut Cookies…mmm salty/sweet!
The Best Classic Snickerdoodle Cookies
This cookie recipe can easily be halved. I like to make a big batch because...hello -- cookies. But if you need less cookies in your life, just divide it all by half to make 16 gorgeous cookies instead.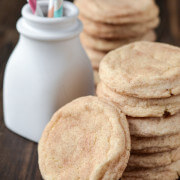 Ingredients:
3 cups all purpose flour
1/2 teaspoon salt
1 teaspoon baking soda
1/2 teaspoon cream of tartar
2 sticks (1 cup) unsalted butter, softened
1 cup granulated sugar
2/3 cup packed light brown sugar
2 large eggs
2 teaspoon vanilla extract
1/4 cup sugar & 1 tablespoon cinnamon for rolling
Directions:
Preheat oven to 325°F. Line two baking sheets with parchment paper and set aside. In a medium sized bowl, combine flour, salt, baking soda and cream of tartar. Set aside. In a stand mixer (or large bowl), cream together the butter and sugars until well combined. Add the eggs and vanilla and beat until smooth. Add the dry ingredients into the wet ingredients and mix until dough comes together. In a small bowl, combine the sugar with the cinnamon for the topping. Shape 2 tablespoons of dough into rounded balls. Roll dough in the cinnamon/sugar mixture and set it onto an ungreased cookie sheet. Repeat for the remaining cookies. Bake the cookies for 10 to 12 minutes. The cookies may seem undercooked, but will continue to firm up after they are removed from the oven. Allow cookies to cool for 5 minutes on cookie sheet before transferring to a cooling rack. Store cookies in an airtight container for up to 3 days with a piece of white bread. (The bread trick is totally real and will keep these cookies soft!)