Boozy Jolly Rancher Slushies! I KNOW. How excited are you? Because I can tell you, I was pretty dang excited when I poured myself one of these last Friday afternoon.
These slushies are perfect for all the warmer months coming up and only need four ingredients — one of those ingredients being ice!
Plus, if any of your friends are on a diet, you can tell them these drinks are naturally vegan and gluten free. Just don't mention they are made with candy. Deal?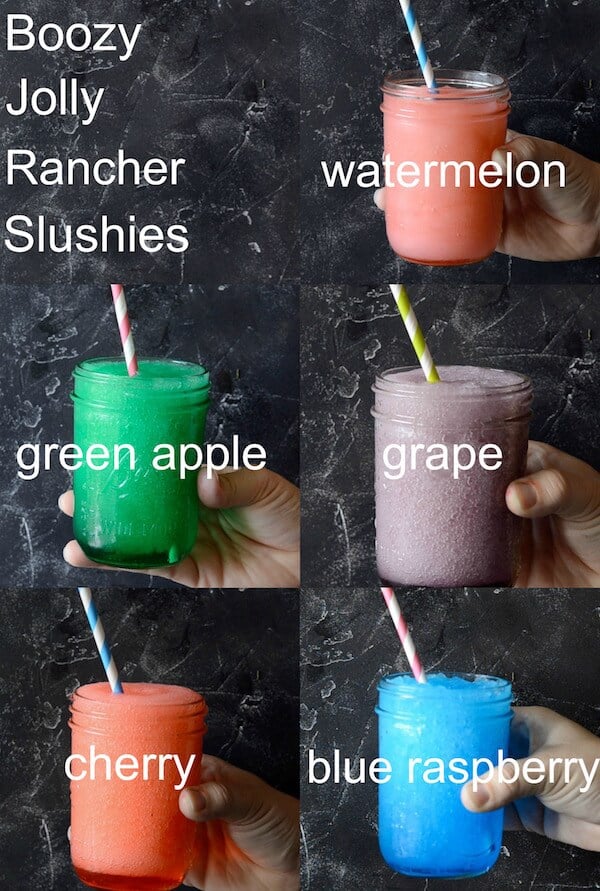 The coolest part about this frozen cocktail are all the flavor options.
I did the 5 original classic flavors, but at the store I also saw lemon, orange, mountain berry, strawberry, pineapple, and cinnamon.
Usually when you want to offer a bunch of different drink flavors, it get's really expensive…but not when all you have to buy is a bag of Jolly Ranchers!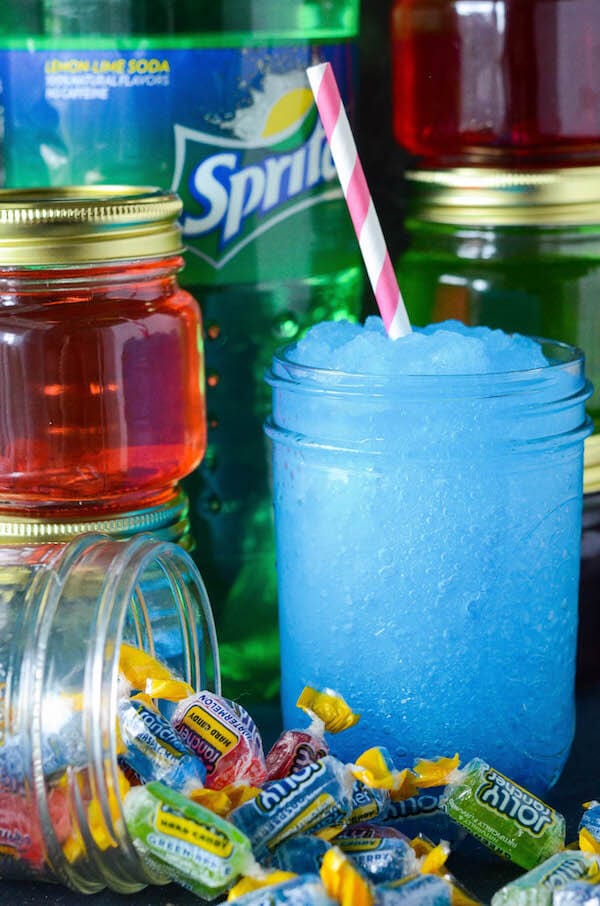 You get to look like the hostess with the mostess for just a few dollars. Don't worry, I won't tell anyone.
Well, except for anyone else who reads this blog or finds the pin on pinterest. Other than that though, I promise it's our little secret.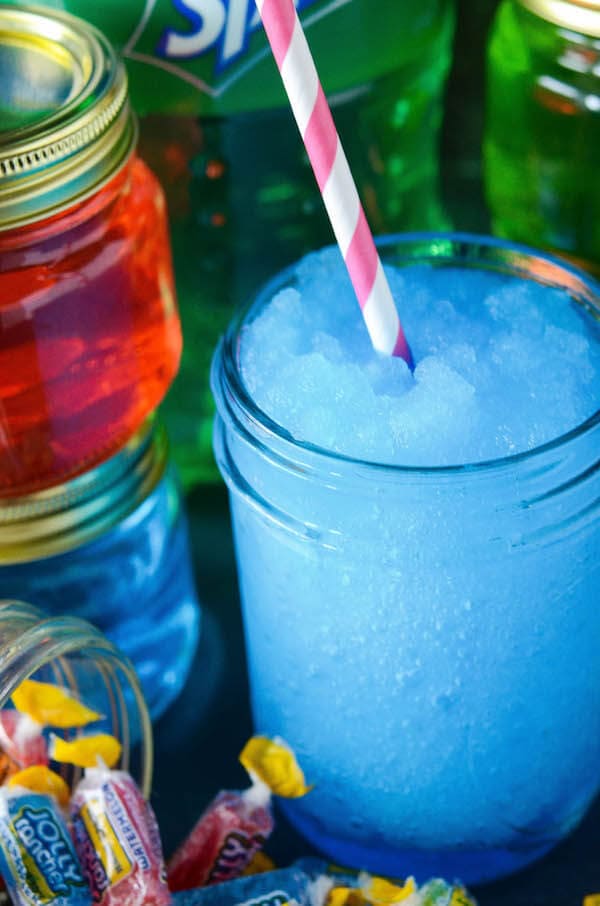 These Boozy Jolly Rancher Slushies are the ultimate summer drink. I know where some of you live, it is probably still cold outside, but here in Florida it is already in the 80's.
I am more than ready for an adult beverage by the time the weekend finally rolls around. Even better if it's frozen, so I don't sweat as bad while letting the kids run around the yard like maniacs.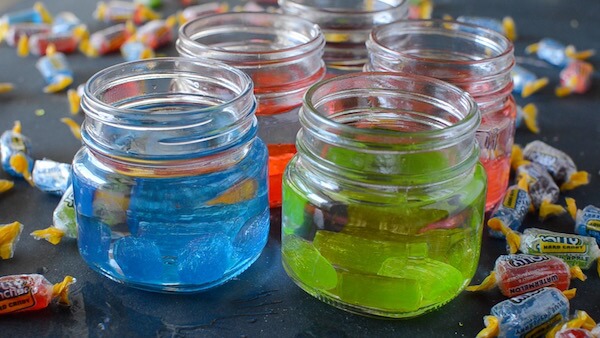 You can store your jolly rancher infused vodka for up to a few months. I store mine in the fridge if I am going to keep it around for a while…just because it makes me feel better.
Also, I have done this with rum as well and it is just as delicious. So if you like rum more than vodka, feel free to swap the vodka out for any clear rum. I wouldn't recommend using a darker rum for this recipe.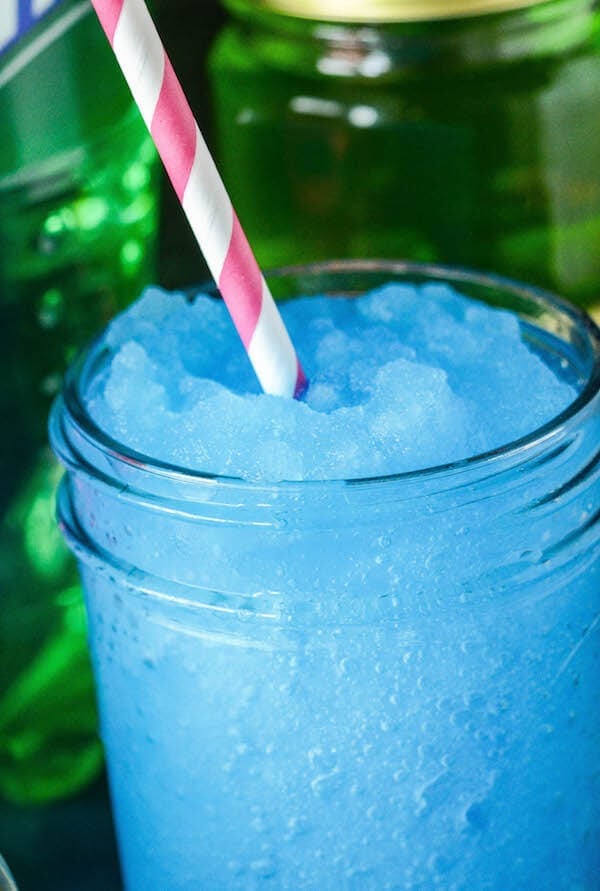 ALCOHOL FREE KID VERSION: If your kids are anything like my kids, they will want your slushie. I mean, why wouldn't they — look at them! So what I do is dissolve 10 same color jolly ranchers in a cup of water (in place of the vodka). Then just follow the rest of the directions to make a kid version of this fun cocktail!
Here's to warmer months, good friends, tanned legs and fruity boozy slushies!
Yield: 5 servings
Boozy Jolly Rancher Slushies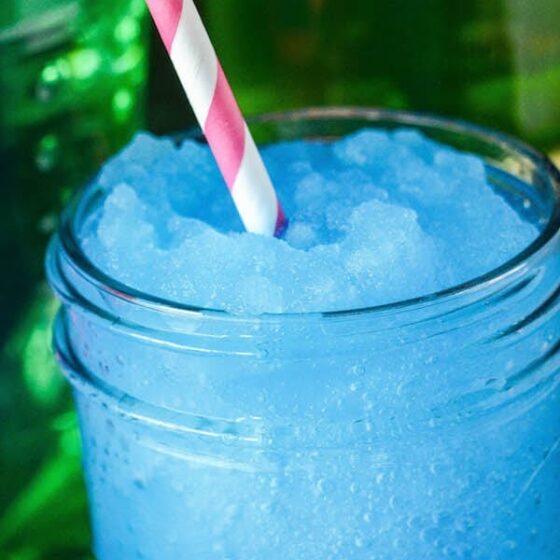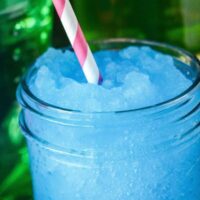 Boozy Jolly Rancher Slushies! You only need 4 ingredients for these awesome summer cocktails: jolly ranchers, vodka, ice and sprite!
Ingredients
Jolly Rancher Vodka:
1 liter vodka
10 watermelon jolly ranchers, unwrapped
10 cherry jolly ranchers, unwrapped
10 blue raspberry jolly ranchers, unwrapped
10 green apple jolly ranchers, unwrapped
10 grape jolly ranchers, unwrapped
For 1 Boozy Jolly Rancher Slushie:
2 oz jolly rancher vodka
1 cup ice
2/3 cup sprite
Instructions
Divide jolly ranchers in 5 jars that seal with lids (I used mason jars).
Divide vodka evenly among all 5 flavors of jolly ranchers — a little under 1 cup of vodka per jar.
Let sit for 24 hours, shaking occasionally when you think about it to help the jolly ranchers dissolve.
When ready to make a slushie, add jolly rancher vodka, ice and sprite to blender. Blend until smooth and enjoy!
Nutrition Information:
Yield:
5
Serving Size:
1
Amount Per Serving:
Calories:

927
Total Fat:

2g
Saturated Fat:

0g
Trans Fat:

0g
Unsaturated Fat:

1g
Cholesterol:

0mg
Sodium:

23mg
Carbohydrates:

121g
Fiber:

12g
Sugar:

93g
Protein:

5g
Want to Save This Recipe?
Save
Save
This post may contain affiliate links. Read my disclosure policy.