In my opinion, Caldo de Pollo, one of my favorite Mexican soups, is the perfect comfort food. It's so warm and inviting that you'll want to make it all year round.
Cozy Caldo de Pollo
Caldo de Pollo is the perfect solution when you're looking for a soul-warming, flavorful, and simple soup. I love soups that have really basic ingredients but still pack in a ton of flavor. It boils down (no pun intended!) to using a rich chicken broth that I'm going to show you how to make from scratch.
It's very similar to my Caldo de Res recipe, too. But this time we're going to use chicken instead of beef. Both soups have a lot of fresh vegetables and herbs. Making these soups is a great way to clean out the refrigerator when you have a bunch of veggies you don't know what to do with. Plus, this recipe gets bonus points because it's also really healthy. Just wait until you see the list of ingredients!
If you love this Mexican chicken soup, I bet you will also love these other great soups: Caldo de Alondigas (Mexican Meatball Soup), Crockpot Chicken Pozole, and Pork Pozole Verde!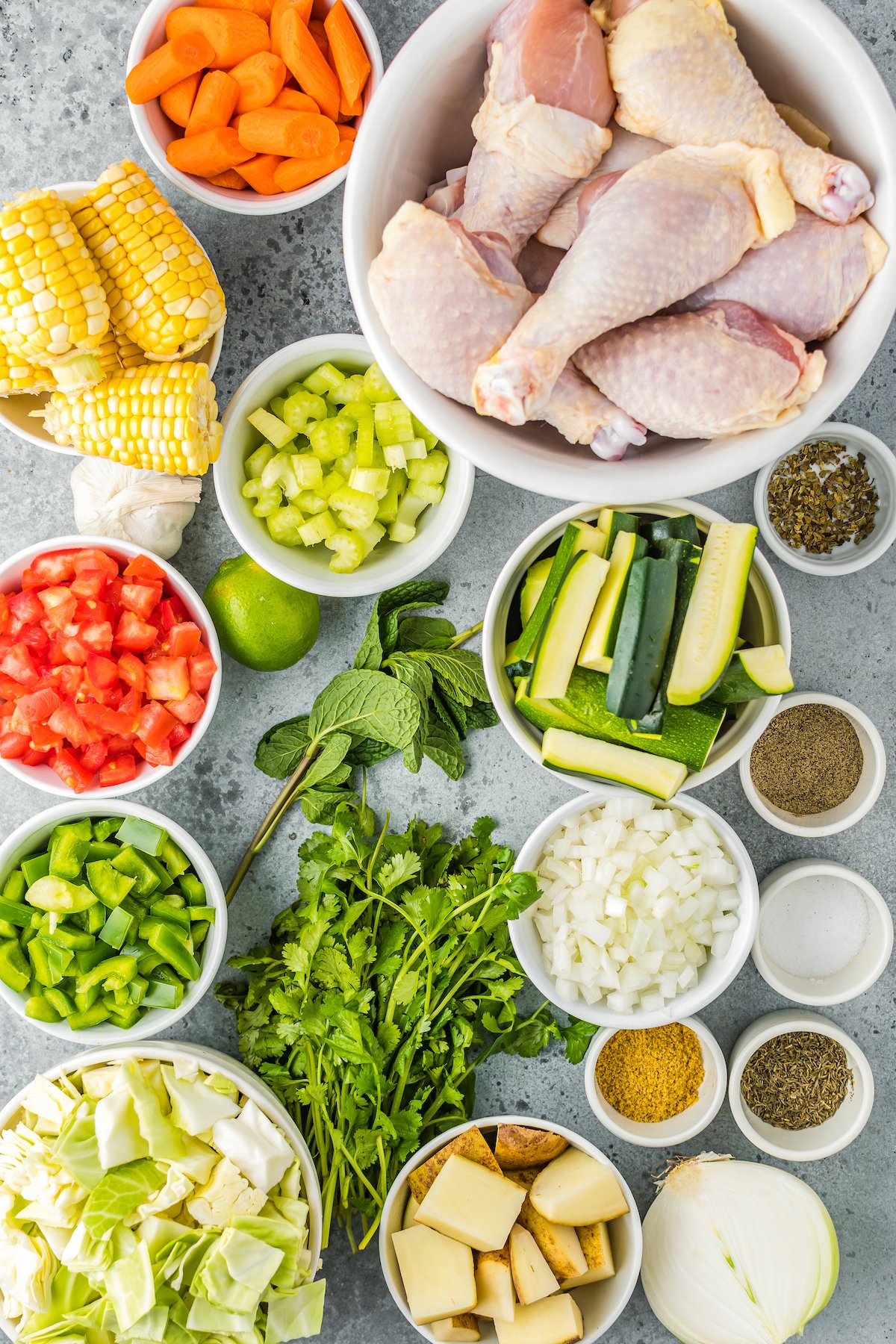 Recipe Ingredients
The ingredient list is full of nutritious vegetables and fresh herbs. Without a doubt, every single ingredient plays a part in making this soup one-of-a-kind.
Chicken: The main ingredient where the flavors begin! You'll cook the chicken and make the broth at the same time. You can use an entire chicken or just things and drumsticks.
Onion: This is a no-brainer ingredient in good soups. I recommend using yellow or white onions.
Garlic
Salt & Pepper
Olive Oil
Roma Tomatoes: Tomatoes add a slight sweetness to the soup, but they will also add to the authentic Mexican flavor.
Cabbage: A great way to add fiber to the soup. I recommend using green cabbage.
Potatoes: Potatoes are also a great way to add fiber to the soup.
Carrots: If you don't want to peel and slice your carrots, you can use baby carrots.
Corn: The recipe uses corn on the cob. It can be fresh or frozen.
Green Bell Pepper: Using green peppers enhances the flavors. It's important not to use red or yellow ones, because they are too sweet for this soup.
Chayote Squash: Traditional Mexican soup uses Chayote which is a small, rounder, light green squash. It is similar to zucchini. Alternatively, you can use yellow squash if that's what you have on hand.
Mint: Mint is very important for this soup in many regions of Mexico. In Mexico, it's called Yerba Buena, an aromatic herb of the mint family. You can always omit the mint if you prefer.
Thyme: This is an earthy and lemony herb that's best if you can use fresh. You can use dried, too.
Oregano: I like fresh Mexican Oregano the best. But if you cannot find it, regular oregano is fine. Additionally, you can also use dried oregano.
Chicken Bouillon: Chicken Bouillon is a really simple way to boost the flavor of the stock.
Cilantro: This is one of my favorite ingredients and this time we're going to cook with it!
Lime: A classic Mexican garnish, and for good reason. Adding acid to any dish will bring all the flavors to life.
How to Make Caldo de Pollo
The ingredients and steps are simple. You just need a little time and a lot of love to make this heart and belly-warming soup!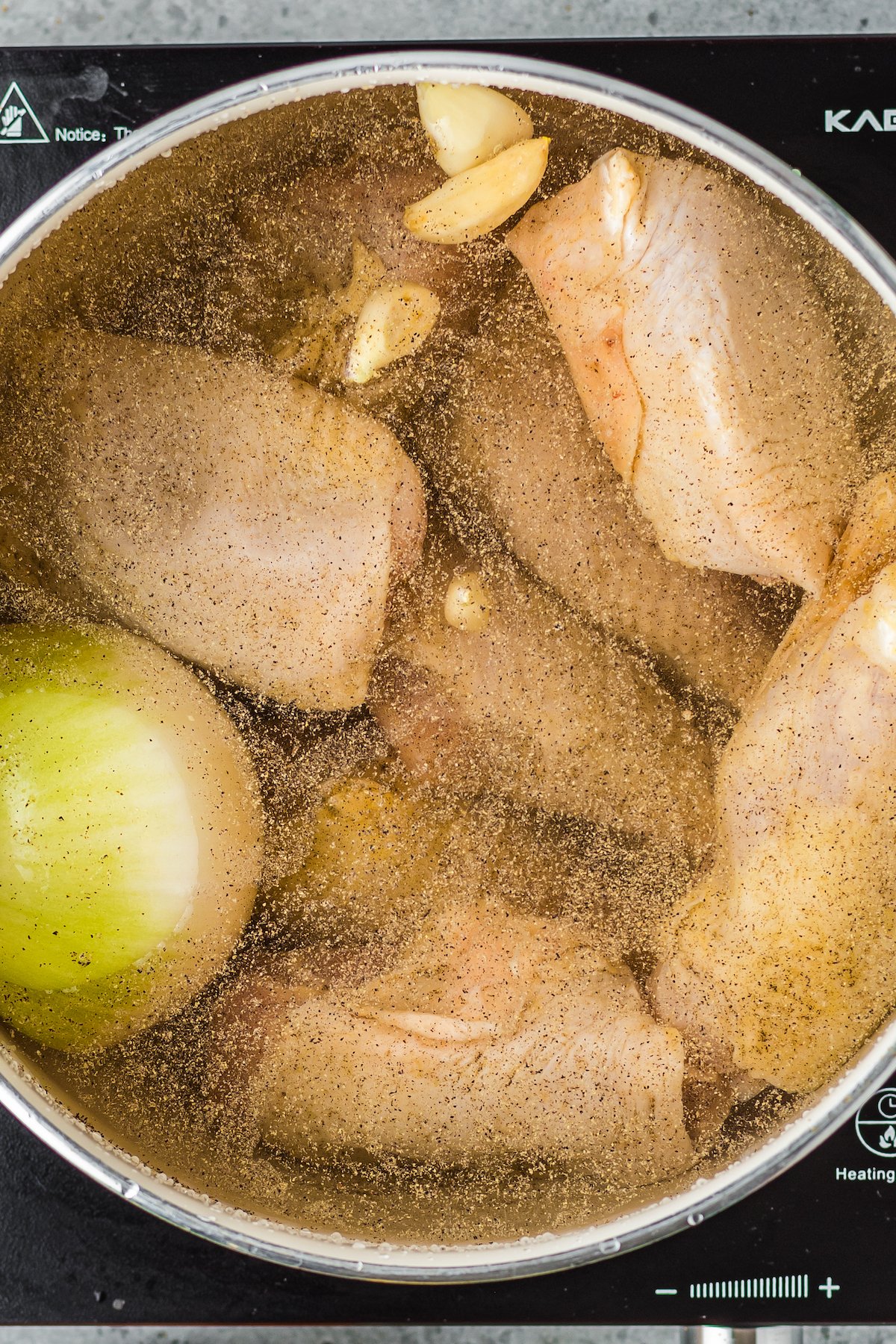 First, you'll start to make the broth and cook the chicken. Grab a large stock pot and add the water, chicken, half of an onion, garlic, salt, and pepper. Simmer for about 20 minutes.
Next, cook the diced onions, tomatoes, bell pepper, and celery in a saute pan. Then, you'll add that tomato mixture into the pot with the chicken. You're going to want to take out the onion half. That was simply there to add flavor to the stock.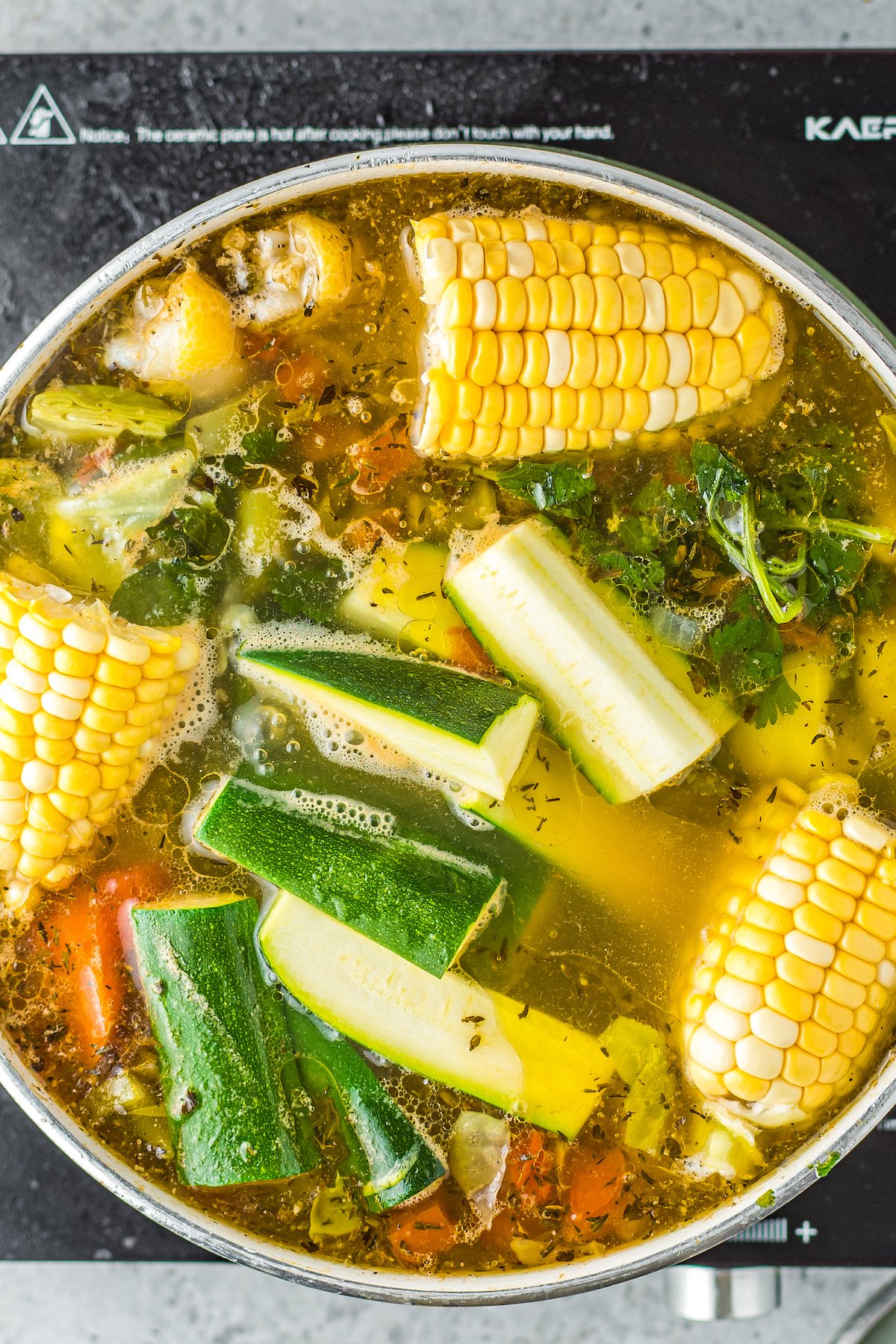 Add the rest of the vegetables, herbs, and chicken bouillon to the pot. Then stir so that everything is combined, and the bouillon dissolves.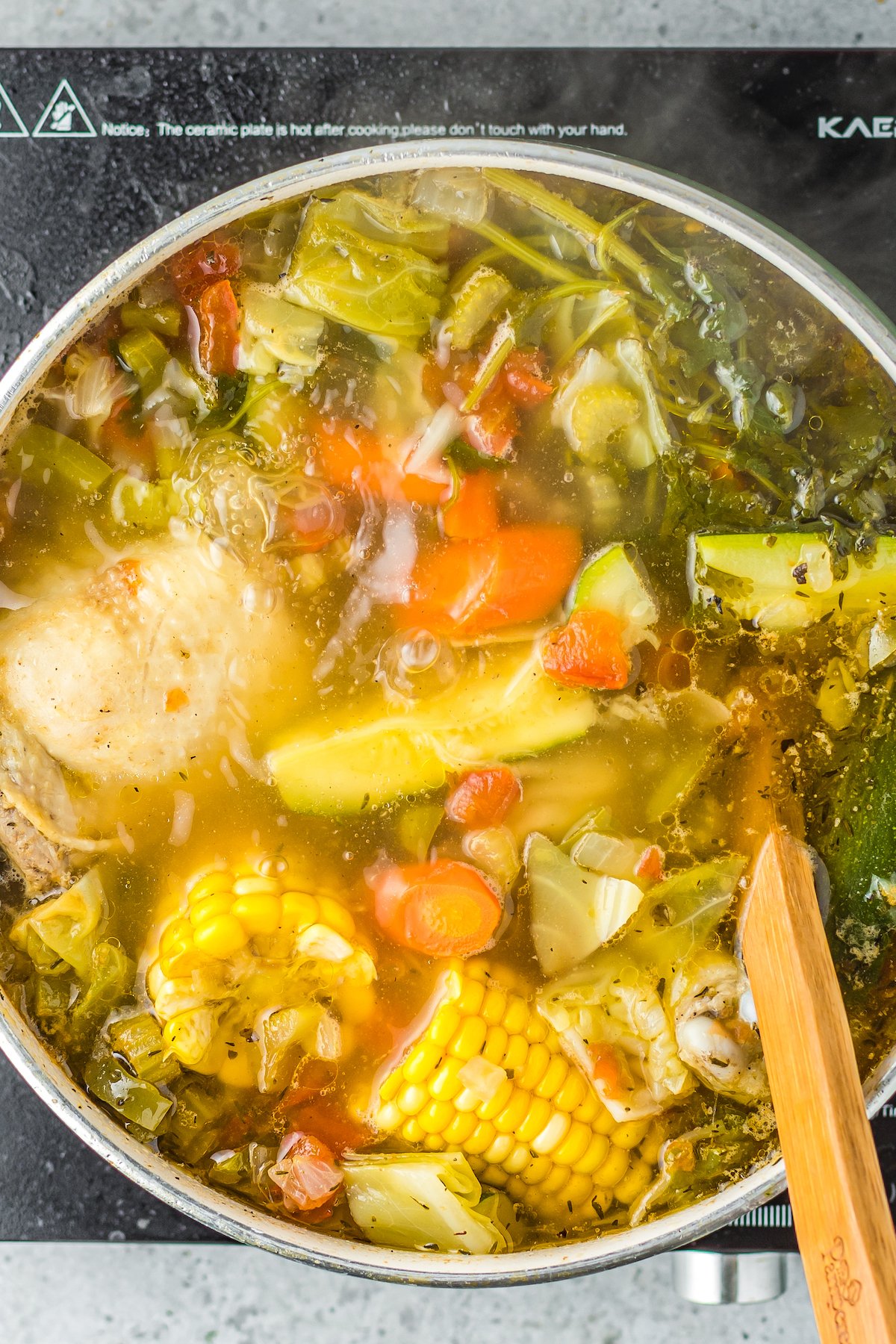 Now, you'll do something a little crazy and add the whole bunch of cilantro to the soup. Let it simmer for about 30 minutes.
Finally, the soup is done when the chicken is cooked and the potatoes are tender. You might want to remove the cilantro, but it's completely fine if you want to leave it in. I love adding a squirt of lime juice and a lime wedge for garnish with a little bit of fresh cilantro.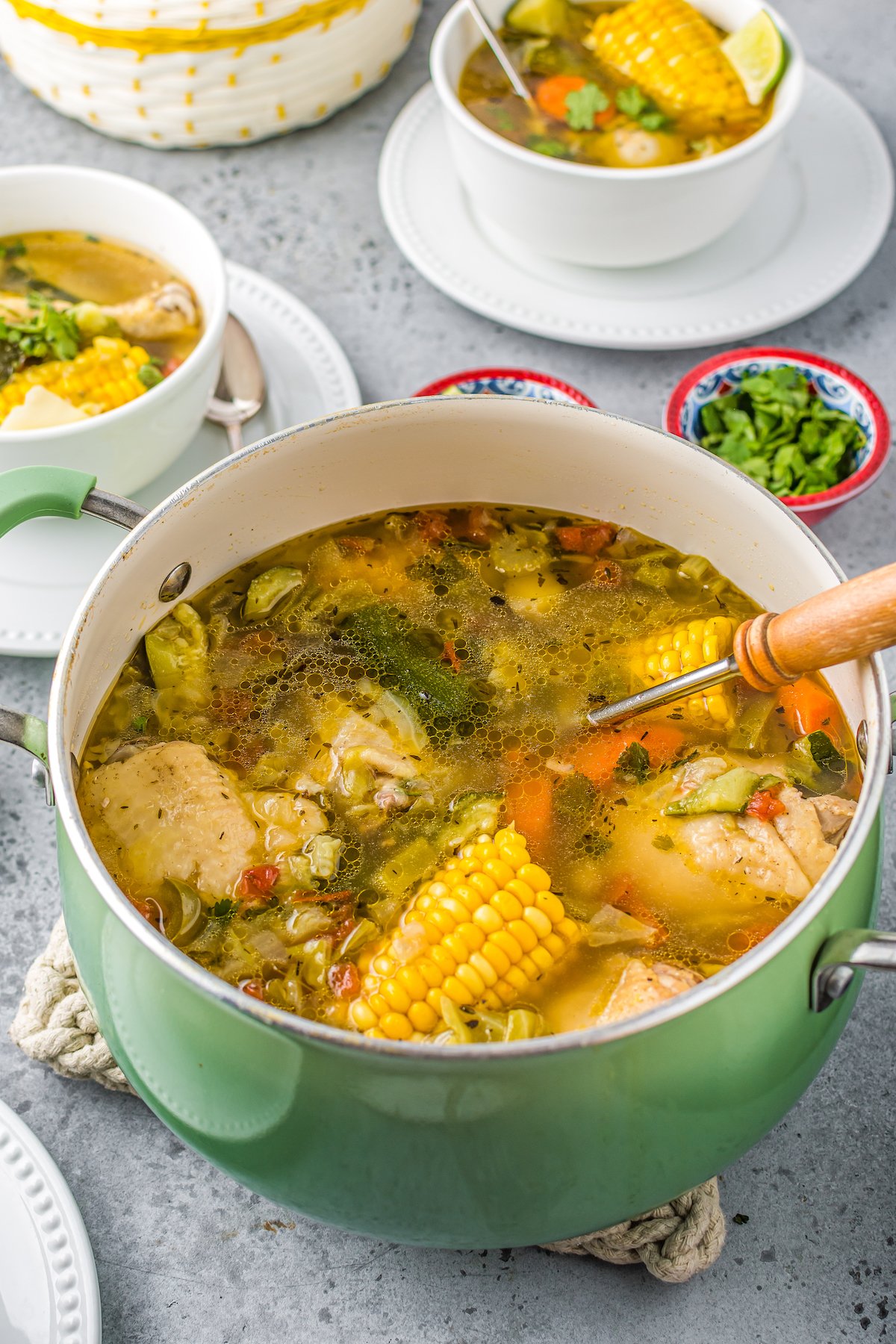 Tips and Variation Ideas
This classic Mexican soup is pretty easy to make, but it never hurts to have a few tips on hand:
Use whatever chicken you have on hand.

You can use a whole cut-up chicken or just thighs and legs, but don't remove the bone or skin. This gives so much flavor and the skin can be removed before eating.

Don't forget to remove the bones before eating (if you're using bone-in chicken).

The chicken should fall right off the bones, so this will be really easy.

What if you don't like cilantro?

I know some of you out there don't like cilantro, and that's ok! You can omit it or you could use parsley and/or green onions.

Serve this soup the day after it's made.

Now, I'm not saying don't eat this soup as soon as you make it. Please, dive right in! But I think you'll be more impressed when you eat it the next day. Trust me, the flavor becomes even richer and more delicious!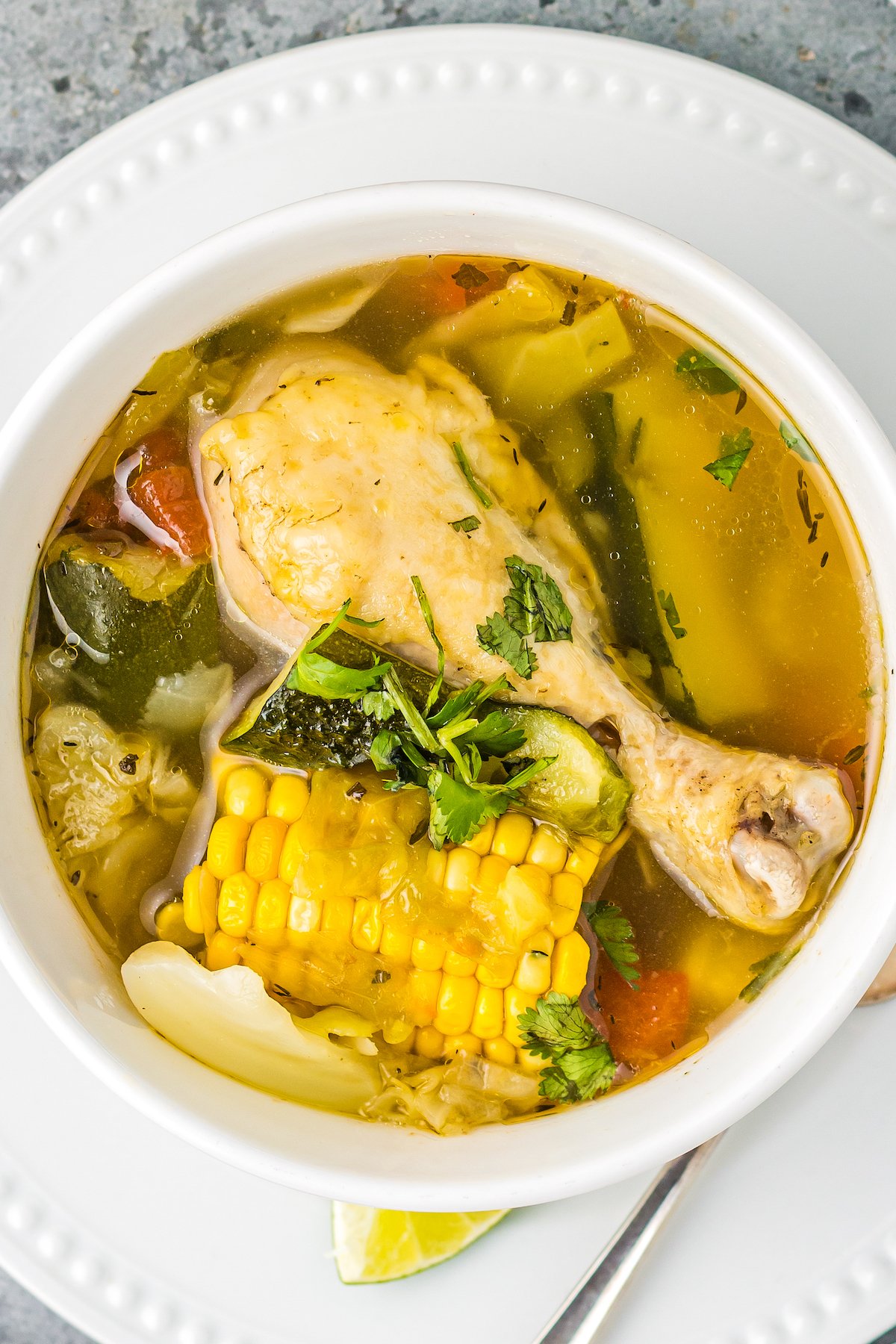 How to Serve Caldo
As I said, you're going to have a hard time resisting a bowl once this Caldo de Pollo is done. The simmering pot of Caldo is going to fill your kitchen with the most appealing aroma. So, go ahead, grab a bowl and a ladle and eat up!
You really don't need anything more than this hearty soup for a good meal, but I do have a few really dishes you could serve along side this Mexican chicken soup.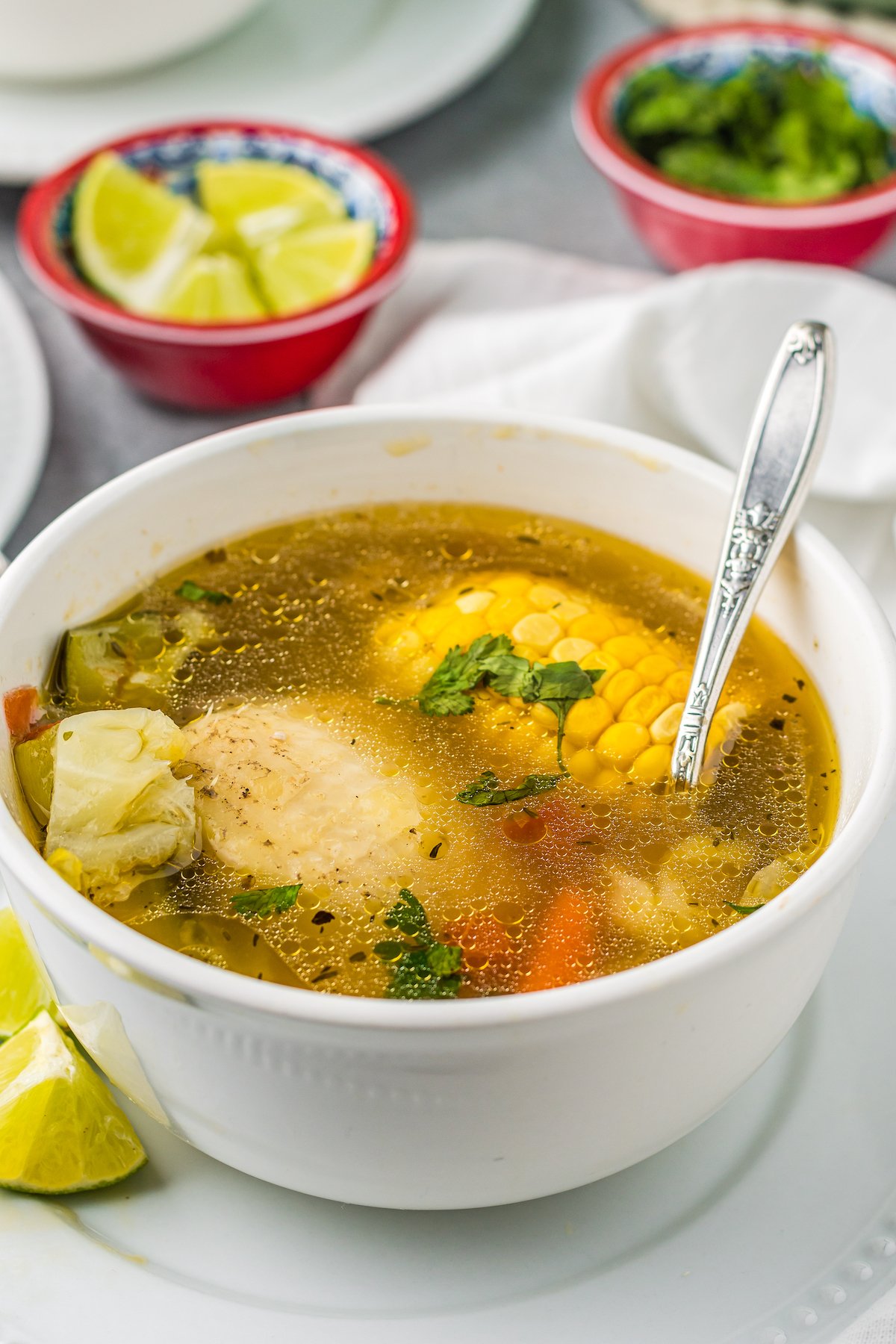 Storing and Reheat Leftovers
Caldo de Pollo makes the best leftovers! The soup can be stored air-tight container for up to 5 days.
You can reheat the soup in the microwave (make sure you cover it with a paper towel) for about 3-5 minutes or until it's hot. You can also use the stovetop to reheat the soup.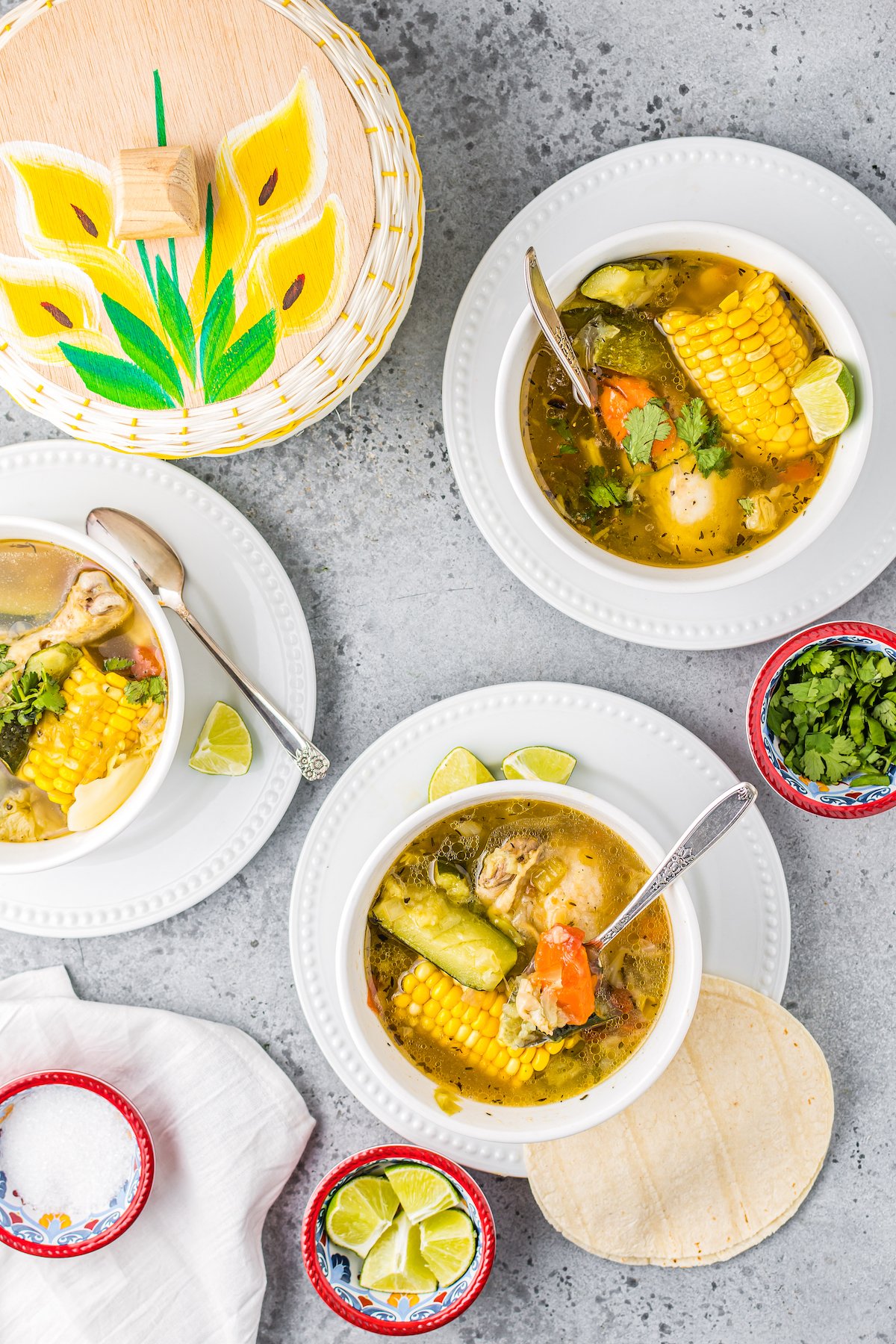 Can I Freeze Extras
Freezing Caldo de Pollo is a breeze. It's one of my favorite soups to freeze and reheat when I'm feeling under the weather. Sometimes, I even make a double batch just for this reason!
This soup will freeze well for up to 3 months. But don't forget to move it to the fridge to thaw 2 days before you want to serve it for best results.
Caldo de Pollo
Caldo de Pollo is an authentic Mexican soup that features a homemade chicken broth and tons of fresh vegetables and herbs. It's cozy, nutritious, and easy to make!
Ingredients
8-10

cups

water

4

pounds

chicken

,

whole cut up (or thighs and drumsticks)

1

onion

,

halved, one half left whole and the other diced

4

cloves

garlic

1

teaspoon

salt

1

teaspoon

pepper

1

teaspoon

olive oil

2

Roma tomatoes

,

diced

1

green bell pepper

,

diced

3

stalks celery

,

sliced

2

cups

chopped cabbage

2

large potatoes

,

cubed

2

corn on the cob

,

cut into 3 pieces

3

large carrots

,

peeled and cut into 2 inch slices

2

chayote squash

,

or zucchini, cut into 3rds and sliced lengthwise into 4ths

1

sprig fresh mint

1

teaspoon

minced fresh thyme

,

½ tsp dried thyme

1

teaspoon

minced fresh Mexican Oregano,

or ½ tsp dried Mexican Oregano

1

tablespoon

chicken bouillon

1

large bunch cilantro

,

divided, ½ chopped, half left whole

1

lime

,

cut into wedges
Instructions
Pour 8 cups of water into a large stock pot and add the chicken, the half onion (not diced), garlic, salt and pepper. Bring to a low boil and then cook over medium heat for 20 minutes.

While the chicken is cooking, heat olive oil in a large skillet. Add the diced onions, tomatoes, bell pepper and celery to the pan and cook until tender. Remove from heat and set aside. 

After the chicken has cooked for 20 minutes, pour the onion and tomato mixture into the chicken and remove the large onion piece from the pot of soup. Add the cabbage, potatoes, corn, carrots, squash, herbs, and chicken bouillon to the soup. 

Place the whole cilantro bunch on top of the soup and bring it back to a simmer. Cook the soup for 30 minutes, or until the chicken is cooked through and the potatoes are fork tender. 

Remove cilantro pieces before serving if you wish or serve them in the soup. Serve the soup garnished with more freshly chopped cilantro and a lime wedge.
Notes
Storage: Store in an air-tight container for up to 5 days. Reheat the soup in the microwave (make sure you cover it with a paper towel) for about 3-5 minutes or until it's hot. You can also use the stovetop to reheat the soup.
Nutrition
Serving:
1
,
Calories:
646
kcal
,
Carbohydrates:
32
g
,
Protein:
59
g
,
Fat:
31
g
,
Saturated Fat:
9
g
,
Polyunsaturated Fat:
19
g
,
Cholesterol:
213
mg
,
Sodium:
800
mg
,
Fiber:
6
g
,
Sugar:
6
g
Categories:
More Mexican-Inspired Recipes
Don't forget to check out some of my other favorite Mexican recipes!
This post may contain affiliate links. Read my disclosure policy.