Caldo de Res is a simple and flavorful Mexican beef soup. It's made with beef and lots of fresh vegetables making this soup very rich and hearty! Everyone in your family is going to love it. 
Caldo de Res

– A Hearty Mexican Beef Soup
When I think of this soup, I think of a deep rich beef flavor and tender vegetables that soak up all of that delicious beef broth. The best part about this dish is that it's so simple and nutritious. Your family will thank you without even knowing they're eating a wholesome meal that's healthy. If you prefer chicken, you should check out this Caldo de Pollo!
I love going to the farmer's market and scoping out all the fresh vegetables. I personally love to eat them fresh, but I also love throwing them into Caldo de Res. This soup is a great way to use up some of those vegetables. I don't know about you, but my kids would eat a whole bowl of this soup instead of munching on a salad made with the same ingredients. Sneaky cooking at its finest!
If you love this Mexican soup, I bet you will also love these soups as well: Chili Colorado, Caldo de Alondigas (Mexican Meatball Soup), Crockpot Chicken Pozole, and Pork Pozole Verde!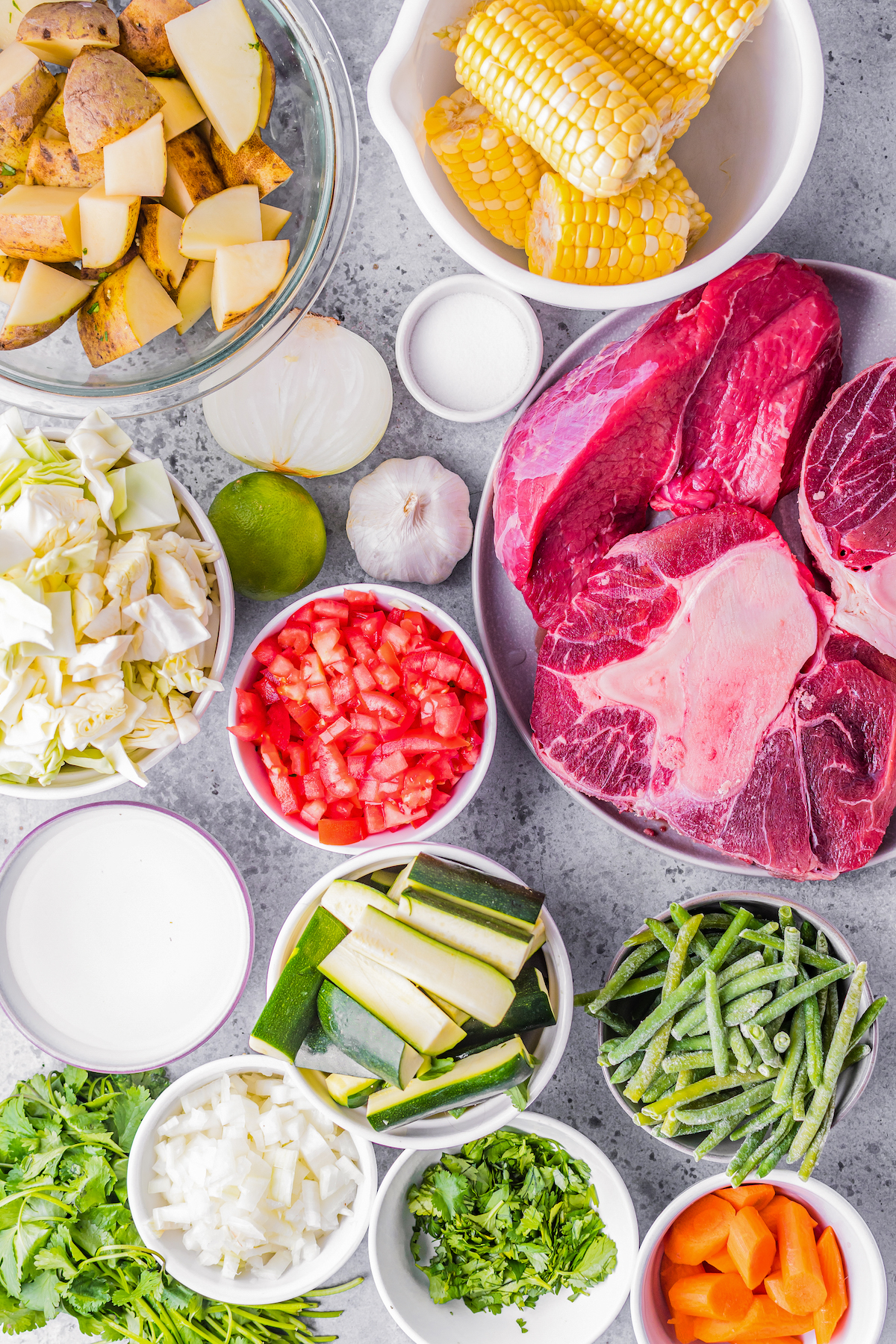 Recipe Ingredients
It's time to get started and grab all the ingredients! I'll note below any special information you should keep in mind about each ingredient.
Beef Shank: You'll want beef shank with bone and bone marrow. Ask your local beef market to help you get the right products. It's worth it, adding bones with the marrow enriches the flavor and makes it more healthy!
Beef Chuck Roast: This is a tough cut of meat that is great for slow cooking.
Garlic: A base ingredient for many recipes. It provides flavor throughout the whole dish.
White Onion: We add this for a little sweetness and bitterness. Onions are great for starting soups and stews.
Salt: Salt will naturally bring out the wholesome flavor of vegetables and beef.
Cabbage: I like to use white or green cabbage for soups.
Roma Tomatoes: The tomatoes add just a bit of sweetness to the dish. I like to use Romas because they are a little more firm and have fewer seeds.

Potatoes:

Potatoes are a great way to add fiber to this soup.

Corn on the Cob: You can use fresh or frozen corn on the cob. Traditional Mexican soup uses field corn, and then it is cooked for a long time. Personally, I prefer sweet corn. You can the corn at the end.

Carrots:

You can use baby carrots

if you don't want to peel and slice your carrots.

Cilantro

: This is the ultimate garnish for Mexican food. Cilantro is fresh, a little fruity, and adds a very distinct flavor.
Chayote Squash: Traditional Mexican soup uses Chayote which is a small, rounder, and light green squash. Zucchini is a similar vegetable and you can use that if you can't find Chayote locally. You can even use yellow squash if that's what you have on hand.

Green Beans:

You can use fresh or frozen green beans.

Limes:

This is the best way to add a little acid to the soup when it's finished. Fresh lime juice really brightens up the flavor.
How to Make Caldo de Res
Are you ready to get started? Here are the simple steps for making Caldo de Res.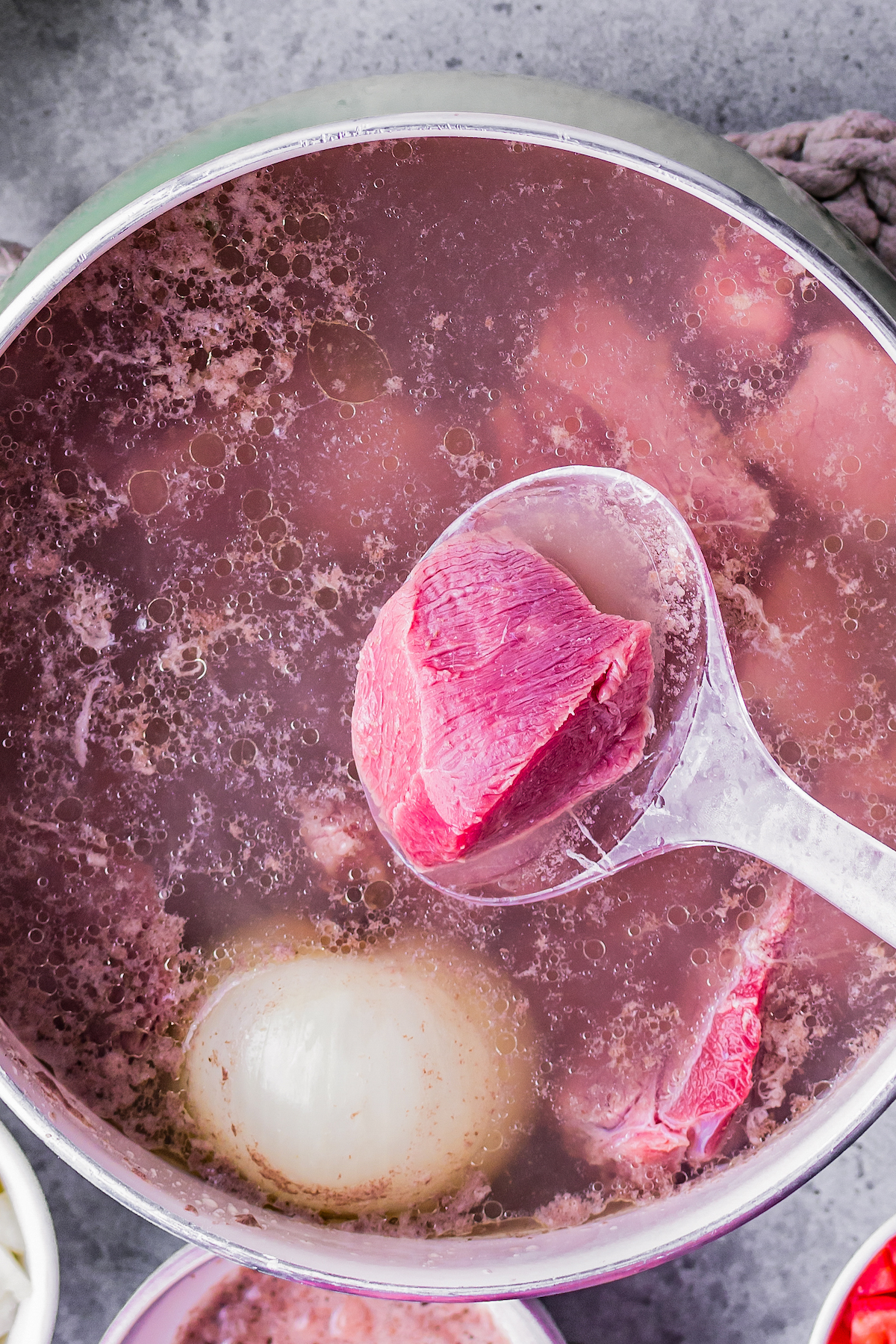 First, you're going to start making the beef broth. You'll do this by simmering the shanks in a large pot with water for about 30 minutes.
Add the chuck roast, onion, garlic, and salt. Now, you're going to cook the beef in the rich broth you made. This will take about 45 minutes.
Then you're going to add the rest of the vegetables to cook. Each time you add an ingredient to the pot, it adds to the overall flavor of the broth.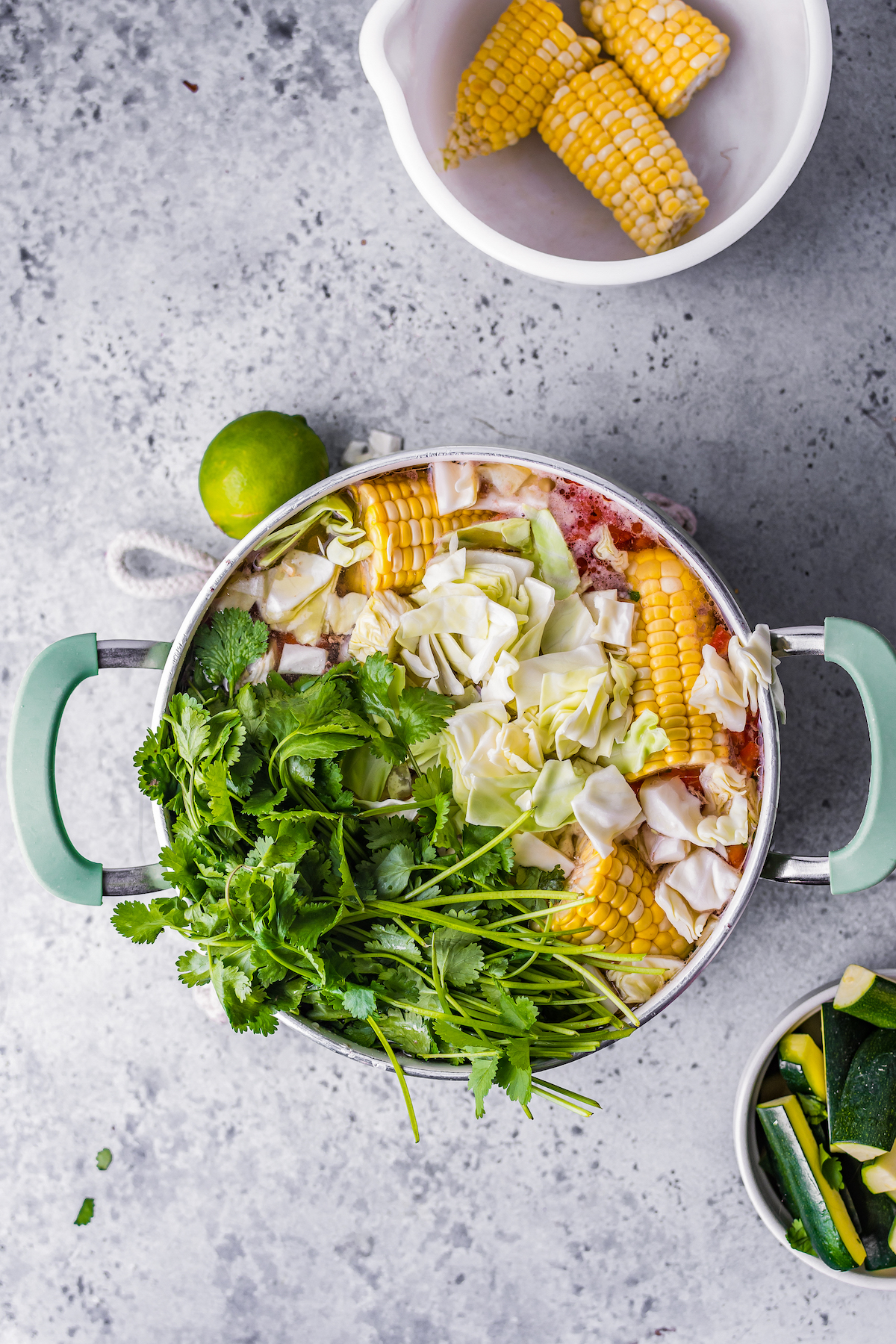 Add the entire bunch of cilantro to the pot. Normally, we don't cook with cilantro but this isn't the case for Caldo de Res. Adding the whole bunch to the soup helps develop the authentic Mexican flavor.
The soup is now ready! If you'd like, you can let it simmer a bit longer. Or you can grab a ladle and enjoy it right away! I love to top it with fresh cilantro and a lime wedge. Yum!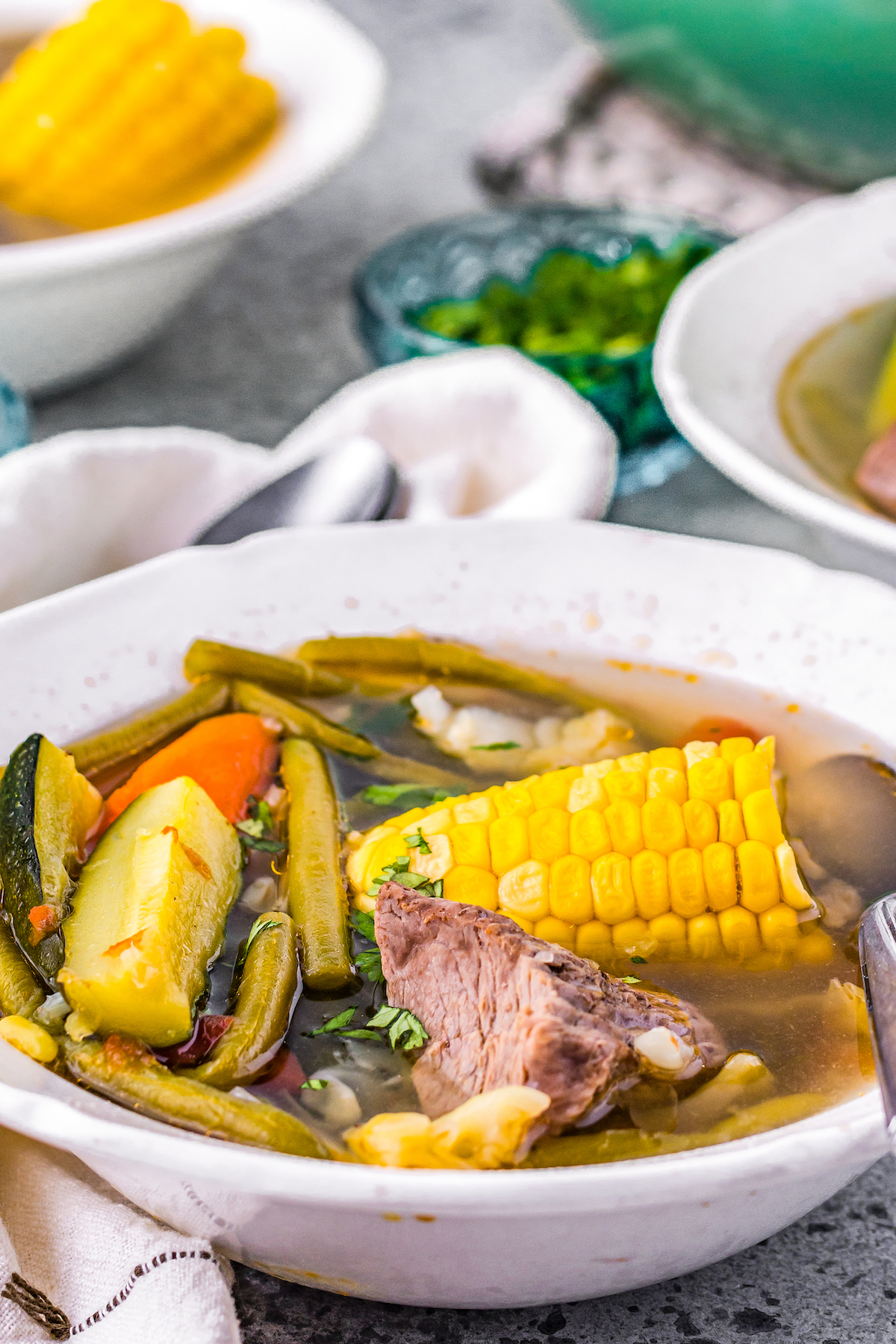 Tips and Variation Ideas
Where to buy beef shanks and bone marrow. Chat it up with the meat department at your local grocery store. They will have all the info about shanks and bone marrow. You'll likely end up buying a frozen bag of bone marrow and that's ok to use!
Add extra water, if needed. You may want to add some as the soup cooks to be sure that everything in the pot is covered. 
Don't like cilantro? No problem! It's absolutely ok if you don't like cilantro. I know there are some of you out there! You can just take it out, or you could use parsley or chives instead.
Different protein ideas. The procedure is pretty much the same if you want to use a different protein. But it is called a different soup. For example, Mexican chicken soup is called Caldo de Pollo. Plus, I have the recipe for that, too!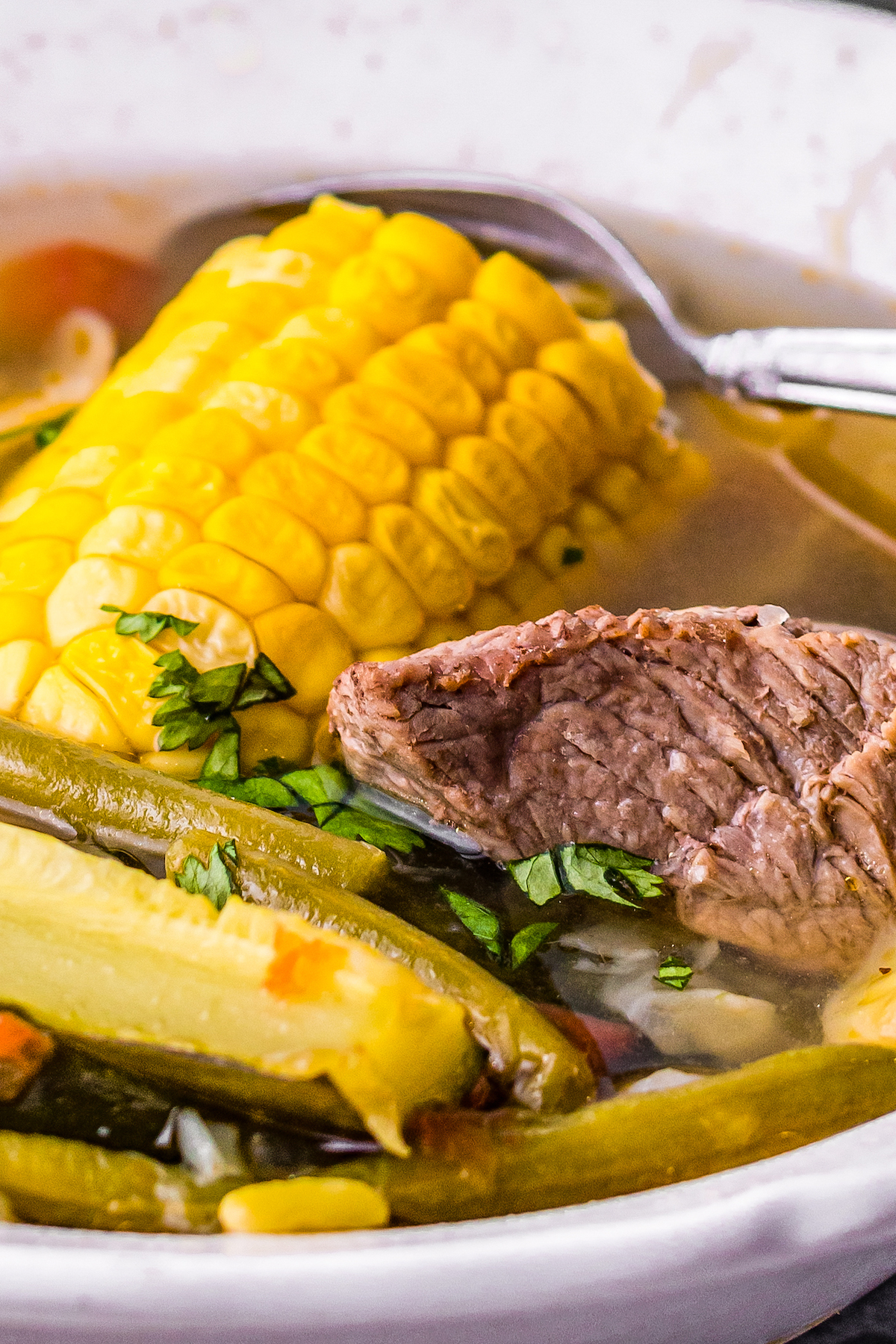 How to Serve Caldo
Caldo de Res is perfect just served on its own. It has tons of protein, fiber-filled vegetables, and more than enough flavor.
This recipe is also the perfect compliment to a "soup and salad" combo meal. We love pairing soups with soups and salads for simple and kid-friendly meals.
One of my favorite salads to pair with Caldo de Res are Air Fryer Chicken Fajita Salad for a well-balanced and filling meal. Try my Watermelon Feta Salad if you're looking for something lighter. You could even switch out the feta for cotija cheese to keep the Mexican them going!
You could also keep it simple and serve it with my Authentic Guacamole and chips as an appetizer. Or go with a great Mexican dessert like this Arroz con Leche or Crème Caramel!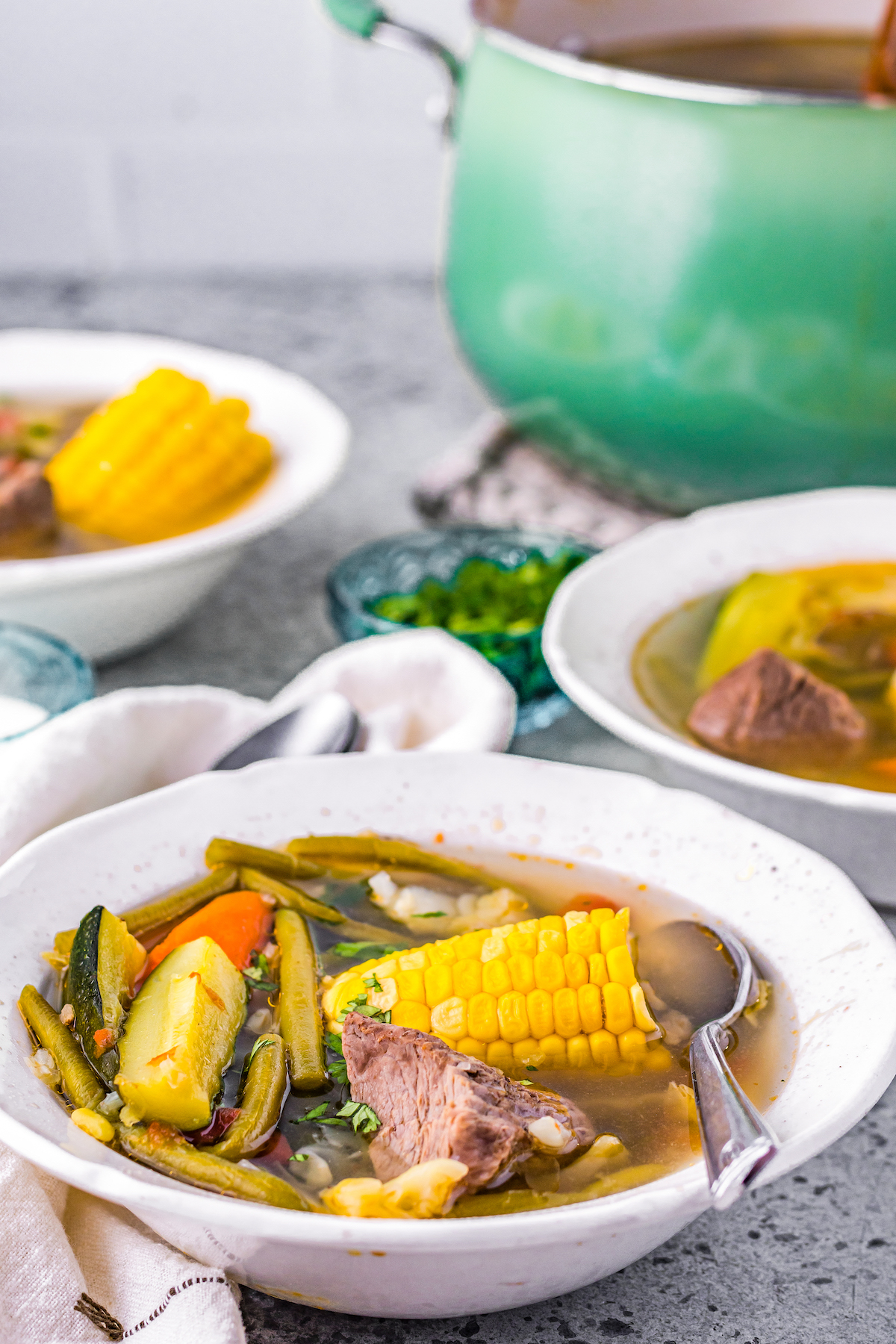 Storing and Reheat Leftovers
Keep all the leftovers because Caldo de Res tastes great the day after. You can store the soup in an air-tight container for up to 5 days.
Simply heat the soup up in the microwave (make sure you cover it with a paper towel so it doesn't splatter) for about 3-5 minutes or until it's hot. You can heat it on the stovetop, too.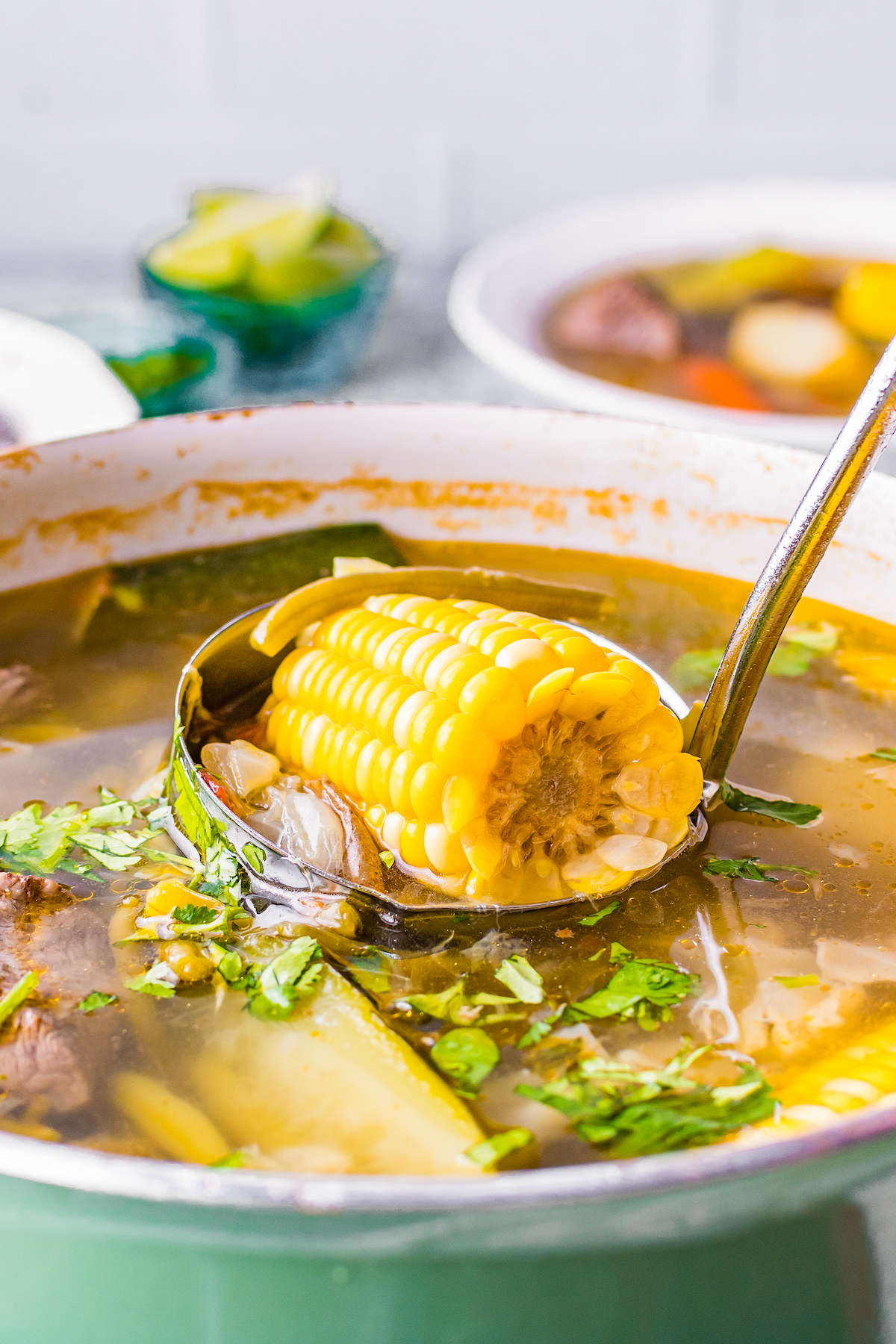 Can I Freeze Extras?
Yes, you can freeze Caldo de Res! In fact, soup will freeze well for up to 3 months. For best results, it's a good idea to move it to the fridge to thaw 2 days before you want to serve it.
Caldo de Res
Caldo de Res is a traditional Mexican beef soup that's simple, rich, and comforting. The beef broth is perfectly seasoned with fresh herbs. Plus, the soup is loaded with healthy vegetables!
Ingredients
8-10

cups

water

2

pounds

beef shank with bone

1 ½

pounds

beef chuck roast

,

cubed

4

garlic cloves

1

white onion

,

halved (one half diced, one half left whole)

1

tablespoon

salt

2

cups

chopped cabbage

3

roma tomatoes

,

diced

3

large potatoes

,

cubed

3

corn on the cob

,

cut into 3rds

3

large carrots

,

peeled and cut into 2 inch slices

1

bunch of cilantro

,

half chopped, half whole

3

chayote squash

,

or zucchini, cut into 3rds and sliced lengthwise into 4ths

1

lb

fresh or frozen green beans

1-2

limes

,

quartered
Instructions
In a large stockpot over medium-high heat, add 8 cups of water and the beef shank. Cook for 20 minutes.

Then add the chuck roast pieces, one whole half of onion, the garlic cloves, and salt to the pot. Cook for 45 minutes over medium heat, skimming the foam off the top to keep the broth clear as it cooks. 

Remove the whole onion and discard. Add the diced onion, cabbage, tomatoes, potatoes, corn, and carrots to the pot. Place the whole bunch of cilantro on the top of the soup and cook for another 10 minutes.

Add the squash and green beans and cook for another 10 to 20 minutes, until meat and potatoes are tender. (Add additional water if needed so the vegetables stay well covered.)

You can serve the soup now, or continue to simmer for an additional 20 minutes to deepen the flavors. 

Serve soup with chopped cilantro and lime! 
Notes
Storage: Store the soup in an air-tight container for up to 5 days. Reheat the soup up in the microwave (make sure you cover it with a paper towel so it doesn't splatter) for about 3-5 minutes or until it's hot. You can heat it on the stovetop, too. 
Nutrition
Serving:
1
,
Calories:
636
kcal
,
Carbohydrates:
47
g
,
Protein:
66
g
,
Fat:
22
g
,
Saturated Fat:
8
g
,
Polyunsaturated Fat:
11
g
,
Trans Fat:
1
g
,
Cholesterol:
159
mg
,
Sodium:
1152
mg
,
Fiber:
9
g
,
Sugar:
9
g
Categories:
More Mexican-Inspired Recipes
This post may contain affiliate links. Read my disclosure policy.