Coconut Saltine Cracker Toffee is perfectly crunchy, oh so sweet, and is ideal for making during the holiday season! It's a classic quick and easy Christmas toffee recipe, but with a fun sprinkling of toasted coconut on top.
*This recipe is sponsored by Dixie Crystals! Thank you for supporting the brands that help make this site possible!*
COCONUT SALTINE CRACKER TOFFEE
This holiday toffee is so easy to make. Honestly, it's pretty hard to mess it up! Crunchy and salty saltine crackers are topped with a sweet and buttery toffee mixture. The best part? The chocolate and toasted coconut flakes that top it all off! This easy to make Christmas treat is always a huge hit at parties.
And when I say easy, I really mean it. From start to finish, this recipe will take you just about 20 minutes or so. It's perfect for making before a cookie exchange or holiday party as a low-stress treat recipe! After all, the holidays are notorious for being just a little bit stressful, aren't they? Alleviate some of that pressure by making this quick and easy cracker toffee.
I really love the way that the coconut flakes invoke just the slightest taste of summer flavors. In the middle of eggnog, peppermint, and gingerbread season, it's nice to take a little break with the beachy flavors of toasted coconut! If I close my eyes while I take a bite, I can even pretend I'm on a sunny beach with every crunchy, salty, and sweet bite!
Looking for the classic version? Here ya go: Best Christmas Crack! I also have a delicious Pecan Christmas Crack if you love nuts!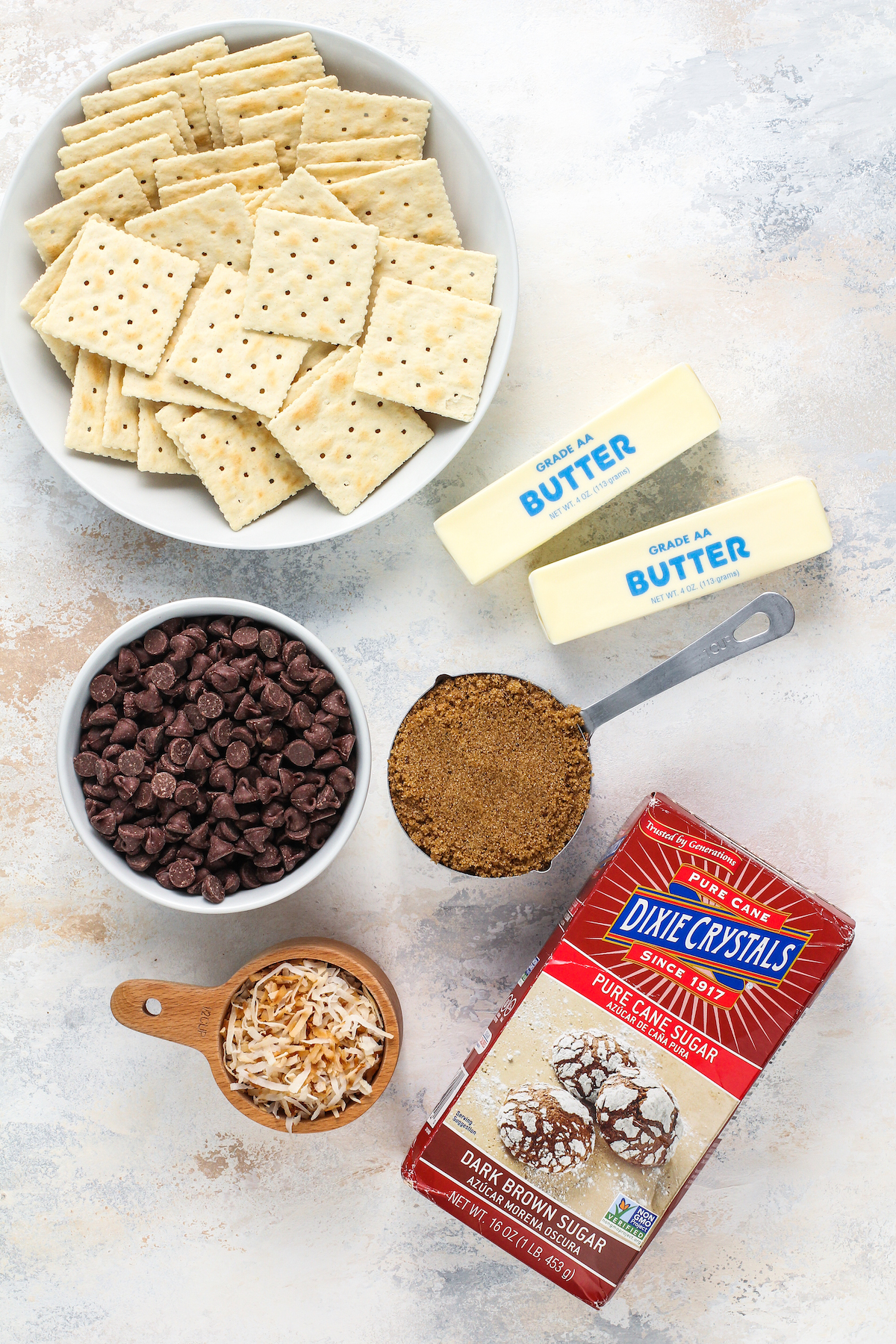 WHAT'S IN THIS RECIPE?
This is a certified budget-friendly recipe! You only need 5 ingredients to make this Christmas candy. Saving money around the holidays? Yes, please!
Saltine Crackers – Try not to swap these crackers out with any others. They've got just the right crunch and salty elements that make them perfect!
Butter – Since the crackers already lend plenty of salt, I like to use unsalted butter for this recipe.
Chocolate Chips – Feel free to use dark, milk, or semisweet chocolate chips. I like to use semisweet!
Toasted Sweetened Coconut – Have any left over? Use it to make my favorite Old Fashioned Coconut Cream Pie!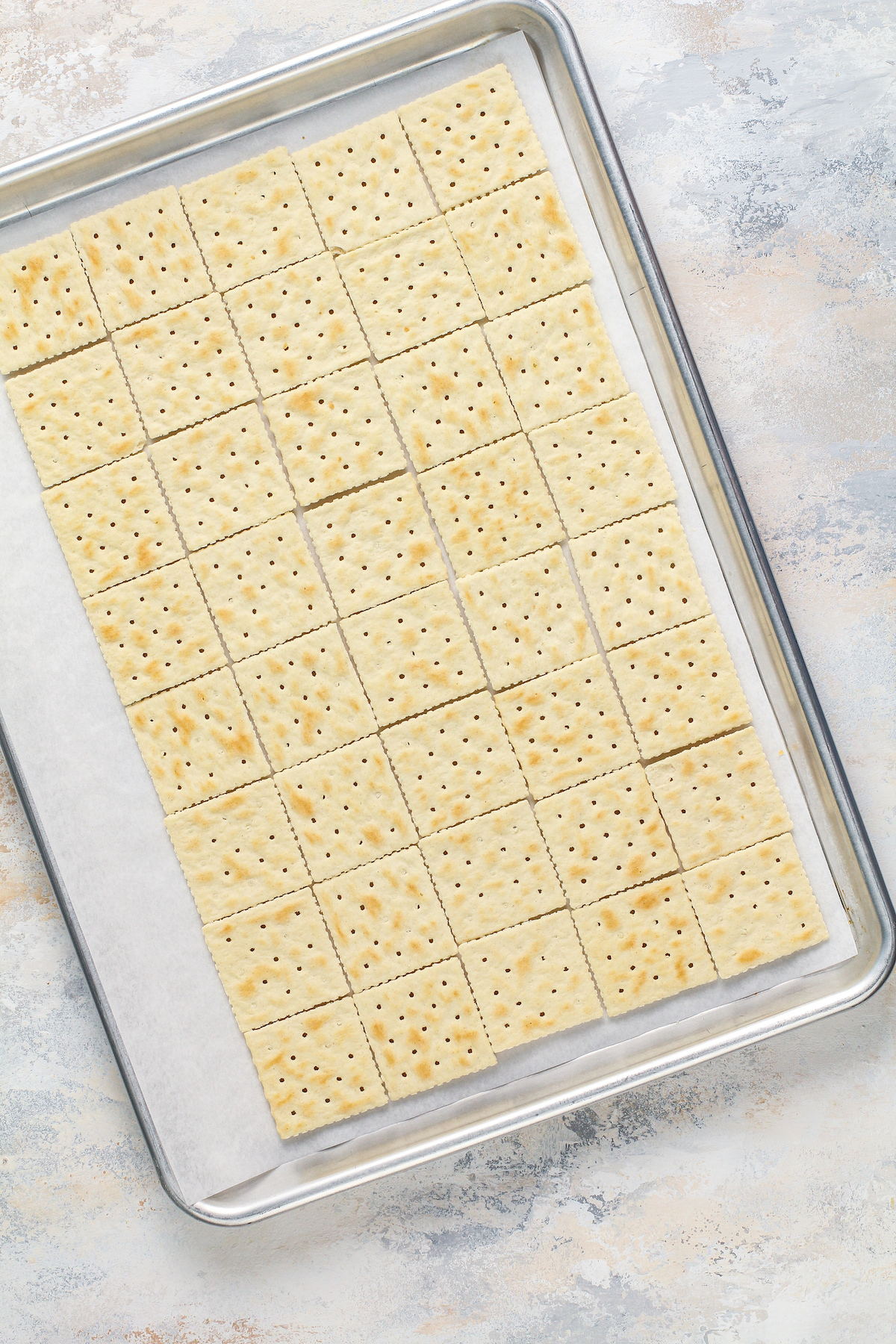 HOW TO MAKE COCONUT SALTINE CRACKER TOFFEE
This recipe is so delightfully short and sweet! In less than thirty minutes, you'll have the best Christmas toffee cracker candy topped with chocolate and sweet coconut flakes.
Prepare. Preheat your oven to 400°F and prepare a baking sheet with parchment paper.
Make the toffee. Combine the butter and brown sugar in a saucepan over medium-high heat. Stir and let the butter melt. When the mixture comes to a boil, let it boil for about 3 minutes.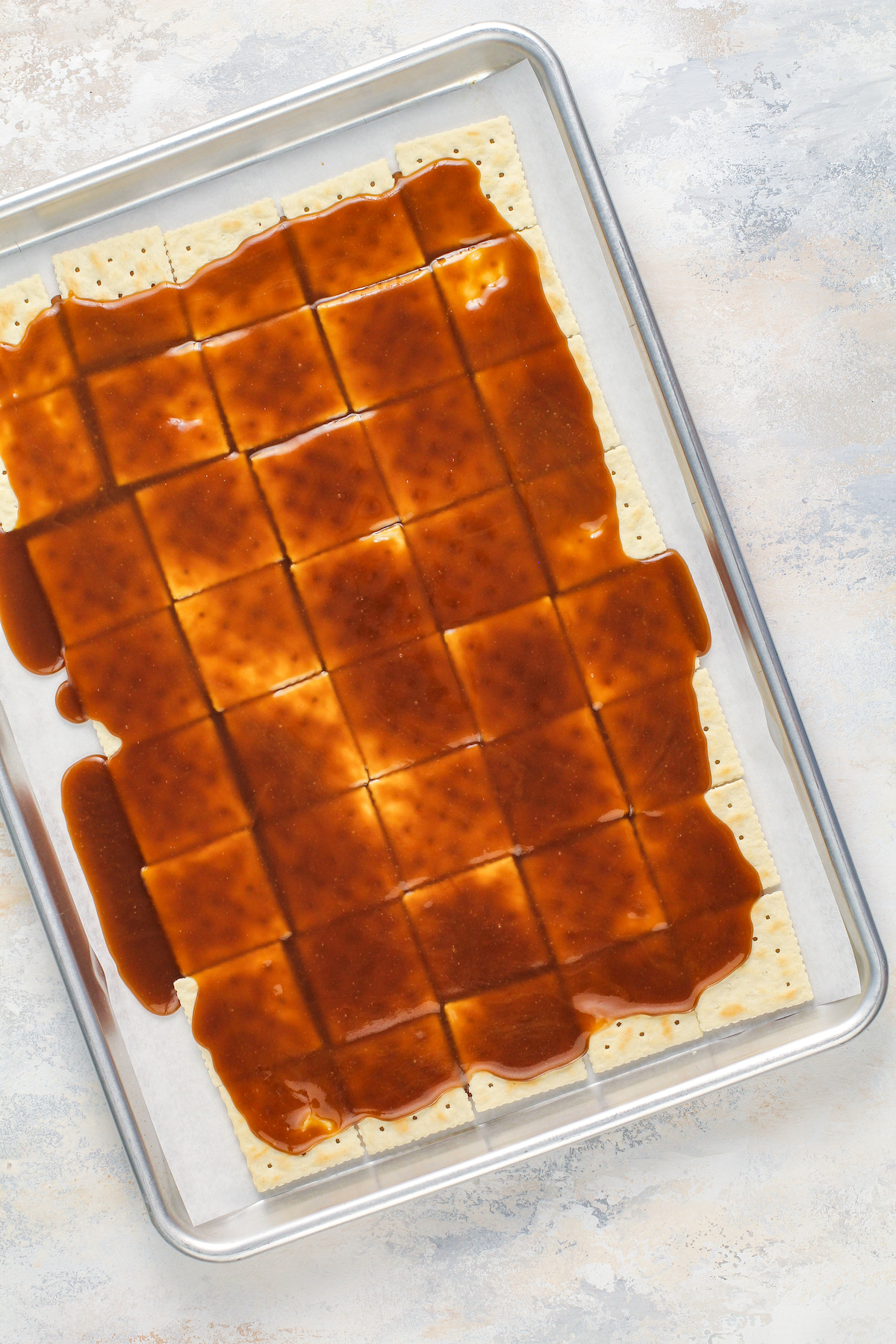 Bake. Pour the toffee mixture over the crackers and spread it into an even layer. Bake for 5 minutes.
Add the chocolate. Remove the baked toffee and crackers from the oven. Sprinkle chocolate chips immediately all over the top and let them sit for about 5 minutes before spreading them into a layer with a spatula.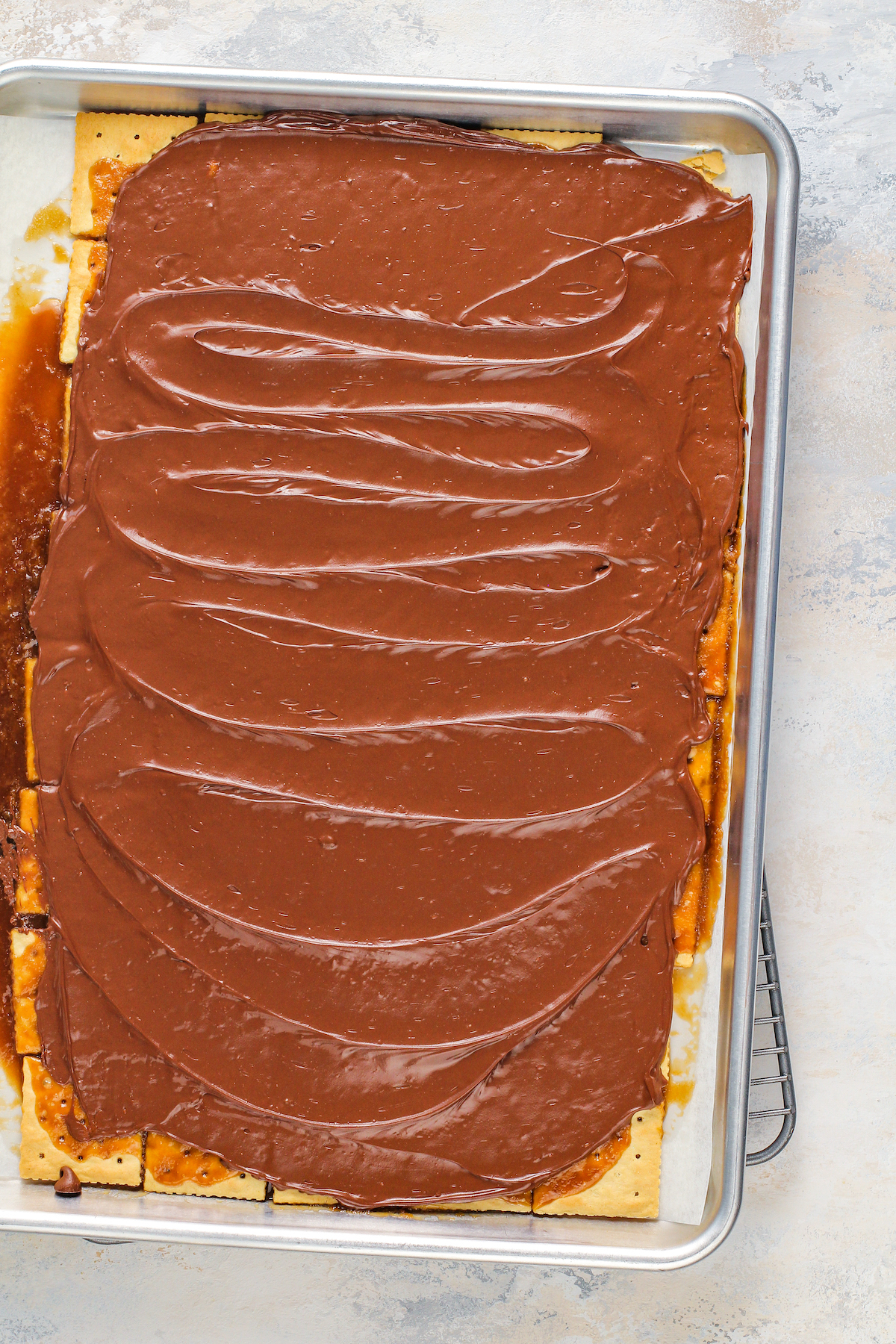 Add the coconut. Sprinkle the toasted coconut flakes all over the chocolate. Let it sit at room temperature until the chocolate is hardened and set.
Break it up! Break the candy apart into pieces by hand.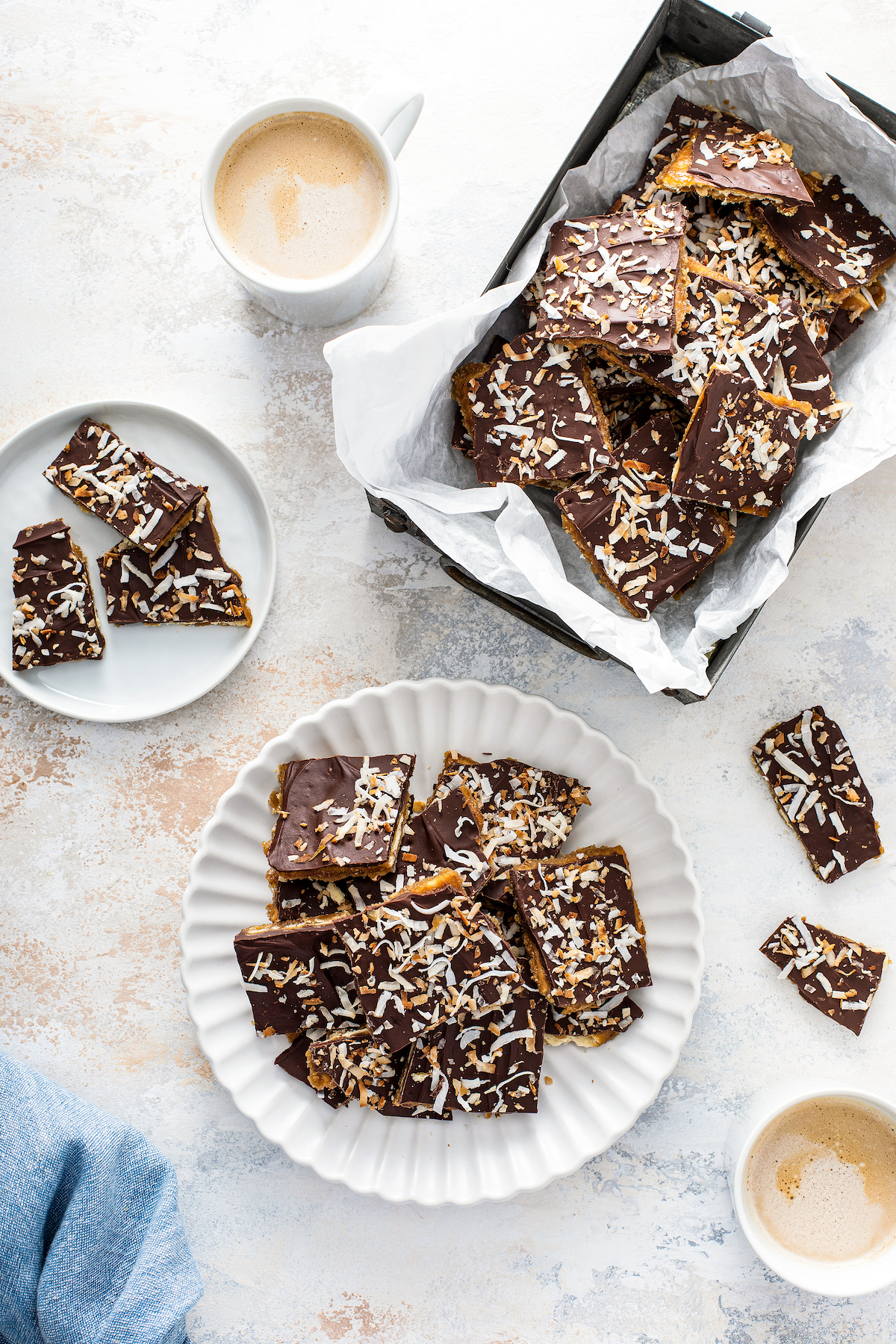 TIPS FOR THE BEST COCONUT SALTINE CRACKER TOFFEE
Want to know how to make this easy recipe… even easier? Here are just a few helpful tips to make this process even smoother for you!
Let the chocolate chips melt: Don't try to spread the chocolate chips into an even layer of chocolate as soon as you sprinkle them onto the toffee! They'll need about 5 minutes to melt. Once melted, you can grab a spatula and spread the melted chocolate into an even layer.
Don't worry about breaking even pieces: You'll likely end up with quite a few jagged, mismatched pieces. That's just fine! Don't worry about trying to make this candy look too uniform. The fun part of this recipe is breaking it apart anyways, so don't stress out trying to create clean breaks.
Don't burn your toffee: After about 3 minutes of boiling and stirring, the toffee mixture is good to go! If you leave it over the heat for too long or fail to stir it enough, you risk burning the mixture.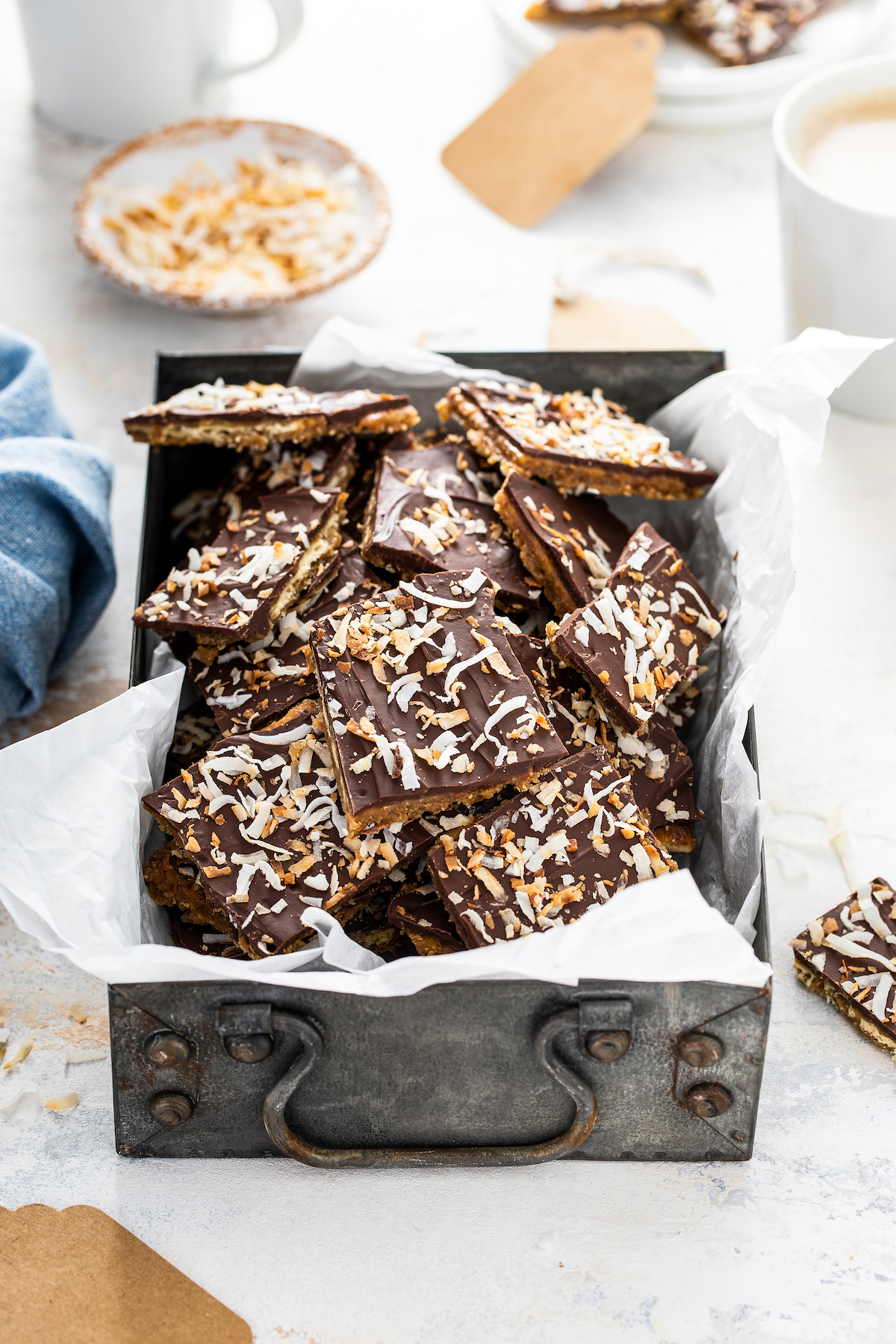 DO I NEED TO USE A CANDY THERMOMETER?
Nope! This easy cracker toffee recipe doesn't require the use of a candy thermometer. That means you have one less thing to clean, which for me is ALWAYS a big win!
WHY IS MY TOFFEE GRAINY?
If your final product ended up a little bit grainy, it's likely because you let the butter and brown sugar mixture cook for too long. Once it's boiled for just about 3 minutes, it's ready to use.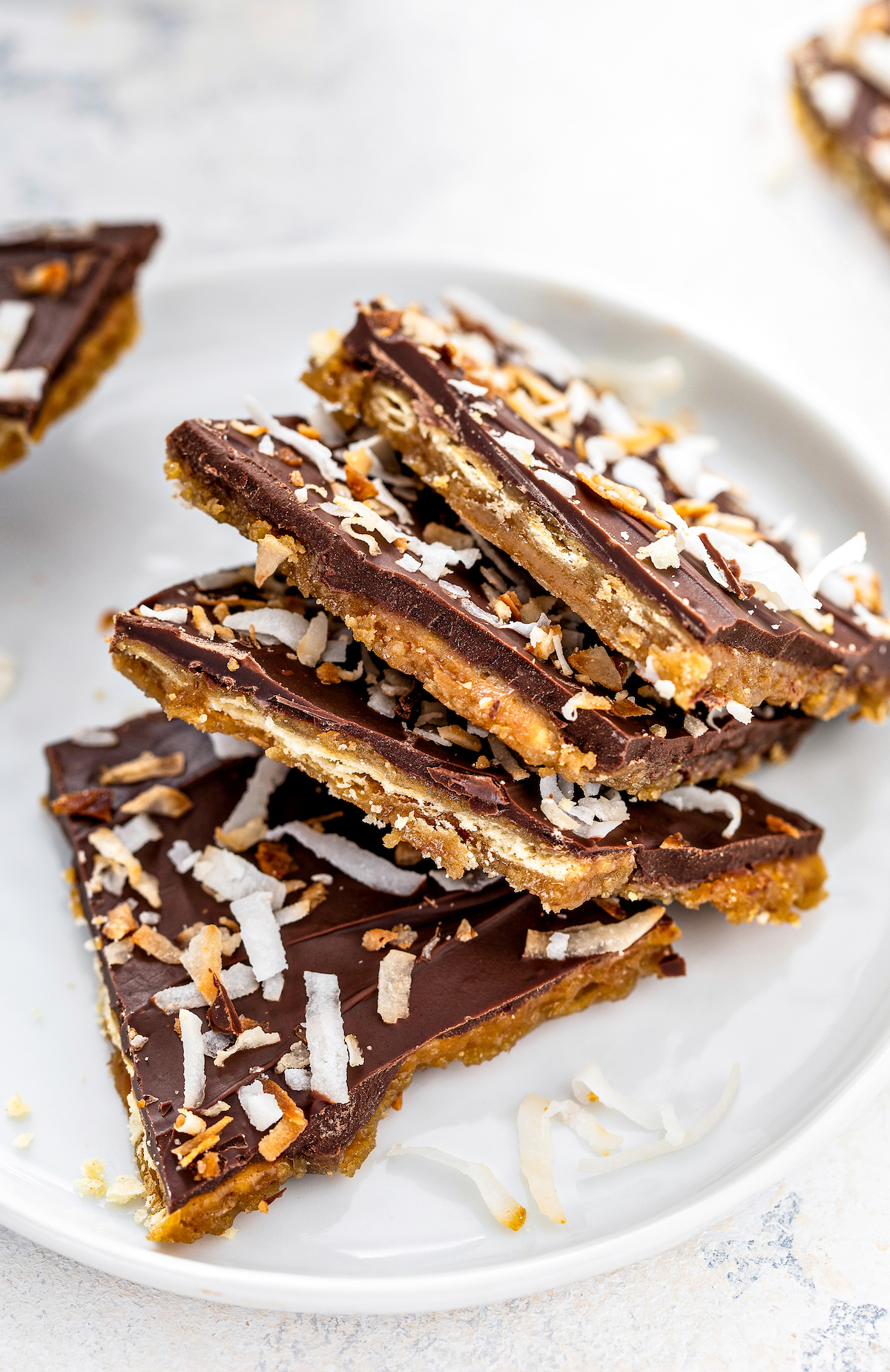 STORING COCONUT SALTINE CRACKER TOFFEE
No need to try and find room in your fridge! Coconut Saltine Cracker Toffee stays fresh at room temperature for up to a week. Just make sure it's kept in an airtight container or zip-top baggie to keep those crackers nice and crunchy.
Because of their long counter life, this candy is perfect for gifting to loved ones during the holiday season and for making ahead of time.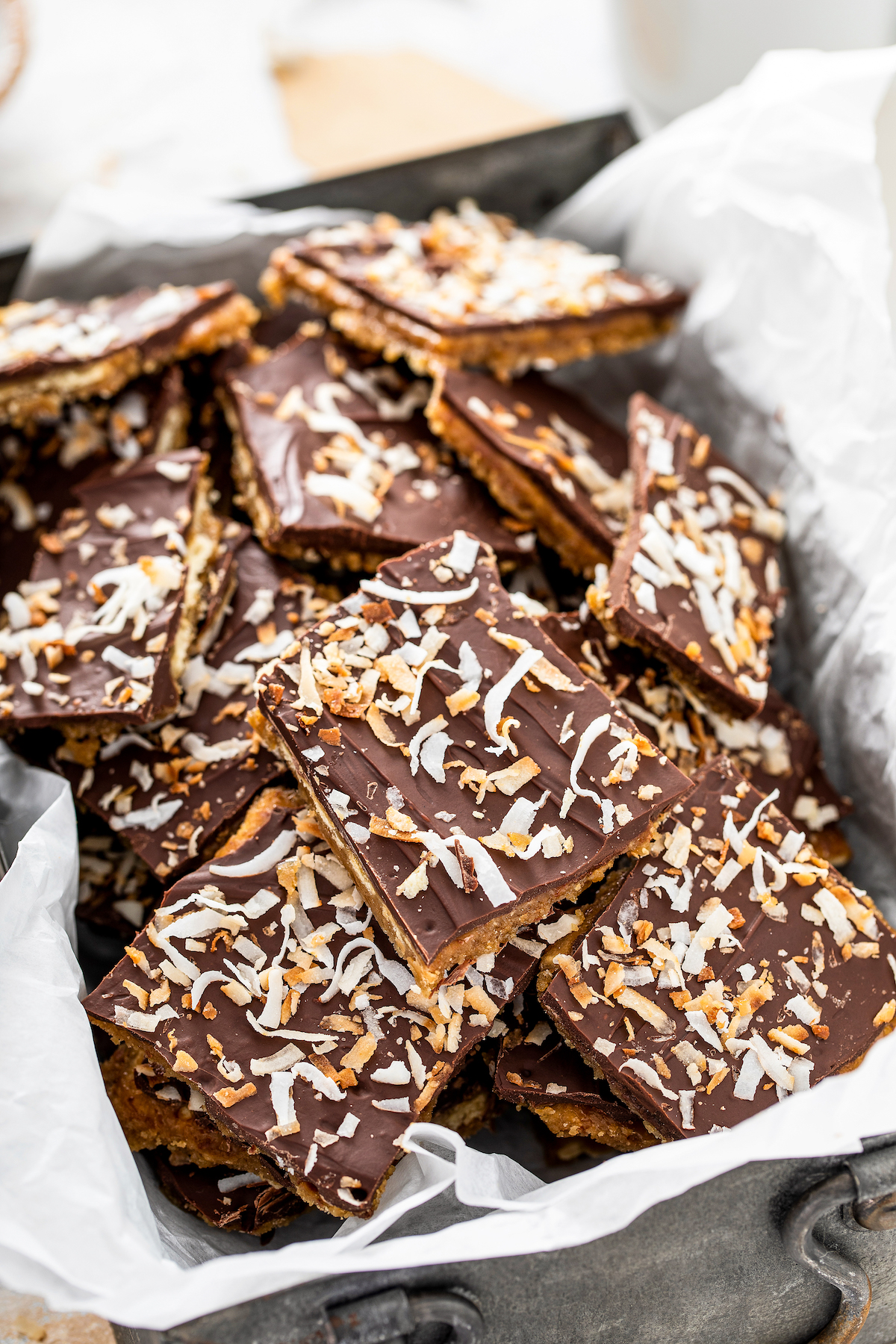 Coconut Saltine Cracker Toffee
Coconut Saltine Cracker Toffee is perfectly crunchy, oh so sweet, and is ideal for making during the holiday season! It's a classic quick and easy Christmas toffee recipe, but with a fun sprinkling of toasted coconut on top. 
Ingredients
40

saltine crackers

1

cup

unsalted butter

1

cup

Dixie Crystals dark brown sugar

2

cups

chocolate chips

½

cup

toasted sweetened coconut
Instructions
Preheat oven to 400°F and line a sheet pan with a Silpat liner or parchment paper. 

In a small saucepan add butter and brown sugar. Set saucepan over medium-high heat and stir as the butter melts. Once melted bring to a boil and let boil for 3 minutes. 

Pour the hot butter/sugar mixture over the saltine crackers making sure to try and cover all the crackers. You can spread it with a spatula to help push the mixture evenly over the crackers. 

Place the sheet pan in the oven and bake for 5 minutes. 

Remove from the oven and scatter the top with chocolate chips. Let them sit for 5 minutes, the heat from the toffee will help melt the chocolate. 

Then using an offset spatula, gently smooth out the melted chocolate chips.

Top with toasted coconut and let sit until cooled and the chocolate is set.

Once chocolate is hardened,  break apart by hand into pieces. Serve immediately or store in an airtight container for up to a week. 
Notes
Storage: Store in an airtight container, at room temperaure, for up to 1 week.
Nutrition
Serving:
1
,
Calories:
391
kcal
,
Carbohydrates:
43
g
,
Protein:
2
g
,
Fat:
26
g
,
Saturated Fat:
16
g
,
Polyunsaturated Fat:
9
g
,
Cholesterol:
41
mg
,
Sodium:
114
mg
,
Fiber:
2
g
,
Sugar:
32
g
More Homemade Candy Recipes
This post may contain affiliate links. Read my disclosure policy.