These Pickled Red Onions with Habaneros are the perfect topping for just about anything. We love putting this sweet, tangy, & spicy topping on tacos and nachos.
If you're looking for other great taco toppings, check out my Authentic Guacamole and this Spicy Mango Slaw.
Easy Homemade Curtido
If you ask me, a quick pickle is always the best pickle. This recipe for Pickled Red Onions with Habaneros (also known as Curtido) is quick and easy. It's a win-win. I know you're going to really love the flavor.
Red onions tend to pickle really quickly and they are even better when you sweeten them up a bit. We will do that here with maple syrup. The maple syrup helps balance the tangy vinegar and gives a great flavor to the pickling liquid.
But what's a good topping without a little heat? Well adding some spicy peppers, of course! Adding habaneros to the red onions creates the perfect bite. It's tangy, sweet, and salty. What more could you ask for?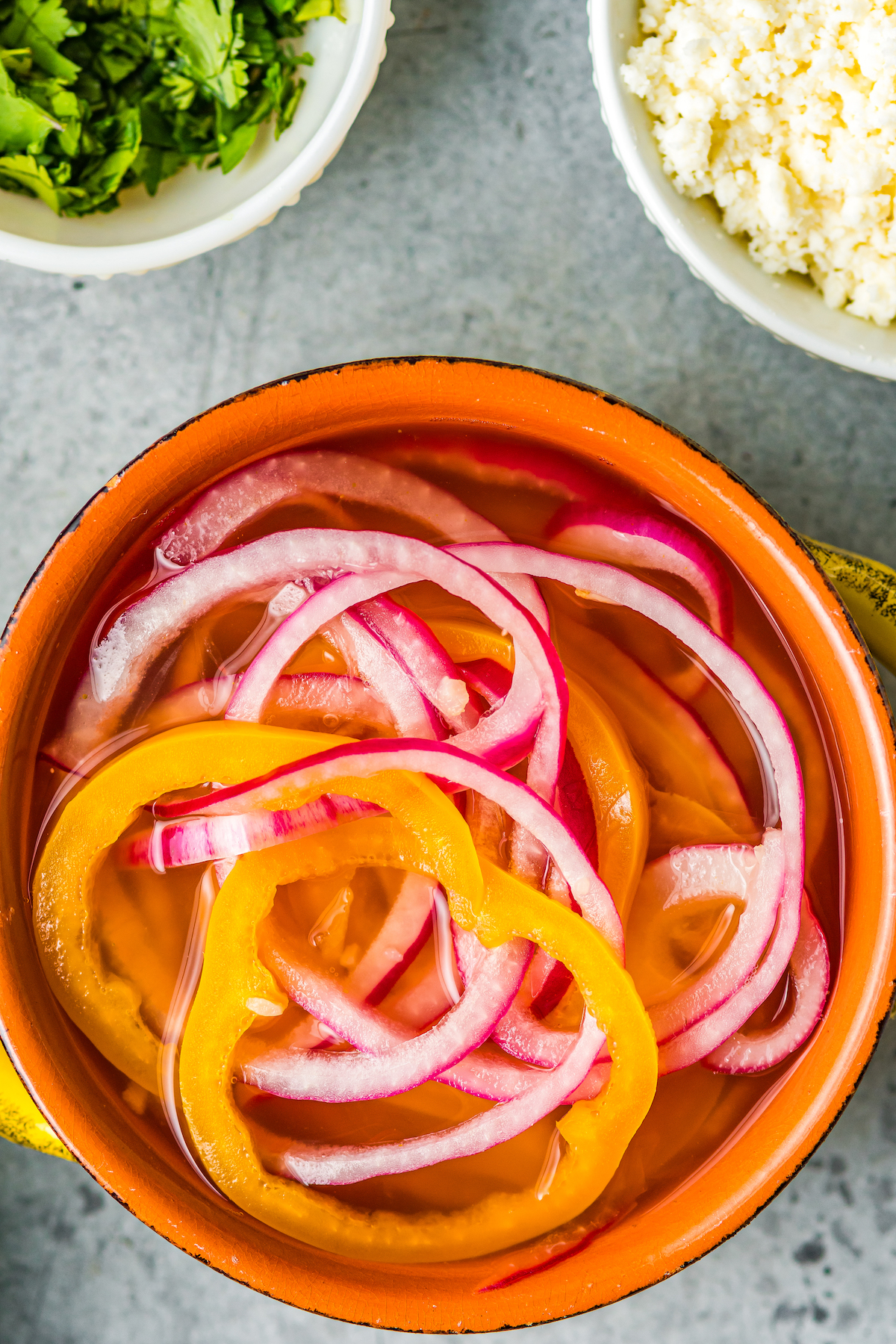 What is Curtido?
Traditionally, Curtido is a cultured slaw made with vegetables like cabbage, onions, and carrots. You may even consider it the Central American version of sauerkraut. For this version, we're going to keep it simple with red onions and habaneros.
What does cultured mean? It means the vegetables ferment as they sit in the pickling brine. When vegetables ferment, they develop this natural tanginess that pairs perfectly with spicy and rich Mexican food.
When you hear about Curtido, you'll find out that it's most commonly used as a topping for pupusas. A pupusa is a griddled flatbread from El Salvador. We love putting it on everything…and I mean everything! Curtido goes great on traditional Central American dishes, but it also is perfect straight out of the jar. I can't wait to see how you like to eat it!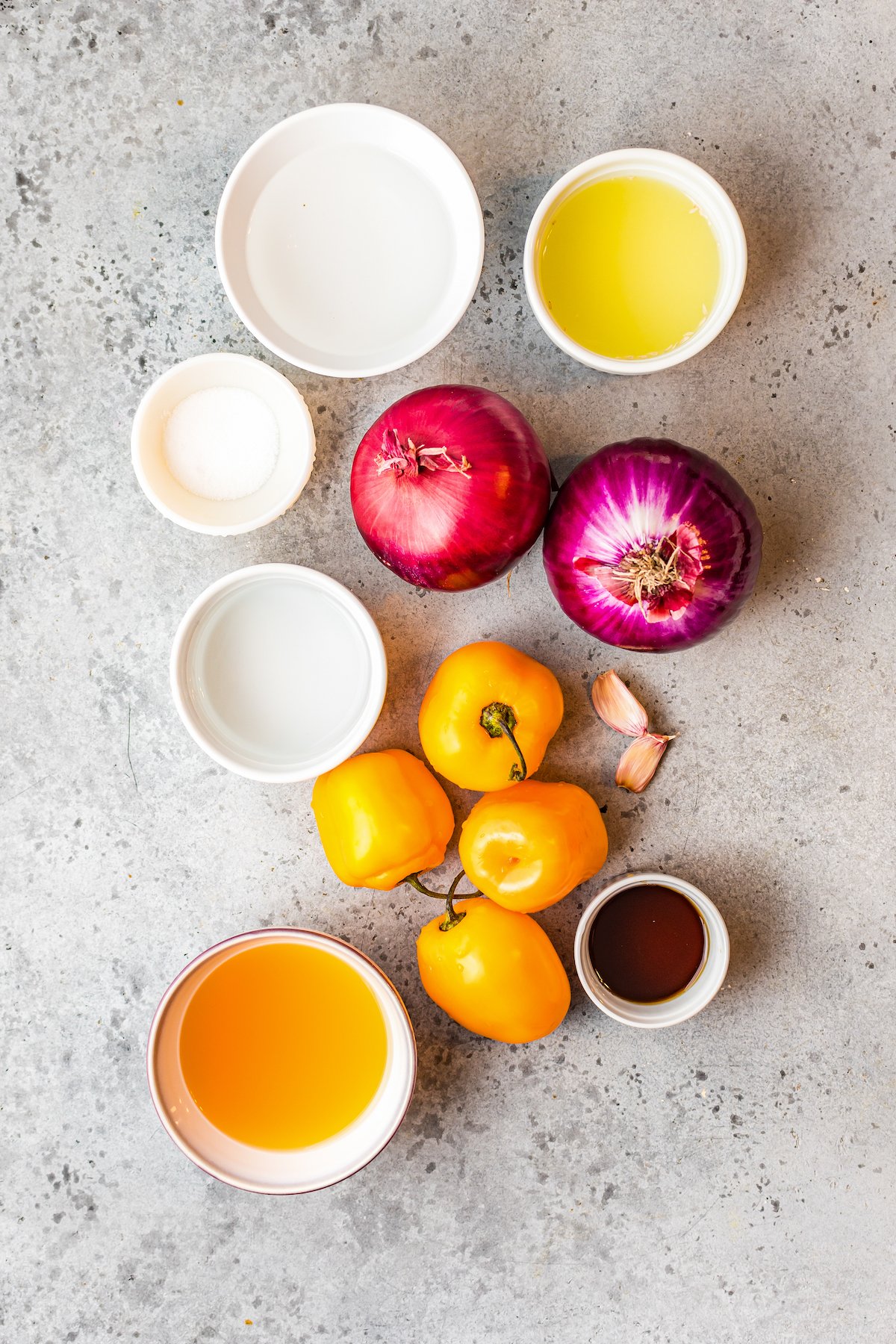 Recipe Ingredients
Here's a quick overview of what you'll need to make curtido. Be sure to scroll down the recipe card for specific amounts.
Habanero Peppers: Habaneros are very spicy, so if you don't want yours to have as much heat, make sure to remove the seeds. You can also use less and they will still make the onions spicy enough.
Red Onion: Red onions are perfect for pickling because of their slight bitterness and natural sweetness.
Garlic: The garlic will add another kick to the topping.
Apple Cider Vinegar: If you'd like to make the recipe more authentic, use all white vinegar. But I think that this vinegar makes the topping taste better!
White Vinegar: A key ingredient for any pickling project!
Lime Juice: A mixture of vinegar and lime juice will give this a wonderful flavor. I highly recommend using fresh lime juice.
Pure Maple Syrup: Don't use the regular pancake syrup, this needs to be 100% pure. Or you can use honey, but it will give it a slightly different flavor. If you wish to keep the recipe authentic, use white granulated sugar.
Salt: I prefer to use kosher salt for this recipe. Pickling salt will also work. It's very similar but has smaller granules.
How to Make Curtido (Pickled Red Onions with Habaneros)
Are you ready to get started? Here are the simple steps for making homemade Curtido.
Before we get started, here's a pro tip for handling hot peppers. I recommend using gloves when handling any hot peppers. Tongs are also come in handy when dealing with hot peppers.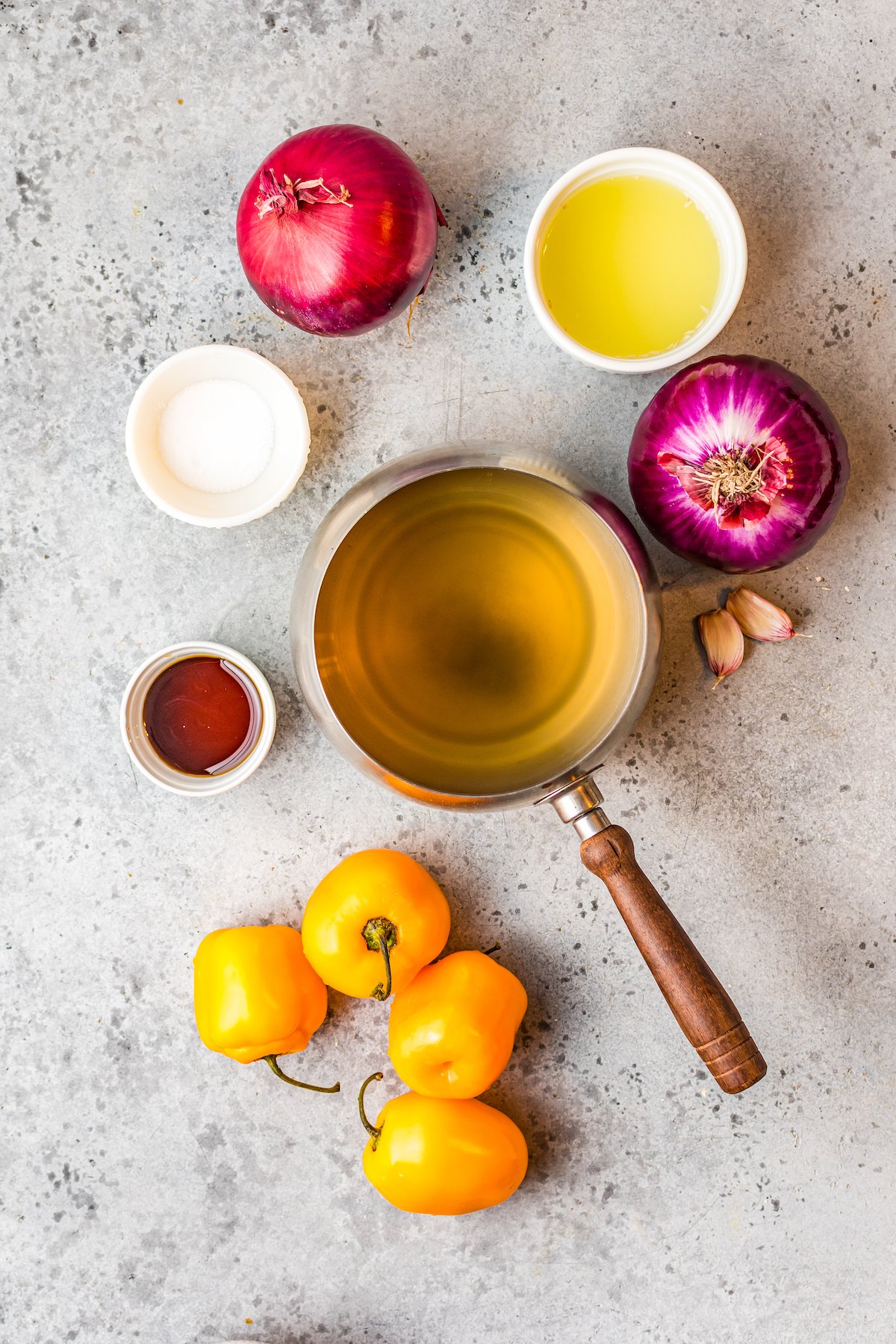 Mix the red onions and habanero peppers together. Toss the onions, peppers, and garlic together in a large bowl. Then, put them in a quart mason jar with a lid. Make sure that you push them into the jar nice and tight.
Now, make the pickling brine. Put the rest of the ingredients into a saucepan and boil them until the syrup dissolves.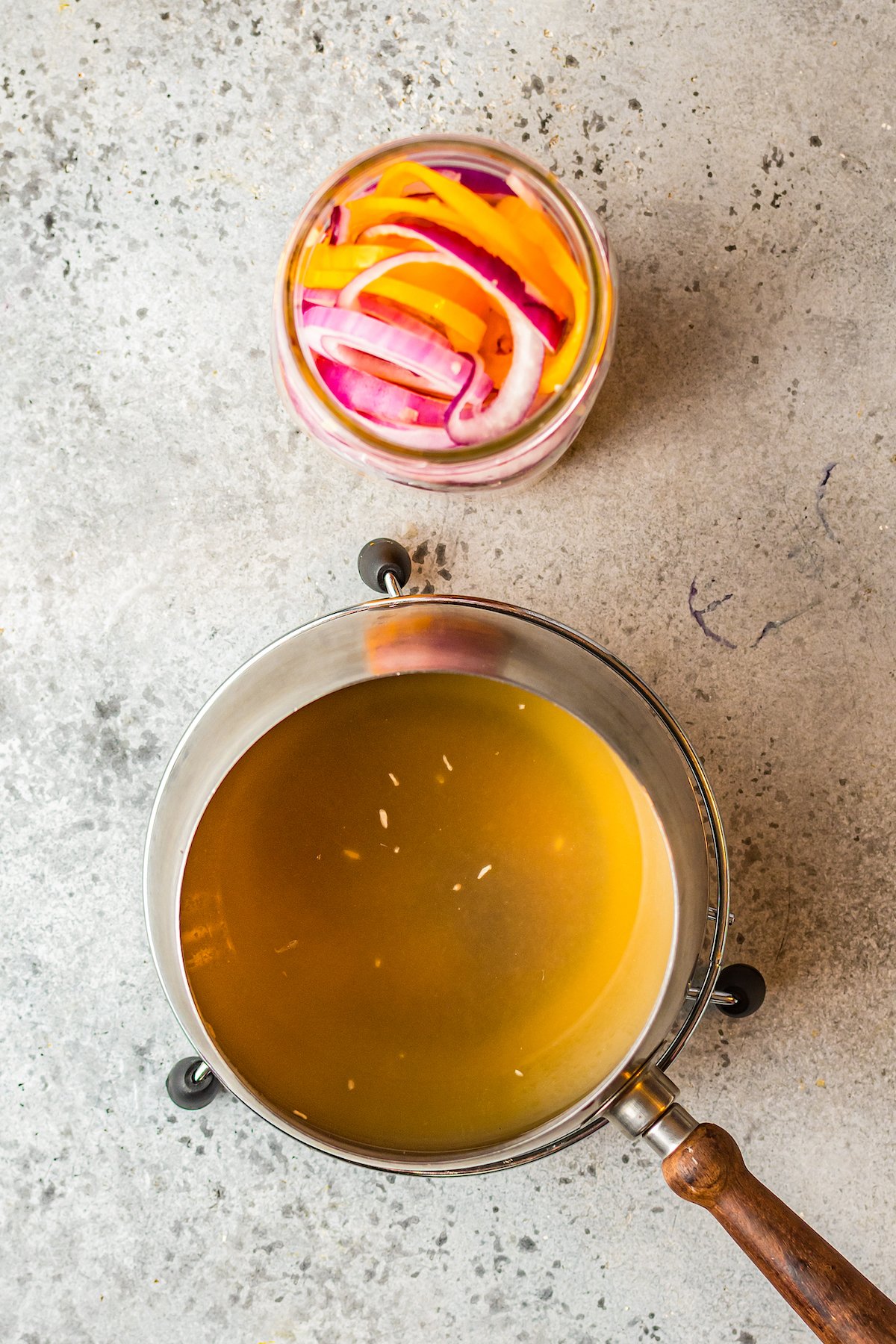 Start the pickling process. Next, pour the pickling brine into the mason jar. It's very important that you cover all of the onions and peppers. Let the jar cool at room temperature before you put it in the refrigerator.
Wait to eat them…or don't. For the best flavor, wait for 24 hours before eating. We can never wait, and start using them immediately. But the onions and peppers that hang out in that pickling liquid longer are really much better and have lots of great flavor. Plus, we find the habaneros aren't as hot.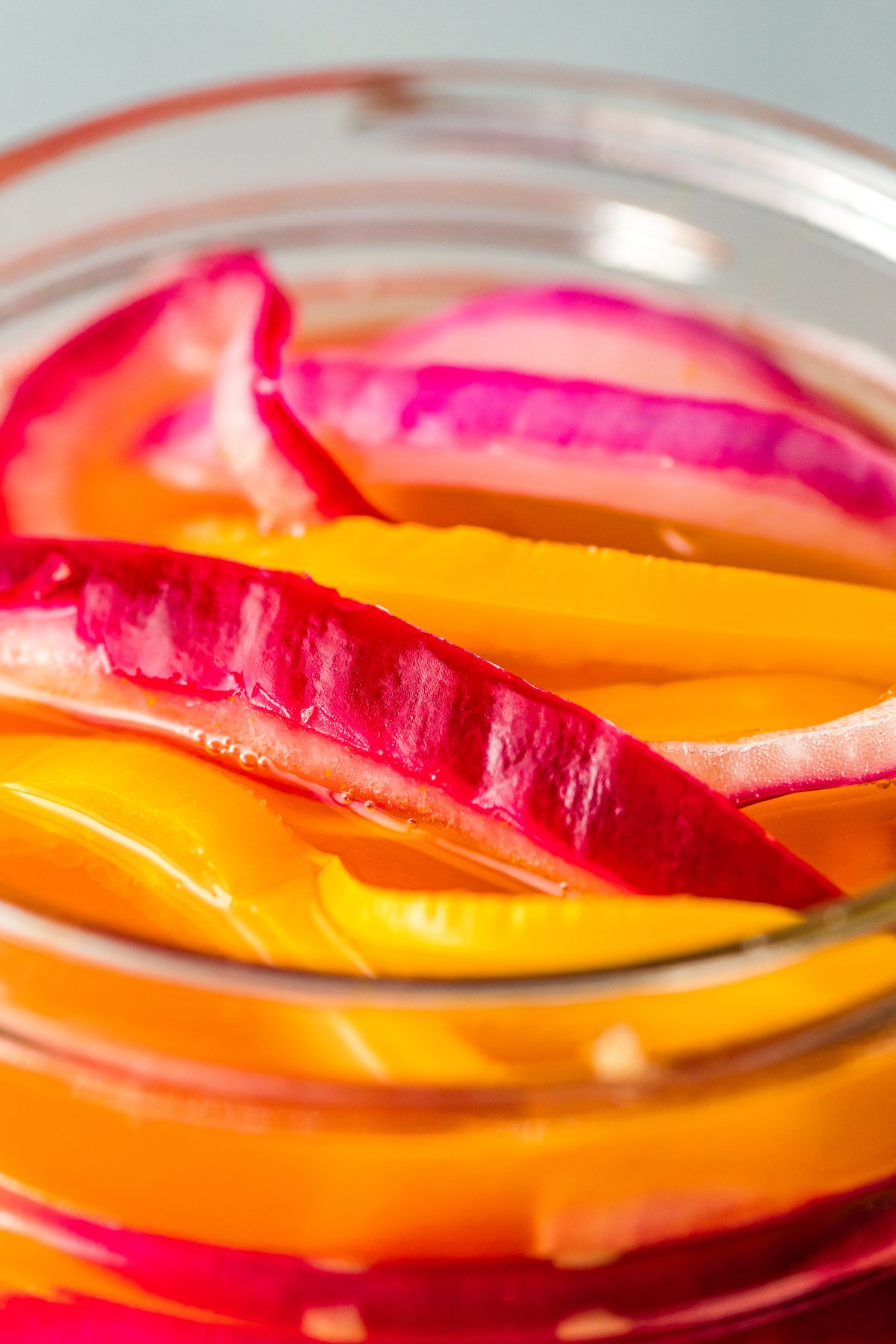 Ways to Eat It
Now, to my favorite part! How are you going to eat your Curtido? Don't worry, I have a few suggestions for you.
You can turn it into a salsa. If you want this to be a "salsa" just dice the onions and habaneros instead of slicing them.
It's going to be hard to pick just one taco recipe to try this topping on. Here are a my 10 Must Make Taco Recipes to get started with!
It's a great topping for eggs and other breakfast recipes. Try it as a topping on Huevos Rancheros.
I also love putting in on rice dishes like Puerto Rican Rice.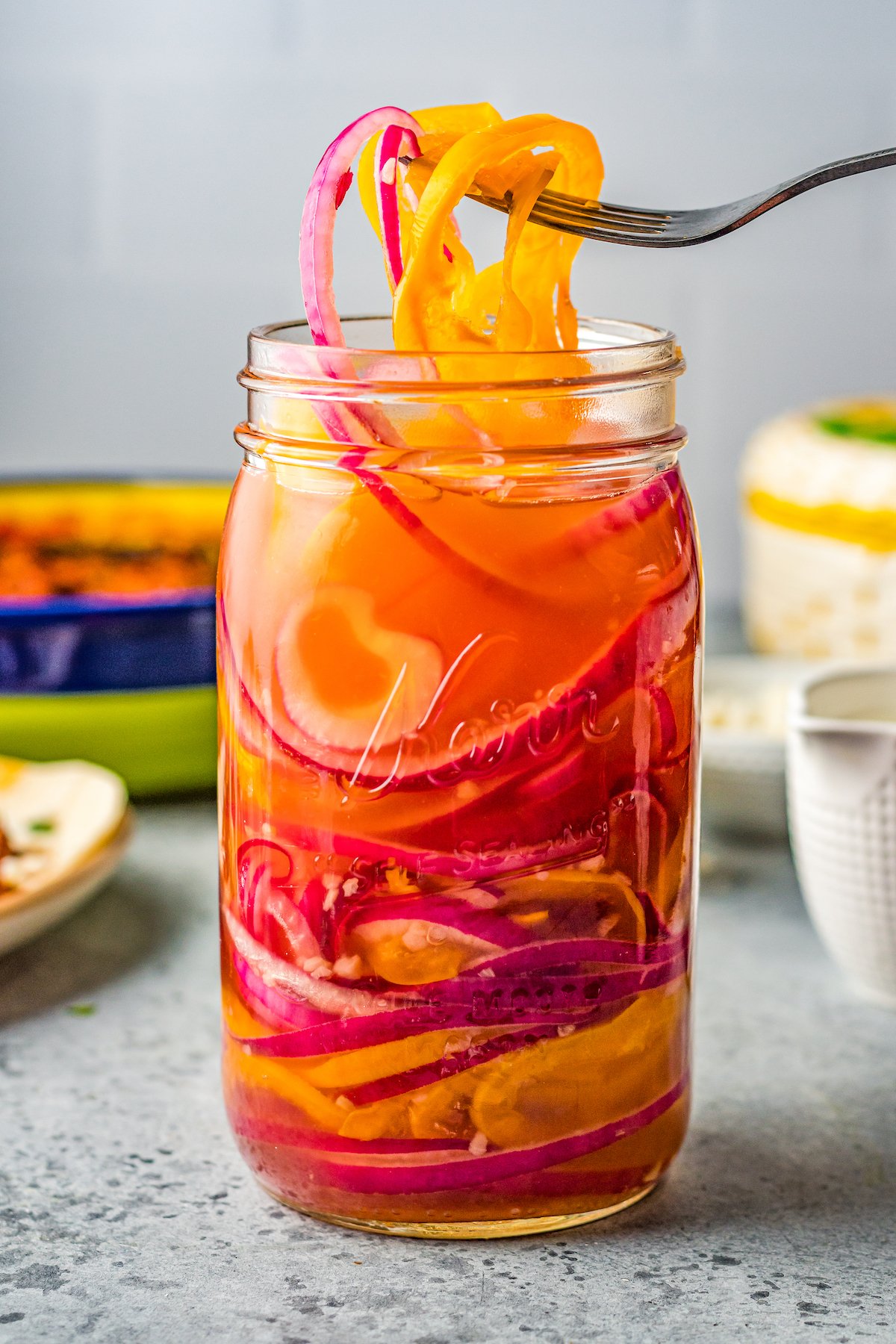 How to Store Pickled Veggies
Pickled veggies taste better after they have been stored in the brine for a few days.
You can store them in a glass jar on the counter or in the refrigerator for up to 2 weeks. Ours are always gone by then, but they may keep up to 3 weeks.
As the onions and habaneros pickle more over time, they will not be quite as spicy.
Pickled Red Onions with Habaneros (Curtido)
Curtido is a topping made from pickled and slightly fermented red onions and habanero peppers. It's tangy, a little sweet, has just the right amount of spice. You can eat it as a side or a topping for tacos or nachos.
Ingredients
4 – 5

habanero peppers

,

sliced thin

1

large red onion

,

sliced thin

2

cloves

garlic

,

minced

½

cup

apple cider vinegar

½

cup

white vinegar

½

cup

fresh squeezed lime juice

½

cup

water

1

tablespoon

100% maple syrup

,

or granulated sugar

1

teaspoon

kosher salt
Instructions
In a large bowl, toss to combine habaneros, red onion and garlic. Transfer the habanero mixture into a large quart jar with a lid, pushing them down into the jar. Leave 1/4th inch empty at the top of the jar.

In a small saucepan, combine the remaining ingredients and heat until boiling.  Remove from the burner and pour over the onions and peppers, until covering them completely. Place the lid on the jar and let them sit until cool and then refrigerate until ready to use. 

You can serve these the day they are made, but they are best made the day before.
Notes
Storage: You can store them in a glass jar on the counter or in the refrigerator for up to 2 weeks. Ours are always gone by then, but they may keep up to 3 weeks.
Nutrition
Serving:
1
,
Calories:
39
kcal
,
Carbohydrates:
8
g
,
Protein:
1
g
,
Sodium:
163
mg
,
Fiber:
1
g
,
Sugar:
4
g
Categories:
More Condiments and Sauces
This post may contain affiliate links. Read my disclosure policy.