Five ingredients is all it takes to make up a batch of festive Pumpkin Spice Candied Nuts! Prepared on the stovetop, these candy coated toasted nuts are full of fall flavor and ready in ten minutes. I dare you to find a tastier and more effortless holiday appetizer!
10 Min Pumpkin Spiced Candied Nuts
I can't tell you how many times I've made this easy recipe for candied nuts. Toasted on the stovetop, coated in caramelized sugar that's spiced with everyone's favorite fall condiment (is it fair to call pumpkin spice a condiment at this point?), spiced nuts are just perfect for so many uses!
Road trips, after school snacks, party appetizers; the occasions that call for whipping up a batch of these spectacular candied nuts are honestly endless. And when I say they're easy to make, I'm talking about "five ingredients and ten minutes" easy.
With the holidays just around the corner, this recipe is the ideal festive party treat for Thanksgiving and Christmas!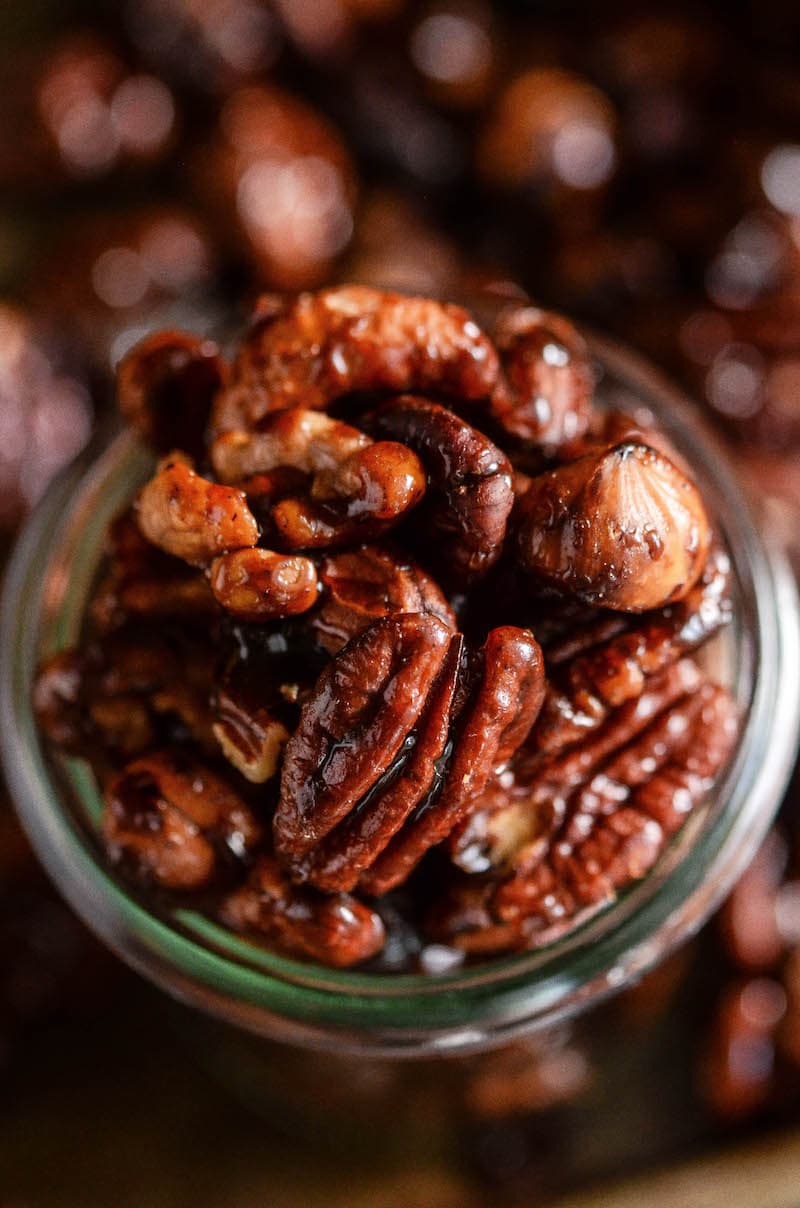 What You'll Need
I use raw mixed nuts (pecans, cashews, almonds and hazelnuts) for this recipe. However, you can use this same recipe to make candied pecans, candied walnuts or your own favorite combination of nuts or seeds! Here's the 5 key ingredients you'll need:
Raw Nuts: Mixed nuts or your preferred nut variety; unsalted raw nuts are best!
Brown Sugar: For a gorgeous caramelized flavor and color.
Pumpkin Pie Spice: Also called mixed spice, found in the spice aisle of most local supermarkets. If you aren't into pumpkin spice, you can also use plain cinnamon instead.
Butter
Salt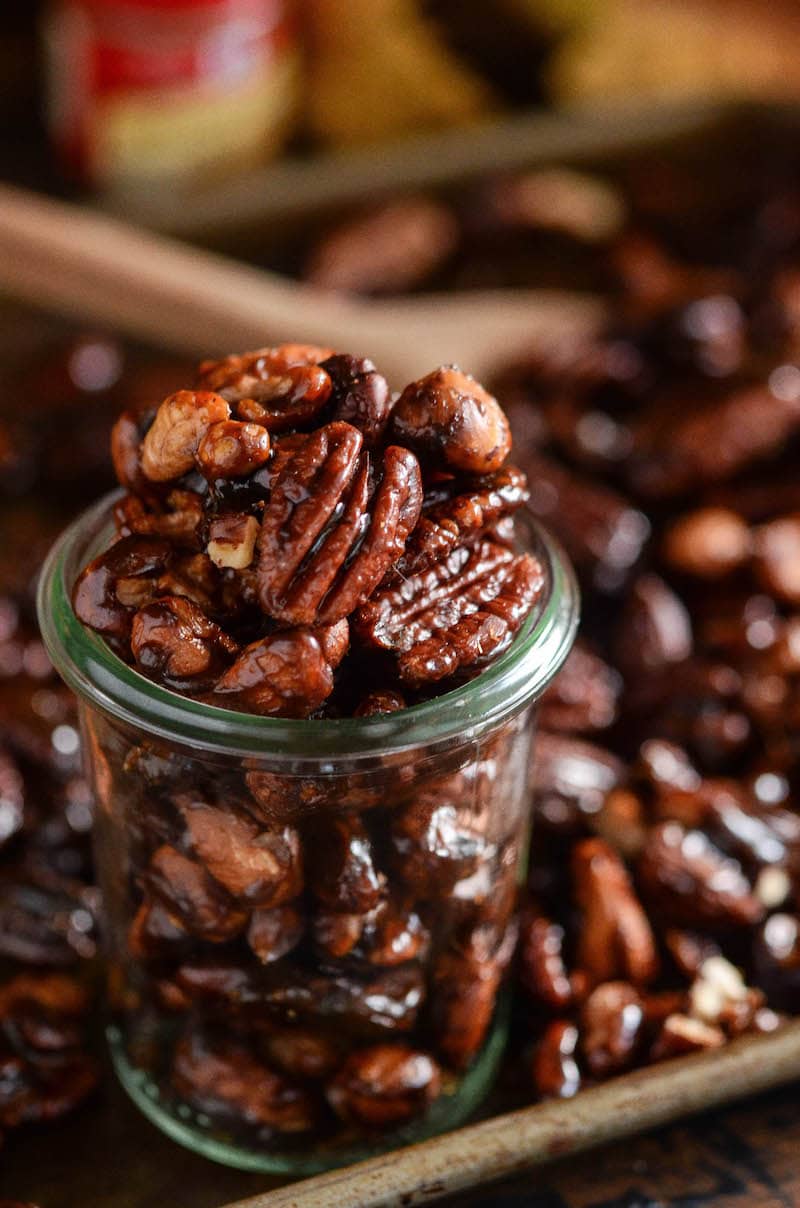 How to Make Candied Nuts
These sweet candied nuts are super easy to make on the stovetop in just 10 minutes. Here's the steps:
Toast the Nuts: First, you'll lightly toast the raw nuts in a saucepan for a couple of minutes until fragrant. Don't forget to stir!
Candy Coat the Nuts: Add in the brown sugar, salt, pumpkin pie spice and butter and stir until the nuts are well coated. Add water and bring the mixture to a boil.
Let Them Cool: After a few minutes, transfer the caramelized nuts onto parchment paper. Quickly spread the nuts in an even layer to separate them (use a spatula as they will be hot!). Once they're spread out, allow the candied nuts to cool before serving.
Serve your spiced nuts fresh after they've cooled off, or store them for later serving and snacking!
How to Make Them Crispy, Not Sticky
Toasting or roasting raw nuts prior to candy coating them is the key to nuts that stay crispier, longer. For this reason, I toast the mixed nuts in the pan beforehand. That being said, you can dry roast them in the oven or buy nuts that have been pre-roasted as well.
If you find your candied nuts are still a bit too soft or "sticky" after they're coated and cooled, place the nuts on a baking sheet and bake them in the oven at 325°F. Stir every so often until they crisp up to your liking.
More Tips for Success
Make Your Own Pumpkin Pie Spice: You can easily make your own pumpkin spice at home! To do so, combine 1 part each ground cinnamon, nutmeg, ginger, clove, and allspice.
Make This Recipe Dairy Free: Candied nuts are naturally gluten free, but you can leave the butter out of this recipe to make them dairy free as well!
Warm the Nuts Before Serving: If you'd like to serve these nuts warm, reheat them in the oven or in a pan on low heat for a few minutes until warmed through.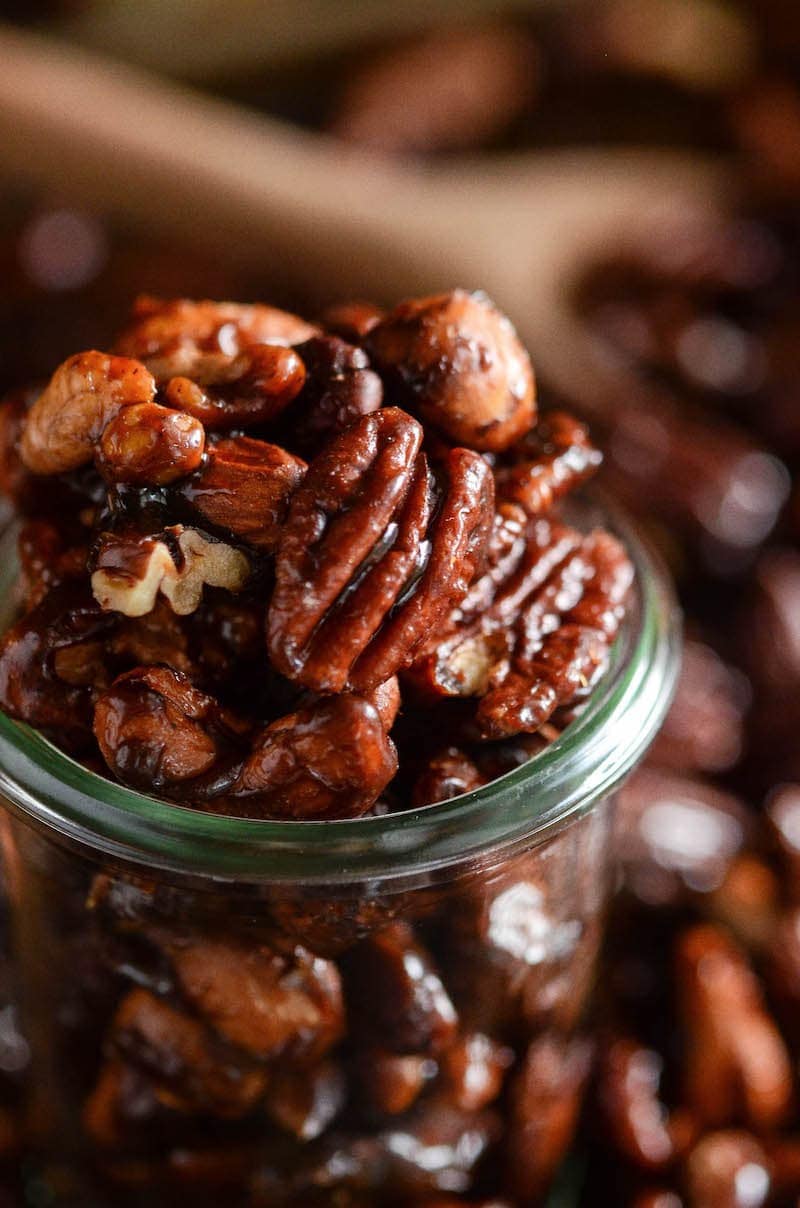 Ways to Use Them
Candied nuts make a great snack and are perfect for wrapping up in a cute jar as a hostess gift. Fair warning: they are seriously addictive!
I love to serve a bowl of candied nuts as a Thanksgiving and Christmas party snack. By themselves, they make a sweet and crunchy addition to a festive holiday cheese board, or to any appetizer or dessert spread.
Here are more ways to make use of these delicious candied nuts:
How Long Do Candied Nuts Last?
After they've cooled off, candied nuts will stay fresh for up to 2 weeks when stored at room temperature. When stored airtight and in a cool and dark place, candied nuts will keep for up to 1 month. You can also make them last even longer by freezing! (See below)
Storing and Freezing
I find it best to store candy coated nuts in an airtight container, like a glass jar or resealable ziplock bag.
Candied nuts also freeze very well! Store the nuts in a freezer safe container or freezer bag, and keep them frozen for up to 2 months. To prevent them from becoming sticky after thawing, defrost candied nuts outside of their container.
More Festive Appetizer Ideas
Old Bay Crispy Cauliflower Cocktail
Pear, Blue Cheese & Walnut Flatbread
Pumpkin Spice Candied Nuts
Just five ingredients is all it takes to make up a batch of festive Pumpkin Spice Candied Nuts! Toasted on the stovetop, these candy coated spiced nuts are full of fall flavor and ready in ten minutes.
Ingredients
12

oz

raw mixed nuts

1

cup

brown sugar

½

teaspoon

salt

1 ½

teaspoons

pumpkin pie spice

4

tablespoons

butter

2

tablespoons

water
Instructions
Toast nuts in a large sauce pan over medium-high heat. Stir nuts constantly, until fragrant, about 2-3 minutes.

Add brown sugar, salt, pumpkin pie spice and butter. Stir until well combined.

Add water and stir to combine. Bring to a boil. Boil for 3 minutes, stirring often.

Remove from heat and pour nuts in an even layer onto parchment paper.

Allow them to cool completely, about 10 minutes, break into pieces.

Eat them fresh or store in an airtight container for up to a week.
Nutrition
Calories:
208
kcal
,
Carbohydrates:
36
g
,
Protein:
0.2
g
,
Fat:
8
g
,
Saturated Fat:
5
g
,
Polyunsaturated Fat:
0.3
g
,
Monounsaturated Fat:
2
g
,
Trans Fat:
0.3
g
,
Cholesterol:
20
mg
,
Sodium:
265
mg
,
Potassium:
54
mg
,
Fiber:
0.1
g
,
Sugar:
36
g
,
Vitamin A:
235
IU
,
Vitamin C:
0.1
mg
,
Calcium:
36
mg
,
Iron:
0.4
mg
Categories:
This post may contain affiliate links. Read my disclosure policy.