This Southern Orange Coconut Cake is a classic recipe all the way from the 1930's. Featuring fresh orange zest and shredded coconut in a light fluffy cake that's totally addictive! 
If you love this sweet citrus dessert, make sure and check out a few other reader favorites: Cranberry Orange Bread, Lemon Lava Cake and Chocolate Orange Cannoli Dip!
Southern Orange Coconut Cake
This classic cake recipe is full of flavor wrapped in a light and fluffy cake with a dollop of homemade sweetened whipped cream on top. It's the perfect type of cake to serve in the afternoon for surprise guests with a cup of coffee or tea.
This cake is baked in a 9×13 baking pan making it the perfect make ahead cake. It's also super easy to travel with for a dinner party. The light and sweet orange and coconut flavors meld perfectly and your guests will be left wanting more!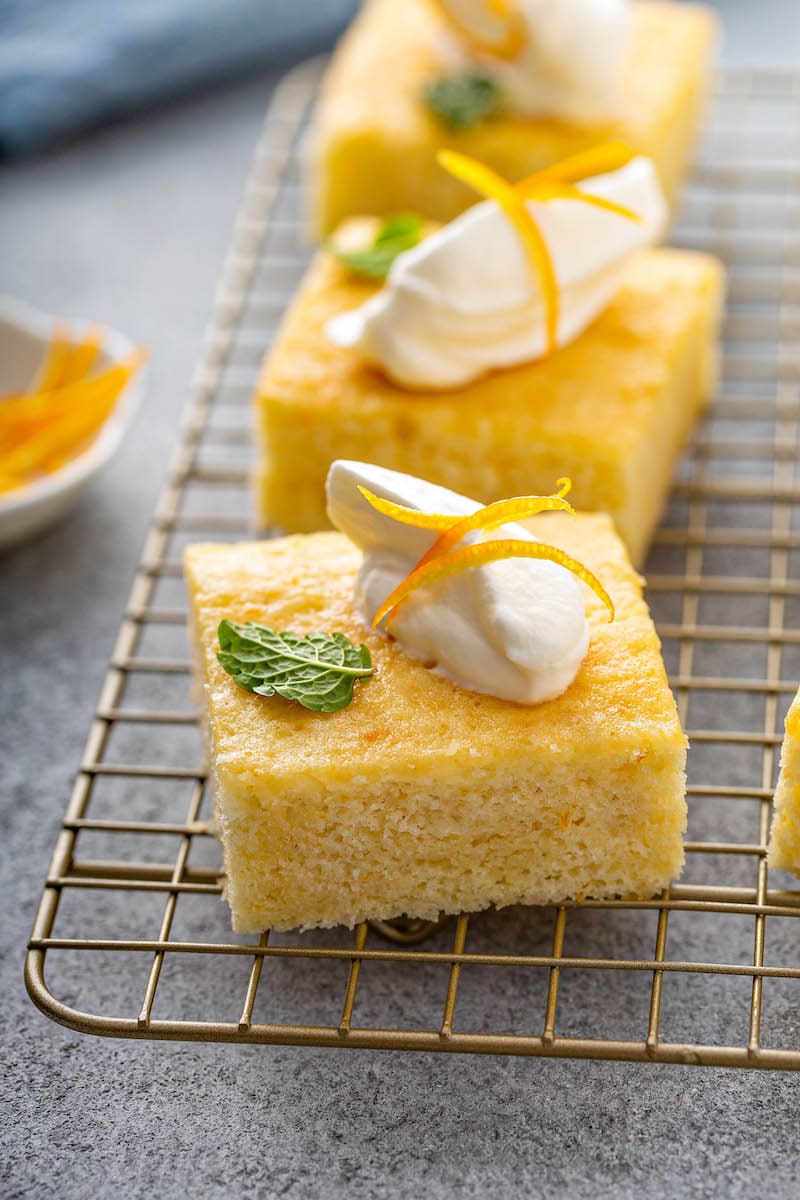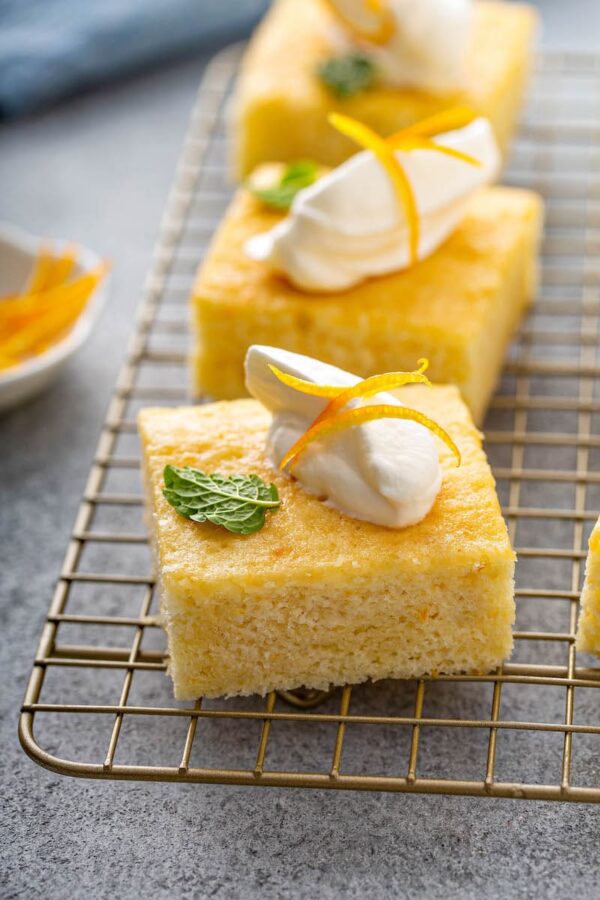 How to make your cake light and fluffy
This Orange Coconut Cake uses egg whites beaten into stiff peaks to give it a very fluffy texture. We fold the beaten egg whites into the batter until just combined.
Be careful not to over stir the batter. If you stir too much, you will break down the egg whites and the cake will fall a little flatter…resulting in a denser cake. 
This cake also uses three teaspoons of baking powder and fresh orange juice (an acid). Baking powder is double acting, which means it first starts rising when it combines with a liquid and then again while baking.
These two methods make for an extra fluffy and light cake with a wonderful crumb.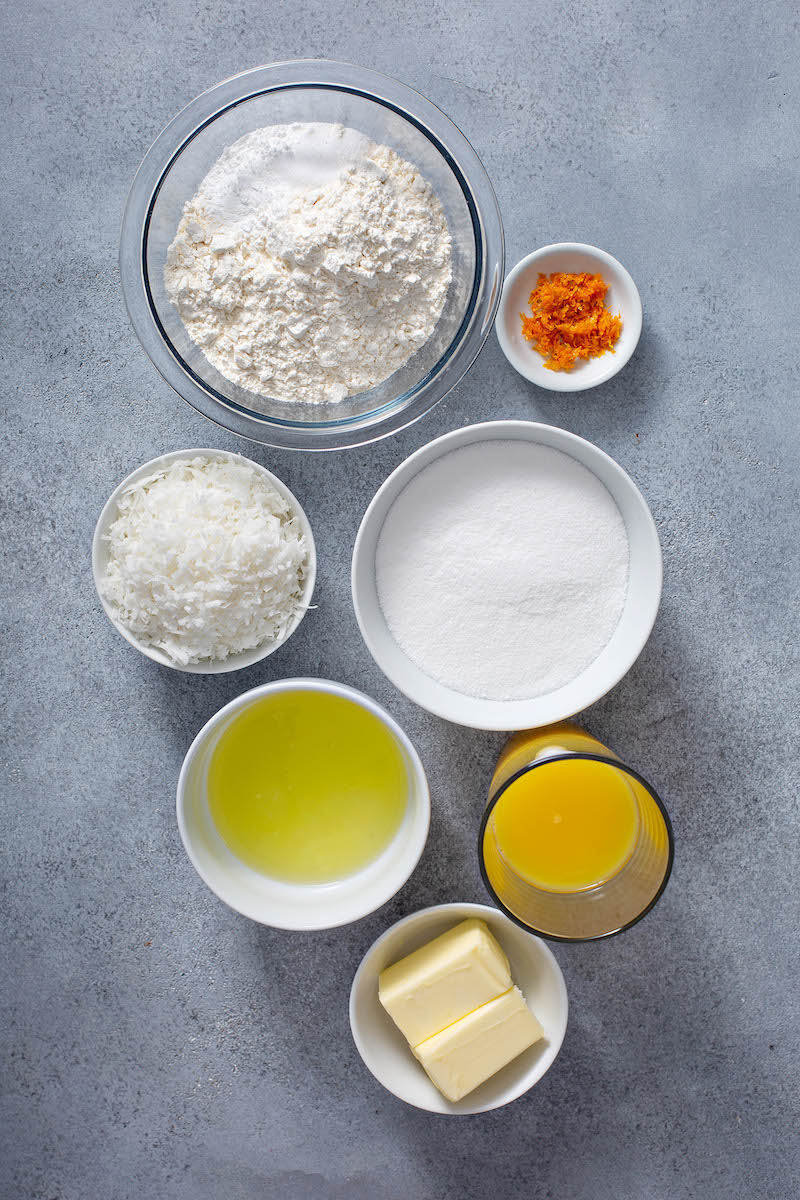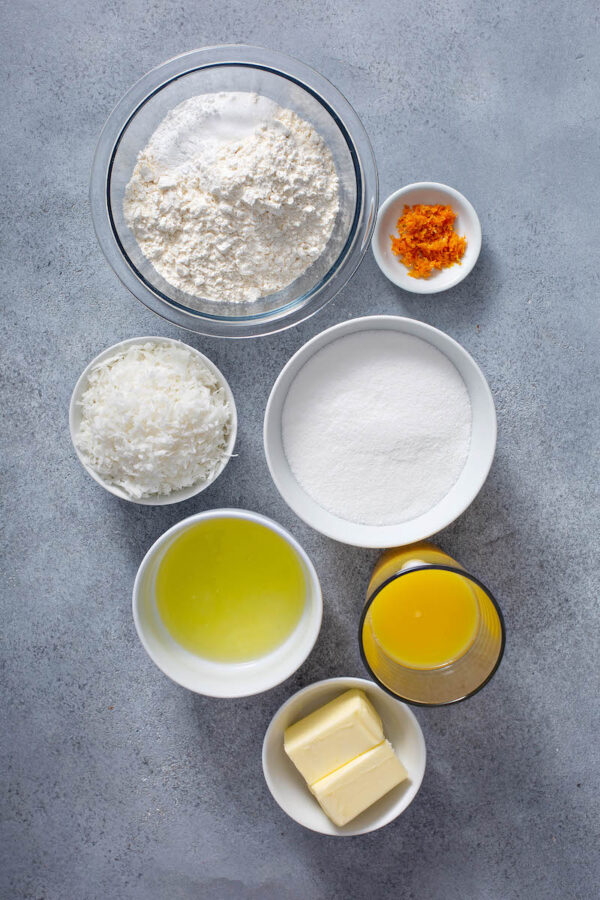 Orange Coconut Cake Ingredients
You only need 9 ingredients to make this Southern Orange Coconut Cake and to be honest you only need 8 ingredients because two of the ingredients come from fresh oranges – the orange juice and zest.
flour
baking powder
salt
butter
sugar
orange zest
fresh orange juice
sweetened shredded coconut
egg whites, beaten into stiff peaks
This cake can be easily switched up to use different citrus fruits. Lemon, clementines, tangerines and blood oranges…the options are endless and all pairs well with the added coconut!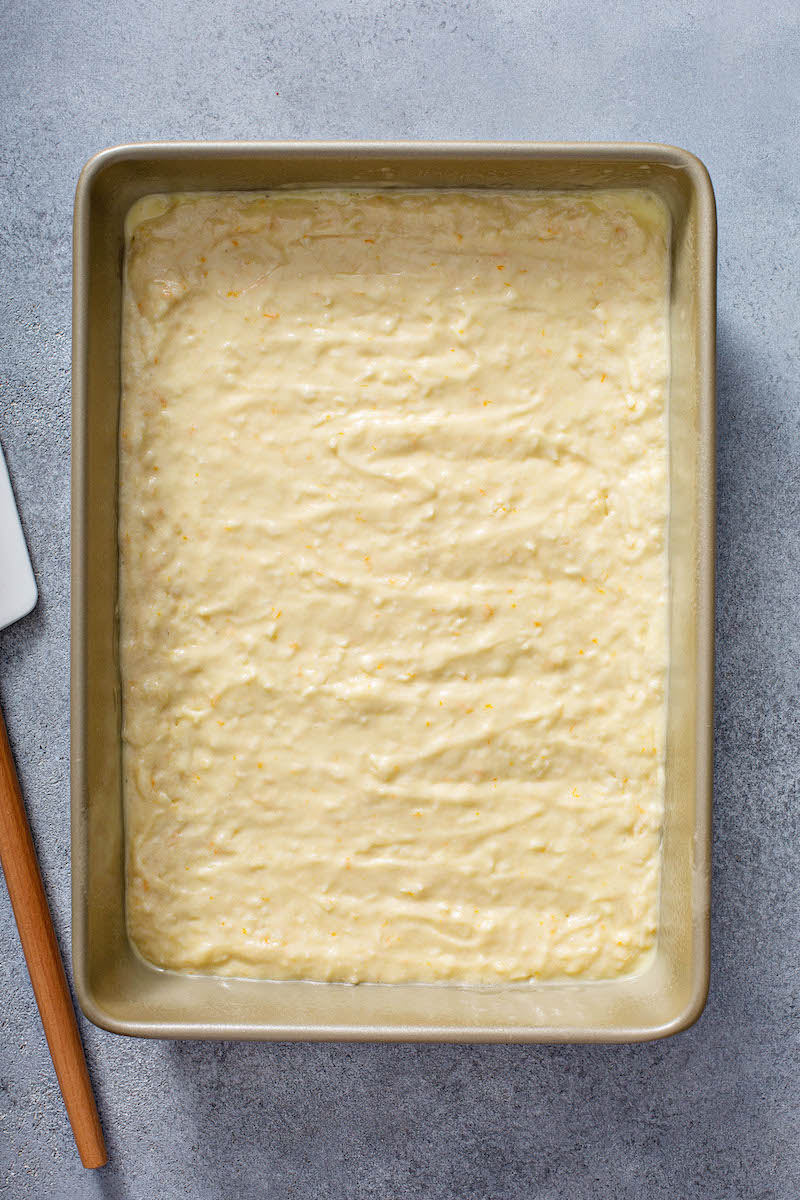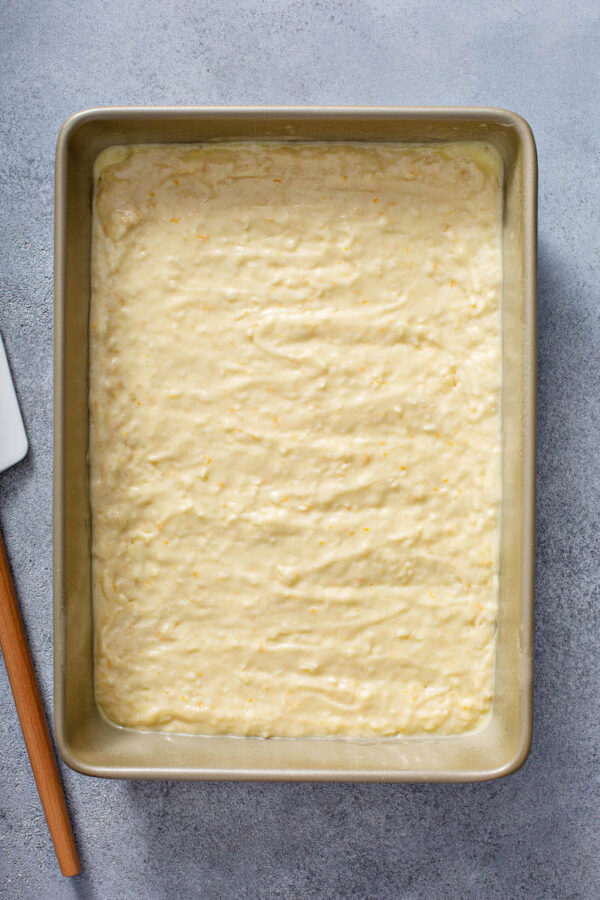 Can I make this cake ahead? Can I freeze it?
Yes and Yes! This cake can be made up to 3 days before and still taste great. I like to store it at room temperature in an airtight container to make sure it stays moist.
And yes, you can also freeze this cake. Since it doesn't have an icing, it actually freezes quite well. These are the steps for freezing it to ensure it keeps optimal texture:
Slice cake into slices and wrap each individual slice in saran wrap.
Then place the wrapped slices in a freezer friendly ziplock bag and seal. The double wrapping makes a big difference!
Place in top shelf of freezer or somewhere it won't get squished.
To thaw the cake, let it sit at room temperature for about half an hour on the counter top!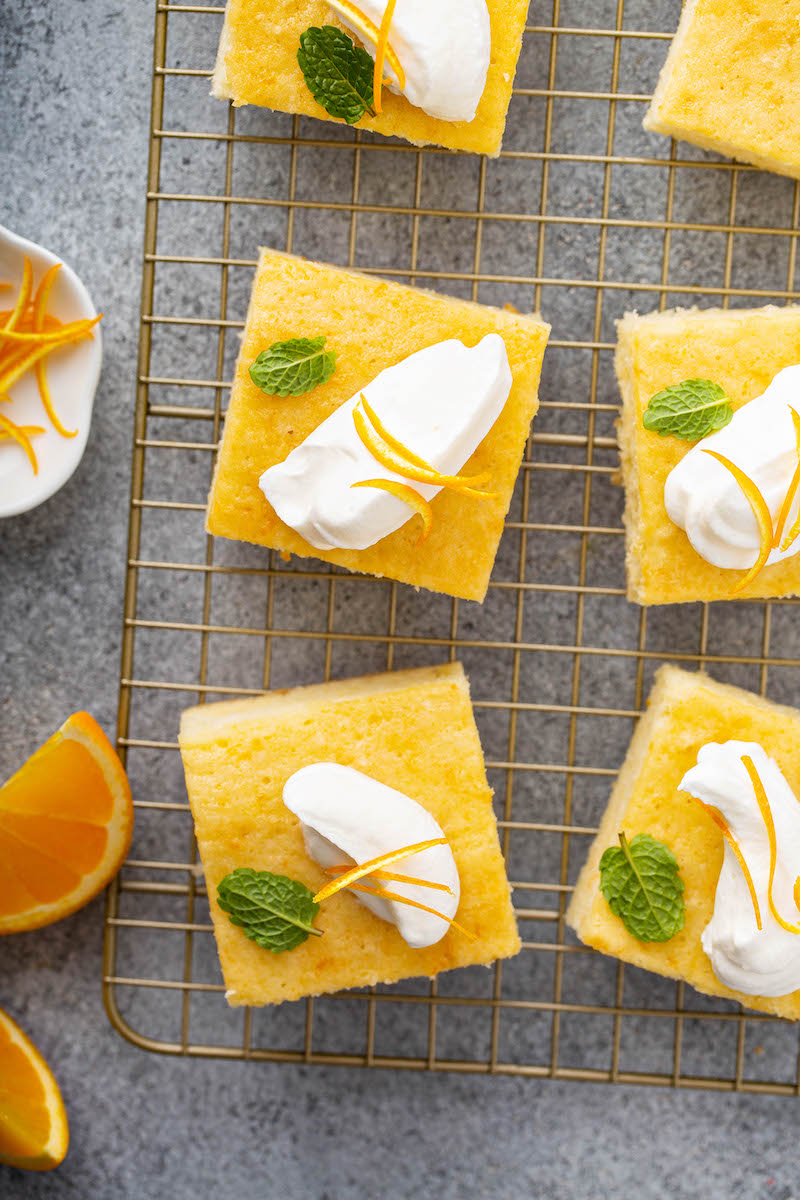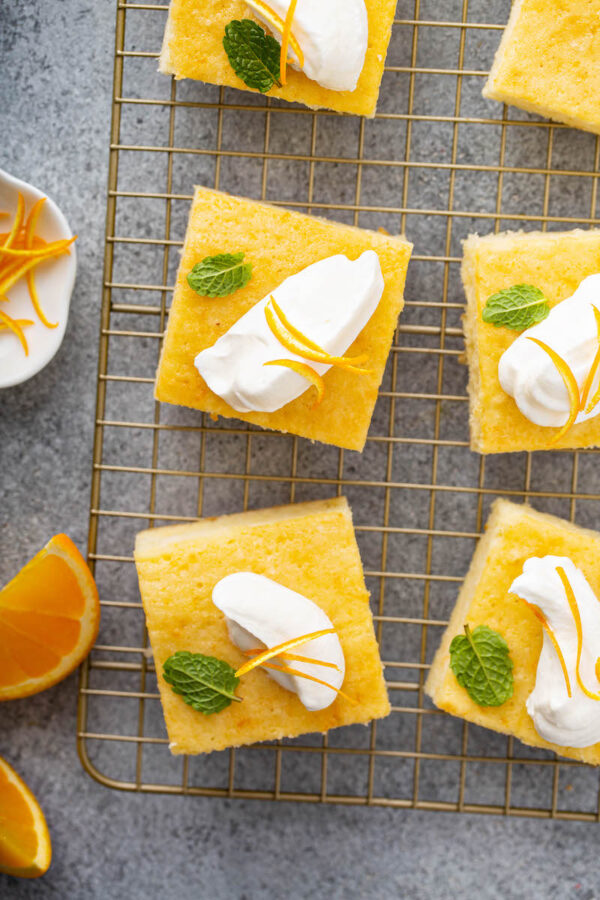 Head on over to Dixie Crystals for the full recipe for this delicious cake, but make sure and come back and leave me a comment letting me know how it turns out for you!
Head on over to Dixie Crystals to get the full recipe I developed for them by clicking the button below:
This post may contain affiliate links. Read my disclosure policy.