Want to know How to Cut a Pineapple the easy way? This quick, hassle-free tutorial will have you munching perfect pineapple spears, chunks, or rings in just a few minutes!
Easy Tutorial: How to Cut a Pineapple
Ah, the sweet and tangy taste of pineapple! We love some juicy pineapple around here, and I use it for quite a few recipes on the blog, from Pineapple Banana Bread to Pineapple Coconut Bars. But for the longest time, I just bought pre-cut pineapple from the produce section. Yes, it's a time-saver, but the real issue was that I just didn't know how to cut up my own!

Eventually (when my grocery store had fresh whole pineapple for $1.99, while the ready-to-go kind was $5.69 – ouch) I bit the bullet and decided to learn how to cut pineapple myself. And guess what? It was super easy! So I made this quick tutorial, showing the steps in order and answering some common questions about this bold and flavorful fruit. Let's dive in!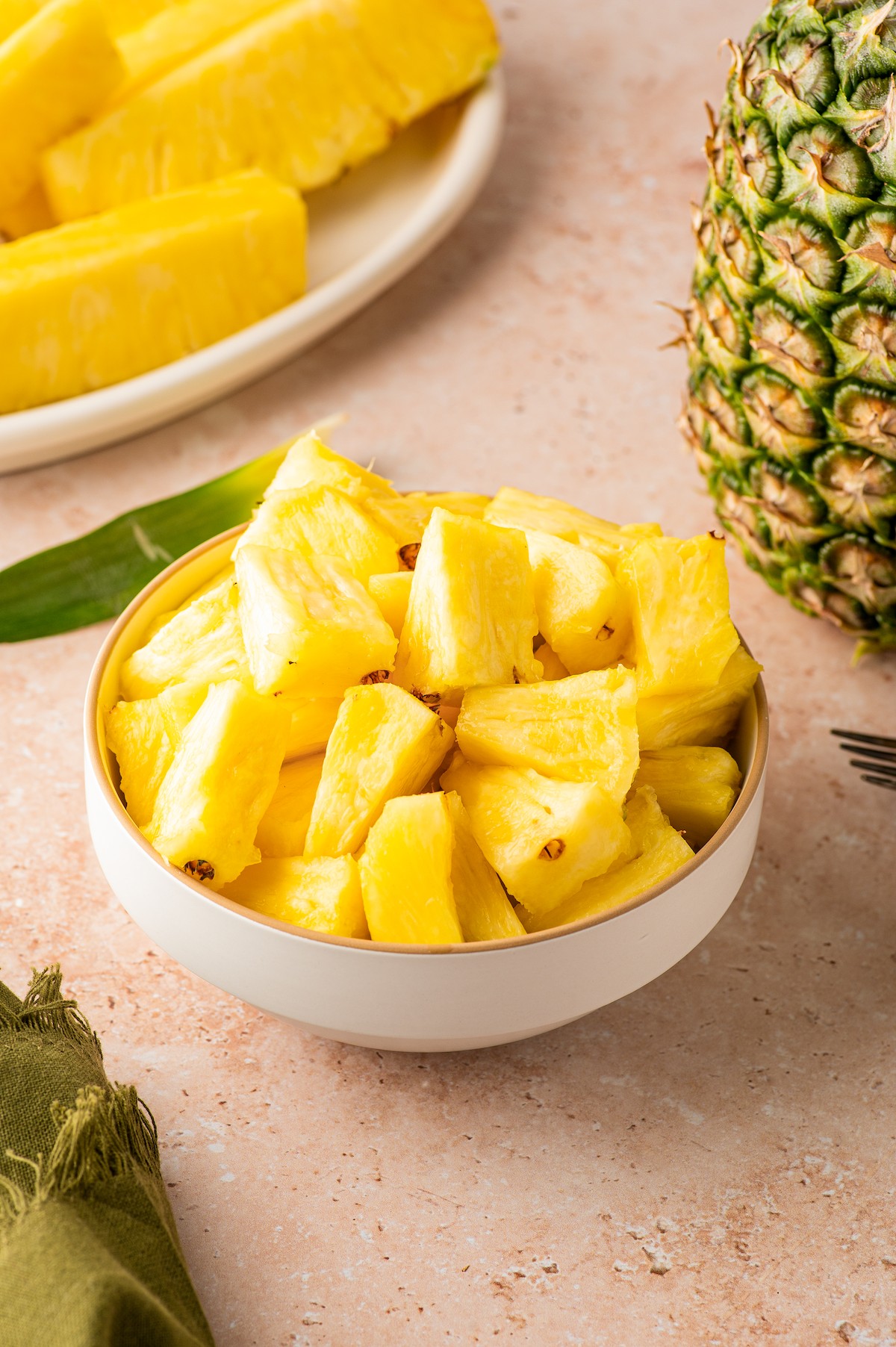 Is Canned Pineapple as Healthy as Fresh?
Before we delve into cutting a fresh pineapple, let's talk about fresh pineapple's more easy-to-work-with cousin, canned pineapple. You might wonder about the health benefits of canned pineapple vs. fresh. Truth is, while canned pineapple can be convenient, fresh pineapple is generally considered more nutritious.
Why? The canning process can affect pineapple's nutrient density – for example, canned pineapple does contain vitamin C, but only about 60% of the vitamin C in fresh pineapple. It may also have added sugar, so keep that in mind, as well. Opting for fresh pineapple ensures you enjoy all its natural goodness, including essential vitamins, minerals, and enzymes. (However, I'm no hater! Canned pineapple is still a great ingredient with a lot of fruity benefits and flavor. I use it for One-Bowl Pineapple Upside Down Cakes!)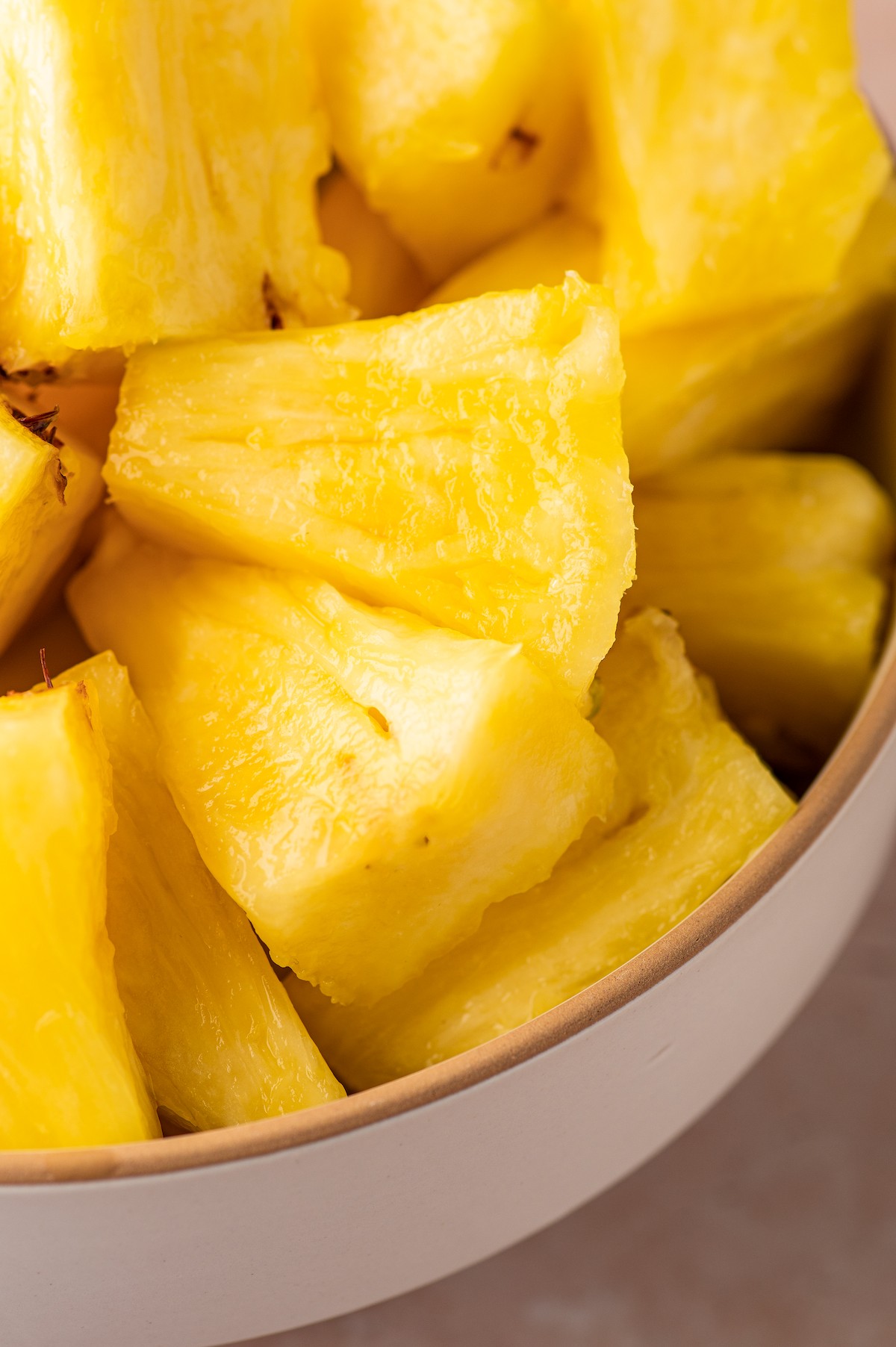 Who Should Not Eat Pineapple?
This headline might surprise you a bit, since most of us tend to think of fresh fruit as healthy, full stop. But actually, for some people, it may not be a good fruit option. People with certain medical conditions or sensitivities should eat pineapple sparingly, or avoid eating it altogether.
This includes folks who might be allergic to pineapple, those who are negatively affected by its acidity, and people taking certain antibiotics, blood thinners, insomnia medications, and other prescriptions. The main issue is bromelain, a natural substance in pineapple that can trigger allergic reactions and interact with medications. If you are concerned that you may fall into one of these groups, be sure to check with your healthcare provider before adding pineapple to our menu!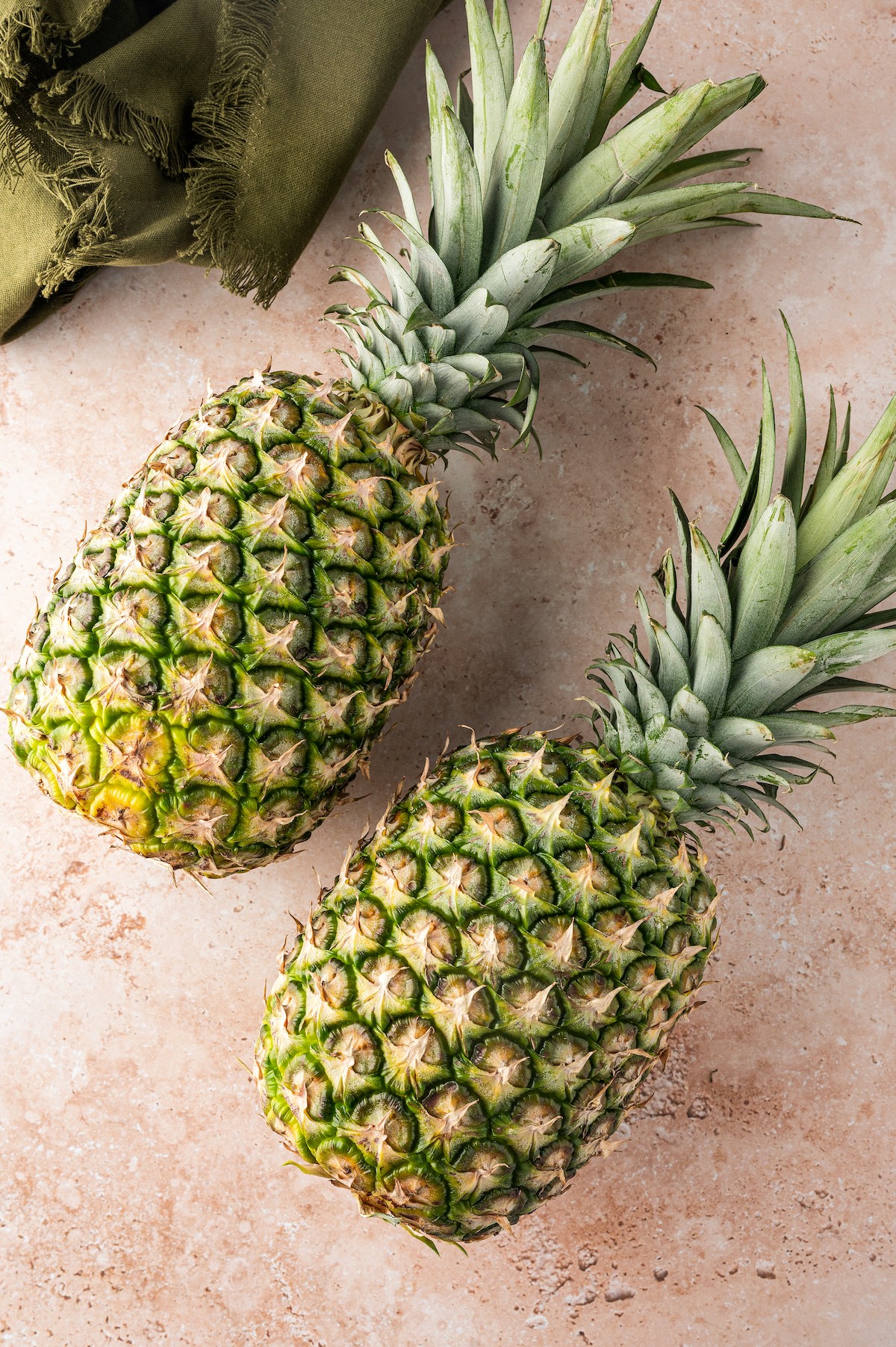 How to Cut Up a Pineapple
Okay, let's get into the tutorial. Here's my totally-easy, no-frills method for cutting up a pineapple quickly. This only takes about 5 – 10 minutes. Be sure you have a good sharp knife, and let's do this!
Step 1: Chop Off the Top and Bottom.
To begin, lay the pineapple sideways on a fruit-and-veggie cutting board (not a cutting board reserved for meats). Slice off the leafy top and the woody bottom, creating a stable base for the fruit.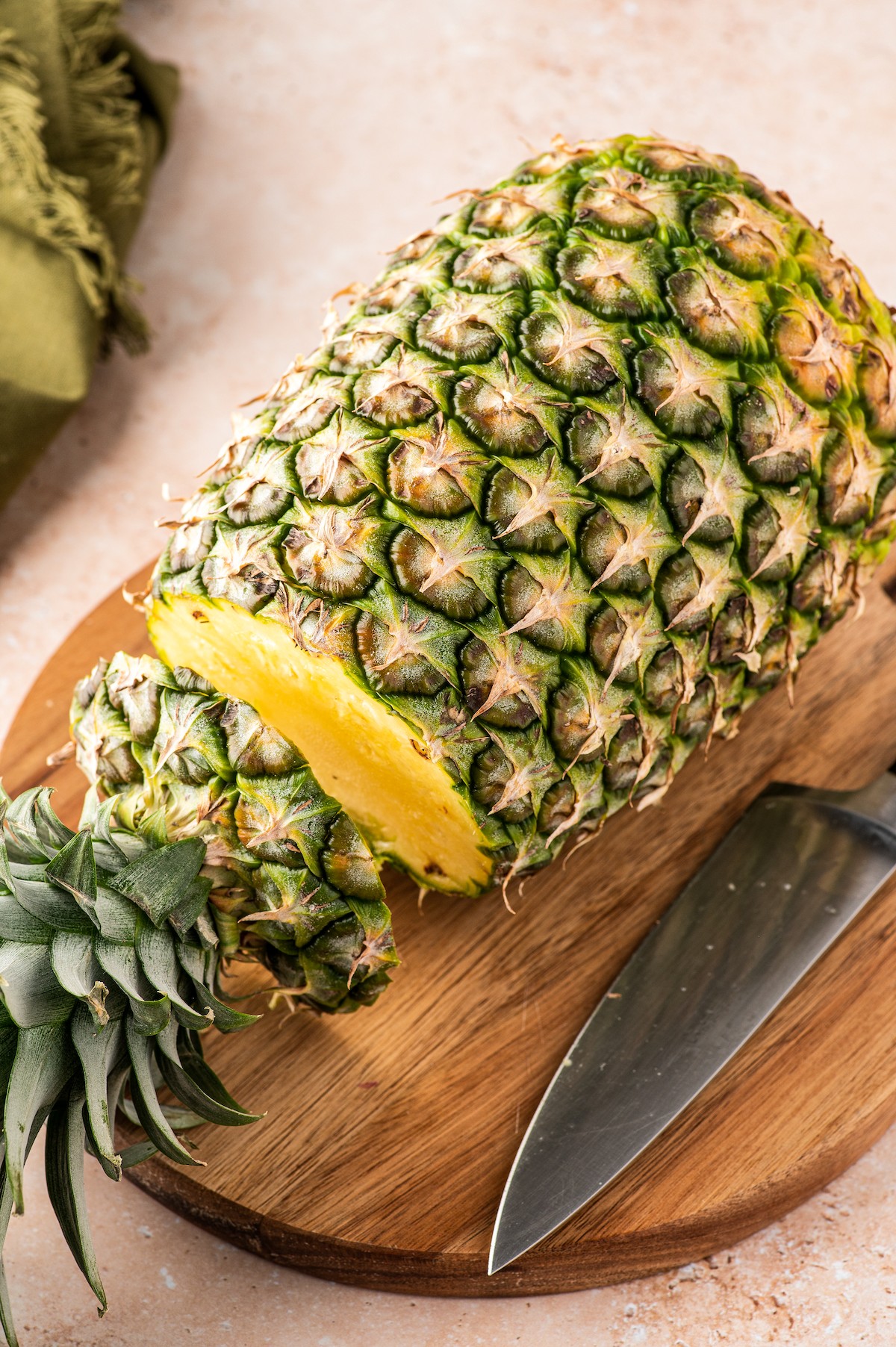 Step 2: Remove the Rind.
Next, stand the pineapple upright, and carefully cut away the spiky outer rind.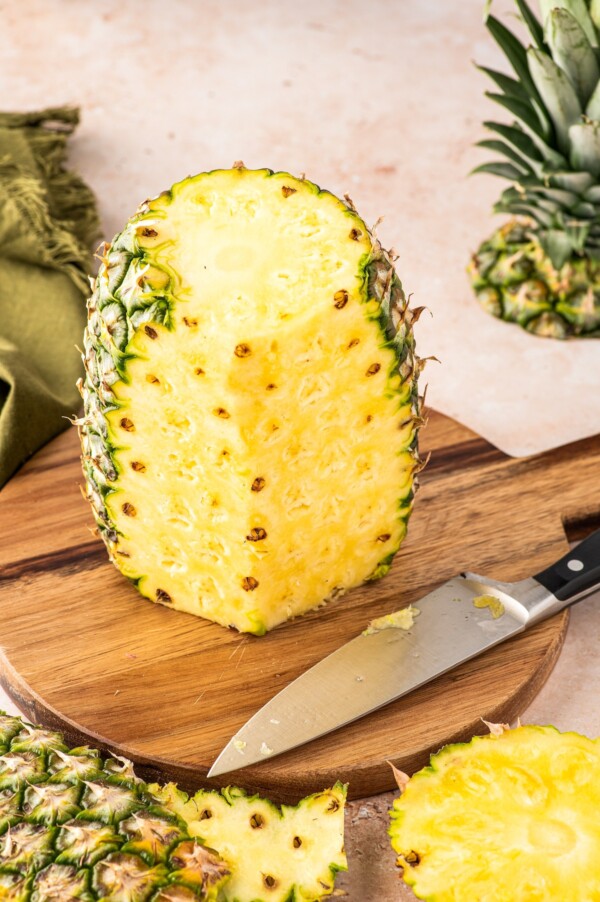 Step 3: Cut the Pineapple in Half.
Once the rind is removed, cut it in half from top to bottom.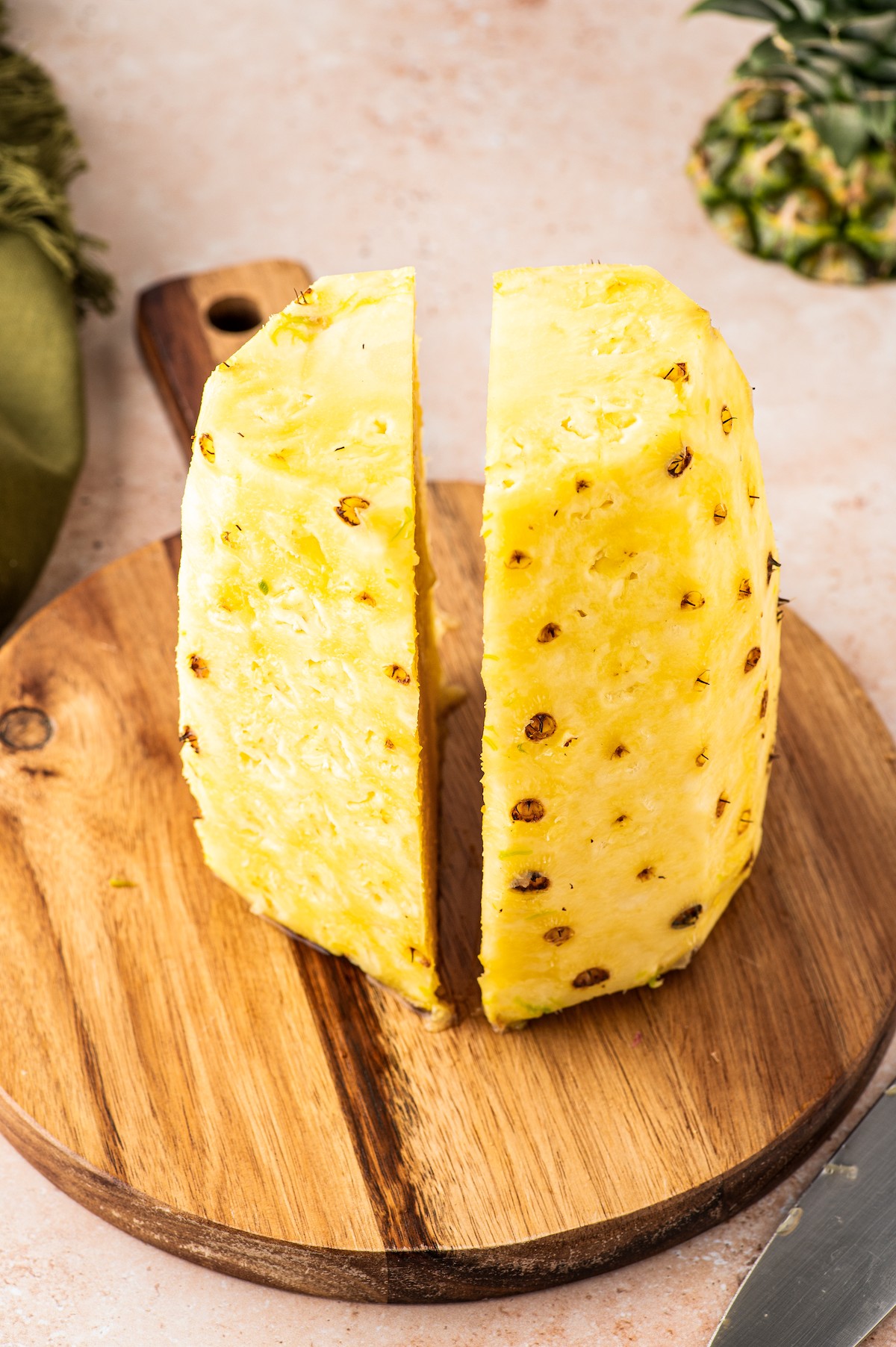 Step 4: Cut the Pineapple into Wedges.
Take one half of the pineapple at a time, and lay it flat on the cutting board. Slice the pineapple into wedges, similar to potato wedges.
Step 5: Remove the Core from Each Wedge.
Each pineapple wedge will have a fat side that is soft, and a pointy edge that's tough. This tough, pointed edge is the core. Just cut it off, leaving the fat side of the wedge. (You can throw away the core, or you can save it and puree it in smoothies. Some recipes recommend boiling the core to soften it before using it in smoothies or other dishes.)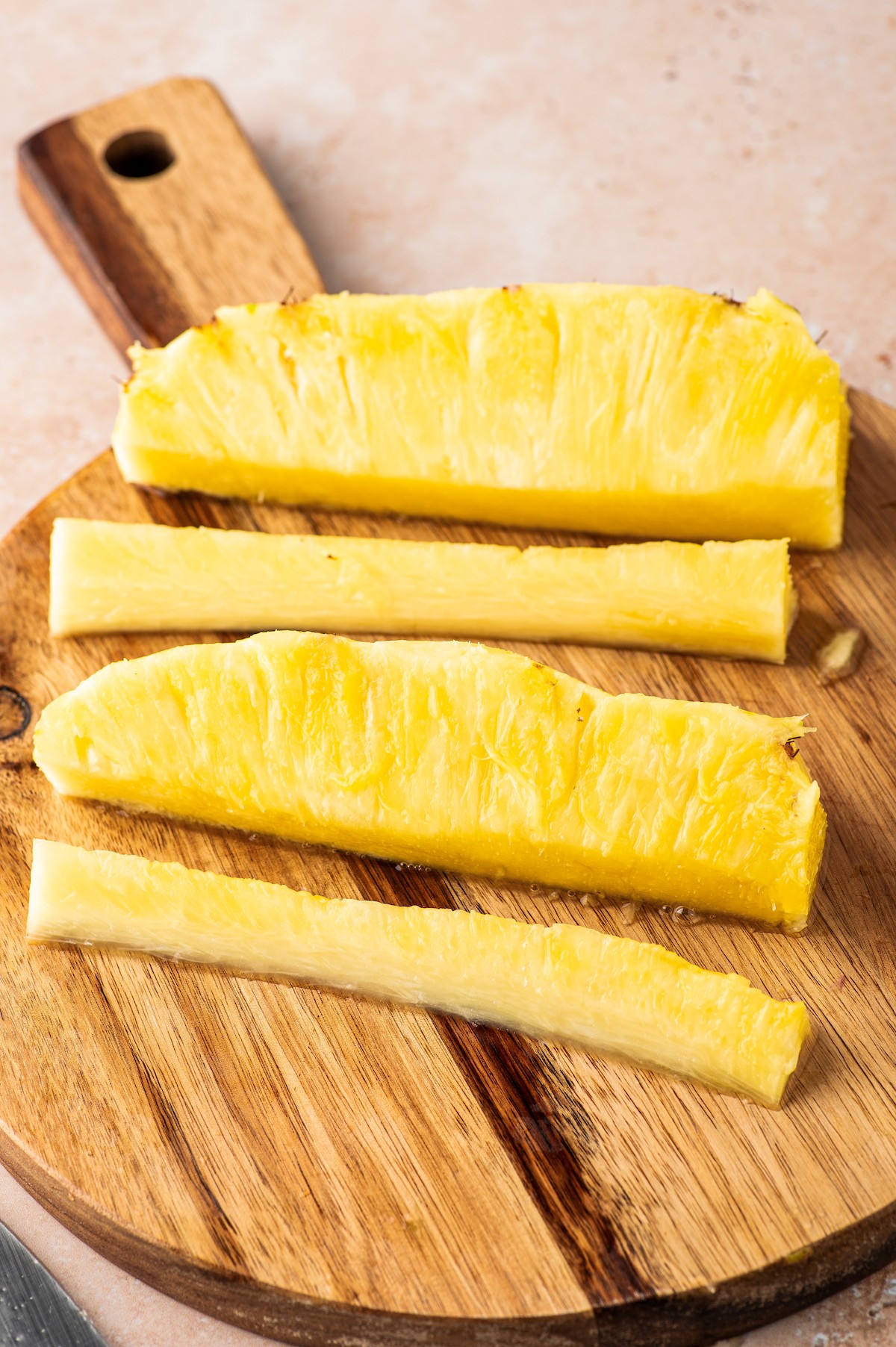 Step 6: Cut the Pineapple Into Chunks.
You can use the pineapple wedges or spears as-is, or you can go a step further and cut each pineapple wedge into smaller, bite-sized chunks.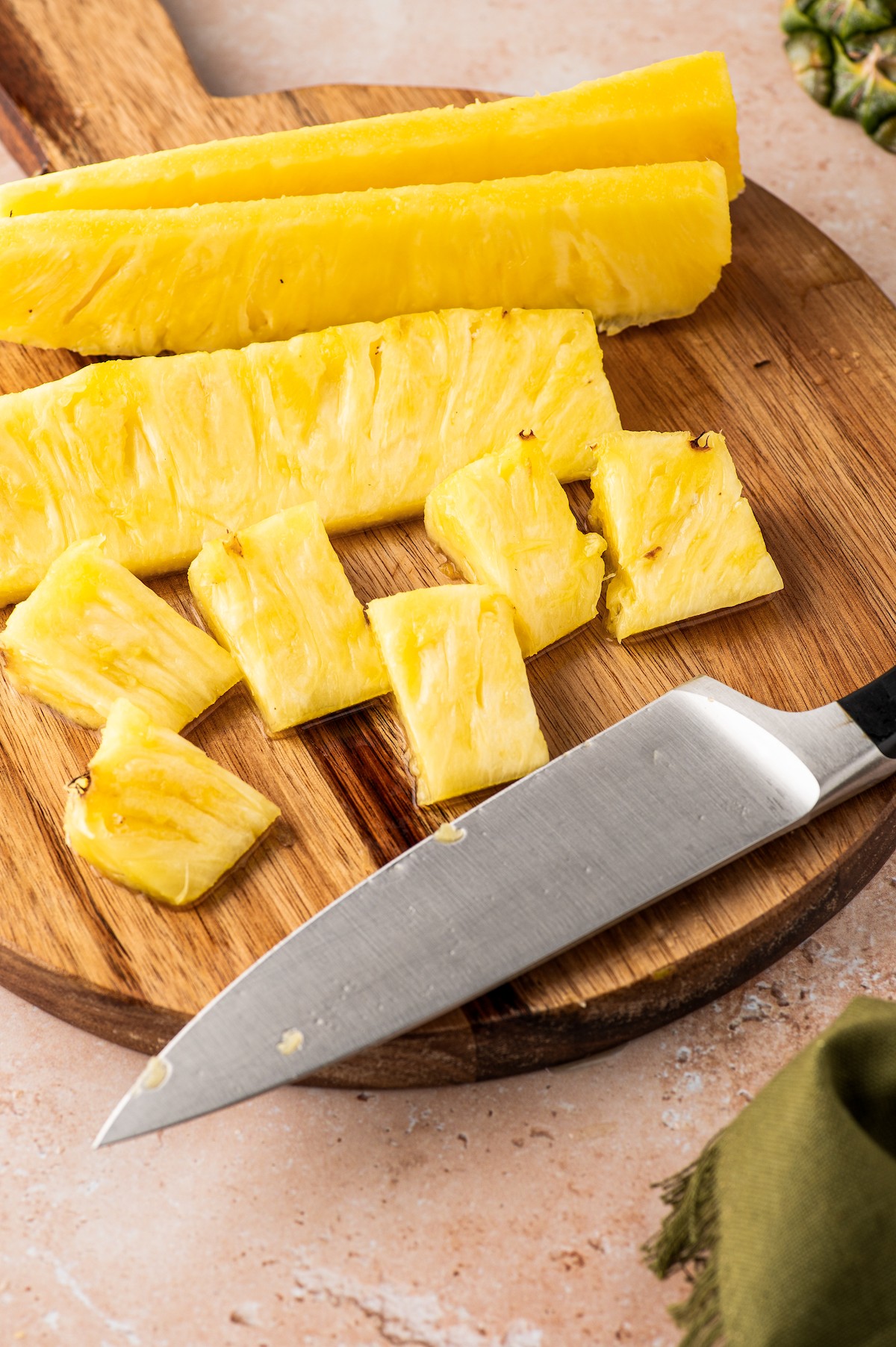 Bonus: How to Slice a Pineapple into Rings
If you need pineapple rings instead of spears or chunks, here's a quick bonus tip. After removing the rind in Step 2, lay the pineapple on its side and cut it into rounds, sort of like slicing a carrot into coins. To remove the core from each round, use a small knife, or even better, a small cookie cutter!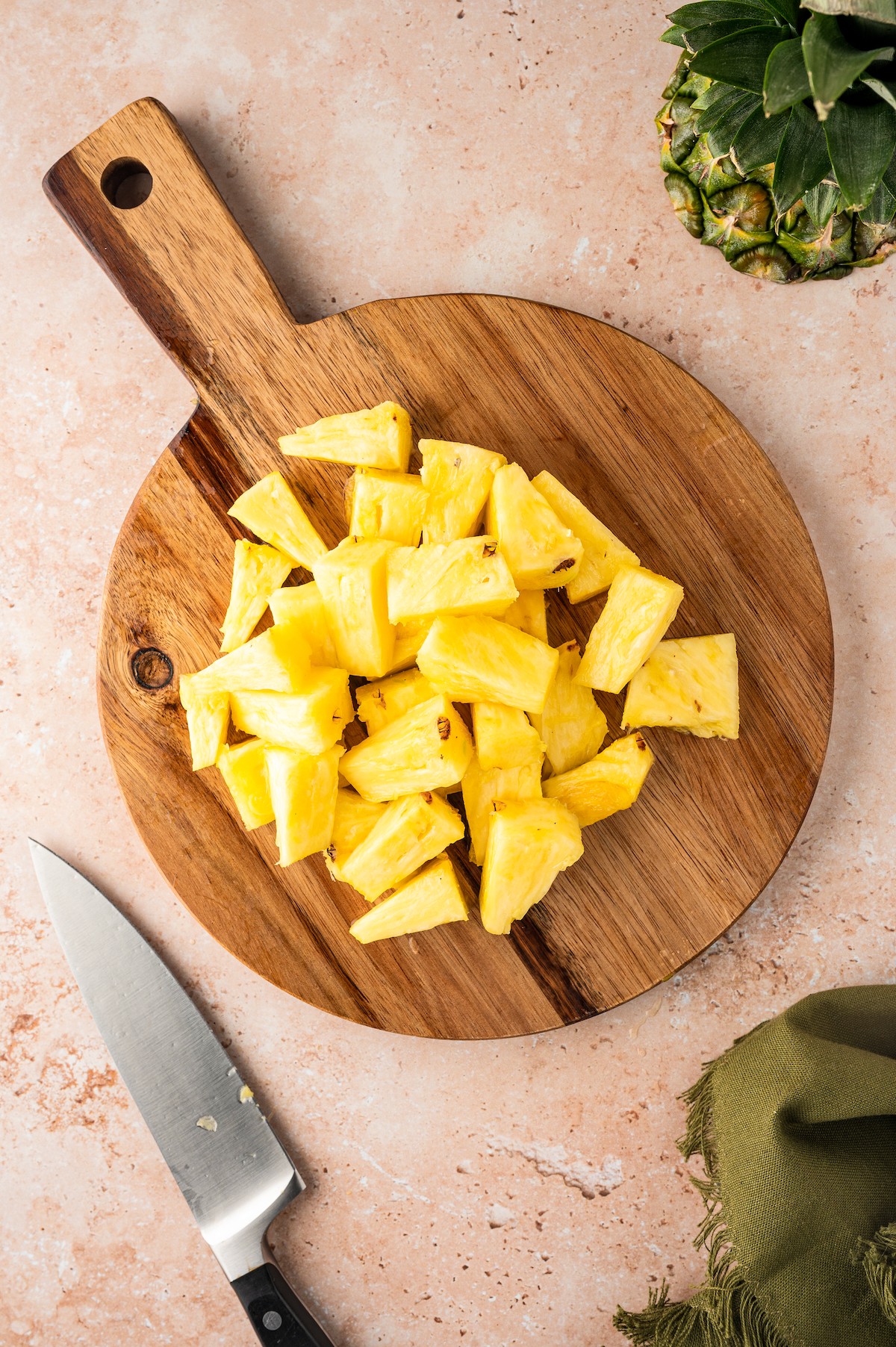 How to Pick a Ripe Pineapple
If you are wondering how to choose the best pineapple, be sure to look over these tips before you head to the store!
Firmness: A good pineapple should feel firm and plump. Avoid any that feel soft or mushy.
Color: The color of the pineapple's rind is a major factor in picking a good, ripe fruit. Ripe pineapples typically have a vibrant golden-yellow color, with or without some green. If your pineapple seems green all over, it's probably not ready. If it is yellow turning to a discolored brown, it may be over-ripe. Be sure to check the base for mold!
Fragrance: Another good tip is to see if the base of the pineapple is fragrant. Under-ripe pineapples will not smell like much of anything, while a ripe pineapple will be noticeably sweet and fruity-smelling.
Leaves: The best pineapples have leaves that are still fresh-looking. Avoid pineapples with dry, wilted leaves.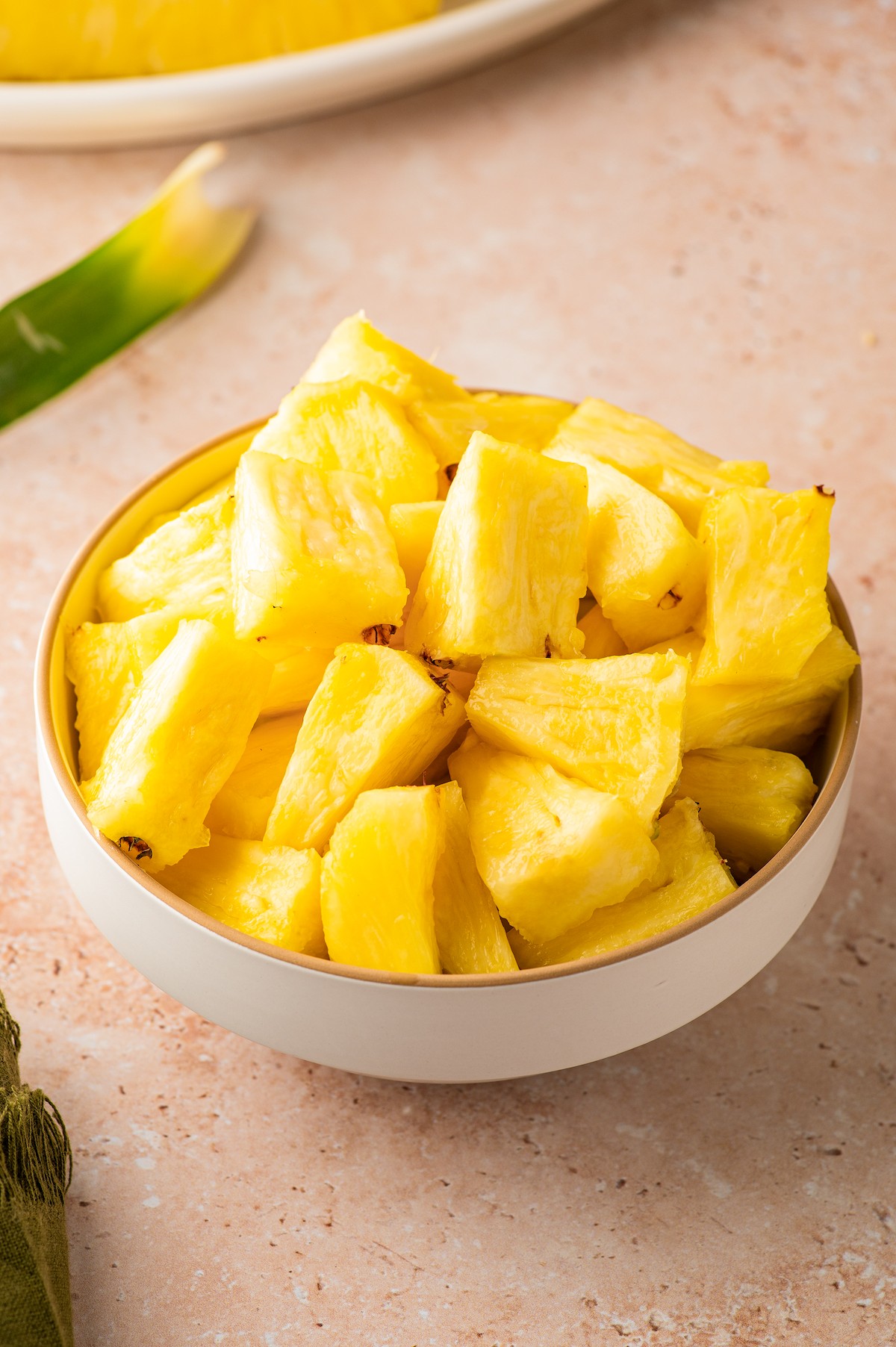 How to Store Fresh Pineapple
Fresh-cut pineapple should be stored in your refrigerator. Cover it or wrap it with plastic wrap, pop it into a zip-top bag, or just put it in an airtight container. Use it within 3-4 days for the best flavor and texture.
Can You Freeze Pineapple?
Absolutely! Freezing pineapple is a fantastic way to preserve its freshness and enjoy it anytime, even when it's not in season. To freeze pineapple, first, cut it into whatever shape you prefer, and then place the shapes on a baking sheet. Freeze them until frozen solid, and then place the frozen pieces in a freezer bag. You can store this in your freezer for several months.
More Kitchen Tutorials
This post may contain affiliate links. Read my disclosure policy.