May 3, 2016
The Best Vegetable Enchiladas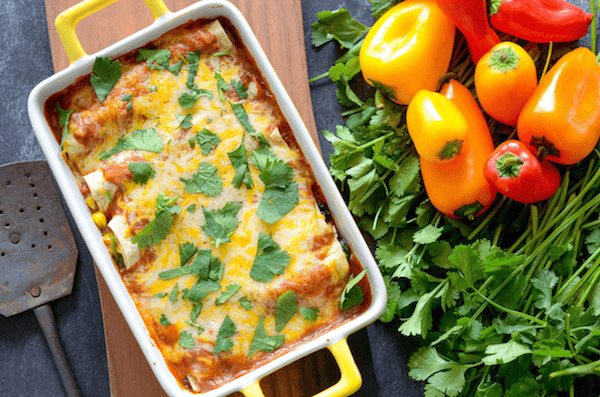 HAPPY CINCO DE MAYO!
Ok, ok. Yes, I am a day early, but it's all for your benefit. Now you will be able to make the best Vegetable Enchiladas ever for Cinco De Mayo! Olé!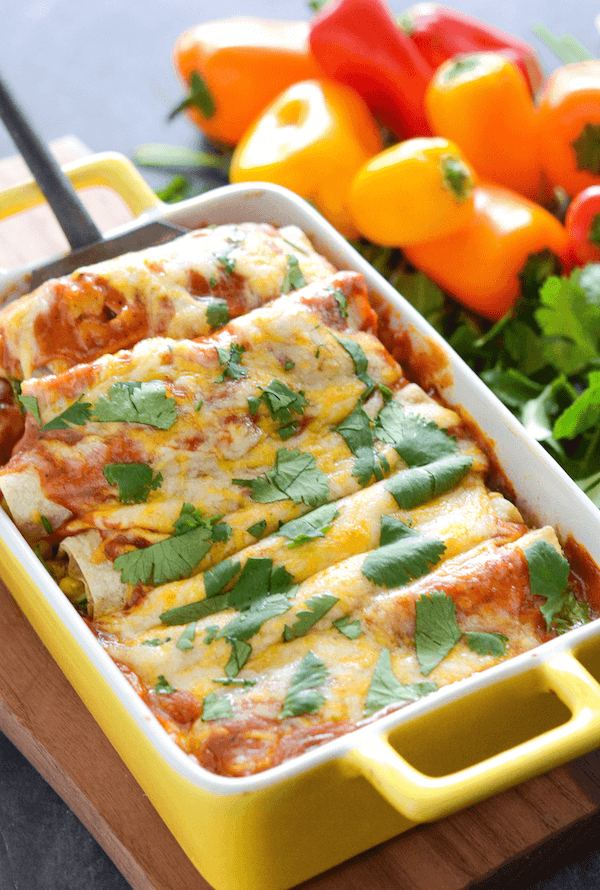 I have actually been making these enchiladas for the past 5 years and have really perfected the recipe and thought they really deserved to be shared again with new better pictures. You can see the old post right here!
P.S. It's hard to believe I have been sharing recipes with all of you for coming up on 8 years. It really doesn't feel that long and I am so very thankful!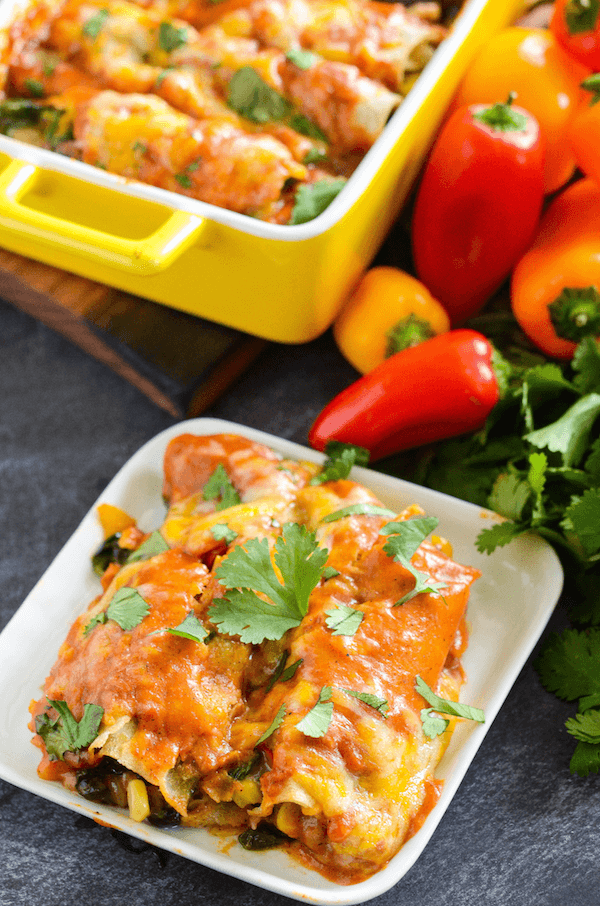 So long story short, these are truly the best ever vegetable enchiladas. You make your own sauce — don't worry it only takes 5 minutes to make — and it really puts these over the top. Inside you will find spinach, bell peppers, onions, black beans, sweet corn and a whole lotta cheese!
In this recipe I use Adobo seasoning. I know not everyone has this stocked in their pantry, so if you don't want to buy an extra seasoning you can just use extra salt (to taste) in it's place. However, I totally love Adobo seasoning and always find 100 ways to use it…but then again my husband is Puerto Rican. It's a must have seasoning in our house!
NOTE: If you want to make these but only have two adults in your household, like me, then freeze half a batch! When I make these, I buy some of those throw away foil pans and separate them in 2 or 3 batches. To freeze, complete all the steps until it's time to bake them. Then freeze them instead! When you are ready to eat them, bake them frozen and expect it to take about double the time to bake as the recipe says since they are frozen. 
The Best Vegetable Enchiladas
Note: If you want to get fancy, add some chopped ripe avocados on top when serving!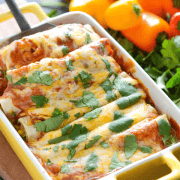 Ingredients:
3 tablespoons olive oil
1 tablespoon ground cumin
2 teaspoons adobo seasoning
1/2 teaspoon garlic powder
1/2 teaspoon white pepper
1/4 teaspoon ground coriander
1/4 teaspoon black pepper
1/4 cup all purpose flour
6 oz can tomato paste
3 cups vegetable broth
2 tablespoons olive oil
2 cloves garlic, minced
1 large yellow onion, diced
1 large bell pepper (yellow, orange or red), diced
2 cups fresh (or frozen) corn
1 teaspoon adobo seasoning
1/4 teaspoon cumin
1 (15 oz) can black beans, rinsed and drained
1 6 oz bag fresh baby spinach
1/2 cup cilantro, chopped
16 oz fiesta blend cheese
16 (6 inch) corn tortillas
Directions:
In a medium saucepan, heat olive oil over medium-high heat. Add cumin, adobo, garlic powder, white pepper, coriander, black pepper, flour, and tomato paste.
Cook, whisking constantly, for 1 minute. Whisk in the broth and bring to a boil. Reduce to a simmer and cook until slightly thickened, about 5 minutes. Set aside.
In a large skillet, heat olive oil over medium-high heat. Add garlic, onion, bell pepper and corn and saute until just softened. Stir in adobo, cumin and black beans.
Add spinach and saute until wilted, about 2 minutes. Remove pan from heat. Stir in cilantro and 2 cups of cheese.
Preheat oven to 375°F. Lightly spray a 9x13 baking dish with non-stick spray. Pour 3/4 cup sauce in the bottom of the baking dish and spread evenly.
Wrap corn tortillas in a damp paper towel and microwave for 30 seconds. Then working quickly, spoon about 1/3 c of the enchilada filling into each tortilla and roll up. Place in the baking dish, seam side down.
Pack the filled tortillas tightly in the baking dish. Pour remaining sauce over them, making sure to cover the entire surface.
Sprinkle remaining cheese evenly over the enchiladas. Bake uncovered until hot and bubbly, about 20 minutes. Cool for 5 minutes before serving and sprinkle with extra cilantro. Serve hot!