Ultra rich and creamy, these cherry-packed cheesecake tacos will become your favorite 25-minute dessert for the summer. Served in homemade taco shells, you'll love every cinnamony bite!
Why You'll Love These Mini Cheesecake Tacos
This dessert checks all the right boxes in terms of what you'd expect from the perfect summer dessert.
Quick. With 12 tacos ready in less than 30 minutes, these dessert tacos are an amazing sweet treat.
Easy. Made with canned cherry pie filling and Cool Whip, this recipe is practically fail-proof.
Crowd-pleaser. Who doesn't love a combination of cherry pie, cheesecake, and dessert tacos? They're so good they'll be gone within minutes of setting them on the table.
Fruity. Filled with bright red cherry pie filling, this is a simple, fruity treat you'll love.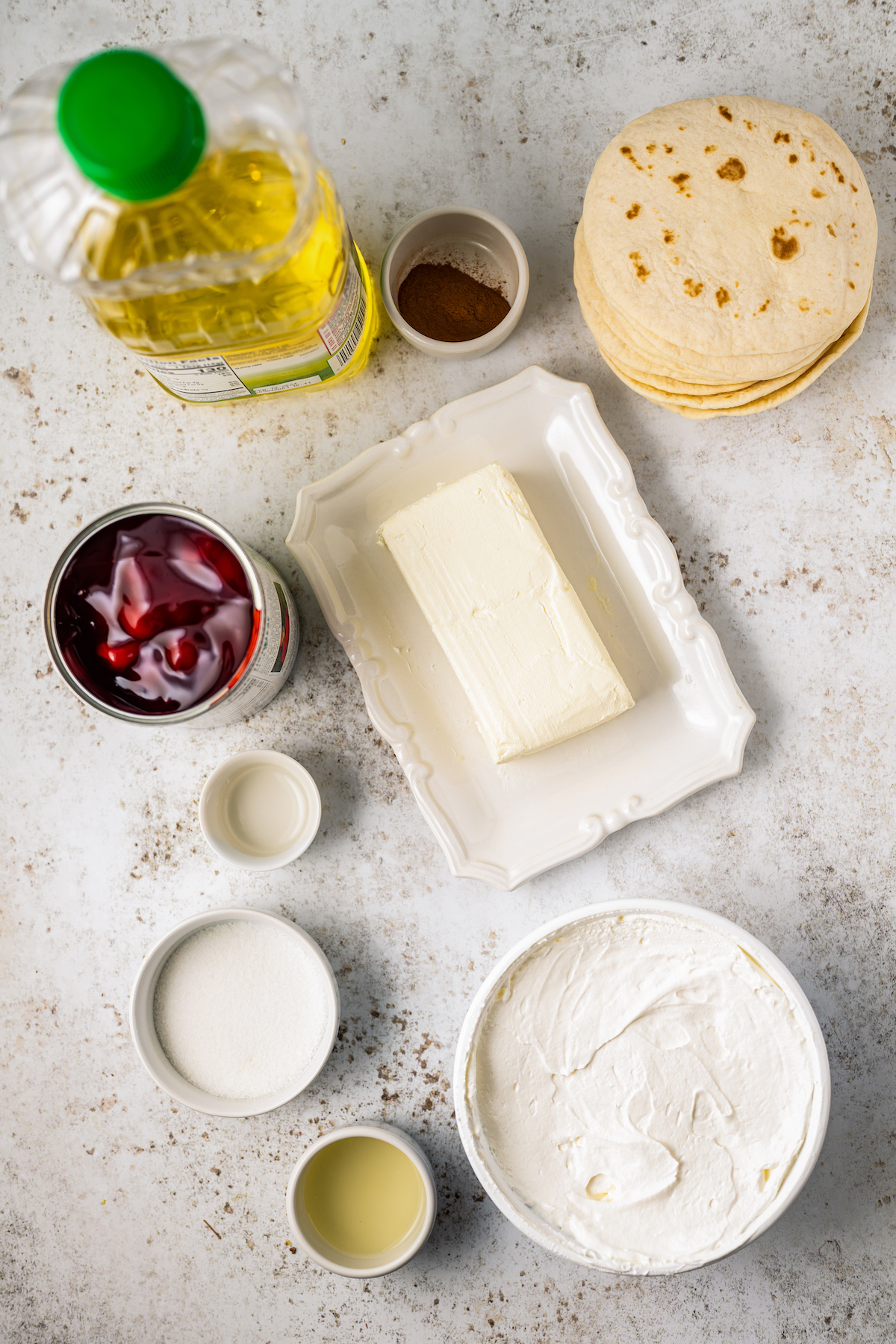 What's In Cheesecake Tacos?
These cheesecake tacos are filled with sweet, fruity ingredients.
For the Filling
Cream Cheese – I prefer full-fat, but you can use low-fat instead.
Granulated Sugar – Light brown sugar works too.
Vanilla Extract
Lemon Juice
Cool Whip – You can also use homemade whipped cream!
Cherry Pie Filling – Or any other flavor of fruit pie filling you enjoy the most.
For the Taco Shells
Oil – Vegetable, corn, and canola oil are great. Don't use olive oil.
Flour Tortillas – Feel free to use store-bought or homemade flour tortillas.
Granulated Sugar
Ground Cinnamon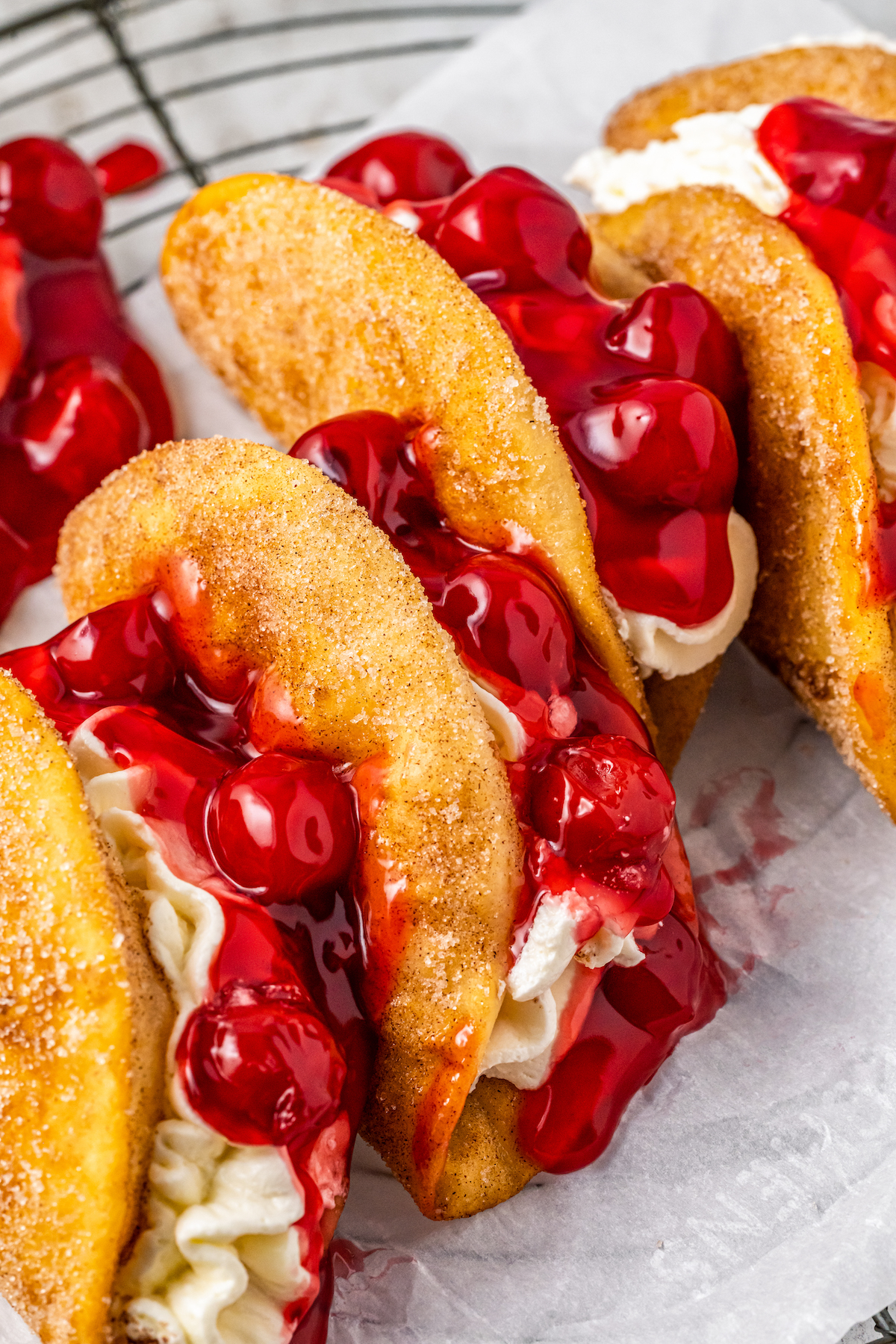 How To Make Cherry Cheesecake Tacos
Scroll down to the recipe card at the bottom of this post for the full directions.
Prepare The Filling. Beat the cream cheese, sugar, vanilla, and lemon juice together until creamy and combined, then fold in the cool whip or whipped cream.
Make The Shells. Fold the tortilla into taco shape and fry in the oil for about 1 minute, until lightly browned. Remove from the oil and place on a paper towel to drain for 30 seconds and then quickly coat the tortilla in cinnamon sugar.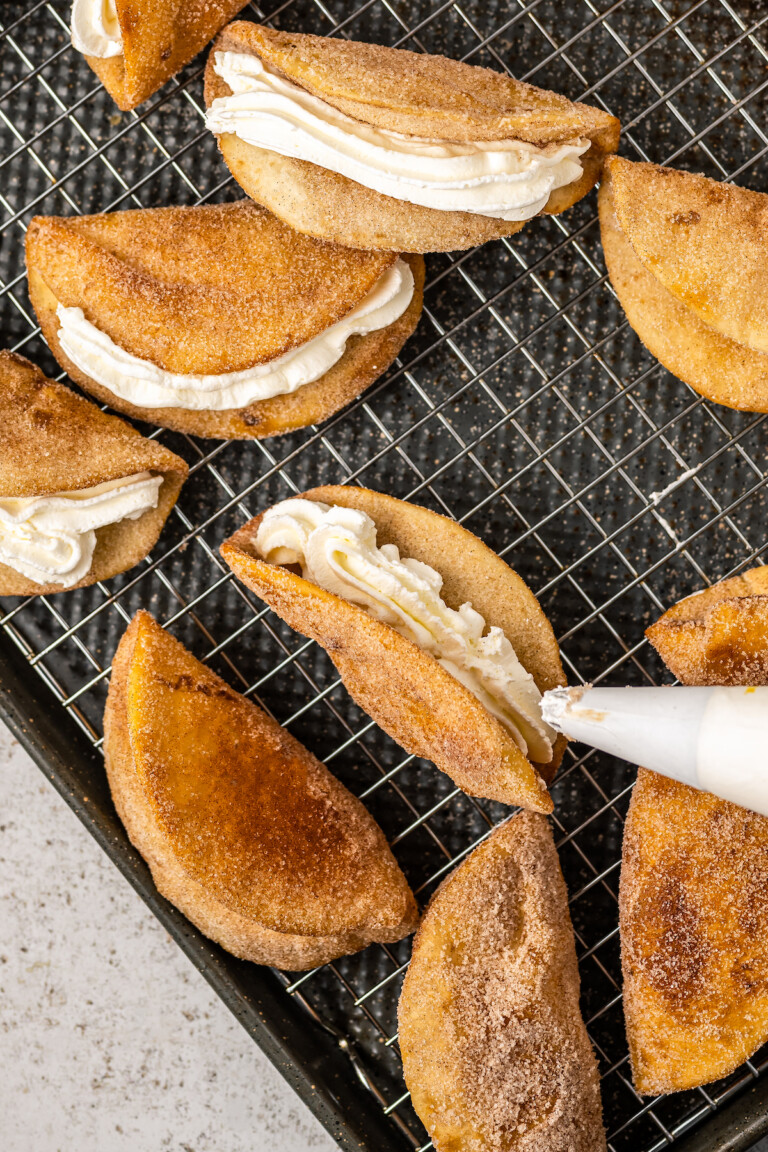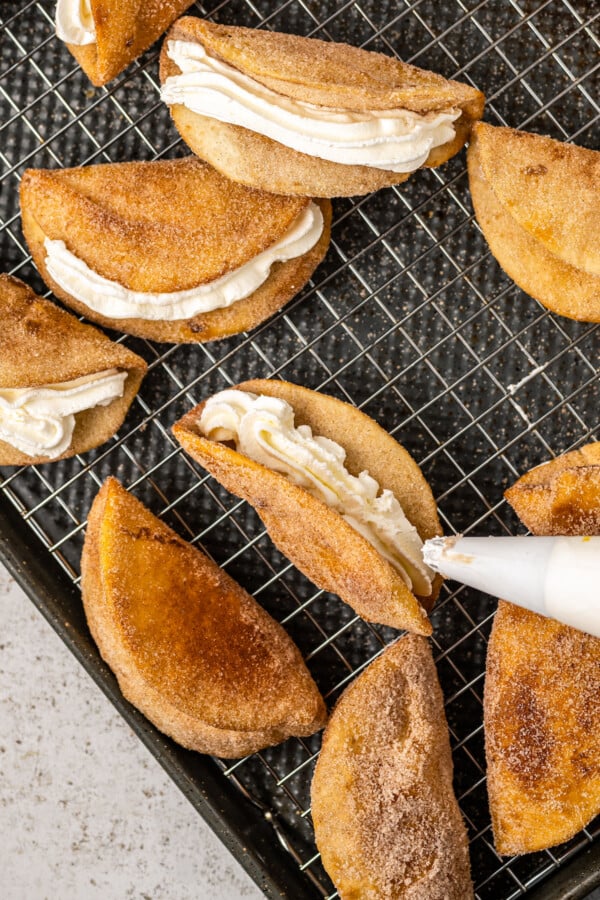 Fill The Shells: Pipe the cheesecake filling into the shells and top with a large spoon of the cherry pie filling.
Serve Immediately: Once assembled, these tacos are best served fresh!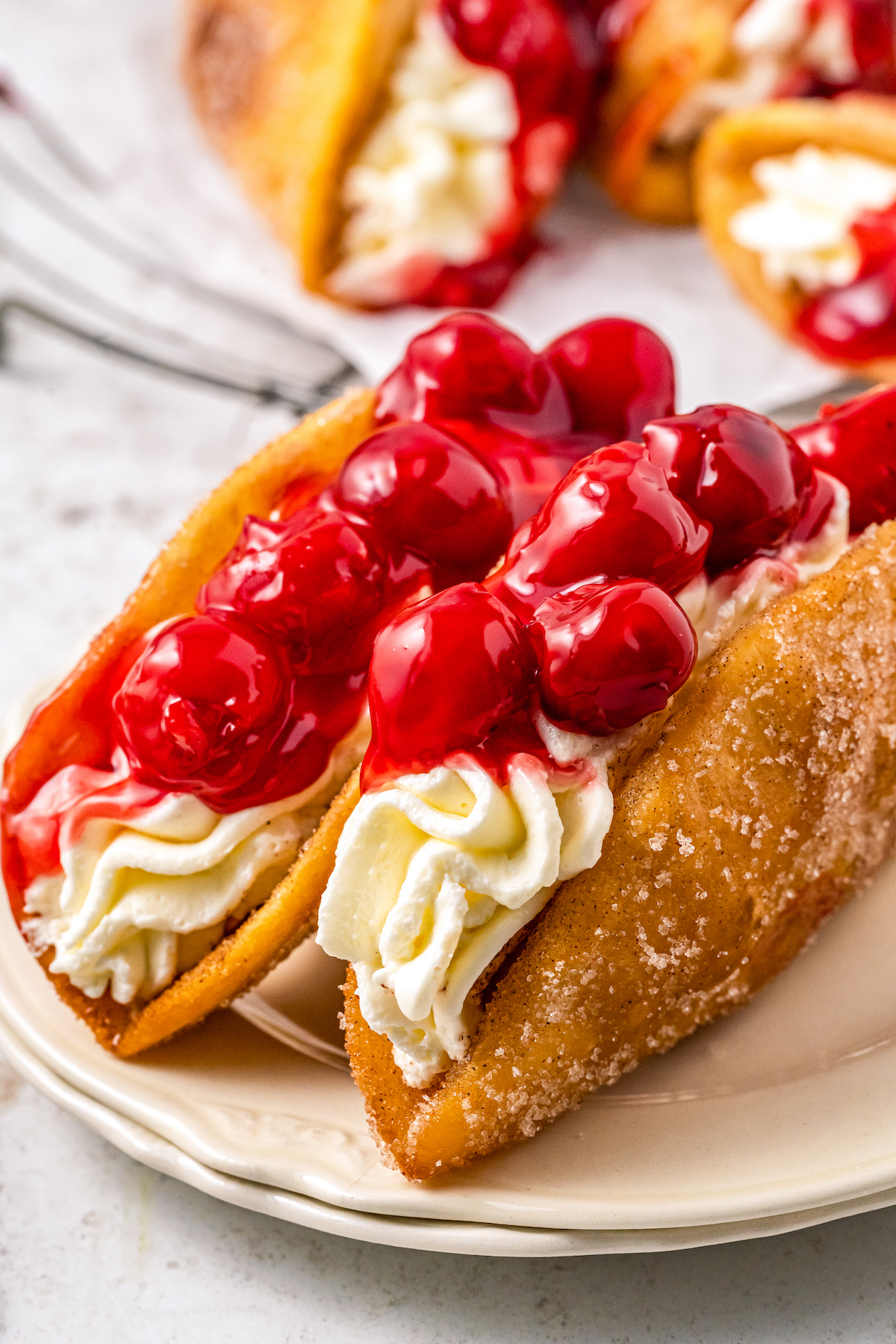 Easy Variations
Feel free to change up the filling for the taco shells in this recipe with these ideas:
Fresh Fruit. Chop strawberries and use them to top your tacos. You can also use your favorite berries.
Apple Pie Filling. Use your favorite apple pie filling for the tacos and drizzle them with caramel sauce to make some apple-caramel cheesecake tacos.
Roasted Peaches. Chop up 3-4 roasted peaches and use them to fill the shells. Add 2-3 tablespoons of ricotta to each taco and also drizzle them with raw honey.
Lemon Curd. I have also made these with lemon curd filling for a lemon cheesecake taco. They are perfectly zesty and sweet!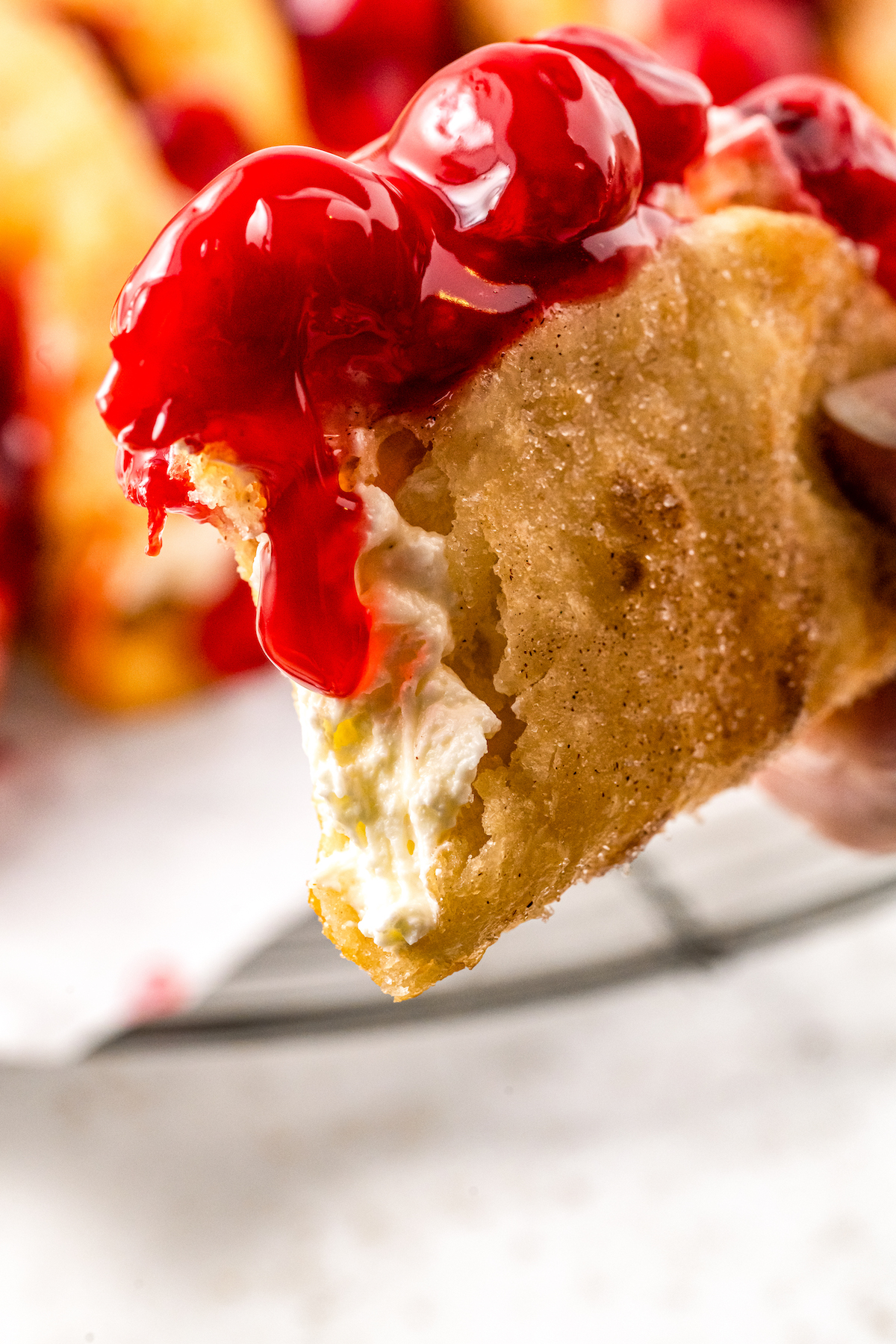 Tips for Making Cheesecake Taco Shells
These tips will help you navigate any and all possible hiccups, even if you're out of piping bags.
Use a muffin tray. If you don't want to pick up each shell one by one to fill them, place them on an inverted muffin tray. The cavities will keep the shells standing.
Use a Ziploc bag. Don't worry if you don't have a piping bag and tips. Snip the corner off a large Ziploc bag and then add the filling. Squeeze the filling towards that corner and use it as a piping bag.
Pop the bubbles. If bubbles start to form on the shells as you fry them, gently pop them. Small ones are okay but large bubbles can take up too much space and reduce the amount of filling you can add.
Choose the right tongs. Don't use tongs with silicone tips to keep them from possibly melting. You also want to choose long metal tongs so that you can keep your hands and arms safe from any splashes.
Serving Suggestions
Cheesecake tacos are the perfect way to end lunch or dinner on a sweet note. Enjoy them with your favorite coffee, tea, or milkshake like my Dalgona Coffee or Chocolate Milkshake. You can also try them with Homemade Strawberry Milk to keep things nice and fruity.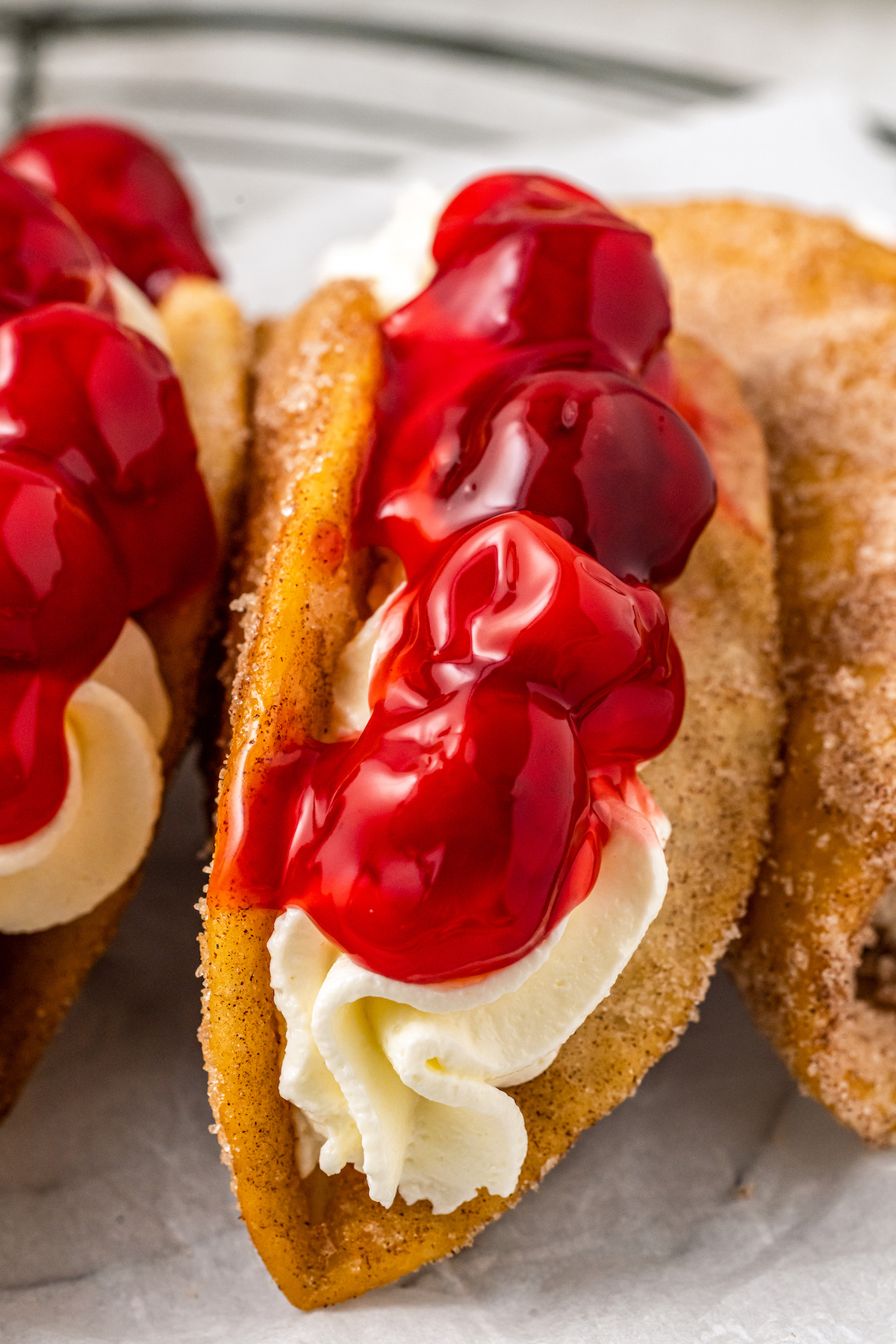 Can Cherry Cheesecake Tacos Be Prepared in Advance?
These fruity dessert tacos are best served fresh. However you can prep some parts ahead of time.
Prepare the cheesecake filling according to recipe directions and then store it in an airtight container for up to 3 days. When you are ready to serve, let the filling sit on the counter to warm up a little as the cream cheese may harden when chilled. If it is not as fluffy after storing, you can re-beat it with a hand mixer, or stand mixer, until light and fluffy again.
While you can make the taco shells ahead of time, don't fill them until right before serving. This will help keep them crispy. Once fully cooled, place the prepared taco shells in an airtight bag and carefully squeeze out as much air as possible. Store them for up to 3 days max. The longer they're stored, the softer they'll become.
More Cheesecake Recipes
Yield: 12 tacos
Cherry Cheesecake Tacos
These 25-minutes cheesecake tacos are the perfect summery treat with a taste of cherry pie, cheesecake, and dessert tacos in one bite. 
Ingredients
For the Filling
1 (8 oz) package cream cheese, softened
1/4 cup granulated sugar
1 teaspoon vanilla extract
1 teaspoon lemon juice
1 (8 oz) container Cool Whip, thawed
1 (21 oz) can cherry pie filling
For the Taco Shells
2 cups oil, for frying
12 small street taco sized flour tortillas
1 cup granulated sugar
1 tablespoon ground cinnamon
Instructions
Filling: Beat the cream cheese, sugar, vanilla, and lemon juice together until creamy and combined, then fold in the cool whip.
Place the cream cheese mixture into a piping bag (or a ziplock bag) and refrigerate until ready to use.
Taco Shells: Heat the oil in a deep pan to 350°F. Combine the sugar and cinnamon together in a bowl. Set aside.
Using long metal tongs, hold a tortilla folded in half. Submerge the tortilla in the hot oil until lightly browned about 1 minute. (Holding the tortilla with the tongs in the folded shape while it fries. Read post above for more options/tips for shaping the tortillas.)
Remove the tortilla from the oil and place it on a paper towel-lined plate for 30 seconds and then quickly coat in the cinnamon sugar. I used a spoon to spoon the sugar over the tortilla on the outside and insides.
Continue frying the tortilla shells and coating them in cinnamon sugar mixture.
When ready to serve, pipe the cheesecake filling into the shells with a piping bag (or with a ziploc bag with the end cut off) and top with a large spoon of the cherry pie filling.
Nutrition Information:
Yield:
12
Serving Size:
1
Amount Per Serving:
Calories:

271
Total Fat:

6g
Saturated Fat:

2g
Trans Fat:

0g
Unsaturated Fat:

4g
Cholesterol:

2mg
Sodium:

244mg
Carbohydrates:

51g
Fiber:

2g
Sugar:

21g
Protein:

4g
Categories
This post may contain affiliate links. Read my disclosure policy.