These Salted Caramel Cookies start with giant, bakery style, soft sugar cookies. They're filled with tons of chewy, salted caramel and topped with flaked sea salt! Such an easy Christmas cookie recipe!
Looking for more Christmas cookie ideas? Try these Gingerdoodle Cookies, or these Brown Sugar Cookies!
Yes, these Salted Caramel Cookies are as absolutely epic as they look!
A gorgeously thick, soft sugar cookie made with two big scoops of cookie dough is baked until *just* done.
Then we fill each cookie with a few big spoonfuls of salted caramel and sprinkle some flaked sea salt right on top.
Each bite is a mixture of sweet, tender, vanilla sugar cookie with a big hit of sweet, chewy caramel and a salty finishing touch.
They are incredibly delicious and store well to gift to friends/neighbors for holidays — perfect for cookie exchanges!
If you love these Salted Caramel Cookies, I think you will also love these cookies: Salted Caramel Crunch Cookies, Soft Maple Sugar Cookies, and Reese's Peanut Butter Cup Cookies.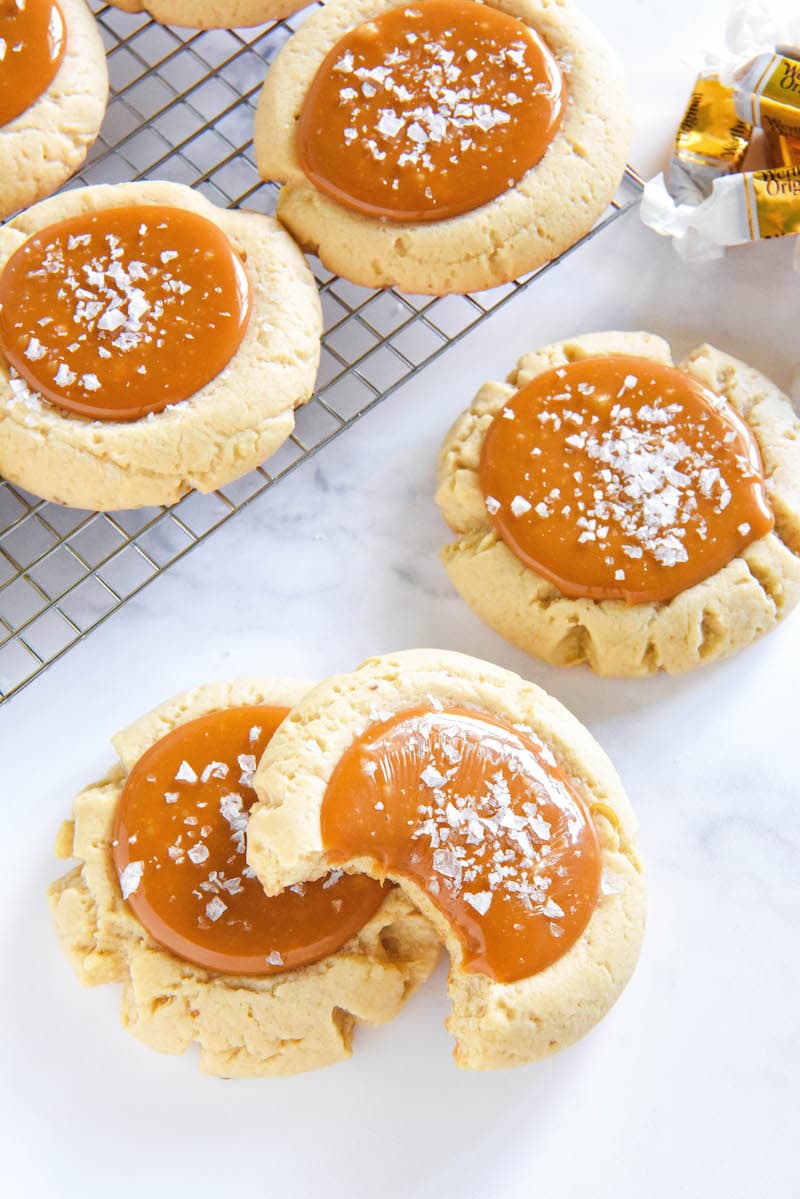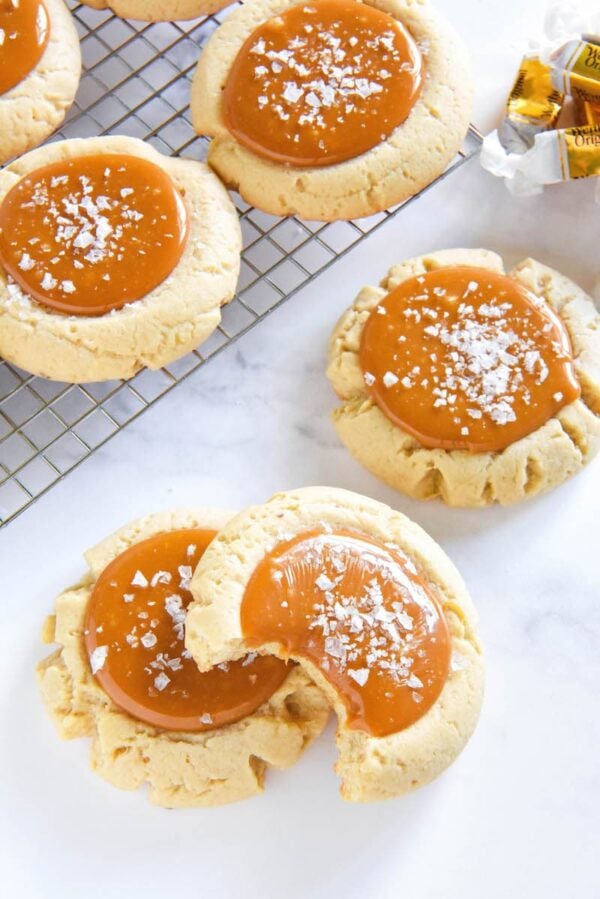 These sugar cookies are a little unusual because they use both vegetable oil and butter in the cookie dough.
The combination makes an excellent soft, tender cookie. These cookies also hold their shape well enough to be filled with the salted caramel.
We use a mixture of light brown sugar and powdered sugar in this cookie recipe.
Brown sugar gives the salted caramel cookie base a great flavor, while the powdered sugar helps with the overall texture.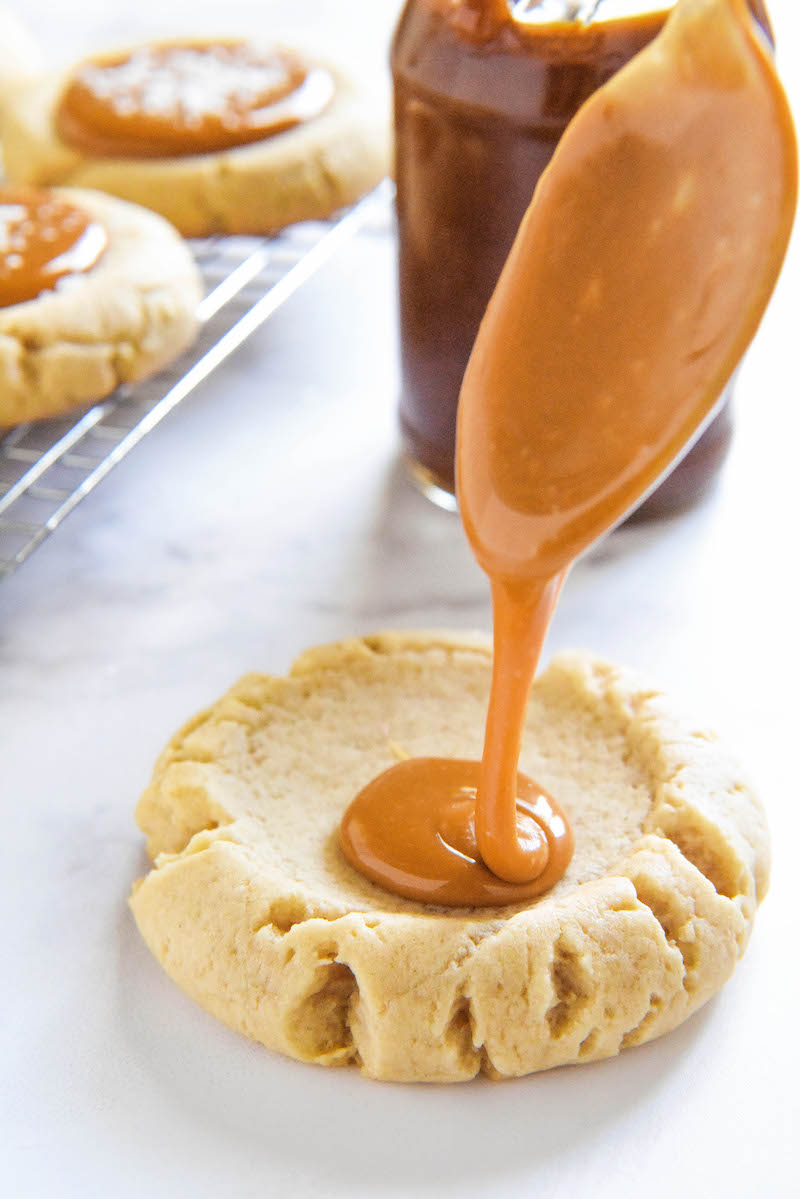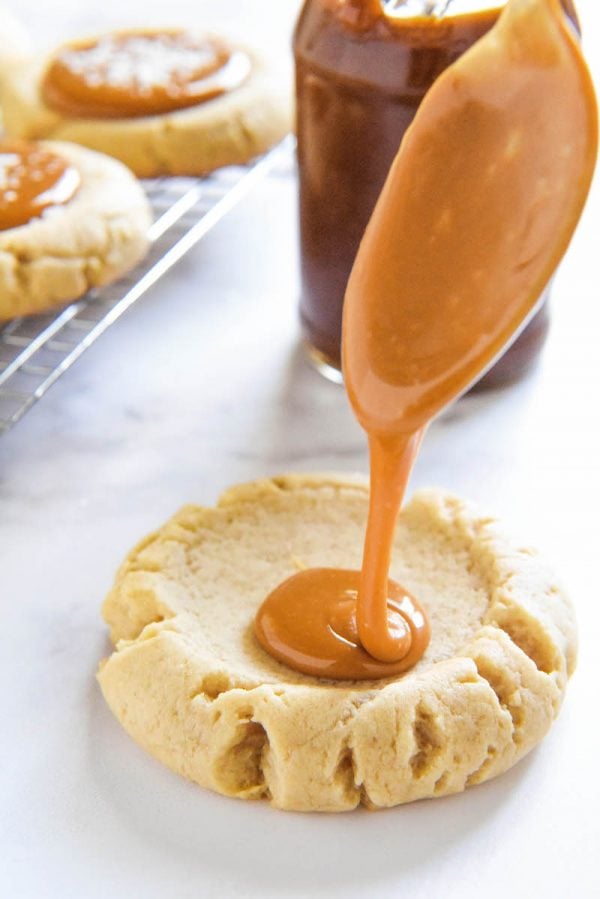 Salted Caramel filling with Flaked Sea Salt
Our filling for these cookies is very simple and made using store bought caramels, milk/cream and salt.
I have tried many different kinds of caramels over the years, and I personally prefer Werther's Chewy Caramels over any other common store brands.
We melt them in a bowl with whole milk (you can also use heavy cream or half and half) and stir until smooth.
Then we add a healthy pinch of salt and quickly pour the salted caramel into each cookie.
Lastly, before the caramel starts to firm again, we sprinkle the tops with big flaked sea salt.
To create the shape for the pools in the center of the cookies, I like to use the bottom of a small measuring cup.
We roll the Salted Caramel Cookie dough into a large ball, using two heaping tablespoons of dough.
Then set them on your prepared baking sheet with parchment paper or a silicone baking mat.
Grease the bottom of your small measuring cup, I use a 1/8th dry measuring cup, and press it into the center of the cookie dough as seen above in the photos.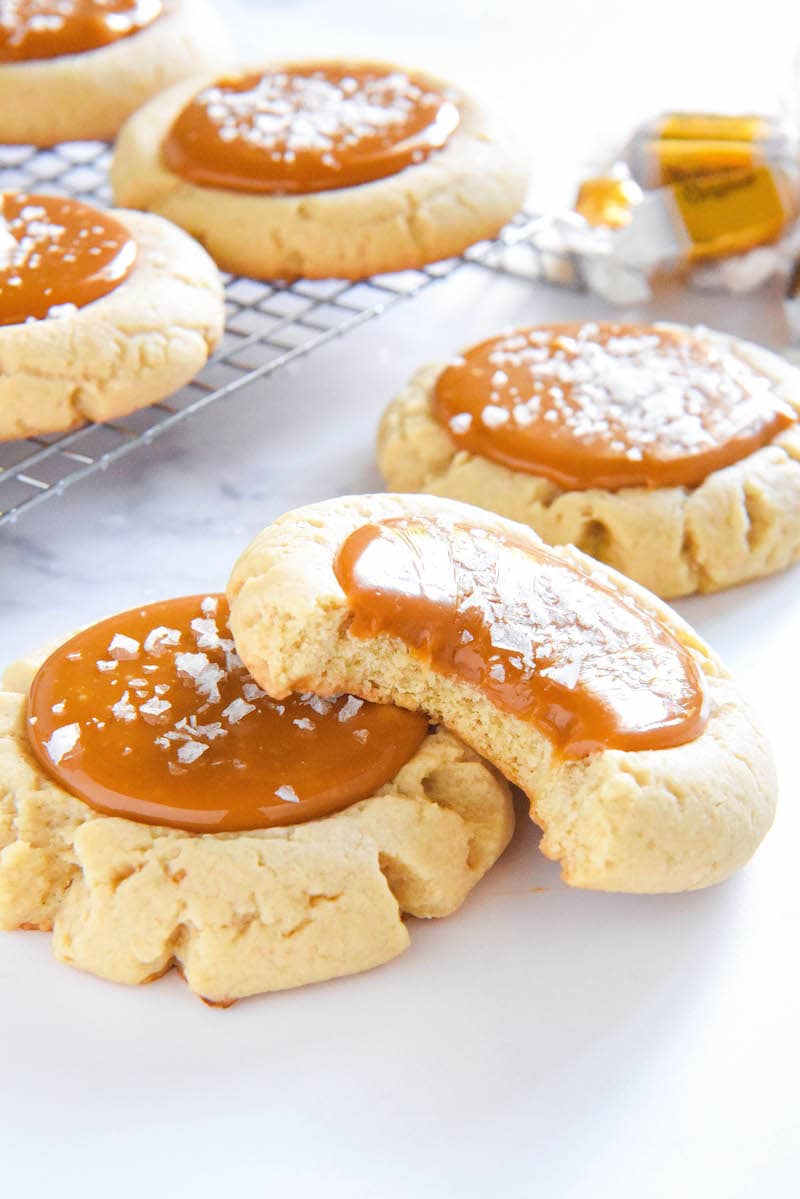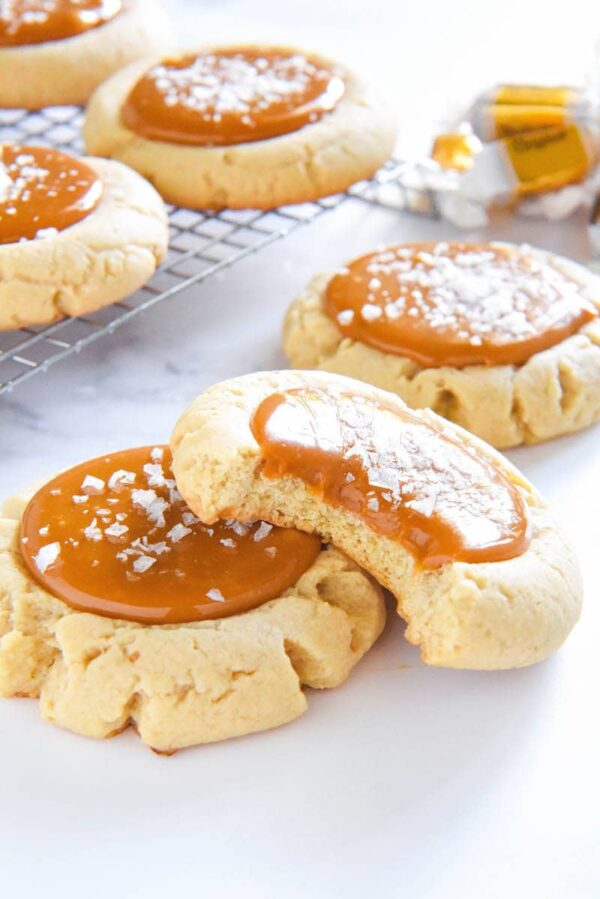 Yes! These Salted Caramel Cookies are an excellent make ahead cookie recipe that do not need to be refrigerated.
Once they are cooled, you can store them in an airtight container, on the counter, for up to a week.
They are best in the first few days, but stay delicious if you use the old school bread trick to keep baked goods fresh.
To keep these Salted Caramel Cookies moist, add a slice of bread to the airtight container. Replace the slice of bread every couple of days, as needed.
The cookies will use the moisture from the bread and the bread will become very stale, but the Salted Caramel Cookies will stay moist.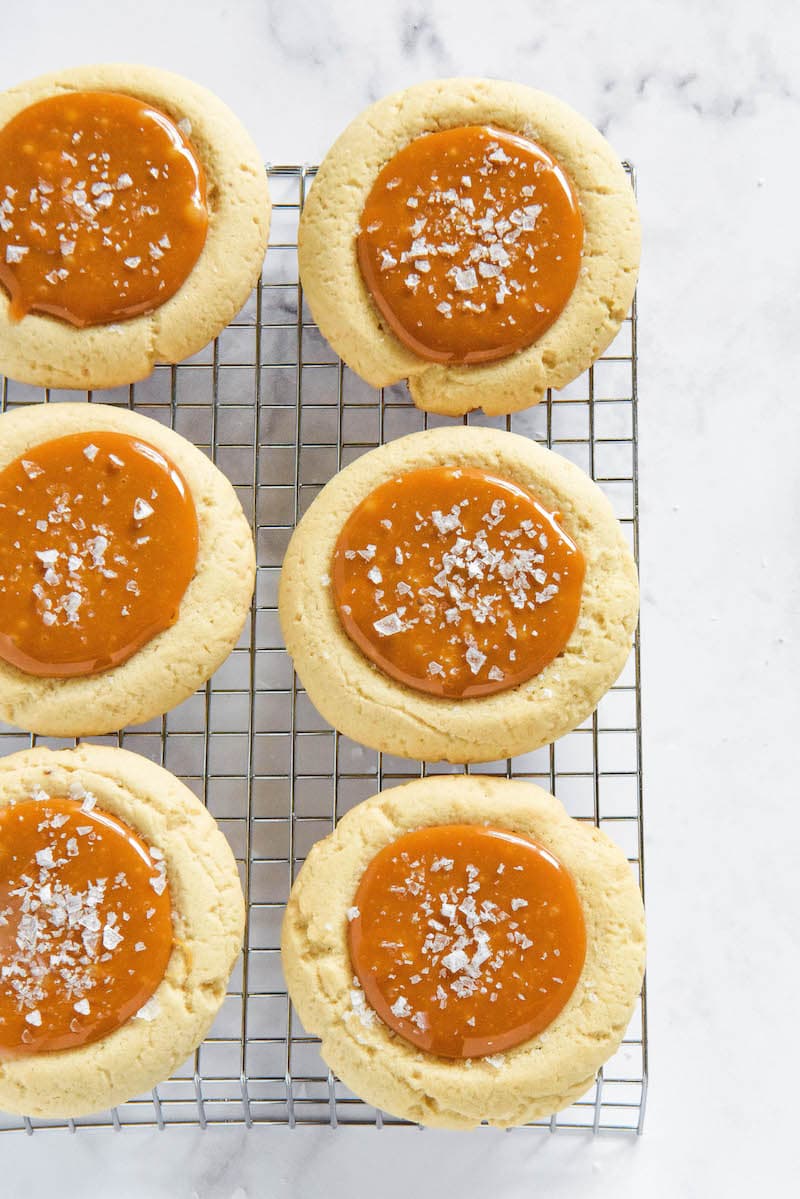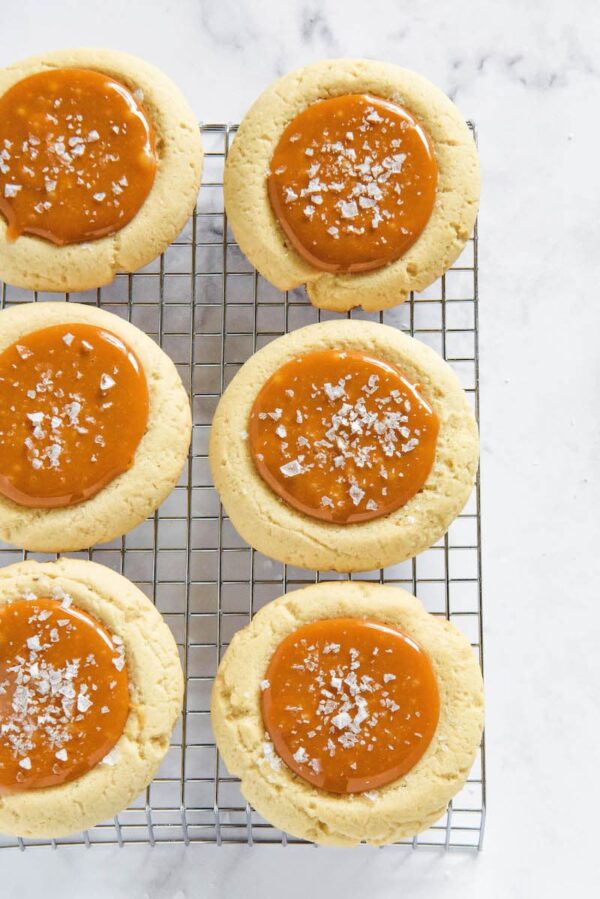 I just know you are going to love these epic Salted Caramel Cookies and I am excited for you to try them.
They are delicious any day, but they are great for a holiday cookie exchange or make an impression as a homemade gift.
Head on over to Dixie Crystals to get the full recipe I developed for them!
RECIPE: Salted Caramel Cookies
This post may contain affiliate links. Read my disclosure policy.