Churro Chex Mix: is absolutely addicting with it's sweet cinnamon sugar coated chex mix, salted pretzels and caramel squares all mixed together in one bite!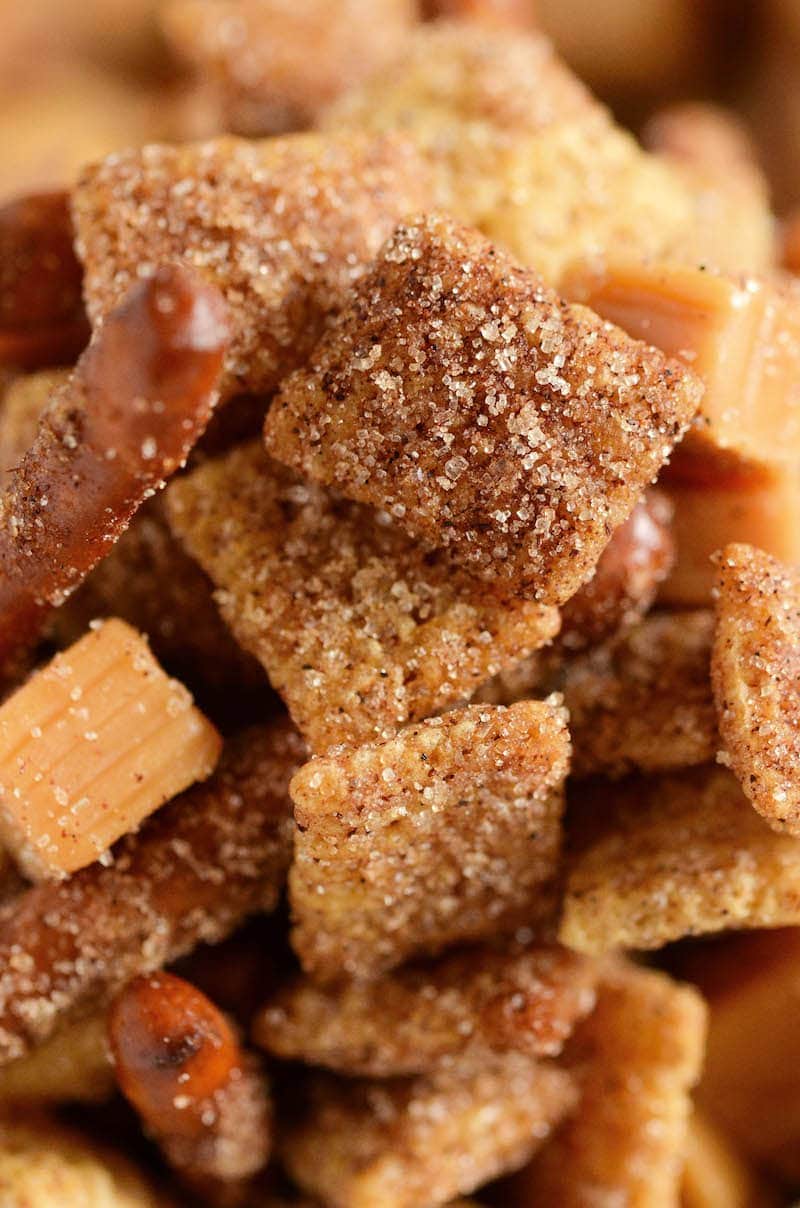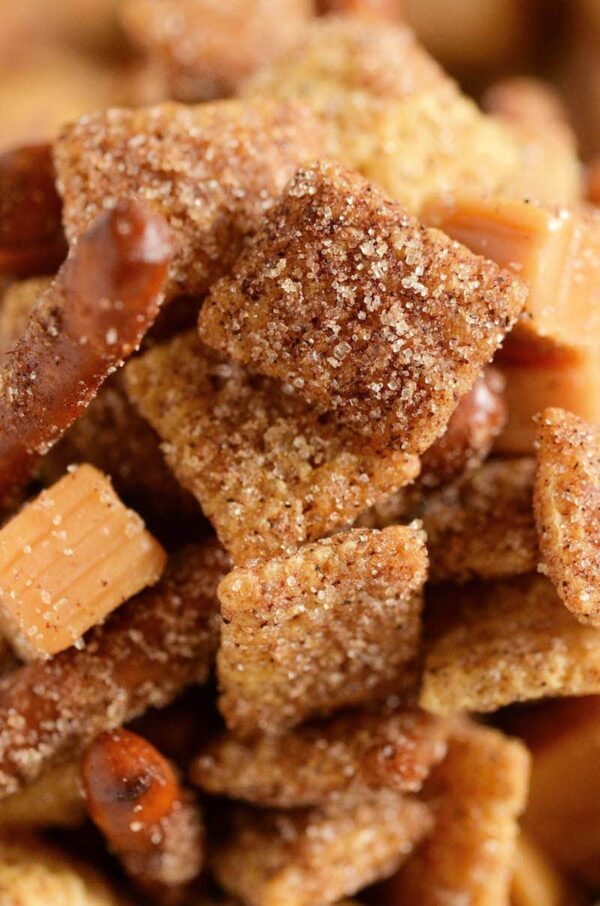 Do you see that gorgeous cinnamon sugar crusted on this Churro Chex Mix?? It is seriously what my dreams are made of.
And now as I am sitting down to write this post, I am 100% regretting sharing the last of this with our friends. Why was I so generous??
I should have hidden this in the old raisin box at the back of my pantry.
It would have been guaranteed to be safe there from my kids and husband…and I could be eating it right now.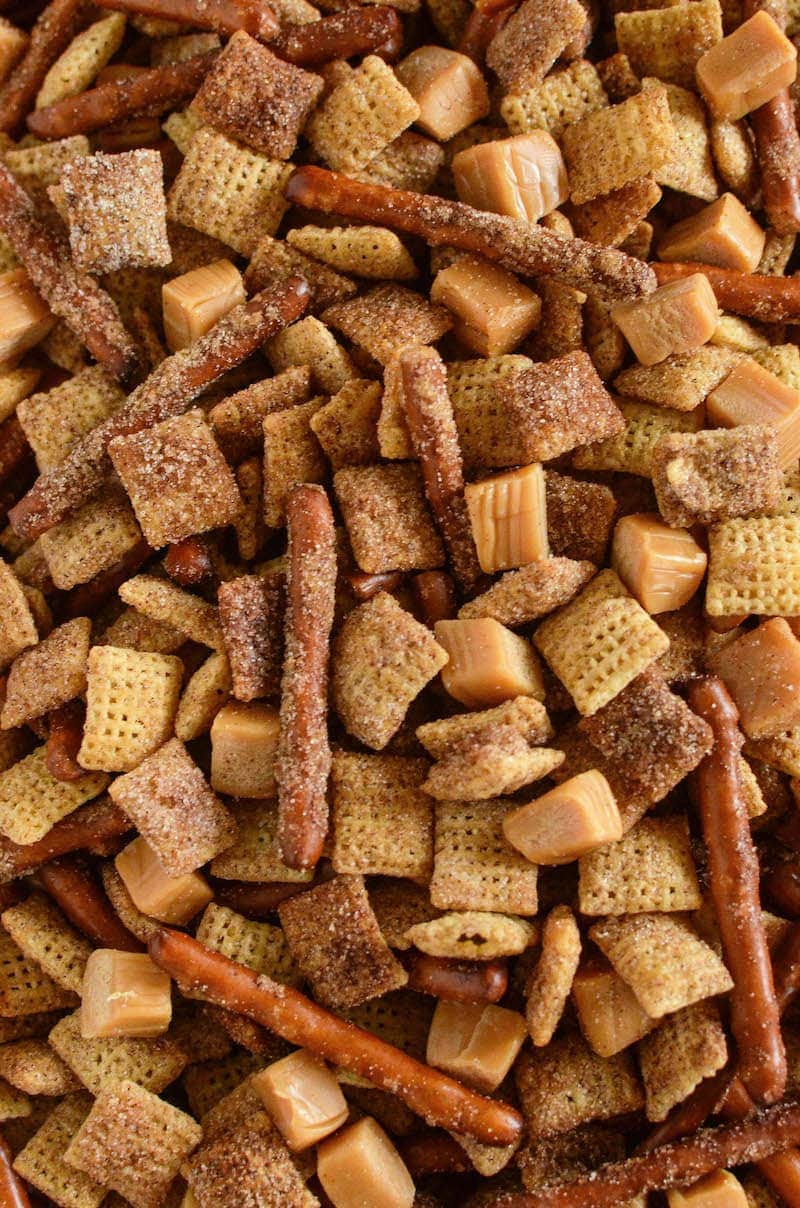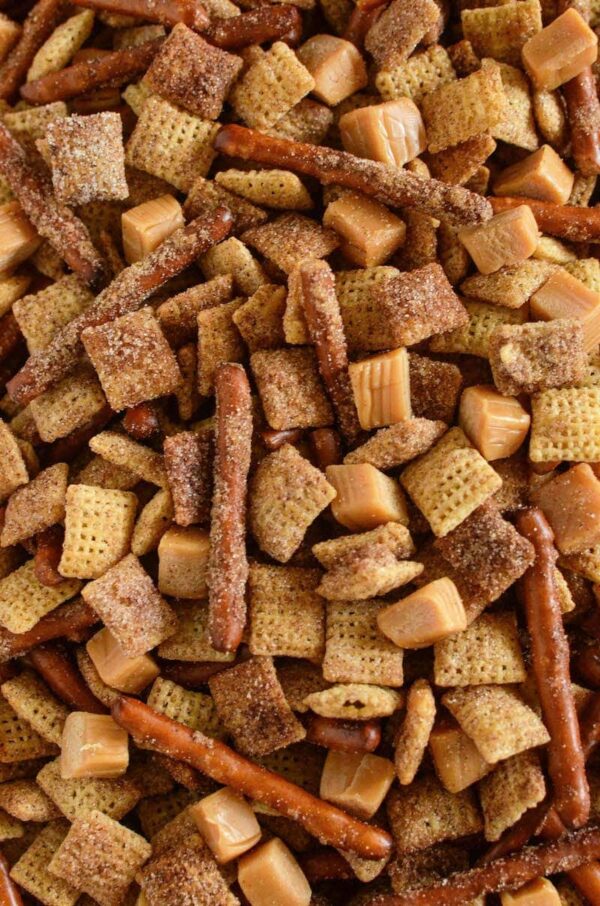 I know I say this all the time, but I so wish I had a scratch and sniff website.
This Churro Chex Mix makes your entire house smell AMAZING as it bakes.
It's like the best candle in the world, except you get to eat it.
But be careful, because it's also insanely addicting. One handful will never be enough.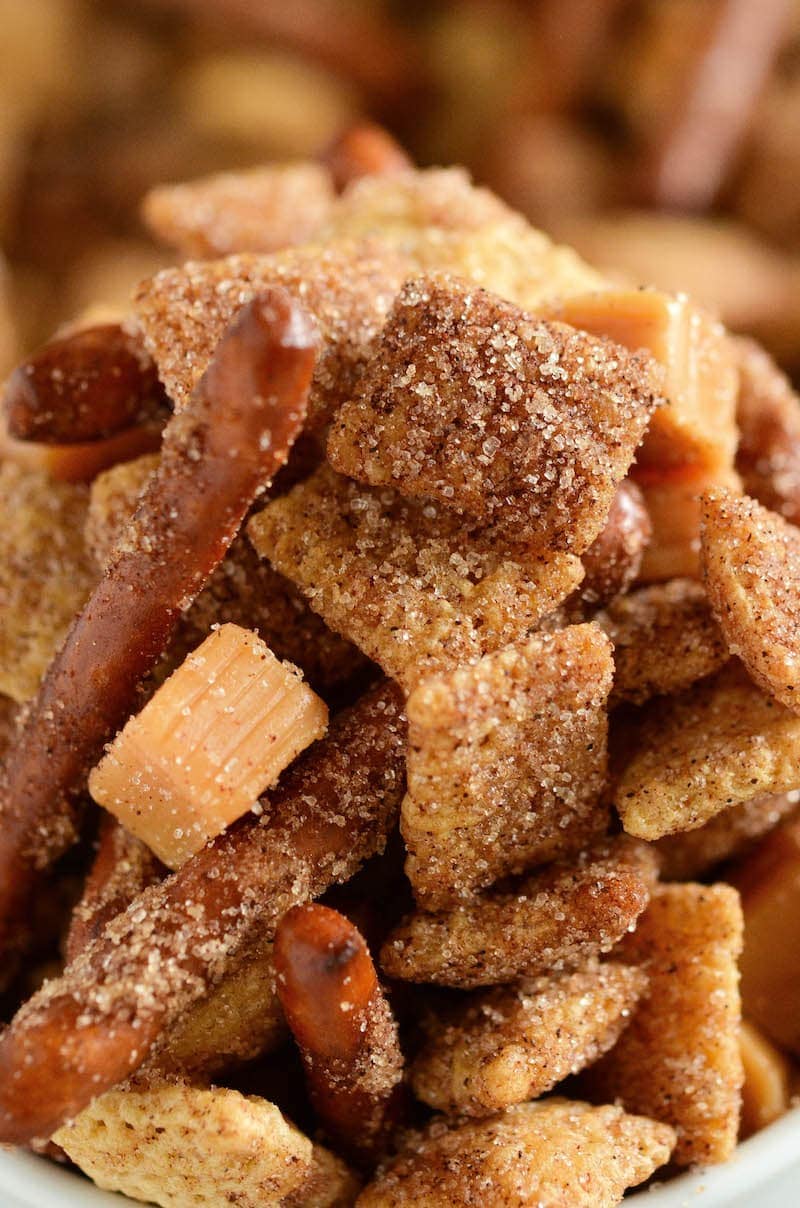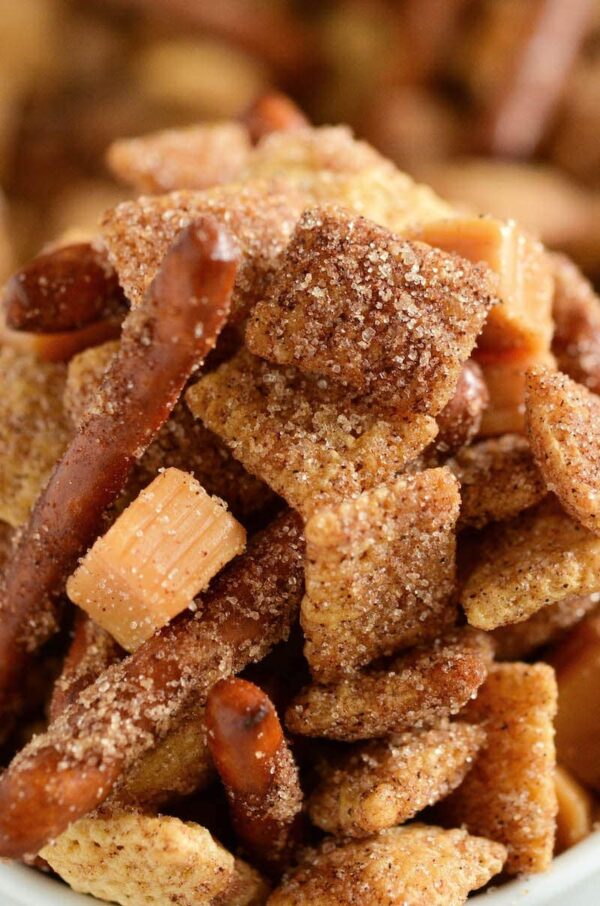 I used classic rice chex as the base and gluten free pretzels so Jorge can eat it.
Not sure if I mentioned it, but Jorge officially has a gluten intolerance and he is trying to stay 100% gluten free these days.
So when I can, I'm trying to make sure the desserts we make around here are gluten free.
Thankfully his favorite treat, ice cream is gluten free!!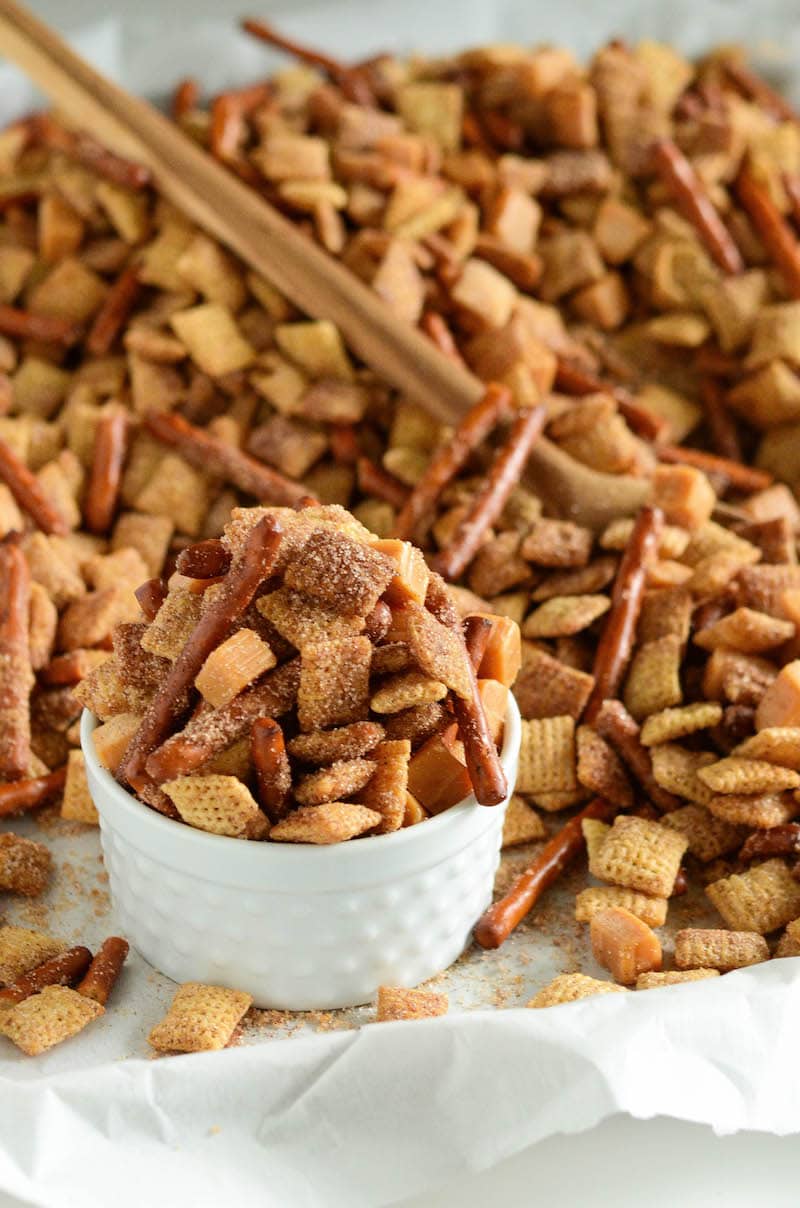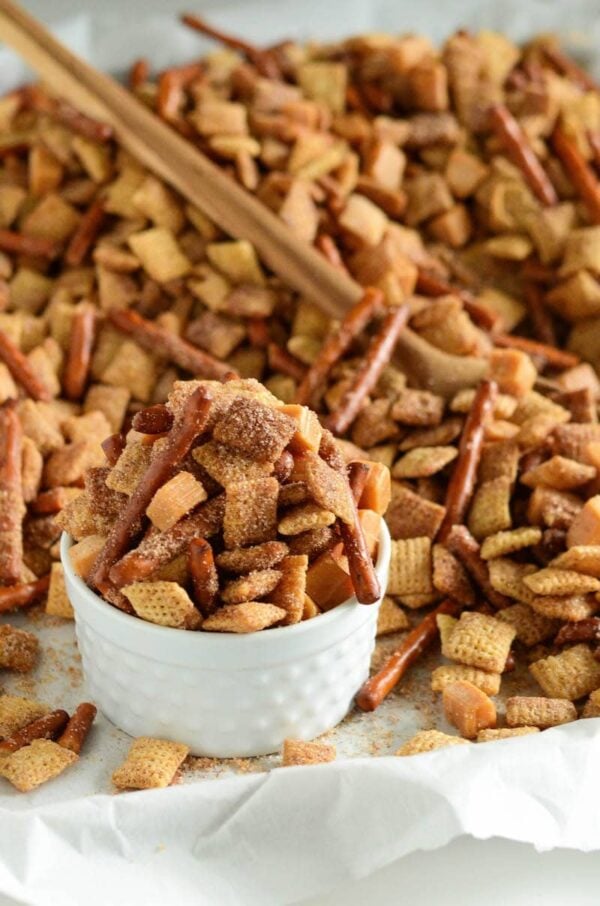 You toss the chex cereal and pretzels in lots of butter, brown sugar and vanilla.
Then you coat it all in cinnamon and granulated sugar, just like the coating on real churros.
Into the oven it goes and you stir it every 15 minutes for about an hour.
During this time, your house is going to smell insanely good and your going to be drooling. Hold tight, I promise it's worth it.
After this Churro Chex Mix comes out of the oven, let it cool a few minutes, and then toss in some chopped up caramel squares. And then, DIG IN.
I developed this recipe for Dixie Crystals, you can find the full recipe on their website.
RECIPE: Churro Chex Mix
Similar recipes you will also love:
Churros with Salted Caramel Sauce
SaveSave
SaveSave
This post may contain affiliate links. Read my disclosure policy.