This Healthy Green Bean Salad is the perfect way to make use of your farmers market finds. It's nutritious, has the perfect mix of textures, and you can have it on the table in less than 30 minutes.
Fresh Green Beans with a Zesty Twist!
Green beans are delicious, right?! I love the crunch and that extra fresh flavor this time of year. You can find me snacking on fresh green beans all summer long. But, when I have an extra few minutes, I'll most likely be using them to make this amazing Healthy Green Bean Salad.
This Green Bean Salad has it all. It has crispy green beans that are perfectly blanched, sweet grape tomatoes, zesty feta cheese, and a simple (but flavorful!) dressing. It's a great side salad to bring to a BBQ or you can enjoy it as a mid-afternoon snack!
If you have some leftover green beans, you can use them to make Green Bean Casserole or Green Beans and Bacon. I love using fresh green beans for these recipes!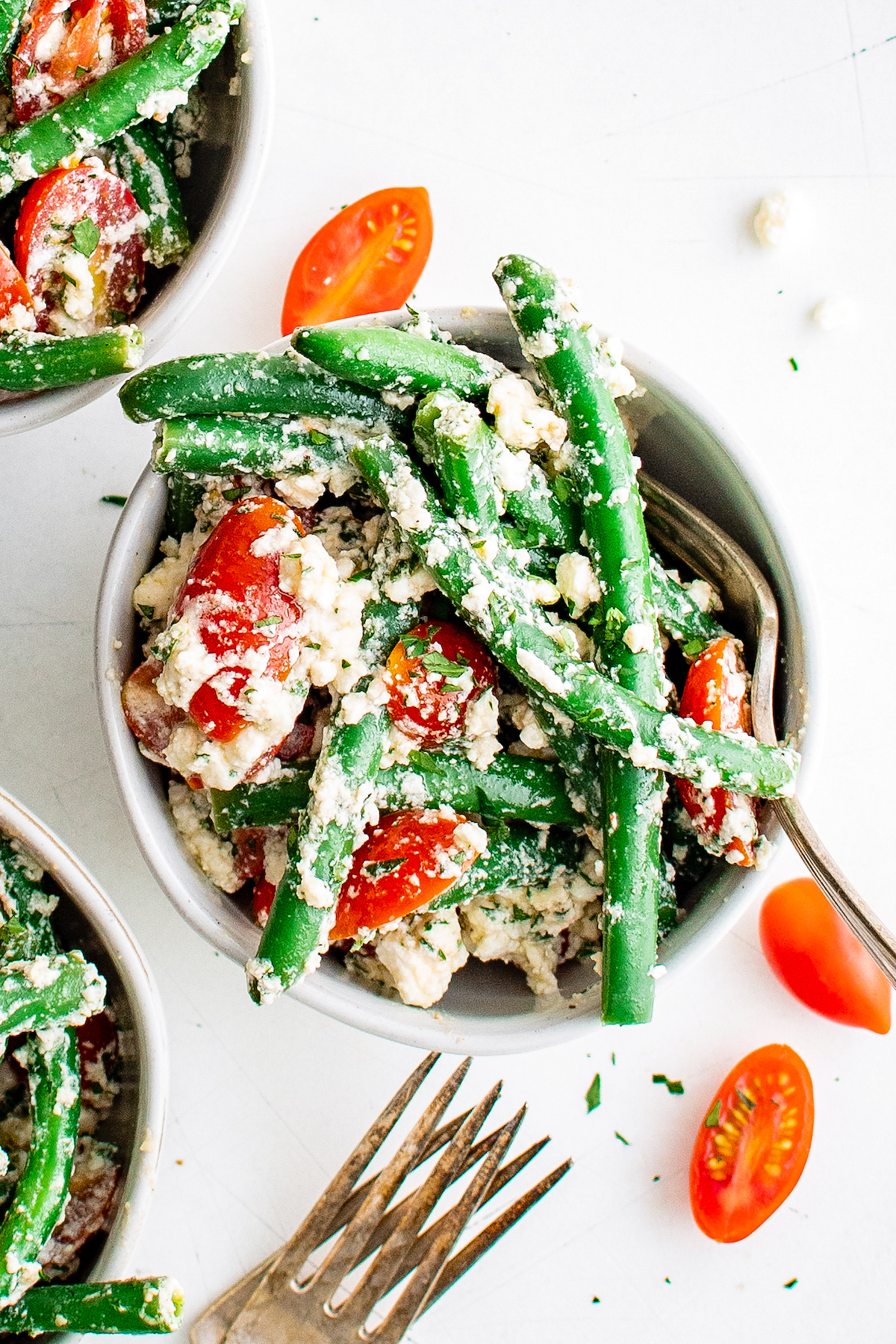 What Are the Benefits of Eating Green Beans?
There are lots of healthy perks to eating a healthy salad like this one. Your body will thank you for filling your plate with these dressed up green beans!
They are good for your heart. Green beans don't have any cholesterol, so they're perfect for optimal heart health.
They can help you maintain your weight. One serving of green beans contains less than 40 calories! Plus, they are high in fiber and help you stay full for longer periods of time.
They have protein. A high protein diet is very imporant to keeping you healthy and your immune system in tiptop shape. One serving contains about 2g of protein.
They have lots of vitamins. Green beans are high in Vitamin C and Vitamin A, among many other vitamins and minerals.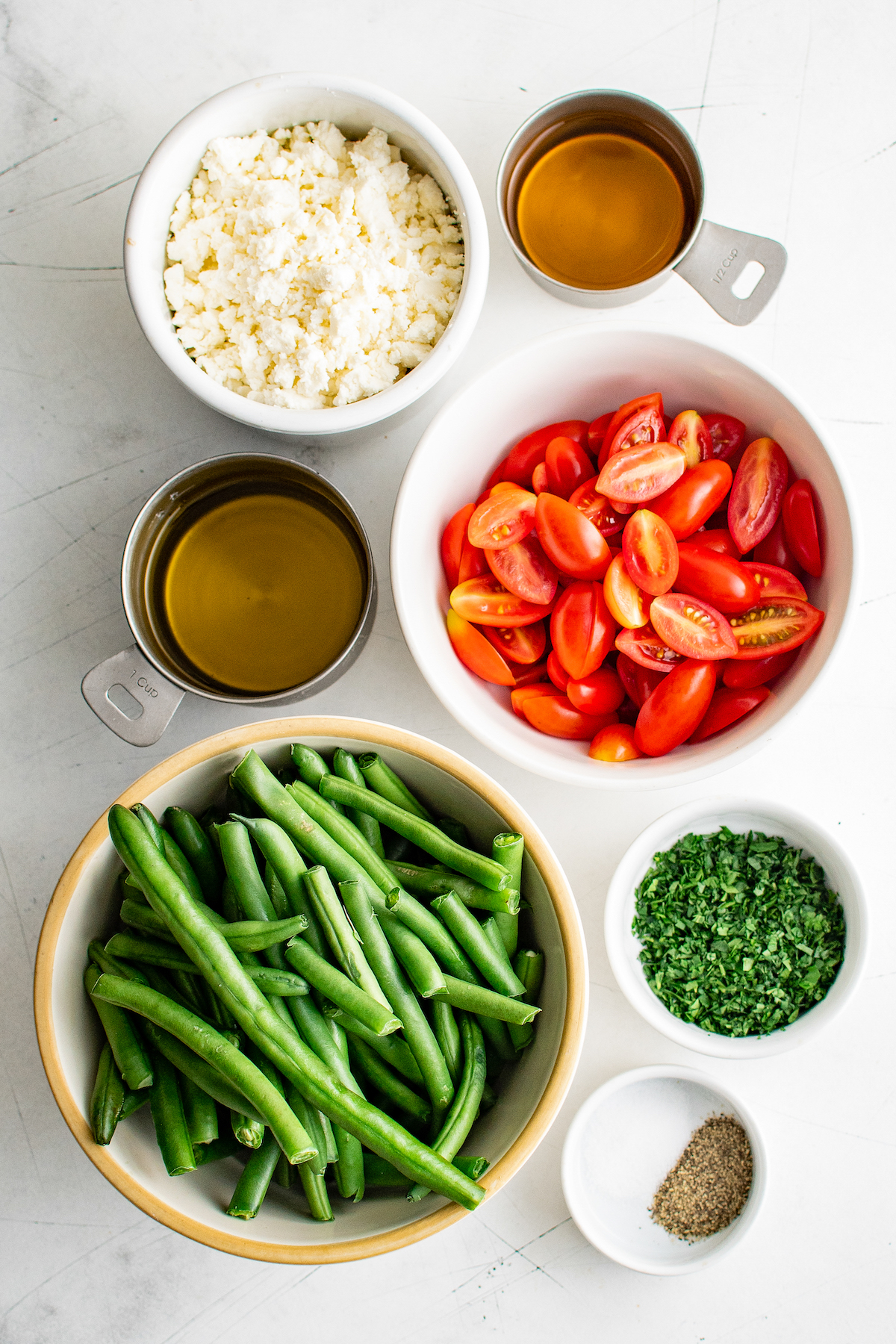 The List of Ingredients
Here's what your going to need to make my Healthy Green Bean Salad.
Fresh Green Beans: The fresher the better for this recipe. I don't recommend using frozen or canned for this recipe. They won't be crunchy!
Olive Oil: This is a great way to add healthy monounsaturated fats to your diet. (Another perk to this healthy recipe!)
Apple Cider Vinegar: The tanginess starts here. Every good dressing has some acid to brighten it up.
Salt & Pepper: A really simple way to add depth of flavor to the dressing.
Cherry or Grape Tomatoes: These tomatoes are perfectly sweet and won't weigh down the salad with extra moisture.
Fresh Parsley: I love adding fresh herbs to my vegetable salad. It makes a big difference in the final flavor! I would suggest using a different fresh herb (like chives or basil) instead of using dried parsley as a substitute.
Feta Cheese: Feta is creamy, tangy, and so delicious!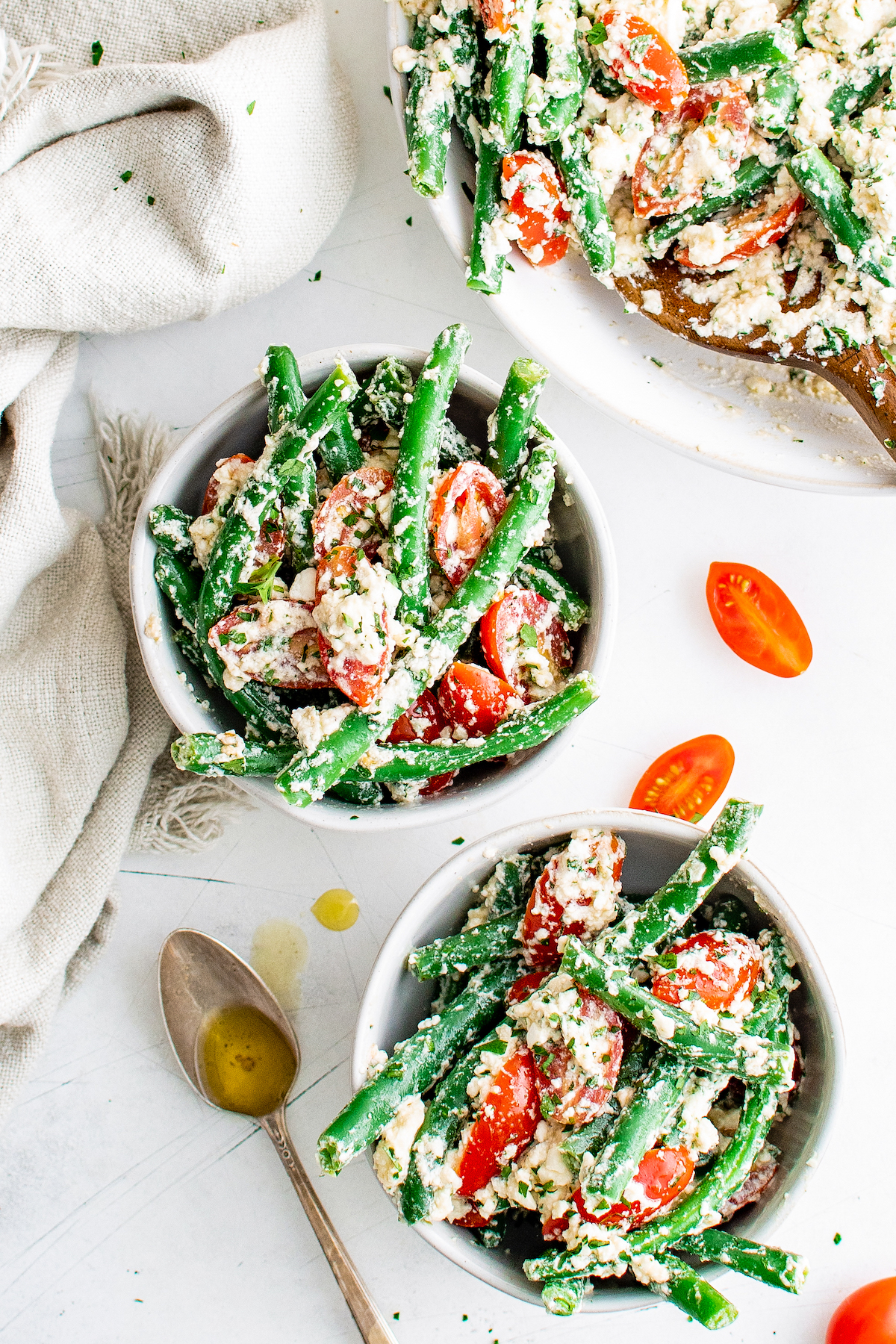 How to Make Green Bean Salad
It just takes a few simple steps to make this salad. So let's get started!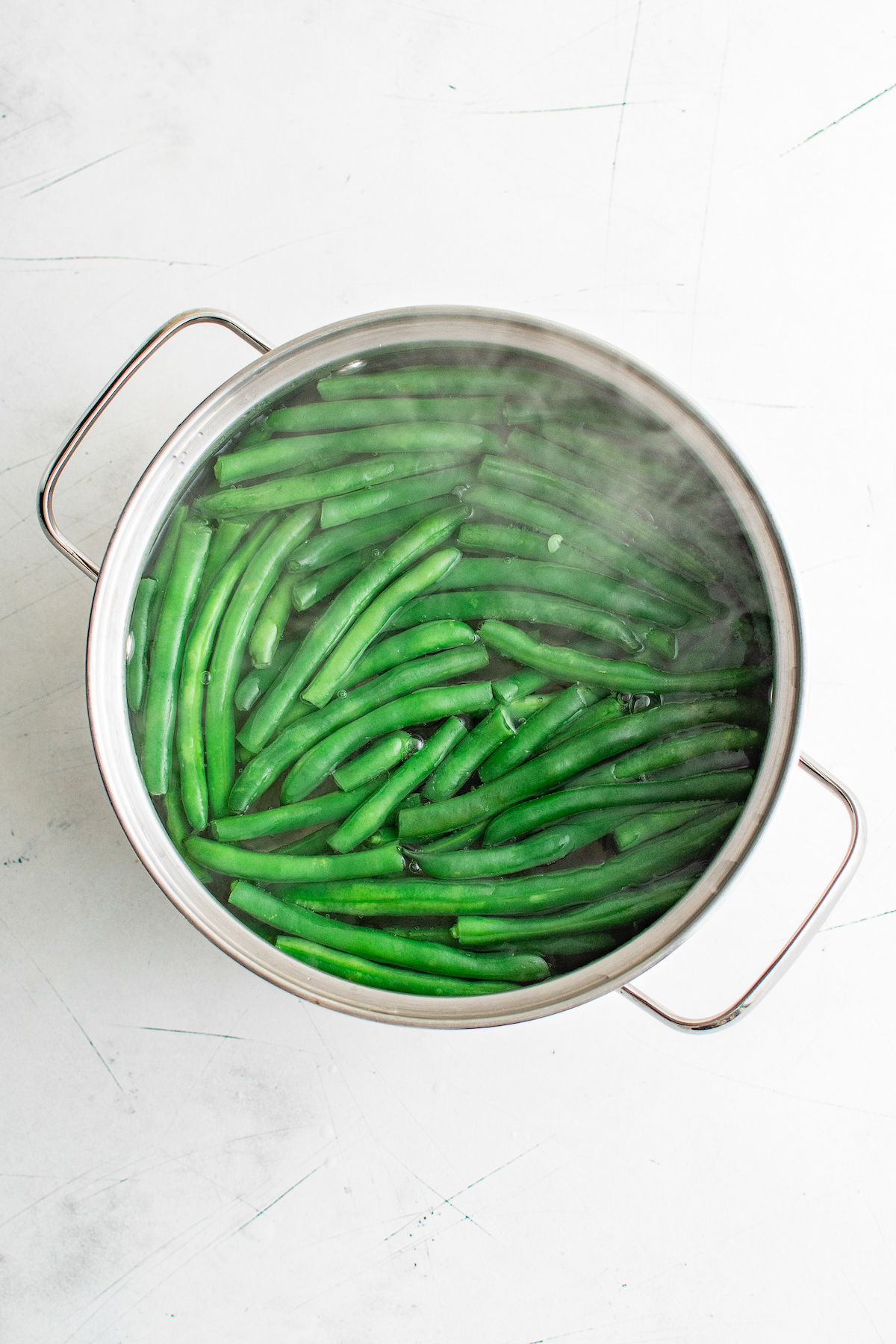 First, you'll blanch the green beans in boiling water Don't forget the ice bath! Then add the blanched green beans, grape tomatoes, and parsley to a big bowl.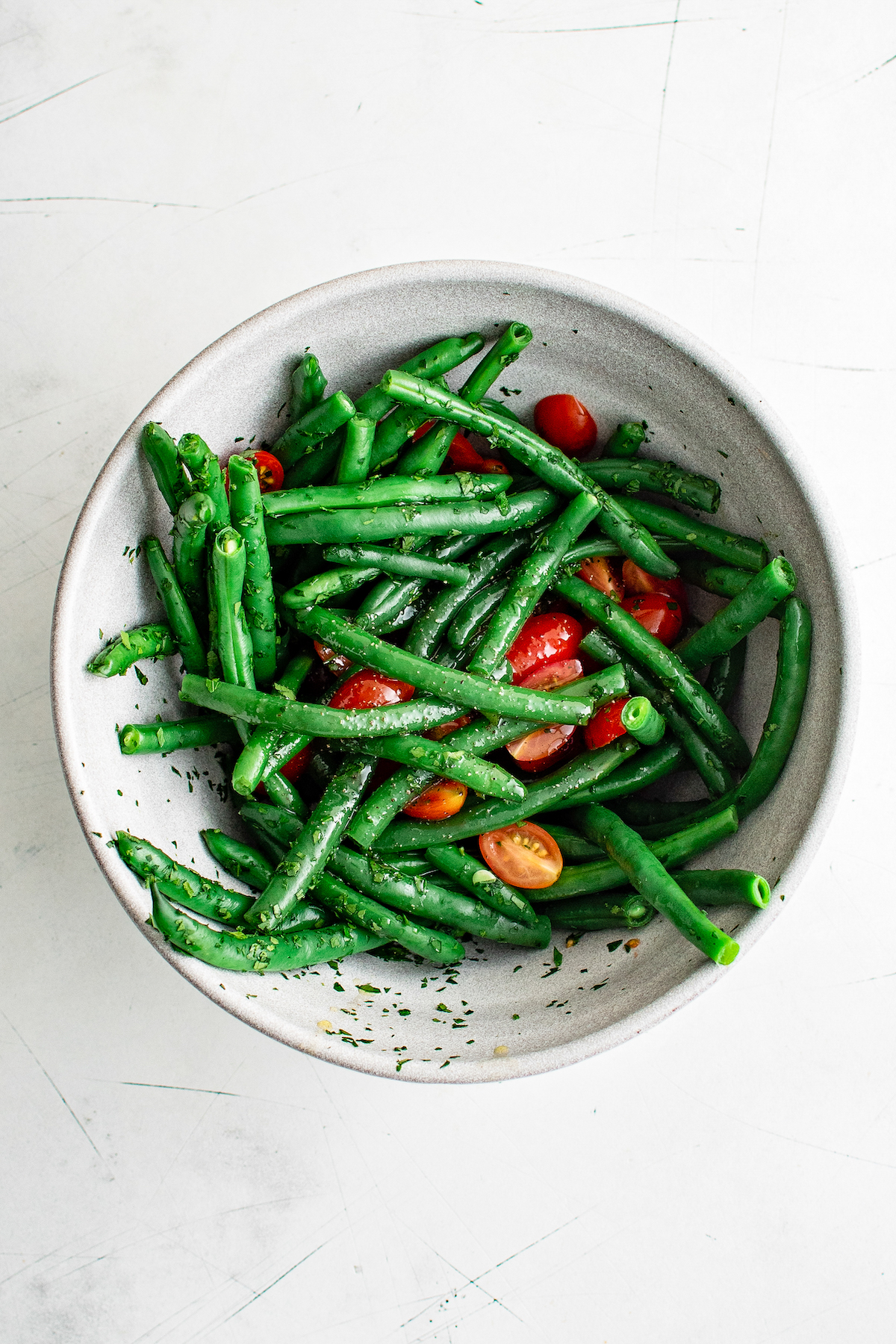 Toss the green beans and grape tomatoes with the chopped parsley.
Next, make the dressing. Add the olive oil, apple cider vinegar, salt, and pepper to a mason jar. Then put the lid on and give it a good shake. The dressing is done! Easy peasy!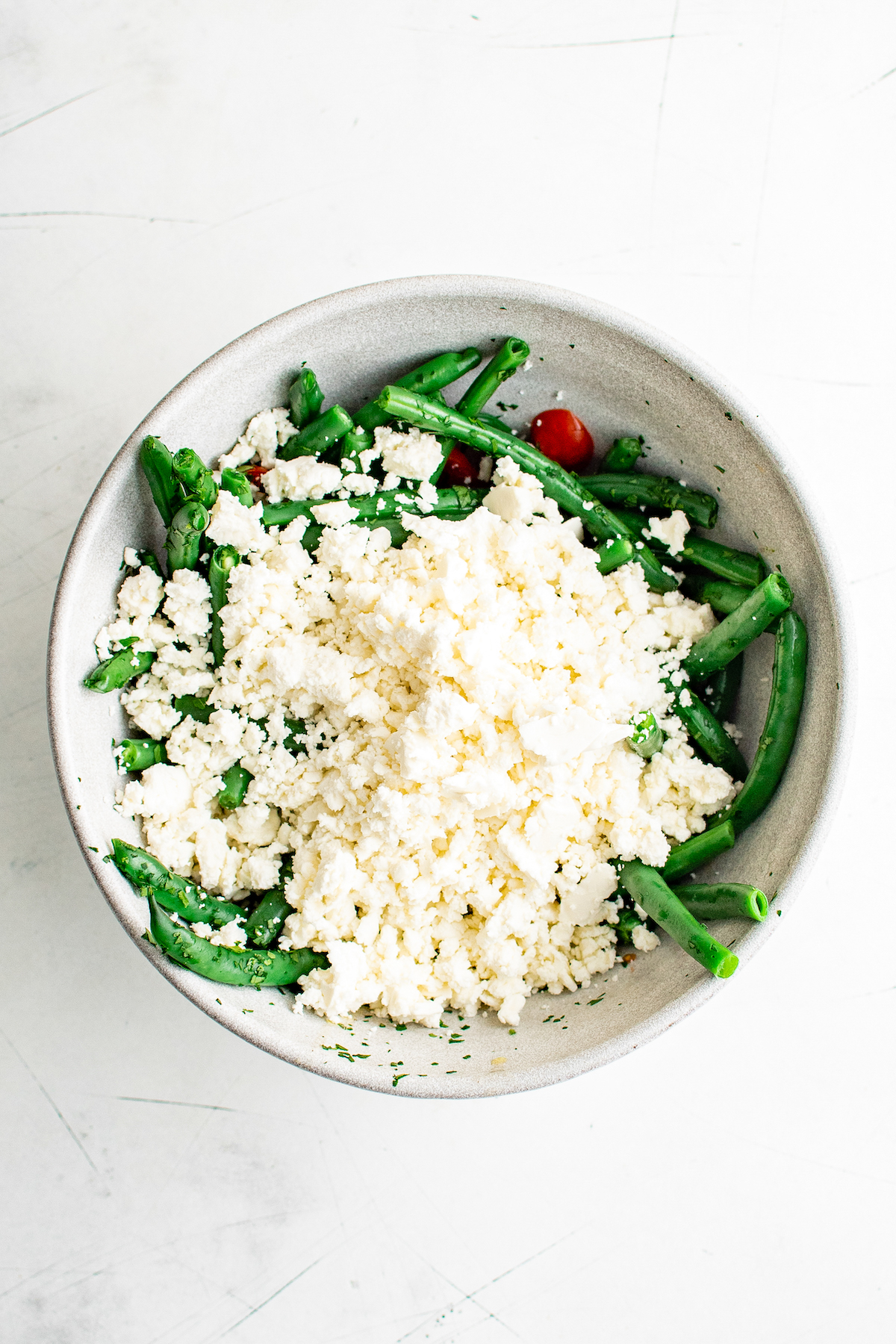 Toss the dressing into the salad. Pour the dressing over the green bean mixture and toss to coat.
Finally, add the creamy and fiesty feta. Sprinkle the feta into the salad and gently toss to mix everything together.
Garnish the salad and enjoy! If you'd like, you can add more feta for a final touch.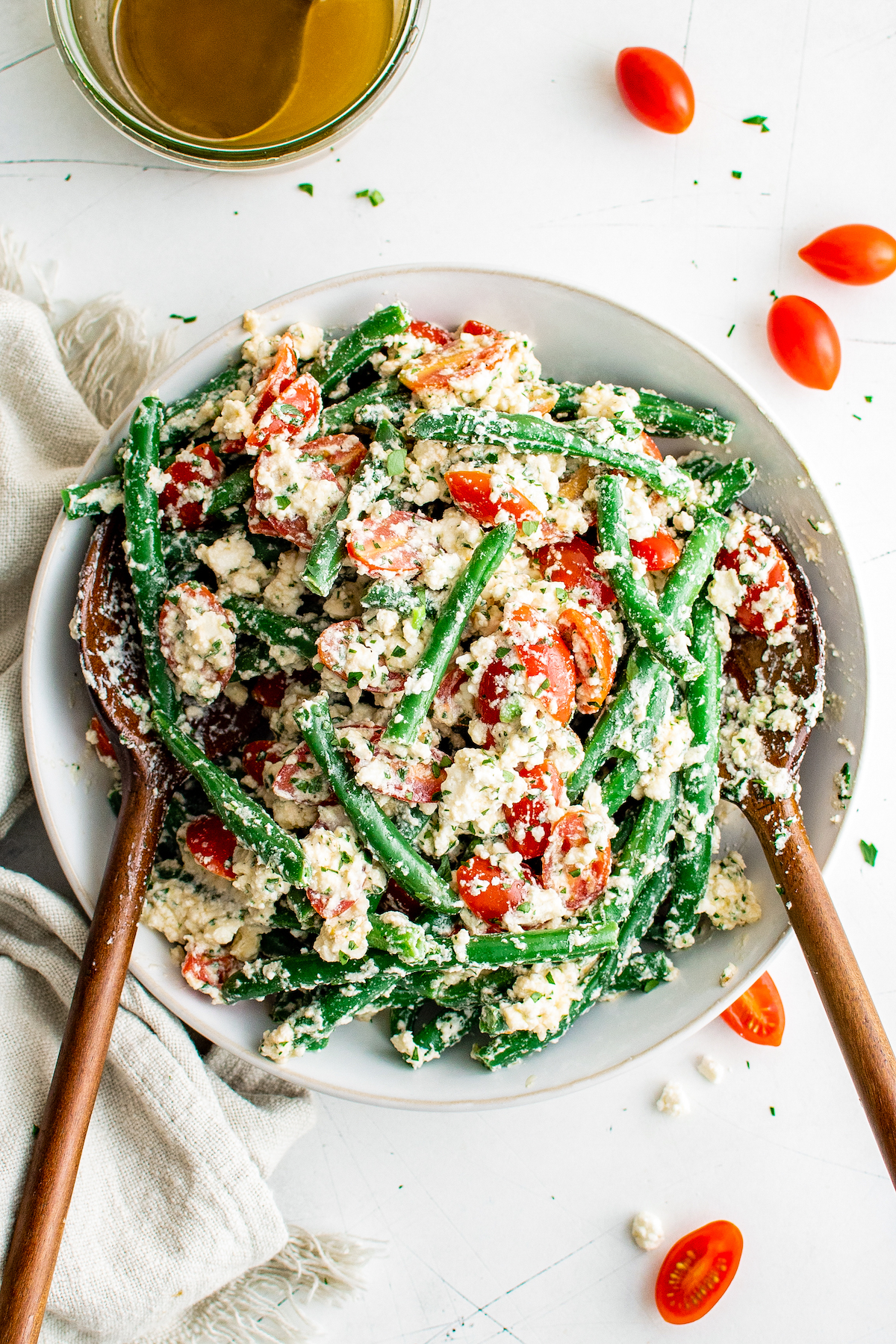 Tips and Variations
This Green Bean Salad is really easy to make. Make sure you follow a few simple tips for the best tasting results!
Don't skip the blanching! It's important for the texture of the salad to blanch the green beans. But what is blanching? It's very simple. First, you'll cook them for a few minutes in boiling water. Then, you'll place them in ice water to stop the cooking. This will make your green beans perfectly cooked, but still crisp.
Add crunch: If you want, you can add some slivered almonds for crunch!
Apple Cider Vinegar Substitutes: You can still make the salad if you're out of apple cider vinegar. Instead, you can substitute with many other vinegars like red wine vinegar, rice vinegar or even lemon juice.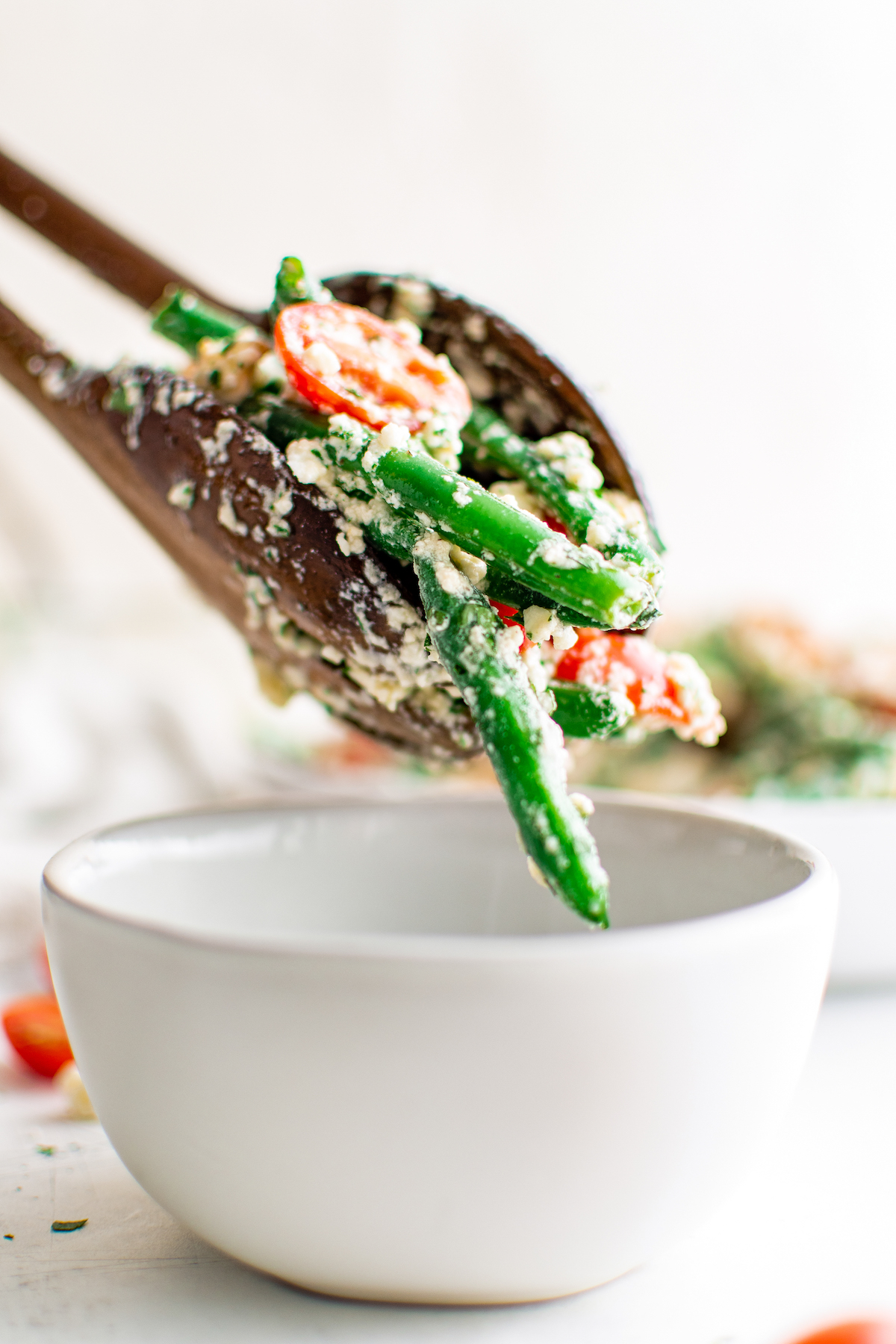 Serving Ideas
You might be wondering what goes best with this Healthy Green Bean Salad? Don't worry! I've got you covered.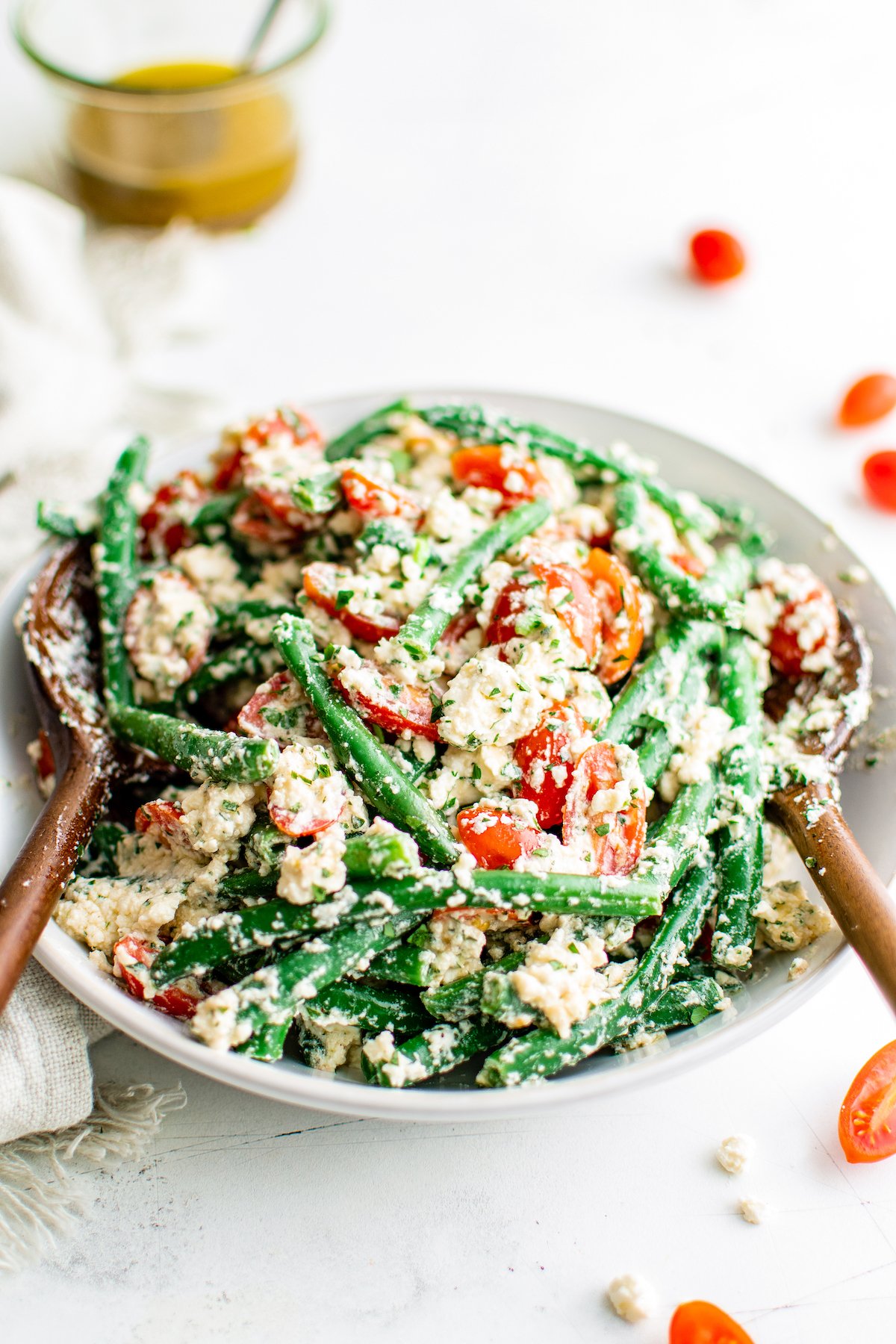 How to Store the Leftovers
This salad is best served fresh, but leftovers can be stored in an airtight container in the fridge for up to 3 days. Just give it a good toss again before serving.
Can I Freeze Green Bean Salad?
I don't recommend freezing this salad. It would end up being a soggy mess! Enjoy it fresh for the best flavor.
Green Bean Salad
This Healthy Green Bean Salad has crunchy green beans, sweet grape tomatoes, and tangy feta cheese. It's the perfect summer side dish or snack!
Ingredients
1

pound

fresh green beans

,

with the stems cut off

½

cup

olive oil

¼

cup

apple cider vinegar

½

teaspoon

salt

½

teaspoon

ground black pepper

10

oz

grape or cherry tomatoes

,

each cut in half

2

tablespoons

freshly minced parsley

8

ounces

feta cheese

,

freshly crumbled
Instructions
In a large pot, bring 6 cups of water to a boil. Add the green beans and boil for 3 minutes. 

In the meantime, prepare a large bowl of ice water and when the green beans are done, strain them and immediately place them right into the ice water to stop them from cooking anymore. 

Drain them from the ice water and place them in a large bowl. Add the grape tomatoes and parsley to the bowl of green beans then toss to combine. 

Pour the oil, vinegar, salt and pepper into a medium jar then seal the jar and shake vigorously to combine.

Pour in the dressing into the green beans and then toss again to combine. Then gently toss in the feta, until just combined.

Serve immediately with additional feta crumbles, for garnish, if desired.
Nutrition
Serving:
1
,
Calories:
478
kcal
,
Carbohydrates:
24
g
,
Protein:
11
g
,
Fat:
39
g
,
Saturated Fat:
12
g
,
Polyunsaturated Fat:
26
g
,
Cholesterol:
50
mg
,
Sodium:
795
mg
,
Fiber:
4
g
,
Sugar:
17
g
Categories:
More Flavorful Salads
Here are some other fun family-friendly salads to try:
This post may contain affiliate links. Read my disclosure policy.