Heavenly creamy with sweet bursts of corn, this sweet corn risotto is what any home cook aspires to be able to make on a weeknight. Top it with more romano cheese for an easy and sublime dinner.
Easy Corn Risotto Recipe
Even if you're not in the mood for something complex, this sweet corn risotto will change the way you feel about this iconic Italian dish. Practically fail-proof and made simple with substitutes like canned corn, this dish is begging to make its way to your table.
Unbelievably creamy with lovely hints of garlic, there's no going wrong with this corn risotto as long as you stir, stir, and stir. A non-stick pot helps too, though! Whether you're a pro home cook or just looking for something new to add to your weeknight menu, I promise you've hit the jackpot with this recipe.
The next time someone says how hard it is to make risotto, invite them over for dinner. Ready in just 40 minutes, this dish is easy and worthy of any fancy Italian restaurant. Enjoy!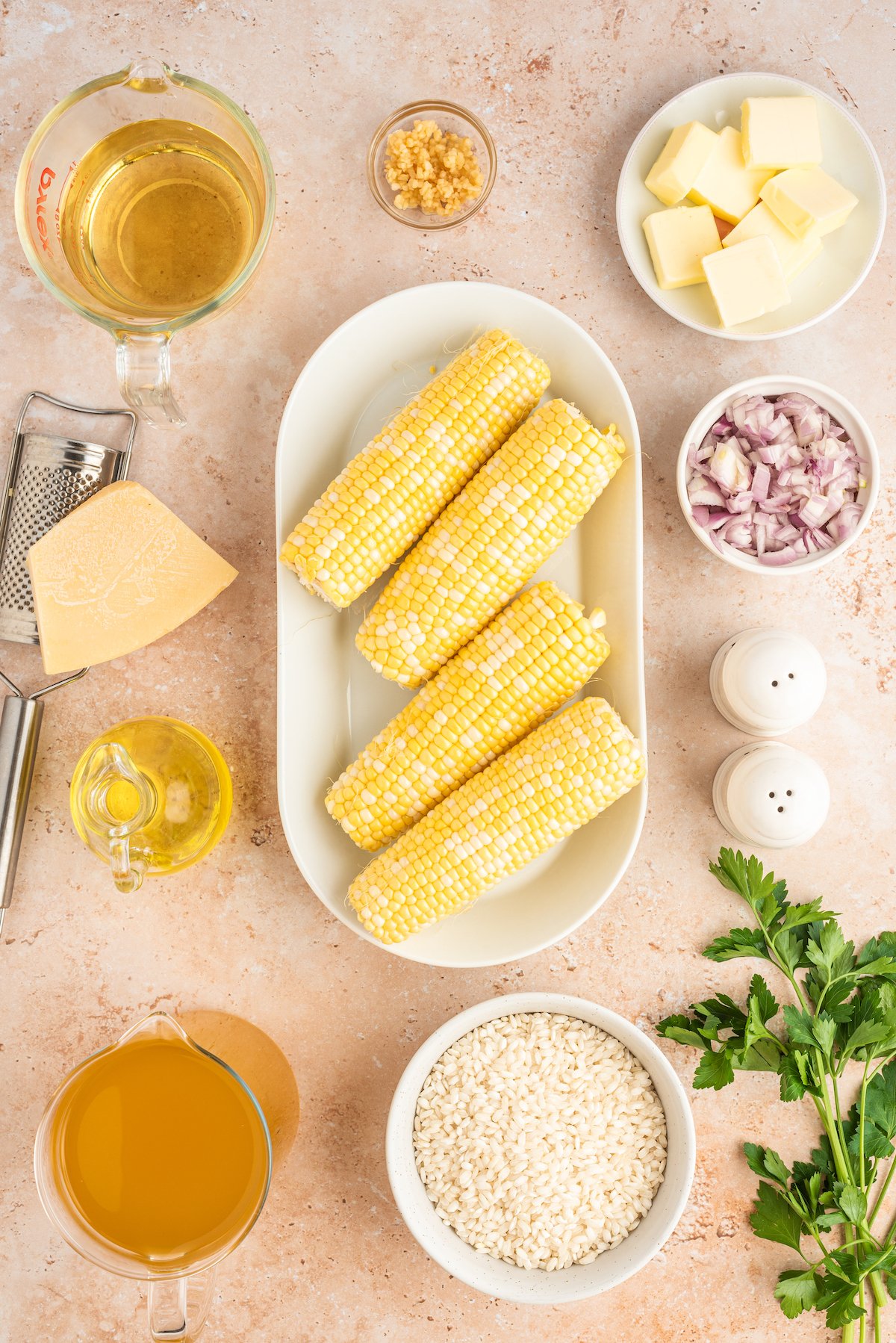 What You'll Need
Garlic, corn, arborio rice, and wine are the most important ingredients so don't skimp on them. Check the recipe card at the bottom of the post for full ingredient amounts.
Unsalted butter – Feel free to use salted butter, but reduce the salt in the rest of the recipe.
Olive oil – Canola, corn, and vegetable oil are good substitutes.
Garlic – Fresh garlic yields the best flavor, but 1/2 teaspoon of garlic powder for every clove works too.
Shallots
Fresh sweet corn – Canned corn works too as long as you drain and rinse it.
Arborio rice – Don't substitute it for any other kind of rice.
Sauvignon blanc wine – This is my favorite, but any dry white wine will work beautifully.
Chicken stock – I prefer low-sodium, but use your favorite.
Romano cheese – Pecorino or parmegiano-regiano is a good substitute.
Fresh parsley
Salt and pepper
Can I Use Frozen Corn?
Absolutely! All you need to do is make sure they're completely thawed and well-drained. You don't want there to be any excess moisture in the risotto. If needed, you can pat them dry with a paper towel.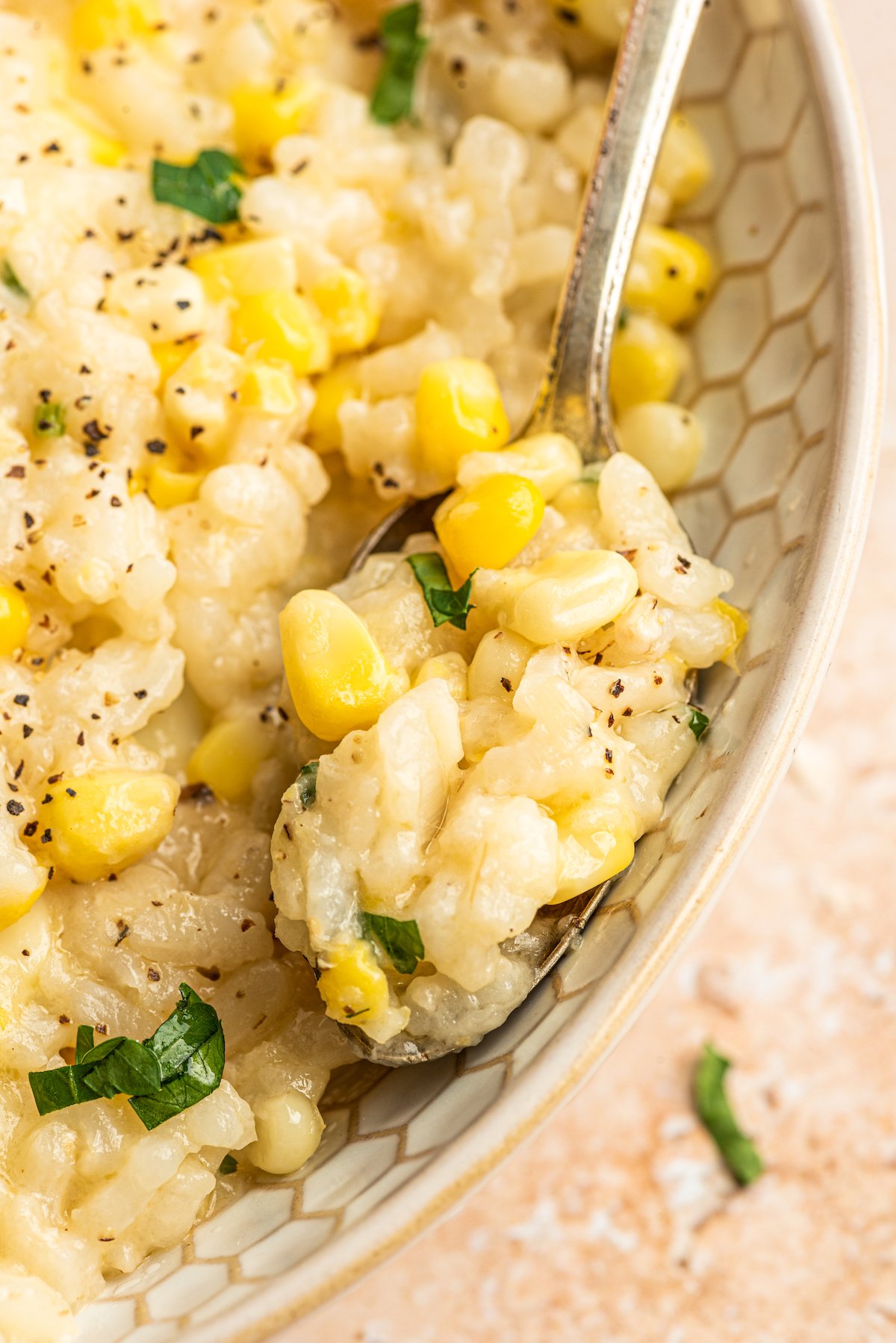 How to Make Sweet Corn Risotto
After cooking this corn risotto, you'll stop believing the taboo behind how hard it is to make.
Cook the garlic. Melt 6 tablespoons of butter in a large pot over medium-high heat. Add the olive oil and garlic. Stir well and cook it for 30 seconds or until fragrant. Add the shallots and mix them in. Cook for another 3 minutes or until softened.
Add the rice. Throw the rice and corn into the pot. Stir constantly for 6 minutes or until the edges of the rice are translucent. Don't let the rice brown.
Add the wine. Pour in the wine and stir everything constantly. Let it cook for 2-3 minutes or until it's almost completely absorbed.
Pour in the stock. Add 1 cup of stock and stir the pot until it has been absorbed. Repeat this process for all the stock. Once the rice is tender, the risotto is done.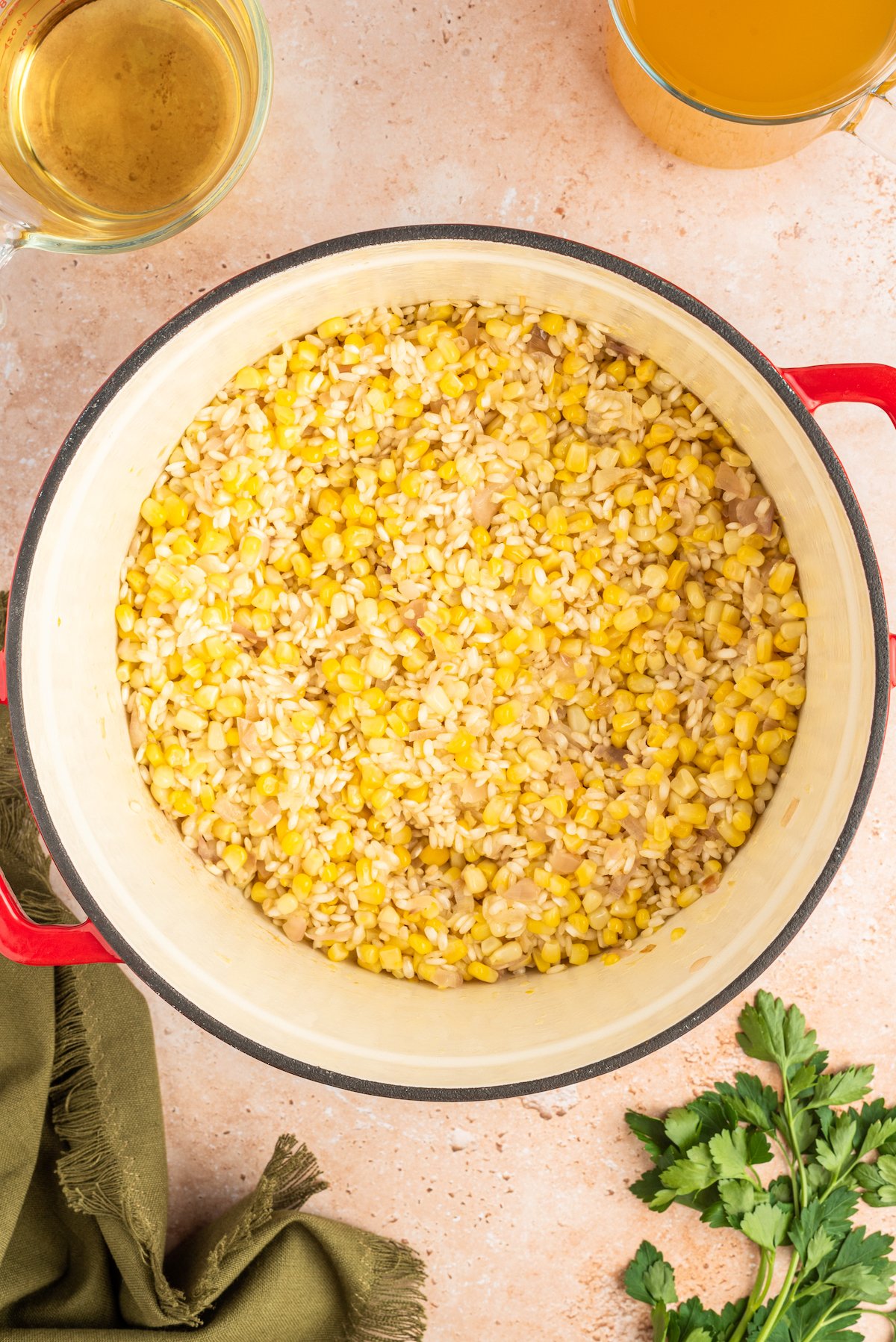 Serve. Gently fold in the romano cheese, parsley, and remaining butter. Season with salt and pepper to taste. Serve and enjoy.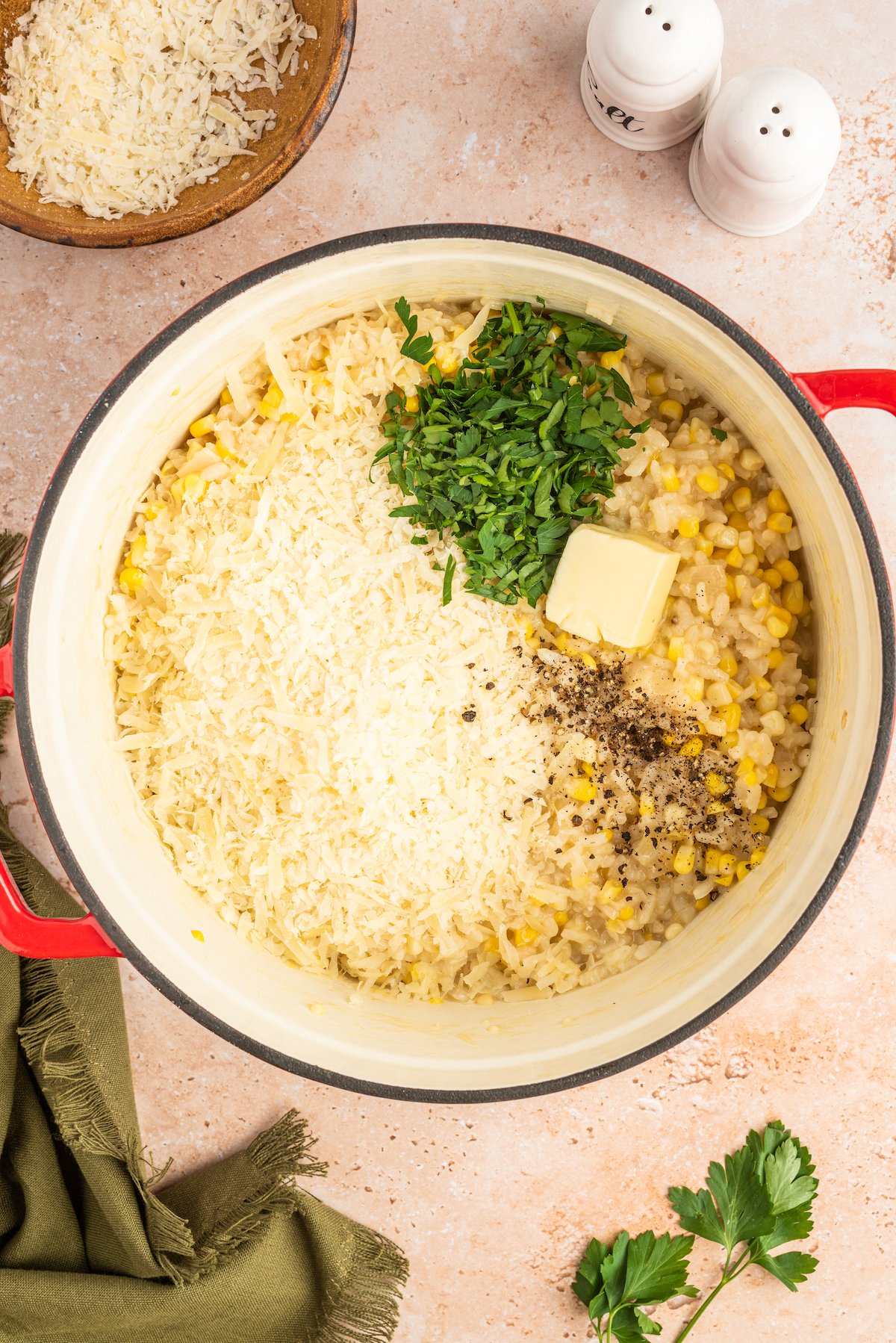 Tips for Success
Following these tips will have you making risotto like a true Italian cook.
Use a non-stick pot. While stainless steel pots are great, it's much harder to control the temperature and keep things from sticking. To avoid burnt risotto, stick to a non-stick pot.
Use beef stock. Don't fret if you only have beef or veggie stock on hand. Your risotto will still come out super flavorful.
Use room temperature ingredients. Since this dish is already quite sensitive to a lot of things like temperature, don't trip yourself up by using cold ingredients. Make sure everything is at room temperature so it can be easily incorporated and not affect the cooking time.
Add popcorn. I know it sounds weird, but topping your risotto with butter or salted popcorn will give it an amazing crunchy bite and interesting depth.
Don't rinse it. Avoid the need to rinse arborio rice. Its high starch content is what gives risotto its texture, so don't rinse it.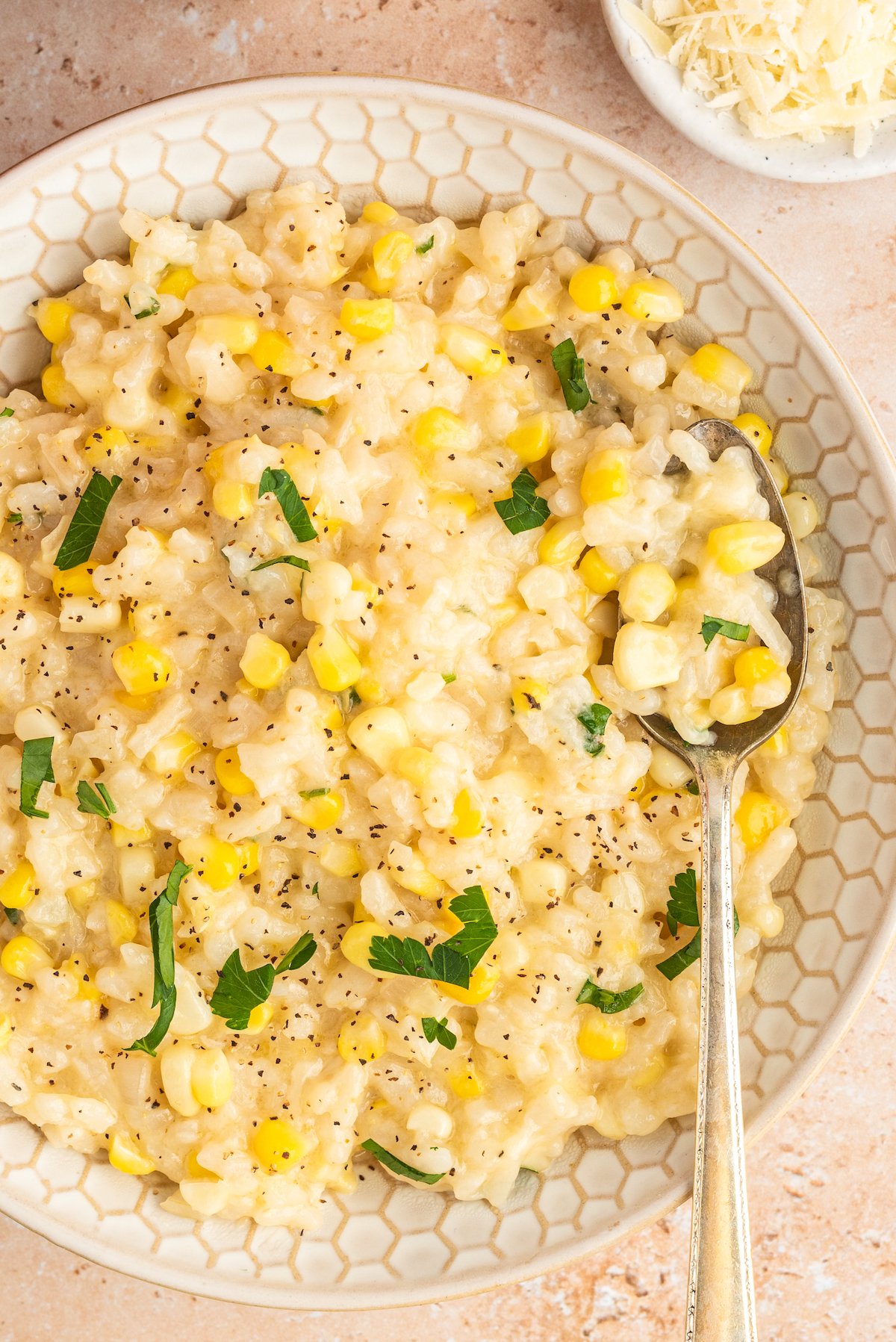 What to Serve with Risotto
This sweet corn risotto can be considered halfway between soup and rice. Because of this, I wouldn't serve either in the same meal. Fortunately, that doesn't mean your menu options are reduced.
Risotto pairs beautifully with chicken, turkey, and fish. Some beef recipes work too, but you have to pay attention to the seasonings and sauces used to make sure they're not too overpowering.
My Balsamic Roasted Salmon, Creamy Chicken Florentine, and Grilled Rosemary Honey Mustard Chicken are my favorite dishes to serve it with.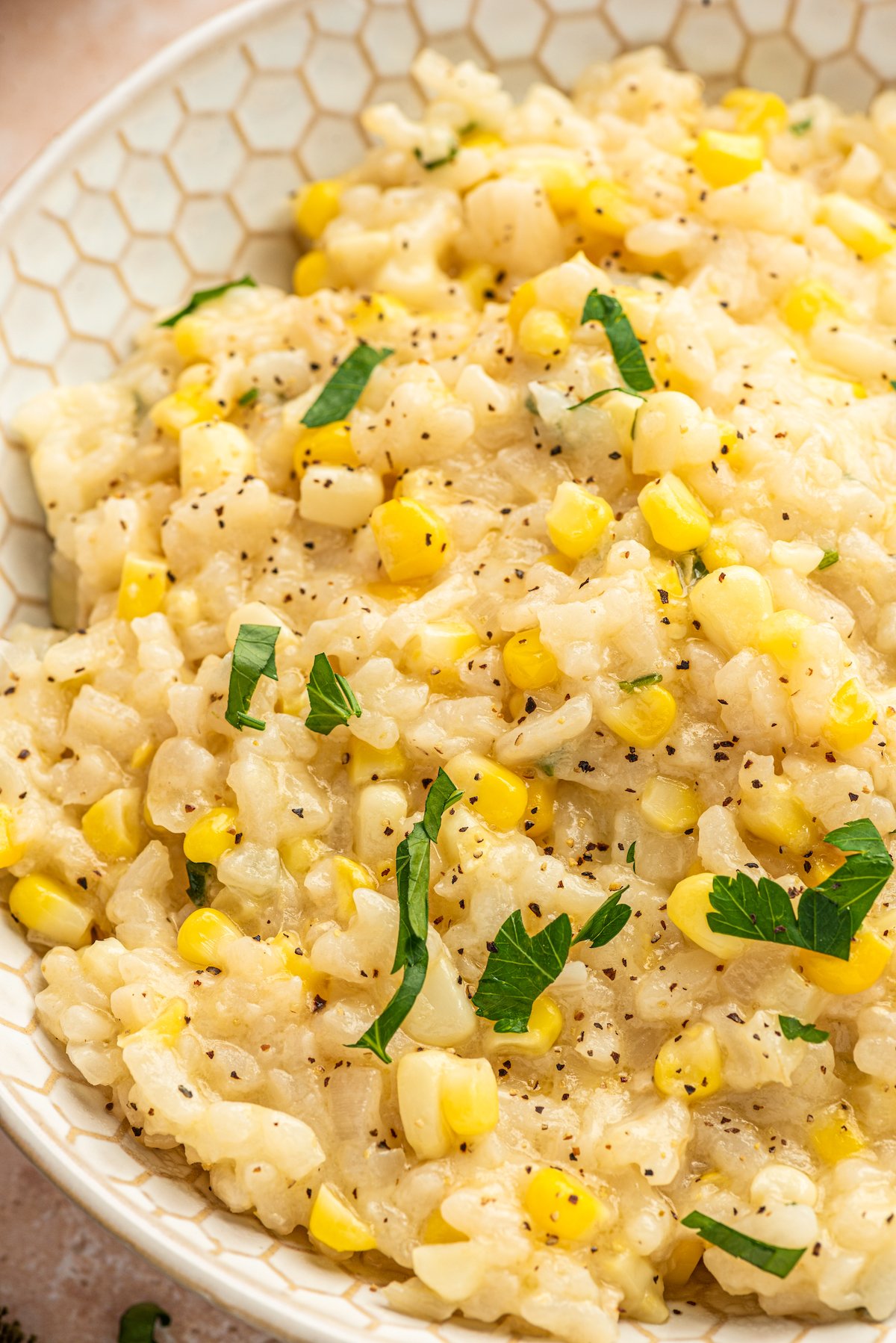 How to Store Leftovers
Refrigerate fully cooled corn risotto in an airtight container for up to 5 days. To reheat it, microwave the risotto for up to 2 minutes or until warm. You can also do it in a small pot over low heat for 5-6 minutes.
Can I Freeze Homemade Risotto?
Unfortunately, this corn risotto isn't freezer-friendly. While you can definitely go ahead and give it a go, I don't recommend it because the rice will lose its texture and the sauce will separate. Once thawed, both of these things will result in a very unappealing and strange risotto.
More Easy Side Dishes
Yield: 6 - 8 Servings
Sweet Corn Risotto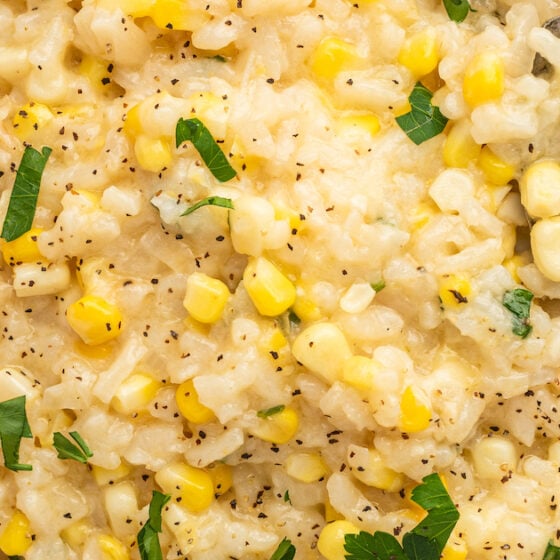 With a splash of white wine and lots of garlic, this sweet corn risotto is a heavenly weeknight dinner. You won't believe how simple it is!
Ingredients
7 tablespoons unsalted butter, divided
2 tablespoons olive oil
3 garlic cloves, minced
4 large shallots, chopped
3 cups fresh sweet corn
1 1/2 cups arborio rice
1 cup sauvignon blanc wine
5 1/2 cups chicken stock
4 oz Romano cheese (parmesan), grated
4 tablespoons minced parsley
salt and pepper to taste
Instructions
In a large french oven, or heavy bottomed pot, over medium-high heat melt 6 tablespoons butter. Add olive oil and garlic, stirring until garlic is fragrant, about 30 seconds. Add shallots and cook until wilted, about 3 minutes.
Add corn and arborio rice, stirring constantly, until the edges of the rice are translucent, about 6 minutes. Add wine, stirring constantly, until almost completely absorbed, 2-3 minutes.
Add 1 cup chicken stock, stirring constantly, until the stock has been absorbed. Continue adding stock, 1 cup at a time, stirring the risotto until the stock is absorbed before adding more. The risotto is done when the rice is tender.
Stir in the romano cheese, parsley and the remaining 1 tablespoon of butter. Season with salt and pepper and serve immediately!
Notes
Storage: Refrigerate fully cooled corn risotto in an airtight container for up to 5 days. To reheat it, microwave the risotto for up to 2 minutes or until warm. You can also do it in a small pot over low heat for 5-6 minutes.
Nutrition Information:
Yield:
6
Serving Size:
1 helping
Amount Per Serving:
Calories:

498
Total Fat:

27g
Saturated Fat:

13g
Trans Fat:

0g
Unsaturated Fat:

12g
Cholesterol:

62mg
Sodium:

642mg
Carbohydrates:

44g
Fiber:

3g
Sugar:

9g
Protein:

16g
This post may contain affiliate links. Read my disclosure policy.