Sweet Corn Risotto
This easy Sweet Corn Risotto recipe is an absolutely heavenly side dish. With creamy risotto and sweet bursts of corn, it is the perfect vegetarian side dish for summer or any weeknight dinner.
If you love making risotto, be sure to also try this Herbed Risotto With Chicken And Caramelized Onions recipe and my Risotto Brunch Bowl.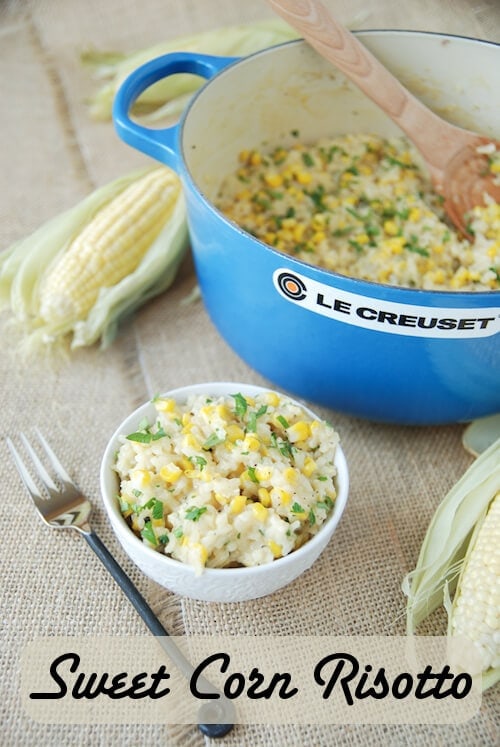 Sweet Corn Risotto
Last week I walked into the gym and climbed onto my dreaded elliptical. I wasn't really paying attention, but next to me were two guys in their early 30's on the treadmills. I was punching in all of my answers to the questions… "How much do you weigh?" ummm 20 pounds. "How long do you want to work out?" umm…is 3 minutes long enough? I was just about to put in my headphones and start working out when I started to actually listen to the guys conversation next to me…
Before I begin, let me set the scene for you… On the tv in front of us, the news was talking about Jessica Simpson and showing pictures of her still pregnant. Guy #1 was about 50 pounds over weight and was running his ass off on a high incline. Guy #2 was about 200 pounds over weight and was walking on no incline. I am not one to judge -I am no skinny girl either- these are just the facts.
Guy #2: Look at her!
Guy #1: Who?
Guy #2: Jessica Simpson. Damn girl looks like a whale. Did she eat all of Texas or just half of it?
Guy #1: Dude, she's like pregnant or something.
Guy #2: Ya, whatever. She needs to get herself to the gym. I wouldn't touch that if you paid me.
Guy #1: :::keeps running with no comment:::
Guy #2: Seriously man, she is so fat it disgusts me.
…..At this point I couldn't take it anymore. I was directly next to Guy #2. I slowed down my pace and turned to him…
Me: Really? She's like what, 50 pounds over weight and 9 months pregnant? And you are what? …how many months in your pregnancy are you?
He (Guy #2) immediately got off the treadmill and left the gym without saying a word to me. Guy #1 turned to me and said "Ya, he's kind of an ass".
That night I went home and took out my aggression on this Sweet Corn Risotto. While constantly stirring, and stirring, and more stirring…I was able to cool down enough to tell Jorge what happened without my face getting all red again.
I have been back to the gym 3 times since that day. I have seen him twice and he has left immediately after I got there. And while most people will tell me what I said is incredibly rude, I don't feel bad. I am sick of men (and other women for that matter) thinking it's ok to tear down a woman without taking an honest look at themselves. We are all human and not one of us is perfect (except Ryan Gosling, amiright??).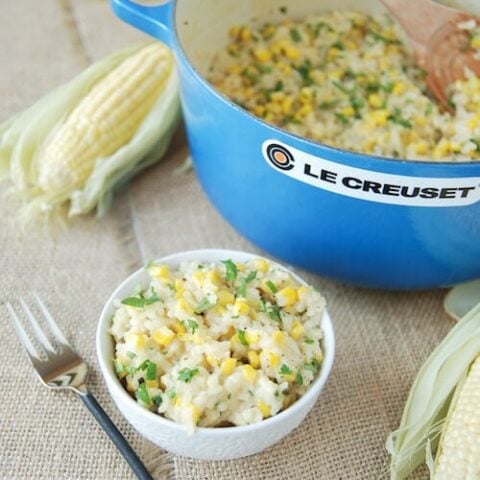 Sweet Corn Risotto
Yield: 6 - 8 Servings
Prep Time: 5 minutes
Cook Time: 40 minutes
Total Time: 45 minutes
Sweet Corn Risotto is an absolutely heavenly side dish that is so easy to make. With creamy risotto and sweet bursts of corn, it is the perfect vegetarian side dish for summer.
Ingredients
7 tablespoons unsalted butter, divided
2 tablespoons olive oil
3 garlic cloves, minced
4 large shallots, chopped
3 cups fresh sweet corn
1 1/2 cups arborio rice
1 cup sauvignon blanc wine
5 1/2 cups chicken stock
4 oz Romano cheese (parmesan), grated
4 tablespoons minced parsley
salt and pepper to taste
Instructions
In a large french oven, or heavy bottomed pot, over medium-high heat melt 6 tablespoons butter. Add olive oil and garlic, stirring until garlic is fragrant, about 30 seconds. Add shallots and cook until wilted, about 3 minutes.
Add corn and arborio rice, stirring constantly, until the edges of the rice are translucent, about 6 minutes. Add wine, stirring constantly, until almost completely absorbed, 2-3 minutes.
Add 1 cup chicken stock, stirring constantly, until the stock has been absorbed. Continue adding stock, 1 cup at a time, stirring the risotto until the stock is absorbed before adding more. The risotto is done when the rice is tender.
Stir in the romano cheese, parsley and the remaining 1 tablespoon of butter. Season with salt and pepper and serve immediately!
Nutrition Information:
Yield: 6
Serving Size: 1 helping
Amount Per Serving:
Calories: 498
Total Fat: 27g
Saturated Fat: 13g
Trans Fat: 0g
Unsaturated Fat: 12g
Cholesterol: 62mg
Sodium: 642mg
Carbohydrates: 44g
Fiber: 3g
Sugar: 9g
Protein: 16g