Camarones al Mojo de Ajo, or Mexican-style garlic shrimp, are tender shrimp sautéed in a fragrant garlic sauce. They're easy to make, full of flavor, and are the perfect filling for tacos.
Mouth-Watering Mexican-Style Garlic Shrimp
Camarones al Mojo de Ajo are packed with flavors that scream Mexican cuisine. There's acidity from lime juice and vinegar, and there's earthiness from smoked paprika. There's herbs, garlic, and onion, and then there's the star: shrimp.
Despite taking only 20 minutes to make, these tender shrimp soak up all the flavors from the sauce. I can't think of many recipes that are this quick and this flavorful!
I recommend serving these Camarones al Mojo de Ajo as tacos with my Homemade Flour Tortillas or Homemade Corn Tortillas, with a side of Arroz Blanco (Puerto Rican white rice).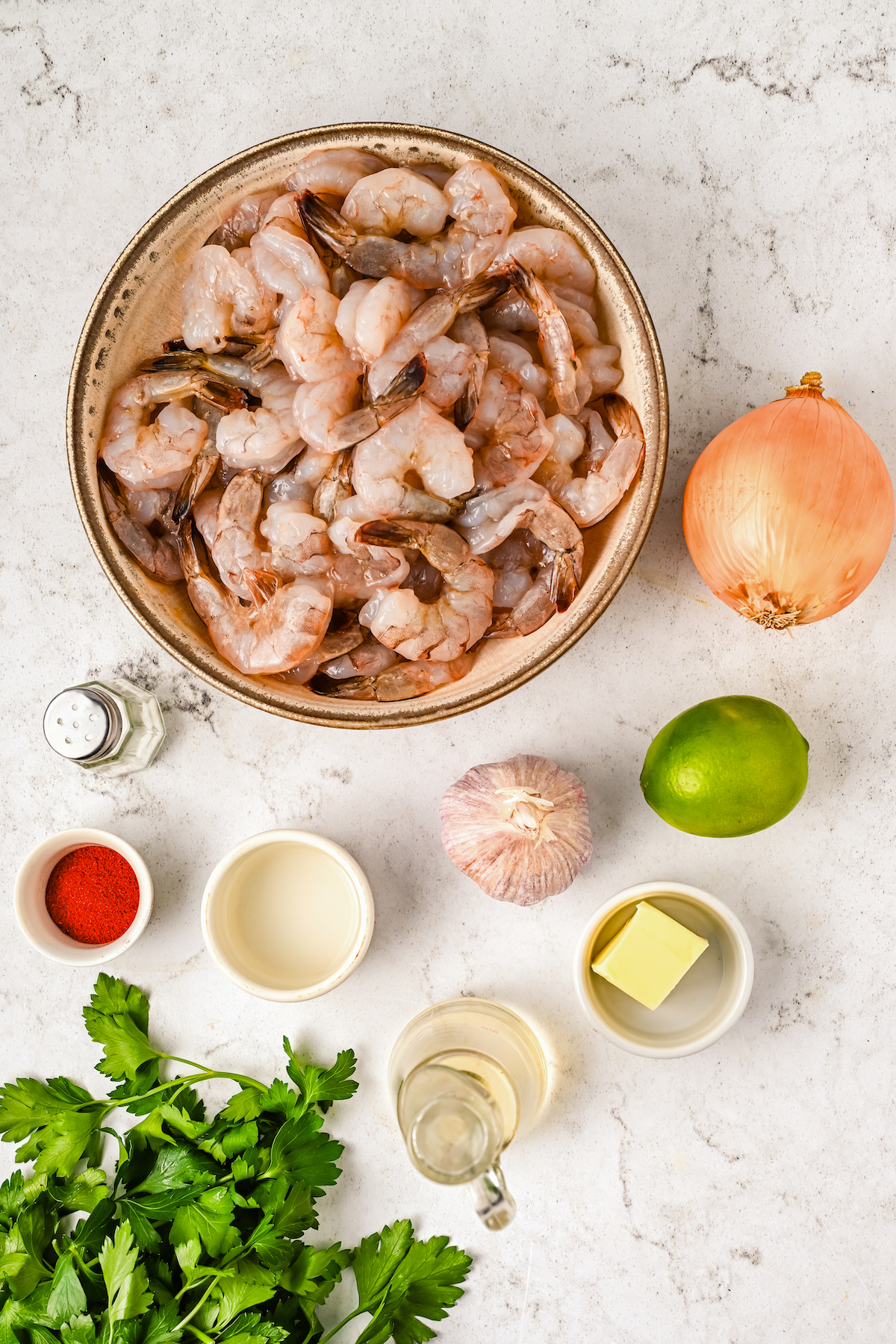 Ingredients
Here's everything you need to make juicy Mexican-style garlic shrimp. Be sure to check out the recipe card at the bottom of the page to see the exact quantities.
Shrimp – Make sure your shrimp are thawed, deveined, and peeled.
Kosher Salt
Olive Oil – Or another mild cooking oil.
Salted Butter – Or you can also use unsalted butter, but will want to add a little extra salt to your srhimp.
Garlic Cloves – Fresh garlic will give you the most garlic flavor. If possible, don't use jarred garlic or garlic in oil.
White Onion
Lime Juice – Fresh squeezed lime juice is a must!
White Vinegar
Smoked Paprika – You can use regular paprika in a pinch, but the smoked version will give your shrimp a slight smokiness that we love.
Fresh Parsley or Cilantro
How Do You Devein and Peel Shrimp?
Deveining and peeling shrimp for Camarones al Mojo de Ajo is easy. Once you've done a few, you'll get the hang of it and be able to prep them very quickly. Peel them first, which you can do by hand or with kitchen shears.
If you peel them by hand, simply pull off the legs, then use your thumb to crack the shell from the bottom, and then pull it off. If you use kitchen shears, just cut into the top of the shell and peel it off.
To devein, cut a line along the back of the shrimp with a paring knife. Then use the tip of the knife to extract the digestive tract from the shrimp.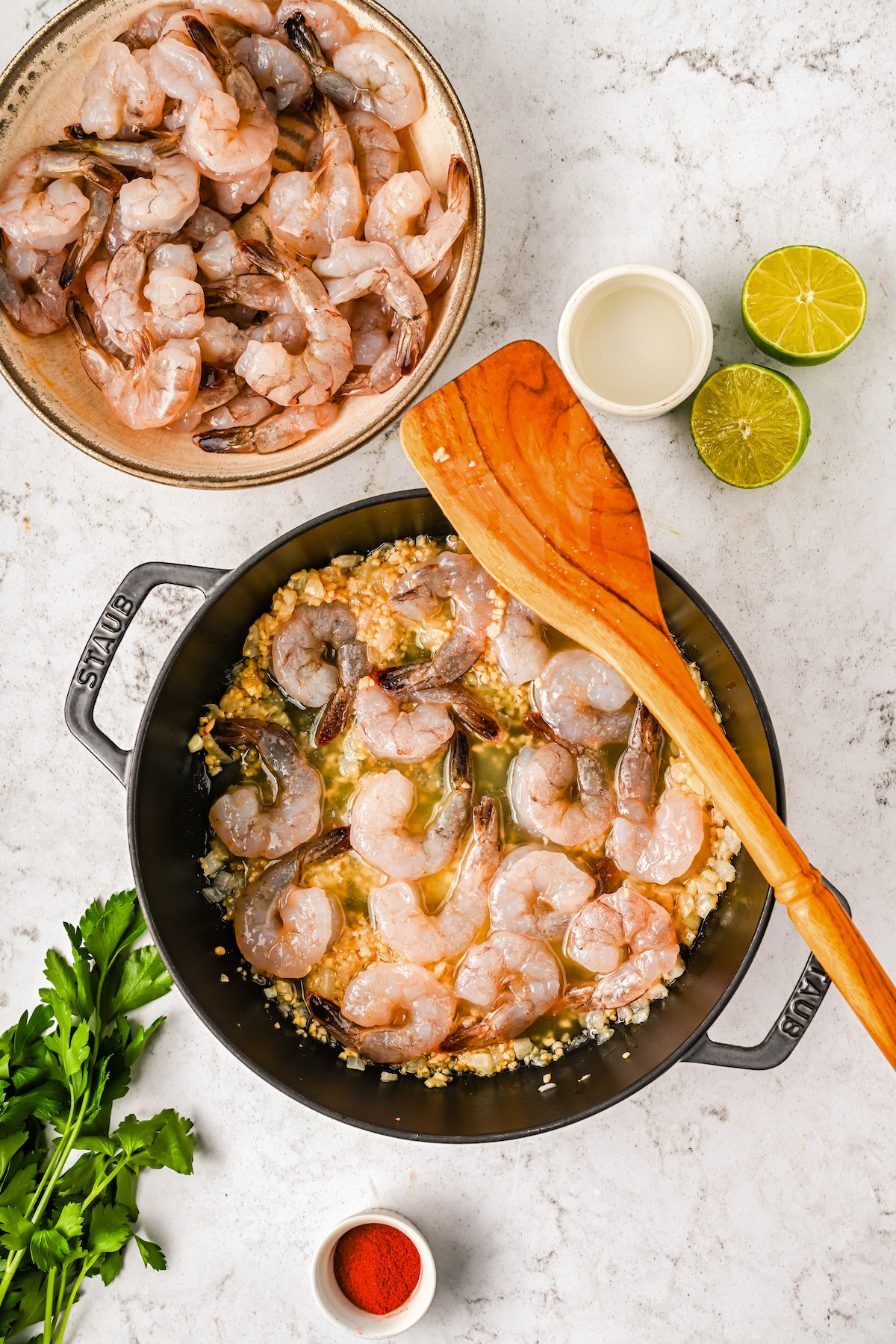 How to Make Camarones al Mojo de Ajo
This is a very simple recipe. It takes less than half an hour, and only has a few steps.
Prep the shrimp. Dry the shrimp with a paper towel, then season them with salt.
Cook the shrimp. Heat olive oil in a skillet over medium high heat, then add some of the shrimp. Make sure not to overcrowd. Cook on each side for 2 minutes, or until they just turn pink. Remove the shrimp and keep them warm while you cook the rest.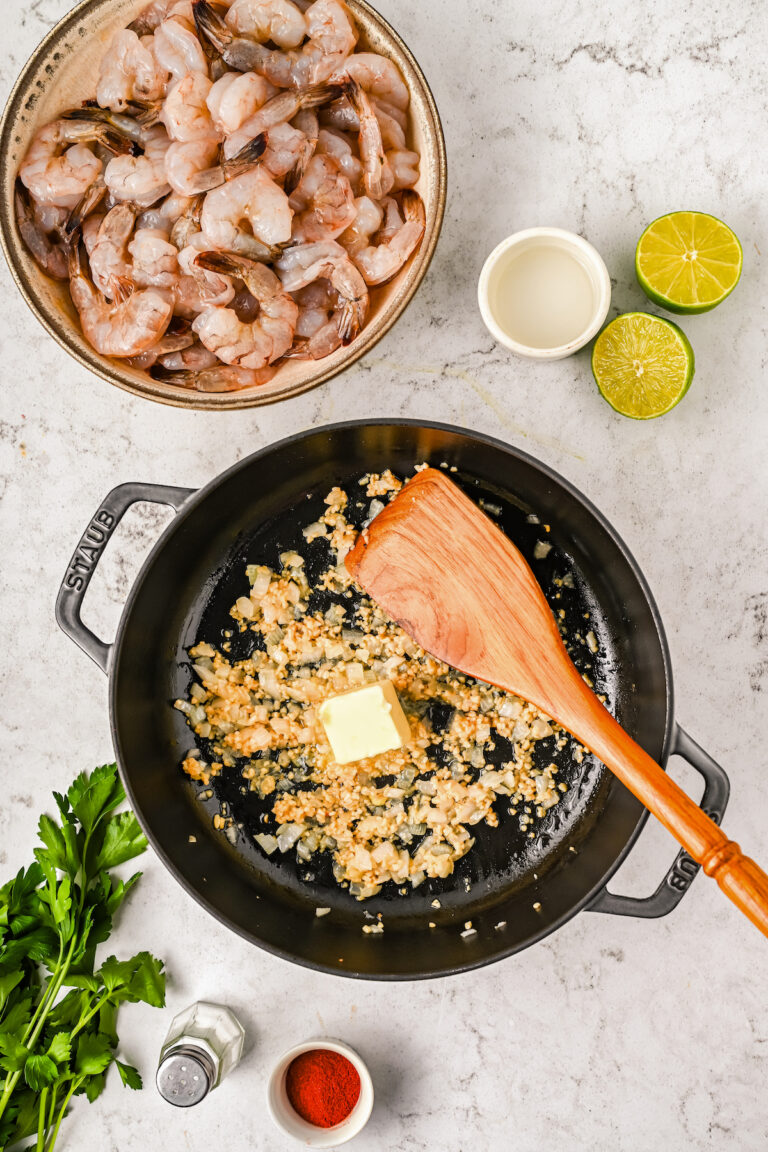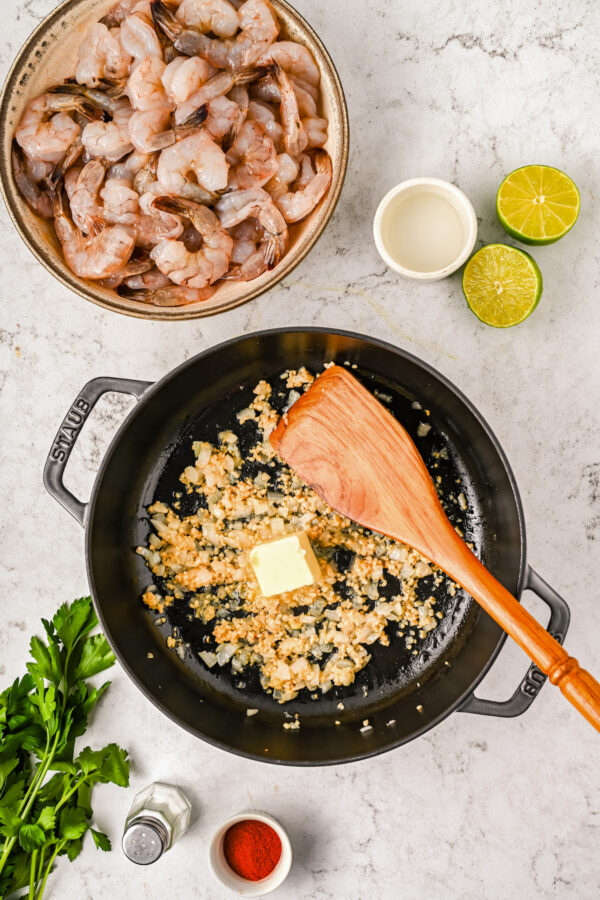 Make the sauce. Melt the butter in the same pan that you cooked the shrimp in, then add garlic and onion. Cook until the onion is tender, about 3-4 minutes. Add the lime juice and vinegar, and cook for 1 minute.
Add the shrimp. Put the shrimp back in the skillet and cook for 2 minutes. Add smoked paprika and stir it in.
Garnish and serve. Remove the shrimp from the pan, garnish with parsley or cilantro, and eat while hot.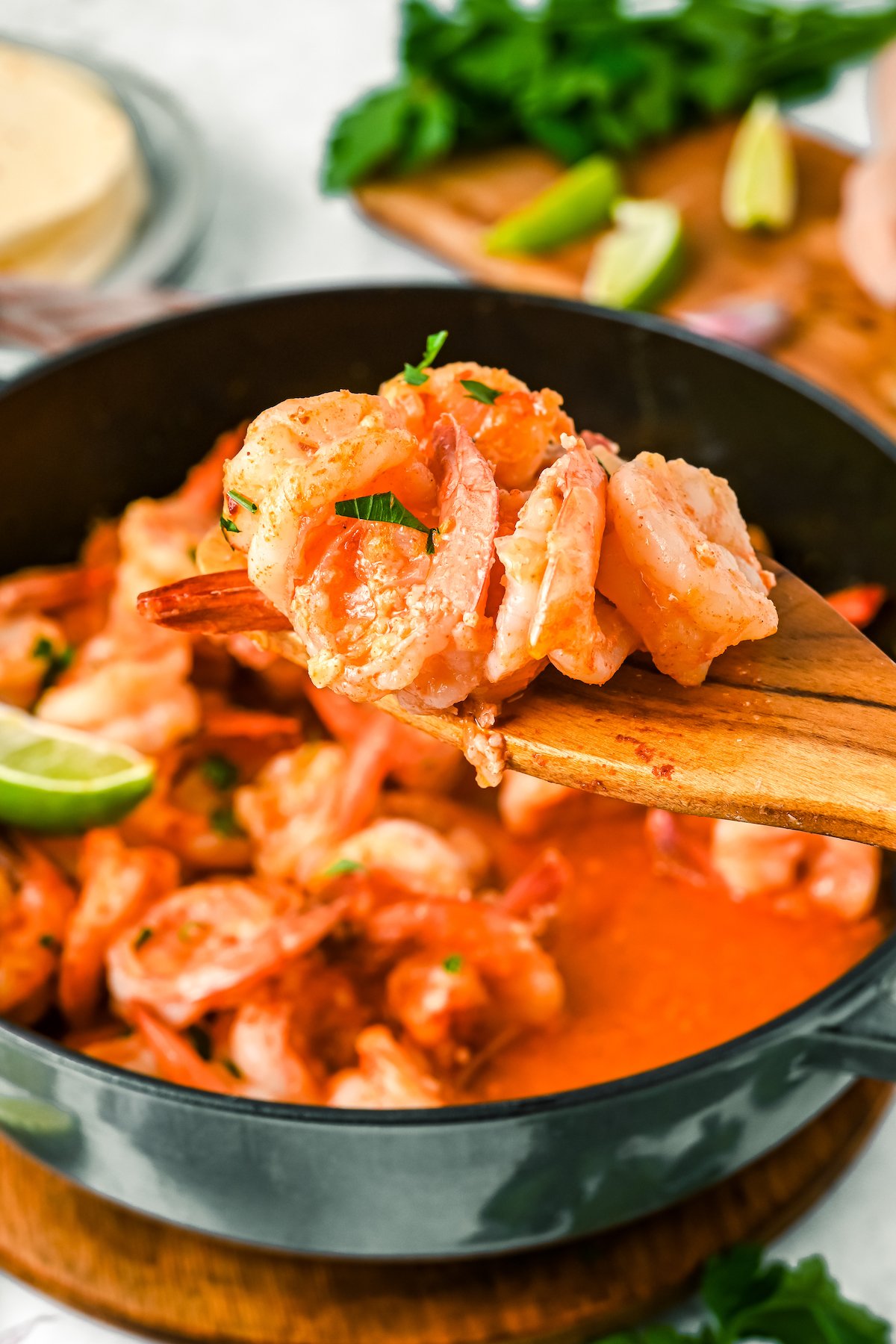 Tips for Perfect Garlic Shrimp
Here are a few tricks and pointers for making the perfect Camarones al Mojo de Ajo.
Use fresh lime juice. Lime juice is one of the most important ingredients in this recipe. For best results, use freshly-squeezed lime juice instead of pre-squeezed juice, as it has a better flavor.
Use fresh garlic. Garlic is also a star of this dish. Don't use pre-peeled garlic, or pre-minced garlic. It's important to get the best garlic flavor possible, so start with whole, unpeeled cloves.
Don't crowd the shrimp. When cooking the shrimp, make sure that there's plenty of space in the skillet between each shrimp. Cook in multiple batches if you have to, but don't crowd the pan or they won't cook properly.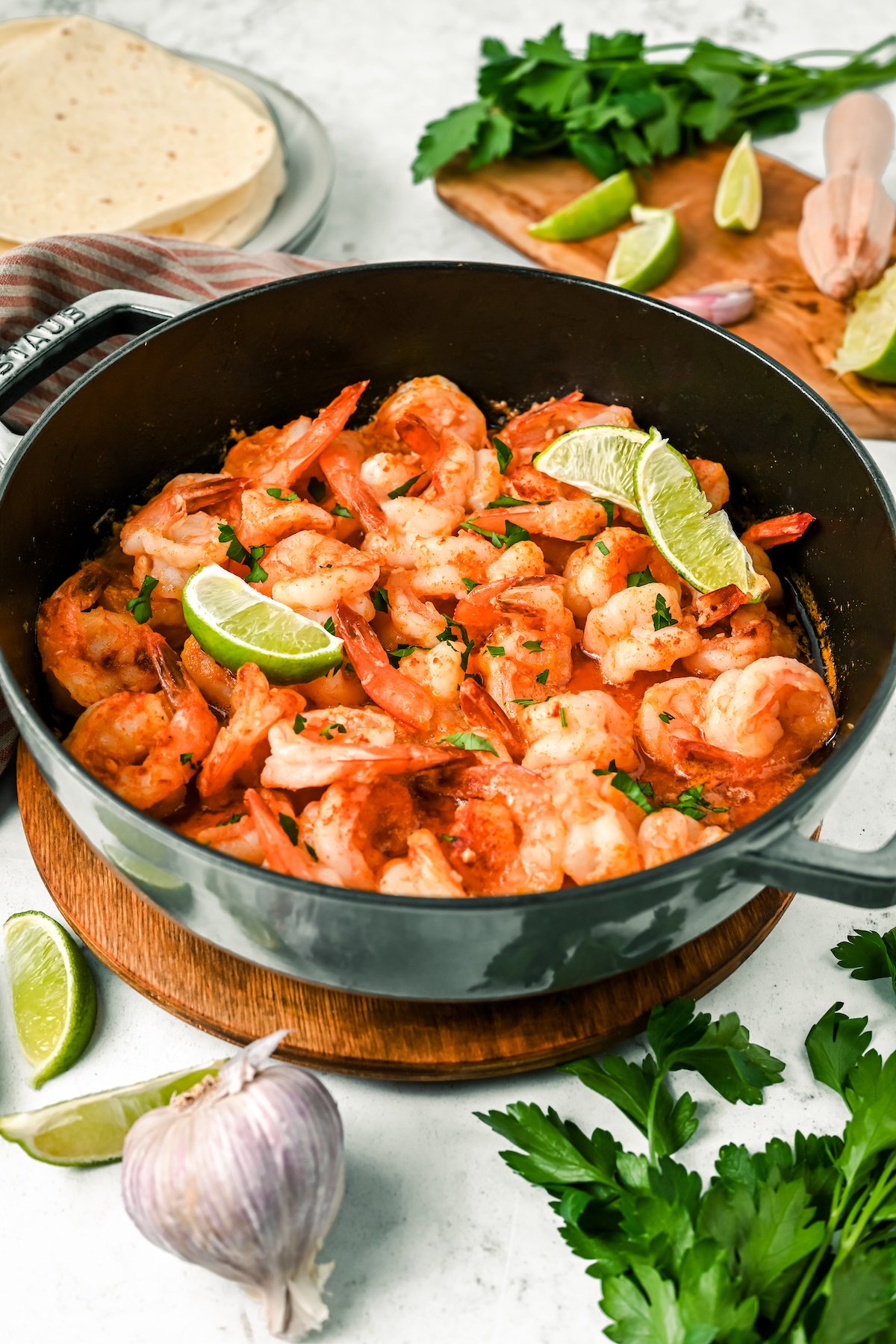 How To Serve
There are quite a few ways you could serve these little garlicky shrimp. Here are a few of our favorites:
Tacos: Serve these shrimp in tacos! Wrap them up in some warm Homemade Corn Tortillas or Homemade Flour Tortilas. Top them with Pico De Gallo, Guacamole, Mexican crema (or sour cream), cilantro, cheese, etc.
Rice/Beans: These shrimp are amazing over a bed of rice and beans! You could do some Mexican Rice or if you are ok mixing cuisines, we love this recipe for perfect Arroz Blanco Puertorriqueño (the best white rice). As for beans, go with your favorite…black beans, Refried Beans, Frijoles Charros (charro beans) or even some Texas Ranch Style Beans.
Vegetable Sides: If you want to add in some yummy veggie sides, try out these sweet Maduros (Pan Fried Plantains, Elote (Mexican Streen Corn), or these delicious Calabacitas (Mexican Squash)!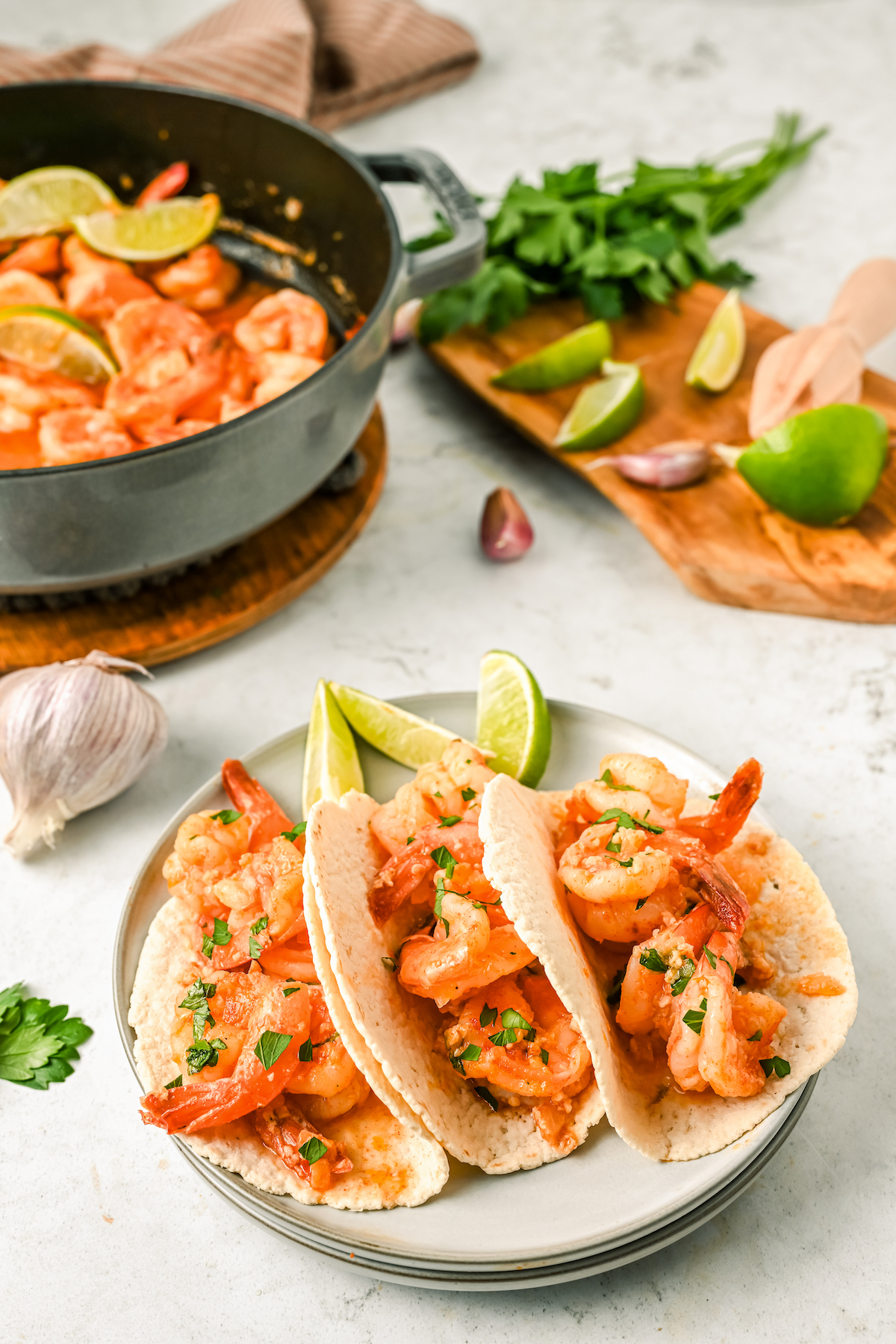 How Long Do Camarones al Mojo de Ajo Last?
You can store this Mexican-style garlic shrimp in an airtight container in the fridge for up to 5 days. To reheat, cook on the stove top over low heat.
Can I Freeze This?
Yes! You can freeze Camarones al Mojo de Ajo in an airtight container for up to 3 months. Thaw in the fridge before reheating.
More Authentic Mexican Recipes
Yield: 4 servings
Camarones al Mojo de Ajo
Camarones al Mojo de Ajo, a Mexican-style garlic shrimp dish, is packed full of garlic flavor and lime juice. It's a quick and easy dish that goes perfectly in tacos.
Ingredients
1 1/2 pounds shrimp, deveined and peeled
1 teaspoon kosher salt
4 tablespoons olive oil, divided
2 tablespoons salted butter
5 fresh garlic cloves, minced
2 tablespoons minced white onion
1 tablespoon freshly-squeezed lime juice
2 tablespoons white vinegar
1/2 teaspoon smoked paprika
2 tablespoons fresh parsley or cilantro, chopped
Instructions
Pat the shrimp dry and season with salt.
In a large skillet, heat the olive oil over medium heat. Cook the shrimp a few at a time, making sure not to overcrowd the pan. Cook each side for 2 minutes or just until they turn pink. Remove and keep warm. (I place the cooked shrimp on a plate and cover it with foil.) Repeat, until all the shrimp have been cooked.
Melt the butter in the pan and add the garlic and onion, cooking for about 3 to 4 minutes, until onion is tender. Add the lime juice and vinegar and cook for another minute.
Add the shrimp back to the skillet and cook for 2 more minutes. Sprinkle with smoked paprika and stir.
Remove immediately from the pan and garnish with parsley. Serve immediately, as desired.
Notes
Storage: Store in an airtight container in the fridge for up to 5 days, then reheat over low heat on the stove top. Can be frozen in an airtight container for up to 3 months. Thaw in the fridge before reheating.
Nutrition Information:
Yield:
4
Serving Size:
1
Amount Per Serving:
Calories:

385
Total Fat:

22g
Saturated Fat:

6g
Trans Fat:

0g
Unsaturated Fat:

15g
Cholesterol:

374mg
Sodium:

1974mg
Carbohydrates:

5g
Fiber:

0g
Sugar:

1g
Protein:

39g
Categories
This post may contain affiliate links. Read my disclosure policy.