This easy Green Bean Casserole is a classic holiday side dish! Fresh green beans tossed with homemade cream of mushroom soup, then topped with crispy French's fried onions.
🍲 Easy French's Green Bean Casserole
This green bean casserole is one of my family's favorite Thanksgiving sides. If you read all the 5-star reviews below, you'll find that this is a reader favorite as well! I make it every year and our holiday table just wouldn't be the same without it. It beats out a casserole made with canned ingredients by 100 miles.
I don't say this recipe is "THE BEST" lightly. So many people have made and loved this recipe, year after year, and have now added it to their must-make Thanksgiving side dishes line up!
🥣 99% Made from Scratch!
Aside from the French's fried onions, this green bean casserole is made from scratch. No canned ingredients here! Instead, we use homemade cream of mushroom soup. (This sounds more complicated than it is, it's super easy!) Then we toss tender, freshly cooked green beans in a cream of mushroom sauce. To finish it off, we top our casserole with a little layer of bread crumbs and French's fried onions.
I have tried making my own fried onions in the oven, but every time I try it, it's a big waste of time. The onions are never as crispy and the flavor is just not the same. Store-bought French fried onions cannot be replaced and are the best topper for this classic casserole!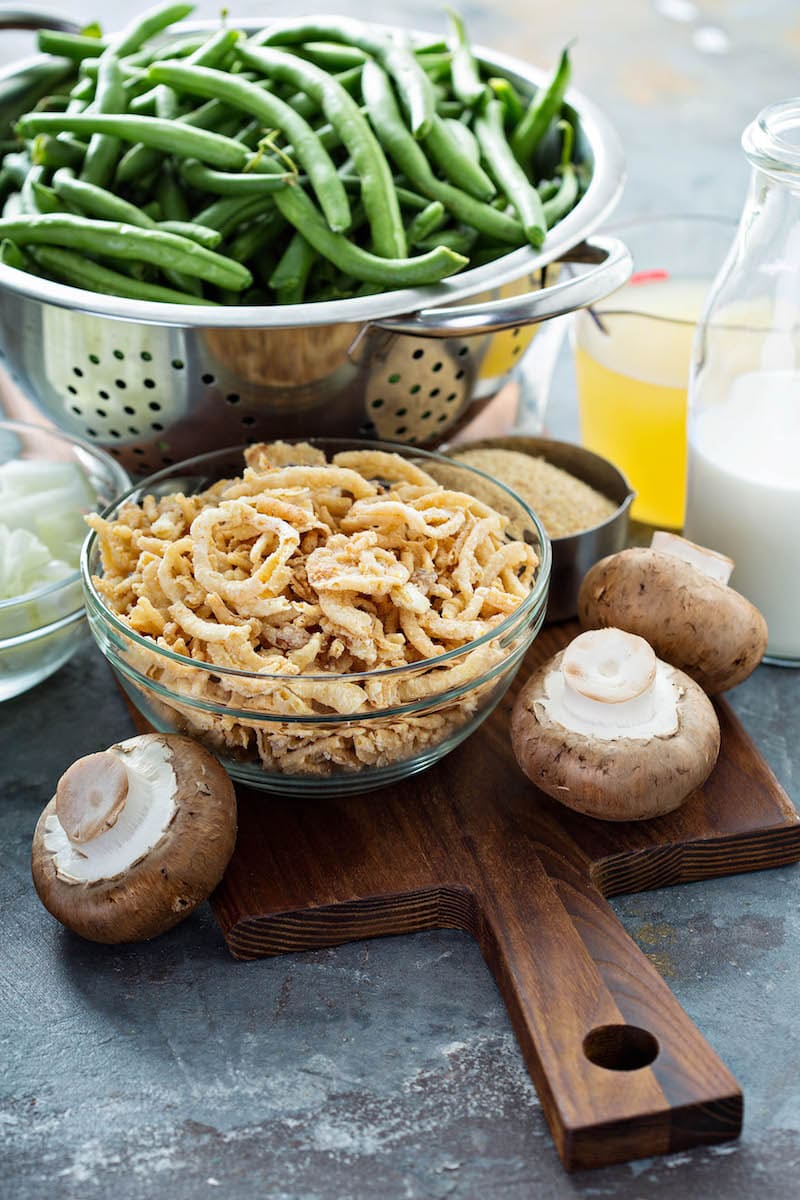 🔪 What You'll Need
The ingredients are simple and make the best green bean casserole ever. Seriously! Here's a quick overview of what you'll need. Be sure to scroll to the recipe card for specific amounts.
Fresh Green Beans: I love using fresh green beans because they have the most flavor and a bit more texture. If you can't find fresh green beans, then frozen will do a pinch.
Homemade Cream of Mushroom Soup: By making your own homemade cream of mushroom soup, the flavor instantly jumps to an insane new level. It's easy, I promise! Check out the recipe card for how to make mushroom soup from scratch.
French's Fried Onions: This is the only ingredient in this recipe that is not 100% homemade, but you just can't beat the crispy onion topping in Green Bean Casserole and French's makes the best ones.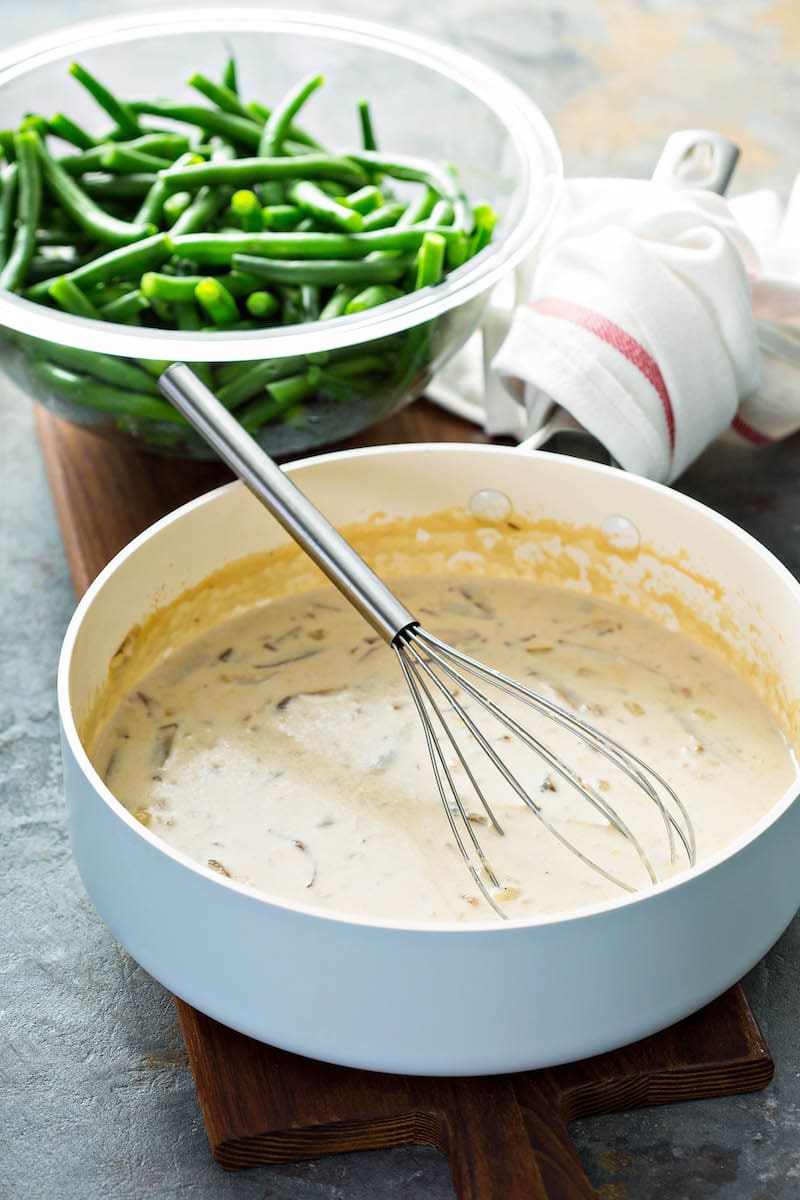 📋 How To Make Green Bean Casserole
Wondering how to make this casserole? Here's a quick recap. You literally make this casserole in 4 steps.
Blanch the green beans: The first step is boiling the green beans in water until just starting to become tender, then quickly cooling them down in ice water to stop the cooking process. This gives your green beans the perfect texture without becoming soft!
Make the cream of mushroom soup: Sauté onions and garlic in butter till softened, then add mushrooms and salt and pepper. Sauté a few minutes more and add flour, stirring to combine. Add chicken broth and half and half and cook until thickened.
Combine: Toss the blanched green beans in the mushroom sauce and transfer to a large casserole dish. Top with bread crumbs and french fried onions.
Bake: Bake at 375°F for 20 minutes, until bubbly.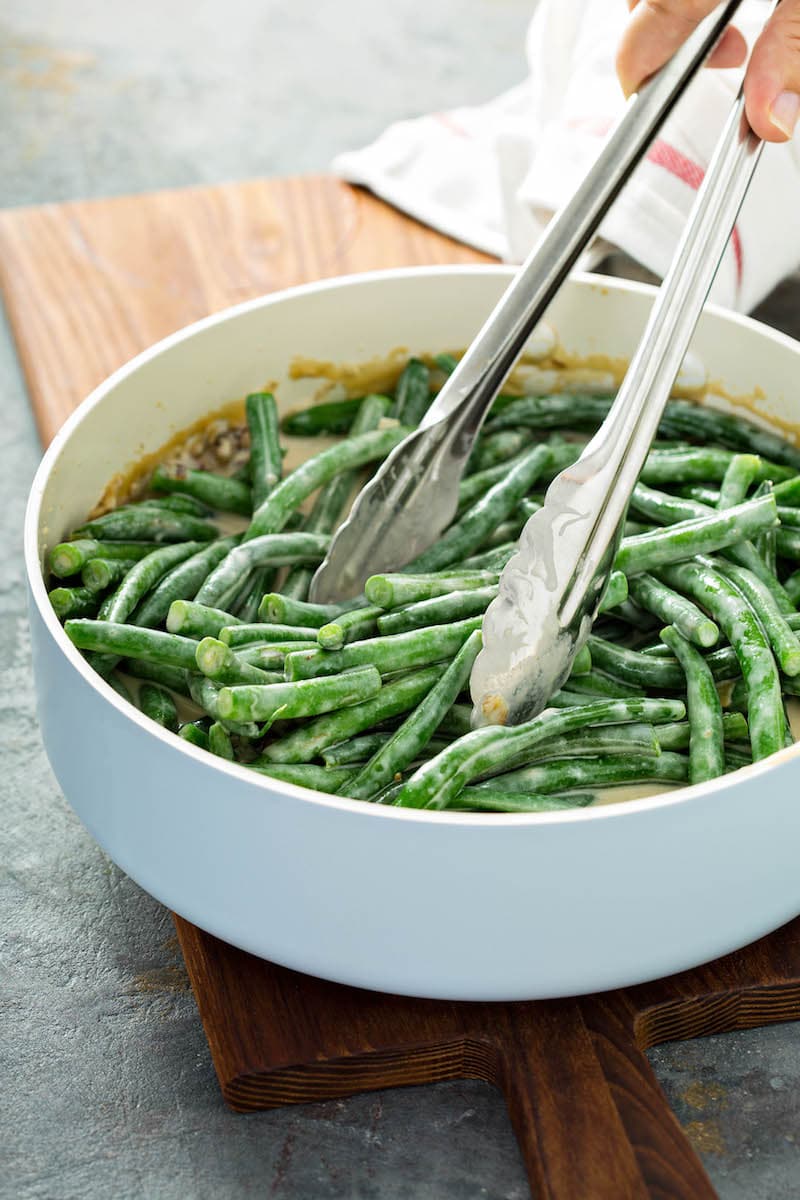 🌟 Tips for Success
Overall this is an incredibly easy recipe, but especially if you're making it for a big holiday like Thanksgiving there is no room for error. You need the best green bean casserole, gauranteed! Here are some quick tips to make that happen:
Use fresh green beans. They have the best overall flavor and texture and make your green bean casserole a stand out on your Thanksgiving table. Aunt Sharon's canned green bean casserole will pail in comparison to your show stopper!
Use homemade cream of mushroom soup. That might sound daunting, but I promise it's very easy to do and makes the flavor out of this world.
Use French's fried onions. Even if you are a die-hard make everything from scratch person! Trust me, those crispy friend onions are tough to make at home without a serious amount of effort and that's the last thing you need on Thanksgiving. We want easy and delicious!
What if you don't like mushroom soup? If you aren't a mushroom fan, you can double the onion in the mushroom soup recipe and make a cream of onion soup to use in your casserole. A lot of non-mushroom lovers do this and have left comments below on how delicious it still is! However, if it's just a texture thing, chop the mushrooms extra finely and you won't even know they are there!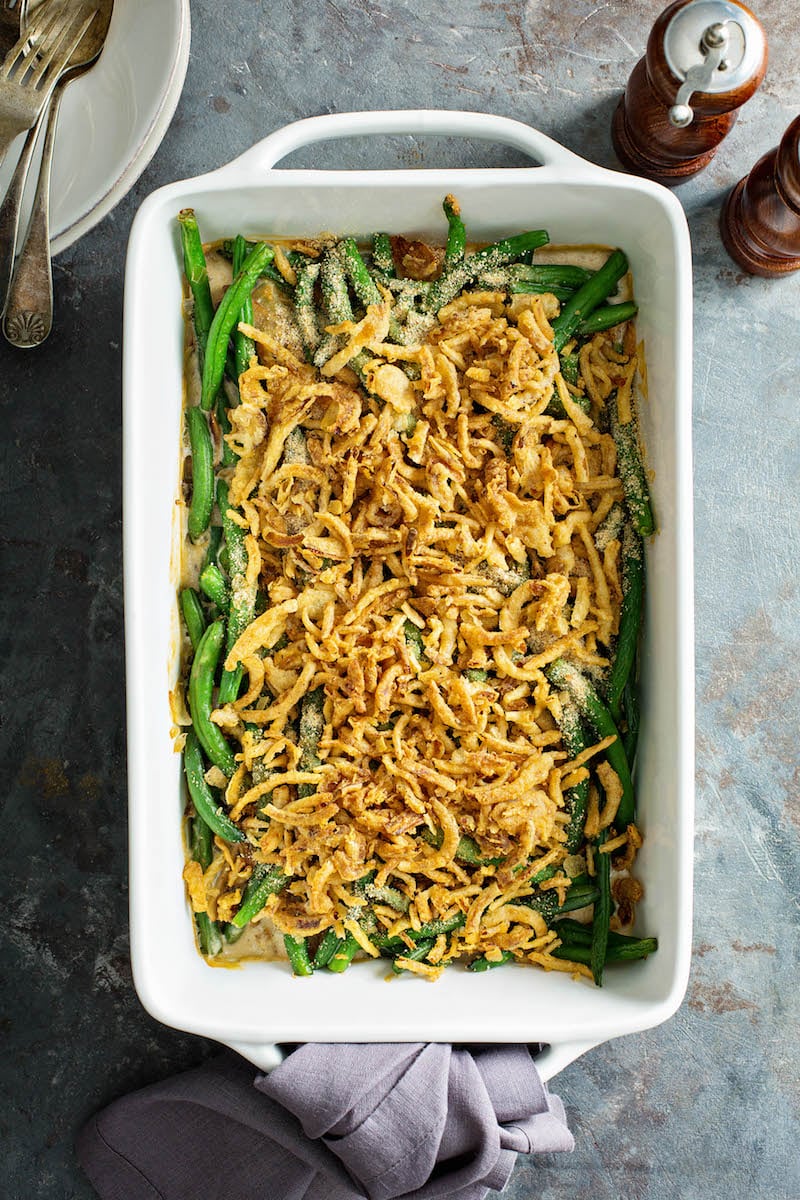 ⏲️ How Long to Cook Green Bean Casserole
This recipe only needs 20 minutes to bake. If you are planning to serve it for a holiday like Thanksgiving or Christmas, then this quick baking side dish saves you tons of time.
Can I Make this Recipe Ahead?
This recipe is a wonderful make-ahead side dish and it also travels well! I usually prepare it a day or two before Thanksgiving to save me time on the actual day. It stores perfectly in the fridge for up to 48 hours before baking.
To make this casserole ahead:
Complete all the casserole steps until it's time to put the bread crumbs and french fried onions on top. Save those to be added fresh, so they do not get soggy.
Store the prepared casserole in the fridge, wrapped tightly with saran wrap or foil.
Then about 30 minutes before you're ready to bake it, allow the casserole to sit at room temperature to warm up some.
Before baking, top it with the bread crumbs and the layer of french fried onions on top and bake according to recipe directions!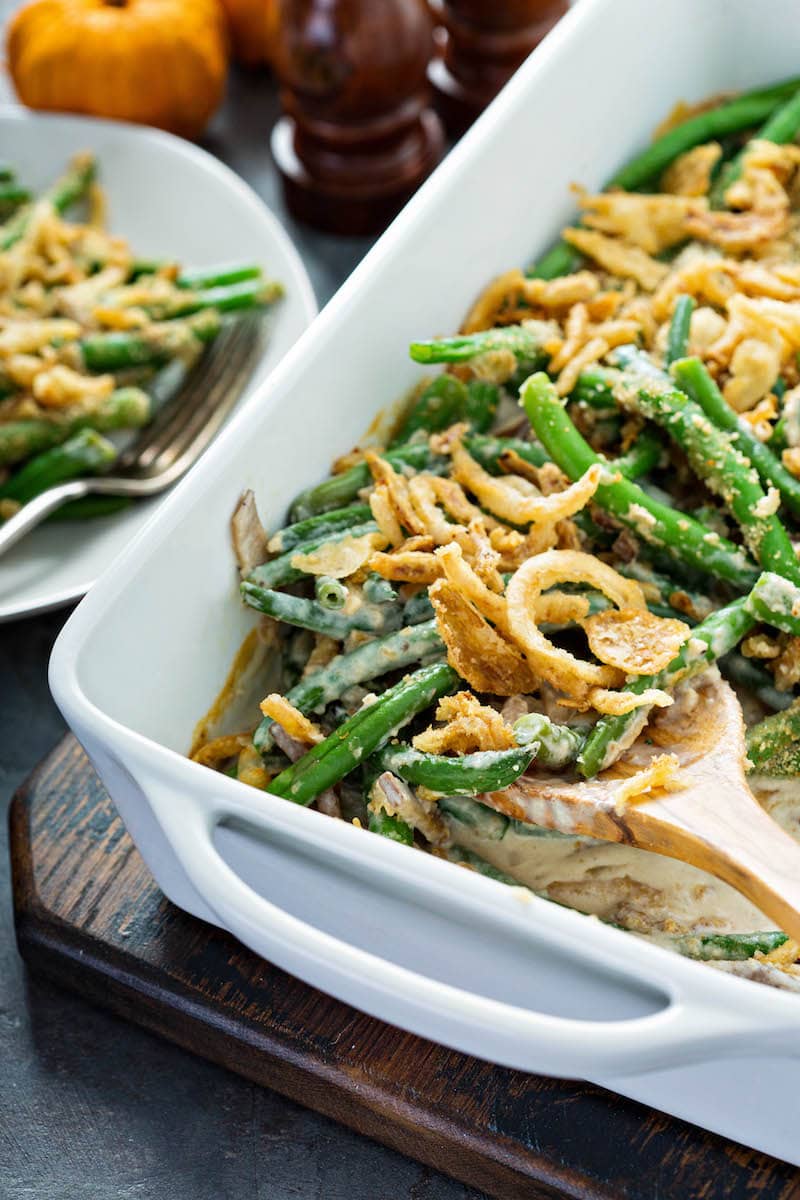 This casserole has a few more steps than the classic green bean casserole recipe that's on the back of the Campbells Green Beans can, but I promise it is SO worth it.
After you try this recipe, please make sure and leave a comment or review below on how it turns out for you and your family! ENJOY!
Yield: 9x13 casserole
Easy Green Bean Casserole Recipe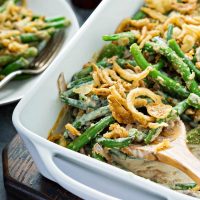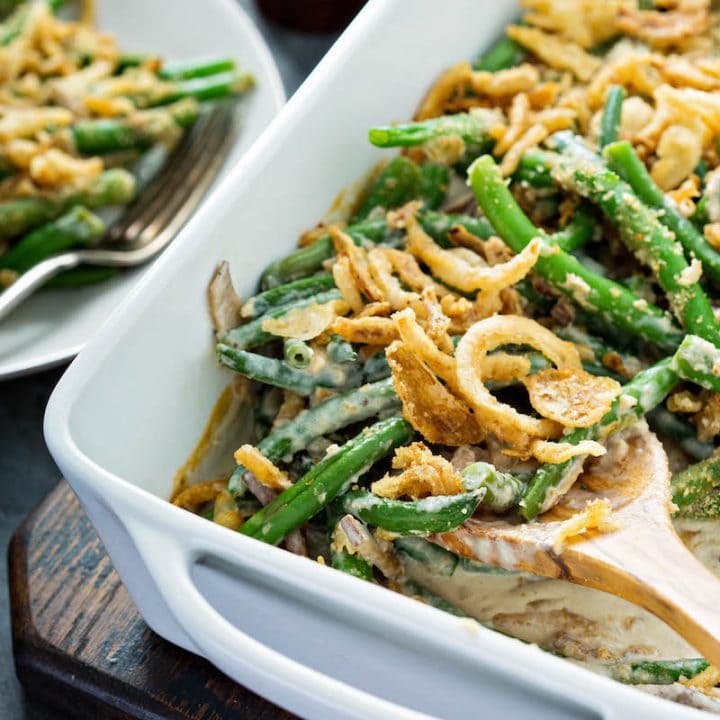 This Green Bean Casserole is made from scratch with fresh green beans and homemade cream of mushroom soup! It's easy and delicious!
Ingredients
2 tablespoons kosher salt
1.5 pounds fresh green beans, rinsed and ends trimmed
2 tablespoons unsalted butter
1 small onion, chopped
2 cloves garlic, minced
2 large portobello mushrooms, chopped
1 teaspoon kosher salt, to taste
1/2 - 1 teaspoon freshly ground black pepper, to taste
2 tablespoons all-purpose flour
1 cup chicken broth (or vegetable stock)
1 cup half-and-half
1/2 cup breadcrumbs
6 oz french fried onions
Instructions
Preheat oven to 375°F. Grease a 9x13 casserole dish, set aside.
Blanch the beans: In a large pot, bring about a gallon of water and 2 tablespoons of salt to a boil. Add the green beans and boil for 8 minutes. Drain in a colander and immediately plunge the beans into a large bowl of ice water to stop the cooking process. Drain and set aside.
Canned Green Beans: If using canned green beans instead, drain green beans completely and set aside.
Melt butter in a large skillet set over medium-high heat. Add the garlic and onions, stirring occasionally, until the onions begin to soften, about 4 to 5 minutes. Add the mushrooms, salt and pepper and continue to cook for another 1 to 2 minutes.
Sprinkle in the flour and stir to combine. Cook for 2 minutes. Add the chicken broth and stir to combine. Then add the half and half and simmer until the mixture thickens, stirring occasionally, approximately 6 to 8 minutes.
Remove from the heat and stir in all of the green beans. Transfer green bean mixture to prepared casserole dish.
Top with the bread crumbs and then layer the french fried onions on top. Place casserole in the oven and bake until bubbly, about 20 minutes. If your onions start to brown too quickly, cover the casserole with foil. Serve immediately!
Notes
MAKE AHEAD: You can prepare the casserole up to 48 hours ahead of itme. STOP at step 7 in the directions above. Do not top casserole with bread curmbs and french fired onions. Instead, wrap cooled casserole tightly with foil or saran wrap and store in refridgerator. When ready to bake, remove from refrigerator and let rest at room temperautre for 30 minutes before baking. Then continue on with the directions from step 7.
Recommended Products
I am an Amazon affiliate member and I earn a small percentage from qualifying purchases. Thank you!
Nutrition Information:
Yield:
8 servings
Serving Size:
1
Amount Per Serving:
Calories:

209
Total Fat:

11g
Saturated Fat:

5g
Trans Fat:

0g
Unsaturated Fat:

5g
Cholesterol:

19mg
Sodium:

2188mg
Carbohydrates:

24g
Fiber:

4g
Sugar:

6g
Protein:

5g
Categories
More Thanksgiving Recipes
This post may contain affiliate links. Read my disclosure policy.